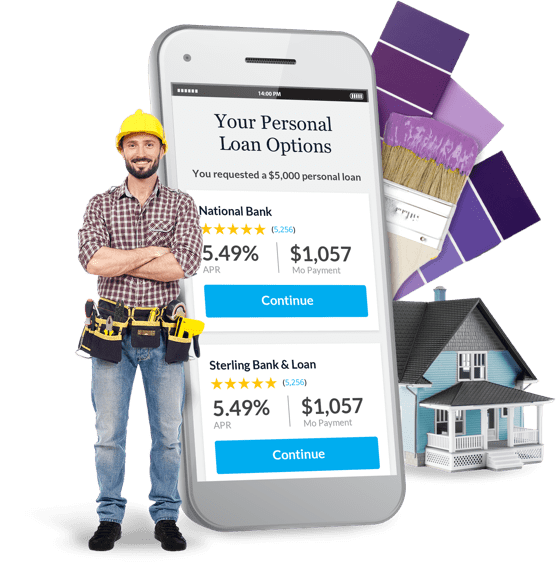 Personal Loans for Home Improvements
Get multiple financing offers for home improvement. It's completely free.
Looking into home renovation projects?
Perhaps your kitchen is outdated and you'd like to remodel the countertops and cabinets to look more modern. Or maybe your bathroom feels like it's from the 1960s and you'd like to revamp it to have a simpler, more contemporary vibe. There's just one problem: You don't have the savings to make your home improvement project a reality.
Don't worry just yet. There are myriad ways to finance a home improvement project. One common way many people finance their home repairs and remodeling projects is by taking out a home improvement loan. A home improvement loan is a personal loan taken out by homeowners to make home improvements or repairs.
How to get a home improvement loan
If you've decided a home improvement loan is right for you, follow these steps to get started.
Check your credit score. The first thing you should do is check your credit score since personal loan rates are based on a consumer's credit score. If your rate isn't high, Franco-Cicero recommends taking a few months, if possible, to increase your score. "Can you try to improve your credit score in the next couple months?" she asked. "Do a little bit of self-assessment so that you can get the best rate possible."
Shop around with different lenders. This step is crucial. You'd shop around for nearly anything else you'd buy — even something as small as new winter boots. So why wouldn't you shop around for the interest rate on a loan that could potentially be tens of thousands of dollars? "[Personal loans] could have higher interest rates than, say, something that has collateral, like a home equity line of credit or a home equity loan," Conley said. "So you want to shop around. If you're borrowing money, you always want to shop around regardless of what it is." Conley recommends starting with the financial institution with which you bank. "Talk with your finance agency to begin with — your bank or credit union, whoever that might be," she said. "Start there and see what they can offer you. They know you to some degree. You have your accounts there. Maybe they would be able to do [a personal loan] for you at a decent amount, at a price that you could afford."
Compare rates and look at your budget. Get in touch with lenders that offer rate quotes using soft credit checks. Then, compare the rates you've been offered. After you've selected the best option, take a hard look at your budget and make sure the monthly payment would work for you. "Make sure that the payment that you're going to be making fits within your budget," Conley said. "Don't just guess. Sit down and work it out. Talk with a counselor if you want to."
Apply for the loan. Once you've done your due diligence and found the personal loan that's best for you, it's time to apply. You often can apply in person or online, depending on the institution. Your credit will be checked, and you'll need to submit both proof of employment and income.
3 other ways to fund a home improvement project
A HELOC is a revolving line of credit you take out with your home as collateral. The amount you can borrow depends on how much equity you have in your home, and the borrowing structure is similar to that of a credit card.
Pros
You draw only what you need when you need itThis flexibility can be good for long-term projects with high budgets, such as a total kitchen remodel. If you've got a major project going, say for example a kitchen remodel that's going to cost $40,000, you don't need to provide the $40,000 all at once to whatever contractor you're using. Instead, you can pay for different parts of the project at different times. That way, you're not paying interest on everything right away.
Lower interest rateHELOCs typically come with lower interest rates than personal loans.
Tax deductionsWhen a HELOC is used for home improvements, consumers can possibly deduct the interest on their annual taxes.
Cons
Your home is used as collateralBecause this is a secured loan with your home as collateral, the stakes are higher. If something goes wrong and you cannot repay your loan, for example, you risk foreclosure.
Fees might be involvedIf you take out a HELOC, you will most likely have to pay certain costs such as closing costs and appraisal fees.
A home equity loan is similar to a HELOC, but with a fixed term for the loan. You receive the money in one lump sum at the beginning of the term and repay it over a set number of months.
Pros
Lower interest rateLike a HELOC, a home equity loan typically has a lower interest rate than a personal loan.
Tax deductionsWhen a home equity loan is used for home improvements, consumers can possibly deduct the interest from their annual taxes.
Fixed interest rateAlthough HELOCs can come with variable interest rates, home equity loans typically have fixed interest rates. This can give consumers peace of mind as rates cannot suddenly increase.
Cons
Your home is on the lineSimilarly to a HELOC, taking out a home equity loan means your home is on the line. If you cannot repay the loan, you risk losing the roof over your head.
Typically, fees are involvedIf you take out a home equity loan, you will most likely have to pay certain costs such as closing costs and appraisal fees.
Franco-Cicero said one other way someone could finance a home improvement project would be through a 0% introductory APR credit card. She emphasized that this is only a good option for people with excellent financial discipline.
Franco-Cicero advises people to take this route only if the home improvement project is something they could do in one or two months — well before the introductory 0% rate ends.
Pros
There's nothing on the lineUnlike a home equity loan or HELOC, in which your home is on the line, nothing would be used as collateral, as a credit card is a form of unsecured debt.
You don't have to pay interestAssuming you pay off the card within the introductory rate period, you won't be paying anything in interest on the loan.
Cons
It's riskyIf you don't pay off the card within the introductory rate time frame, you could be hit with very high interest rates after.
It might not be enough moneyIf you're looking to take on a project with a high budget, this route might not offer as much financing as you need.