How Does LendingTree Get Paid?
LendingTree is compensated by companies on this site and this compensation may impact how and where offers appear on this site (such as the order). LendingTree does not include all lenders, savings products, or loan options available in the marketplace.
Should I Use My Homebuilder's Preferred Lender?
Updated on: March 31st, 2022
Why use LendingTree?
We are committed to providing accurate content that helps you make informed money decisions. Our partners have not commissioned or endorsed this content. Read our .
You should use your homebuilder's preferred lender if you can get a better financial deal with them — incentives included — compared to other lenders. The better deal may not be obvious: While the builder may offer incentives for you to choose their preferred lender, the lender itself may charge you higher interest rates and fees. It's best to shop around so you discover the interest rate you deserve, compare fees and have options.
What exactly is a preferred lender?
A preferred lender is a mortgage company that partners with a residential builder. The lender could be a bank, credit union, online lender or an in-house part of the builder's company.
Here's how each party could benefit from the relationship:
Customers can enjoy financial advantages such as closing cost assistance and design upgrades that could be worth 2% to 3% of the house's value.
The builder is able to sell their houses more quickly as their customers have immediate financing options.
The lender gets plenty of business referrals.
However, the perks can come with some strings for borrowers. The preferred lender may charge more for the loan, issuing a higher interest rate or imposing greater fees. While it can be convenient to use the preferred lender, it's best to do some rate shopping.
Do you have to use a preferred lender?
No, you don't have to use a builder's preferred lender. While builders can require that you get preapproved from their preferred lender, it's illegal for them to require you to close on the house with their lender.
Regarding financial ties and incentives, a builder can't "punish" you for choosing a different lender. They can't increase your house's price — they can, however, reward or not reward you. If you go with the preferred lender, the builder may reduce the home price, cover some closing costs or install upgrades, such as better appliances. If you don't go with the preferred lender, you may not receive any of these rewards.
It's also illegal for the lender to pay a builder for referrals. Builders can, however, still offer you incentives to choose their preferred lender.
What are the pros and cons of using a preferred lender?
Pros
  You'll typically receive incentives. Many builders offer incentives, such as cash to cover closing costs or nicer home features, in exchange for you choosing their preferred lender.
  You'll have a higher chance of approval. It benefits builders to partner with mortgage lenders that are likely to approve buyers who have all types of credit profiles.
  You'll enjoy convenience. The builder and the financier already have a relationship and open channels of communication, which could translate to a smooth mortgage application process.
  You'll have flexible timing. Preferred lenders can be required to give an offer relatively quickly — within two weeks. Plus, a builder's preferred lender may offer a longer rate-lock period, up to 60 days or longer, to help account for any building delays.
Cons
  You'll likely face higher interest rates and fees. As a "preferred lender," the mortgage company may not face strong competitive pressure that lowers how much they charge.
  Your builder and lender may have conflicts of interest. As both the builder and the lender have a potential to make a large profit in doing business with you, your best interests could go in the backseat.
How to choose the right mortgage lender
You will likely have a mortgage for 15 to 30 years, so when you choose a mortgage lender, you're choosing a company to work with you for potentially decades. Here are three things you can do to choose the right lender.
1. Shop around
Look up rates online, ask friends and family what companies they recommend, read reviews and apply with a few lenders. It won't harm your credit score to apply to multiple lenders any more than it does to apply to one, as long as you do all applications within two weeks.
2. Compare offers
Look at the total value of each offer, including any incentives. To help you with numbers, here's a mortgage calculator, plus a worksheet based on advice from the Consumer Financial Protection Bureau (CFPB).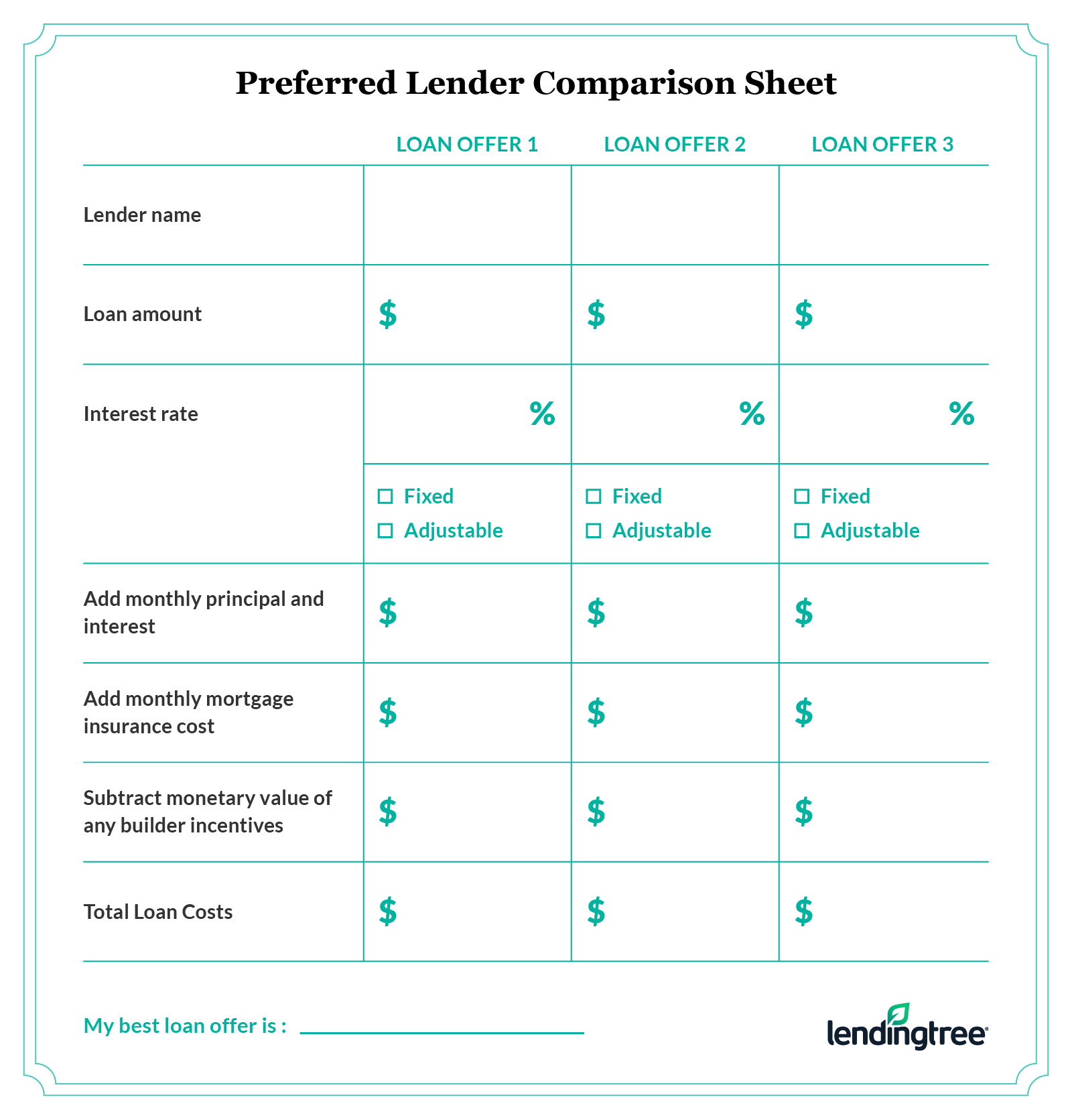 Download worksheet
3. Negotiate and accept
The best way to negotiate is to have loan estimates from other lenders in hand, according to the CFPB. Show the lowest interest rate you received from one lender to the other lenders and ask them to beat it. Always look at the bottom line — the total loan costs.
When you decide on one, contact the lender whose offer won your approval and notify them of your intent to sign. You don't have to do anything to cancel other approvals; they will expire automatically.