How Does LendingTree Get Paid?
LendingTree is compensated by companies on this site and this compensation may impact how and where offers appear on this site (such as the order). LendingTree does not include all lenders, savings products, or loan options available in the marketplace.
Mortgage Closing Costs: What's Included and Who Pays Them
Updated on: January 21st, 2020
Editorial Note: The content of this article is based on the author's opinions and recommendations alone. It may not have been previewed, commissioned or otherwise endorsed by any of our network partners.
When you buy a house, the down payment is just one of the two largest expenses in the homebuying process. Closing costs add up whether you're buying or refinancing a home, and you'll want to know exactly how much cash to bring to closing so there are no surprises.
How much are closing costs on a house?
Average closing costs are about 2% to 6% of the loan amount. In 2018, borrowers paid an average of $4,759 in closing costs across all loan types while borrowers getting a conventional conforming loan paid an average of $3,745, according to a new report from the Consumer Financial Protection Bureau analyzing Home Mortgage Disclosure Act data from that year.
However, total closing costs may be higher or lower depending on where you live. Closing fees are also influenced by the average sales price in your area as well as property taxes. The table below shows the five states where closing costs are the highest and lowest, including taxes.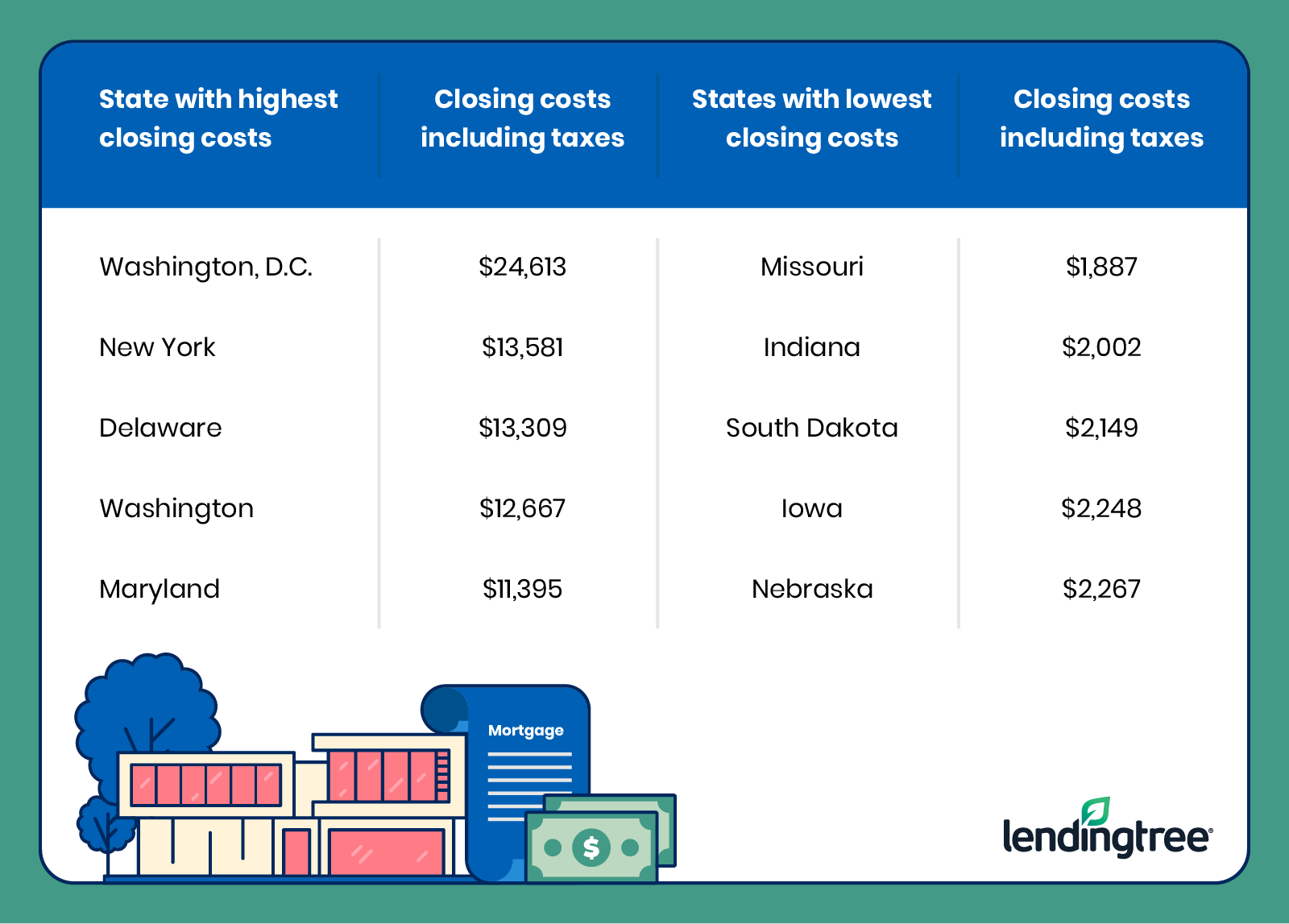 What is included in closing costs?
The most important document you'll review when it comes to closing costs is a loan estimate. This three-page form provides a detailed closing-cost breakdown of fees to buy or refinance a home. Your lender is legally required to give you the loan estimate within three days of receiving your mortgage application.
We'll cover the costs in the same order they appear on your loan estimate so you have a guide to follow.
Loan costs
A. Origination charges. These are the fees charged by your lender in order to approve your loan and are charged as a percentage of your loan. For example, if you borrow $200,000 with a 1% origination fee, the origination cost is $2,000.
Origination. When a lender makes a new loan, it is called an "origination" and the costs to fund the loan, as well as the fee paid to your loan officer, are reflected in this fee. There may be a documentation preparation fee for the processing of paperwork for your closing. There shouldn't be any fee for a mortgage rate lock unless you need to secure your rate for more than 60 days.
Application or administration fee. An upfront fee to begin processing your paperwork for final approval. May also be charged at closing.
Discount. This is a percentage of your loan amount charged upfront to get a lower interest rate.
Underwriting fee. This fee is charged to pay the person who approves the loan.

B. Services you cannot shop for. This section is related to mortgage closing costs that are paid to third parties, such as appraisers and credit reporting companies. You can't shop for these fees at an individual lender, but you can compare how much various lenders each charge for the fees to compare overall costs.
Appraisal cost. The home appraisal fee is charged to have a professional property appraiser give an opinion of value for the home you're buying or refinancing.
Credit report. Cost to verify your credit history and score.
Flood determination fee. The flood determination fee is for checking if the property is in a flood zone.
Flood monitoring fee. An additional fee may be charged for monitoring the flood status of a property depending on the flood determination.
Tax monitoring fee/Tax status research fee. Lenders want to make sure property taxes are kept current so this fee sets up service to verify the status of property tax payments.
Upfront mortgage insurance premium. Mortgage insurance protects lenders against losses if you default on the loan, and is required for most conventional loans with less than 20% down. Government-backed loan programs may charge upfront fees based on a percentage of your loan amount. Lenders who offer Federal Housing Administration (FHA) loans may charge an upfront mortgage insurance premium (UFMIP) of 1.75% for protection against losses, and mortgage insurance is required on all FHA loans, regardless of the down payment amount.
VA funding fee. Military borrowers must pay a funding fee as high as 3.6% for a loan guaranteed by the U.S. Department of Veteran Affairs (VA). VA loan closing costs include a funding fee instead of mortgage insurance to offset the cost of the VA loan program to taxpayers.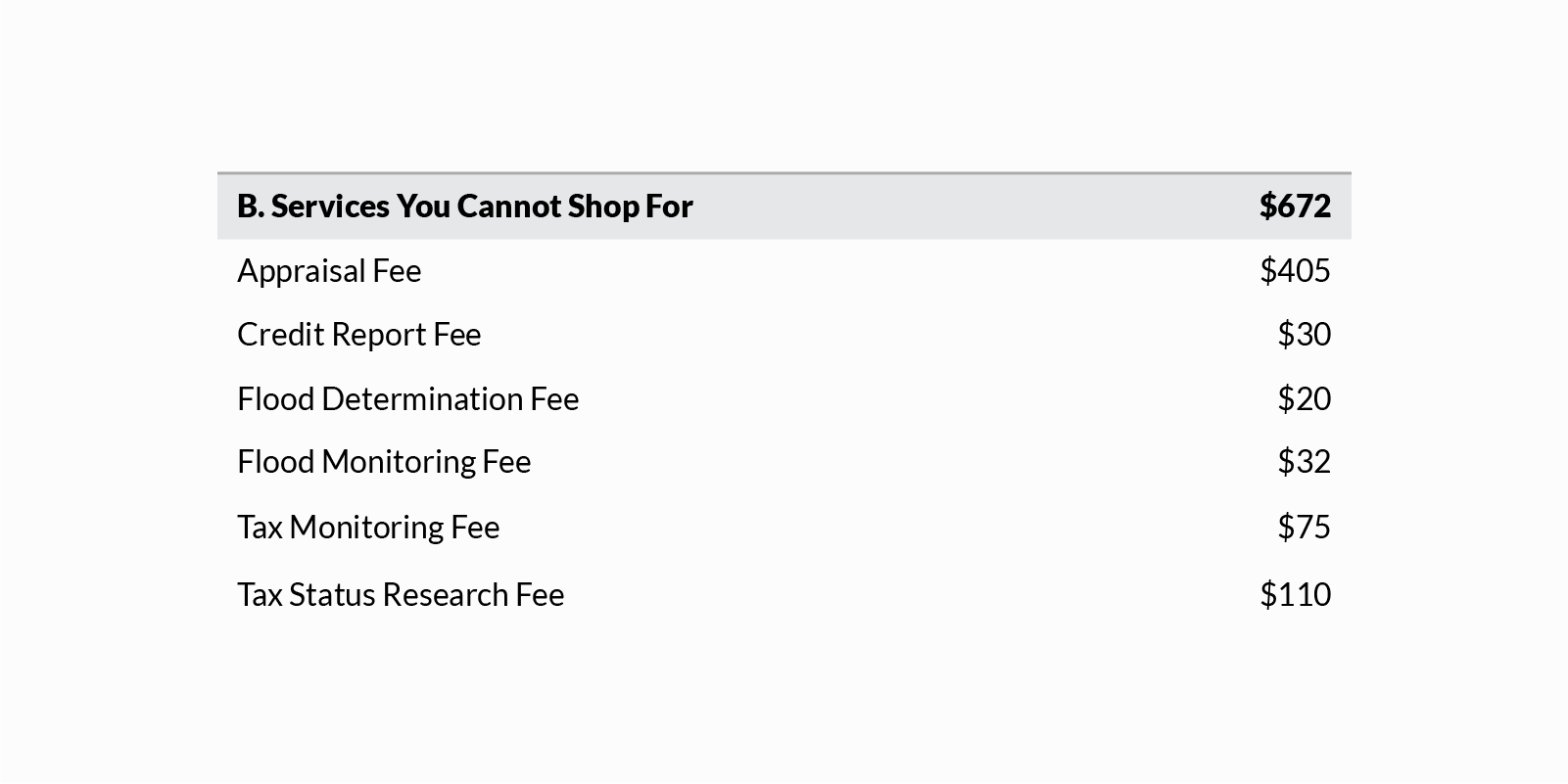 C. Services you can shop for. You should receive a list of approved providers from your lender, but your ability to shop for title fees may be limited when it comes to buying a home, which we'll discuss later.
Pest inspection. Some lenders and loan types (like VA loans) require a termite inspection, which you can shop around for.
Property survey. It's rare that lenders will require a survey unless there's a dispute over property boundaries. Surveys cost an average of $345 to $676, according to HomeAdvisor.
Title insurance binder/lenders title insurance. A lender's title insurance policy protects your lender from any past title problems with your property, such as liens, unpaid taxes or a contractor suing for payment for unpaid work.
Title settlement fee. This may also be called an escrow or attorney's fee depending on where you live, but it's charged to cover the expense of the person who helps prepare and guide you through the signing process of your paperwork at closing.
Title search. There may be an extra fee for checking the title history on your property.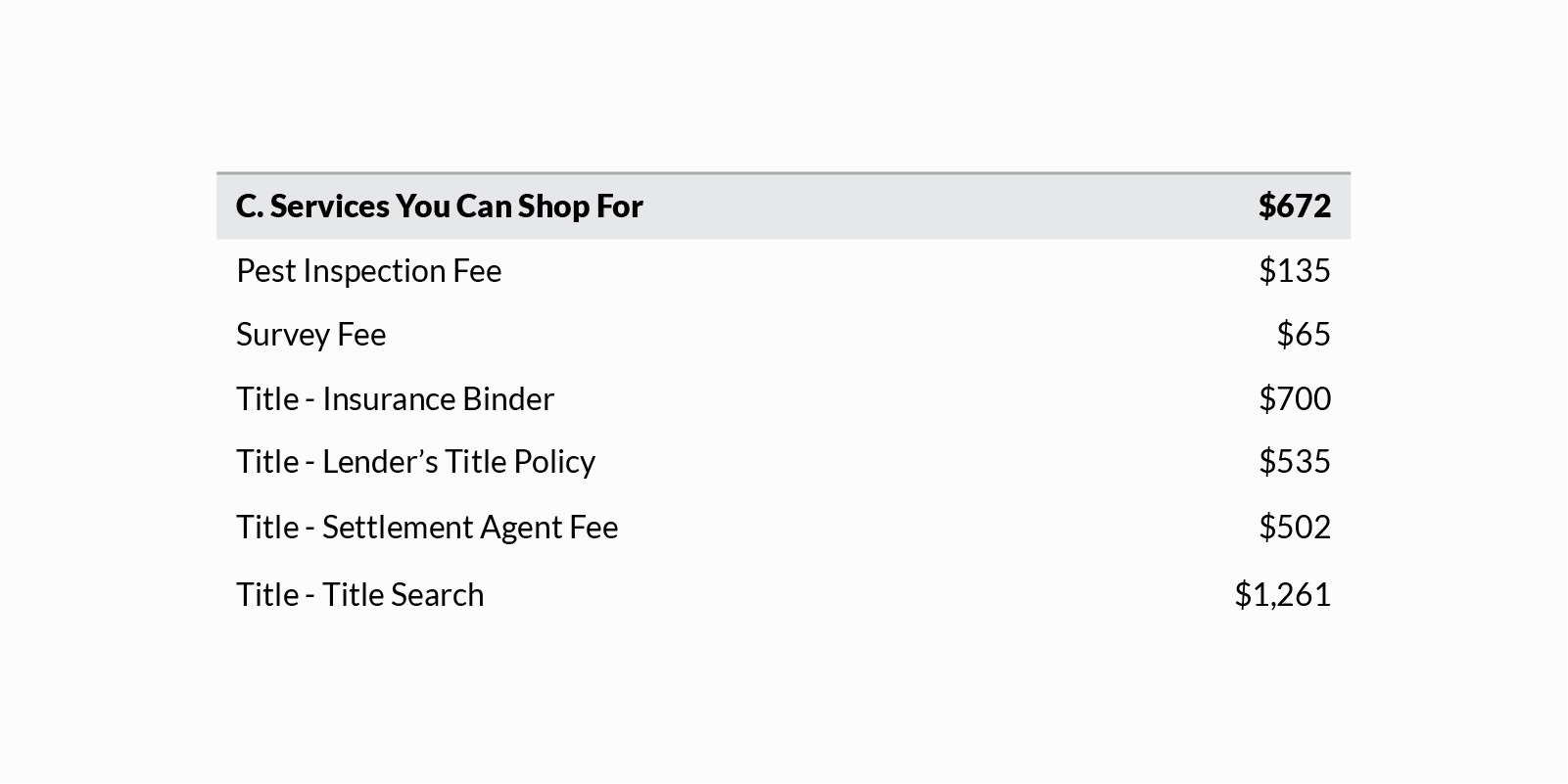 Other costs
This section of the loan estimate includes the ongoing costs of owning a home, such as property taxes and homeowners insurance. It also includes monthly mortgage insurance premiums for conventional private mortgage insurance (PMI) or FHA mortgage insurance premiums (MIP).
Conventional loans require PMI with less than a 20% down payment. FHA loans require two types of mortgage insurance — the 1.75% UFMIP mentioned above, and an annual MIP premium paid monthly.
E. Taxes and other government fees. These fees are set by the state you live in and vary by location.
Recording fees. A fee charged to record new ownership or lien information into public records.
Transfer taxes. A charge for transferring ownership of a property. Not to be confused with property taxes, all but 13 states in the U.S. charge transfer taxes, and if your lender doesn't disclose them properly, the lender will have to pay them. In some cases, you may be exempt from paying transfer taxes, depending on your state's laws. State laws vary as to who can pay transfer taxes, and there may even be cases where you'll be exempt from paying them. Check with your real estate agent or loan officer to see if you can ask the seller to pay for some or all of this fee.

F. Prepaid fees
Prepaid fees are costs that are paid before they're due. For example, your homeowners insurance has to be prepaid before you actually own the home so that the home is insured when you close.
Homeowners insurance premium. This coverage insures your home against theft and damage, and it's a cost you can shop for.
Mortgage insurance. Prepaid portions of monthly mortgage insurance may appear in this section.
Prepaid interest. When you make your mortgage payment, you'll pay interest charged in the previous month. If you close toward the end of the month, you can minimize this charge.
Property taxes. Property taxes are charged by local or state governments for owning real estate in the area you live in. Check with your county's property assessor for a tax history on your new home.

G. Initial escrow payment at closing
Your lender can set up an escrow account to pay ongoing housing expenses such as homeowners insurance and property taxes as part of your monthly payment. The costs in this section reflect how much money they'll collect at closing to set the escrow account up.
Homeowners insurance. Usually, two months of extra homeowners insurance is collected upfront.
Mortgage insurance. Your first monthly mortgage insurance payment may be collected upfront.
Property taxes. This amount varies depending on what time of year you close; enough will be collected to ensure the next tax bill is paid.

H. Owner's title insurance (optional)
An owner's title insurance policy covers you (the new homeowner) against any ownership disputes or claims. You can pay this fee or request that the seller pays it. The cost of the owner's title insurance depends on your location, the loan amount and the sales price of the home. Title insurance fees tend to be lower for refinance transactions.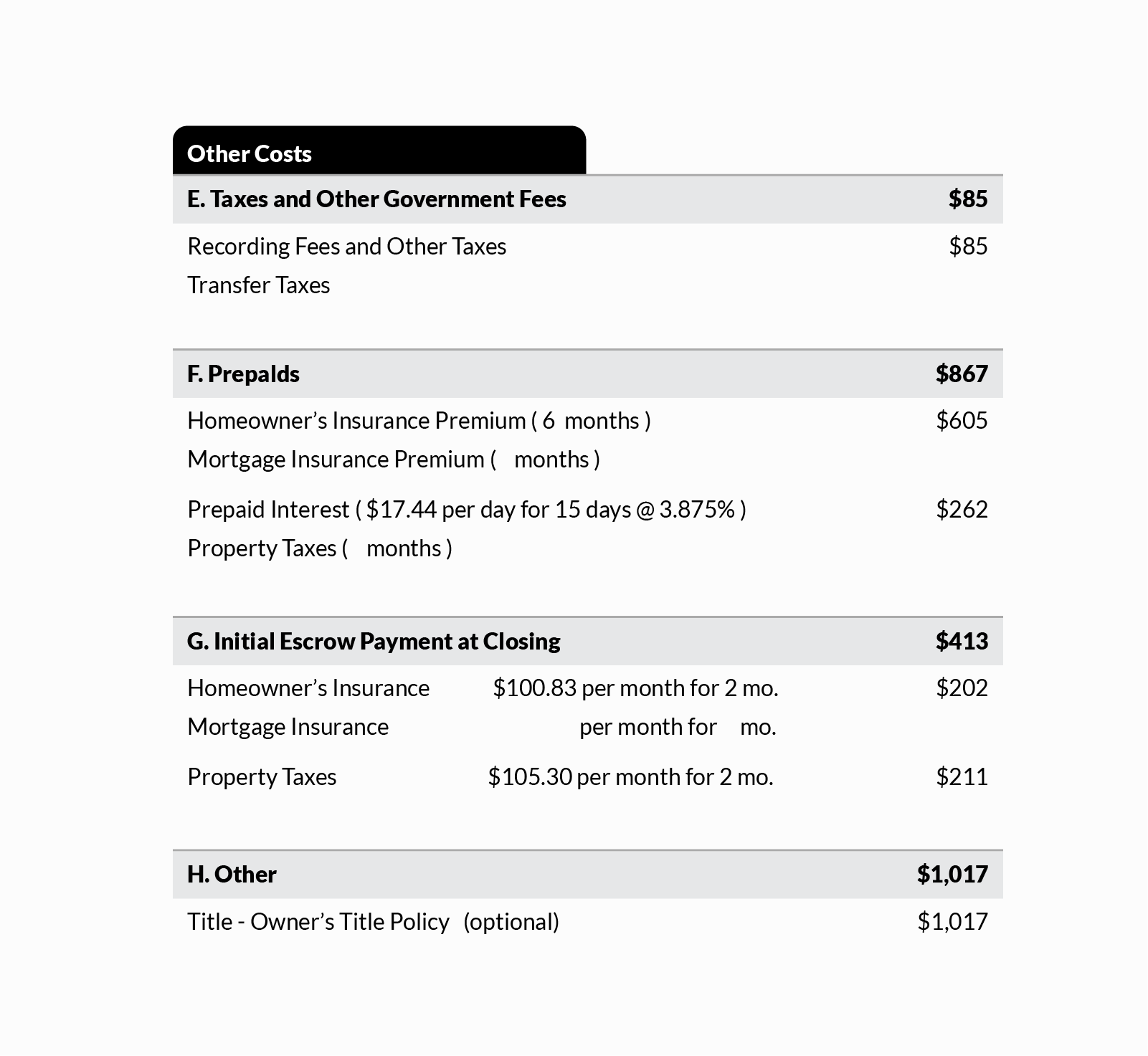 Who pays closing costs?
Closing costs can add up fast, but you can negotiate who pays them. You can also roll them into your mortgage. Here are some options to consider.
Pay them yourself out of pocket. Money in checking, savings and retirement accounts is acceptable. You can also use a credit card to pay closing costs.
Get a lender credit toward closing costs. Loan officers may suggest a low-closing cost or no-cost mortgage where the lender charges a higher interest rate to account for covering all or some of your costs.
Roll the costs into your loan. This is more common with mortgage refinancing and involves increasing your loan amount to cover some or all of your costs. (Note: Choosing a no-cost mortgage and adding closing costs to your loan amount will result in a higher monthly payment.)
Ask the seller to pay. The seller can give you a credit to pay for closing costs, but will usually want a higher sales price to do so. The table below shows the maximum percentage you can ask for based on minimum down payment amounts, depending on the loan program. For conventional loans, if you make a bigger down payment, you can ask the seller to cover a higher percentage of closing costs.
Type of loan
Percentage of closing costs the seller can pay
Conventional
3% (up to 10% down payment
6% (10% to 25% down payment
9% (25% or more down payment)
FHA
6%
VA
4%
What are the closing costs you can (and can't) shop for?
The table below lists the home closing costs you should review and compare as you begin reviewing loan estimates.
Closing costs you can shop for 
Closing costs you can't shop for 

Origination fee
Discount fees
Pest inspection
Survey
Lender's and owner's title insurance

Property taxes
Mortgage insurance on an FHA loan
VA loan funding fees
Prepaid interest
Escrow account prorations
Appraisal fees*
Credit report fees*
Flood certification*
Tax monitoring/service fee*
PMI on a conventional loan*
*These services are required and chosen by the lender. Since you can't shop around for competitive prices with other lenders for these closing costs, compare the fees for these closing cost services to loan estimates from different lenders.
You could save hundreds if not thousands of dollars by comparing closing costs, terms and interest rates offered by several lenders. When you get to the closing table, check the final closing disclosure against your initial loan estimate to make sure there haven't been any cost increases you didn't discuss with your lender.