How Does LendingTree Get Paid?
LendingTree is compensated by companies on this site and this compensation may impact how and where offers appear on this site (such as the order). LendingTree does not include all lenders, savings products, or loan options available in the marketplace.
What Is a Closing Disclosure?
Published on: August 2nd, 2019
Editorial Note: The content of this article is based on the author's opinions and recommendations alone. It may not have been previewed, commissioned or otherwise endorsed by any of our network partners.
One of the most important and detailed forms you'll review before you close a home loan is your closing disclosure. It contains five pages of information specifying the final terms and closing costs related to your mortgage, and it's your last chance to make sure all of the numbers are in order before your closing.
In 2015, the closing disclosure replaced the HUD-1 settlement statement as the final document that mortgage borrowers are given before signing closing paperwork. These changes were part of the TILA-RESPA Integrated Disclosure (TRID) rule implemented by the Consumer Finance Protection Bureau, and included a mandate requiring delivery of the closing disclosure at last three business days before closing to prevent surprises at the closing table.
We'll discuss what a closing disclosure is, and explain the most important information you need to know when reviewing it.
The basics of your closing disclosure
The closing disclosure is a document detailing the final terms of the mortgage loan that you are about to take out. It follows the same format as the loan estimate that you receive at the beginning of the loan process, but it's no longer an estimate. At this point, all of the figures are finalized by the lender and the title company, and all of the fees, commissions and credits applied to your costs must be correct.
If you applied for mortgage financing before 2015, you may be familiar with the Good Faith Estimate, Truth-in-Lending form and the HUD-1 settlement statement. The Consumer Finance Protection Bureau (CFPB) incorporated some of the formatting of these forms to create the closing disclosure form, which it released for use by all mortgage lenders for loans made after 2015. The only time you'll still see the old forms is if you apply for a reverse mortgage or a home equity line of credit (HELOC). All other mortgage types will require the new forms before closing.
The government also wanted to make sure borrowers weren't pressured into signing a document reviewed the same day as closing, so it created a law requiring lenders to provide the closing disclosure at least three business days in advance of signing final loan documents. Before this law was passed, buyers had to be ready to sign the final settlement statement at closing, or risk being in breach of their purchase contract. That pressure led some borrowers to commit to loans with higher closing costs and monthly payments than they originally agreed to.
The most important information to review on your closing disclosure
The closing disclosure is packed with valuable financial information about your mortgage, but it can be a lot to absorb, especially if you're moving into your first home or a new home. We'll go page by page to help you focus on the most important things to check before your closing.
Page 1 of the closing disclosure
The first page of your closing disclosure provides a snapshot of the most important features of the loan you are taking out, including loan information, the terms of your loan, projected payments and costs at closing. The highlighted sections below are worth paying extra attention to.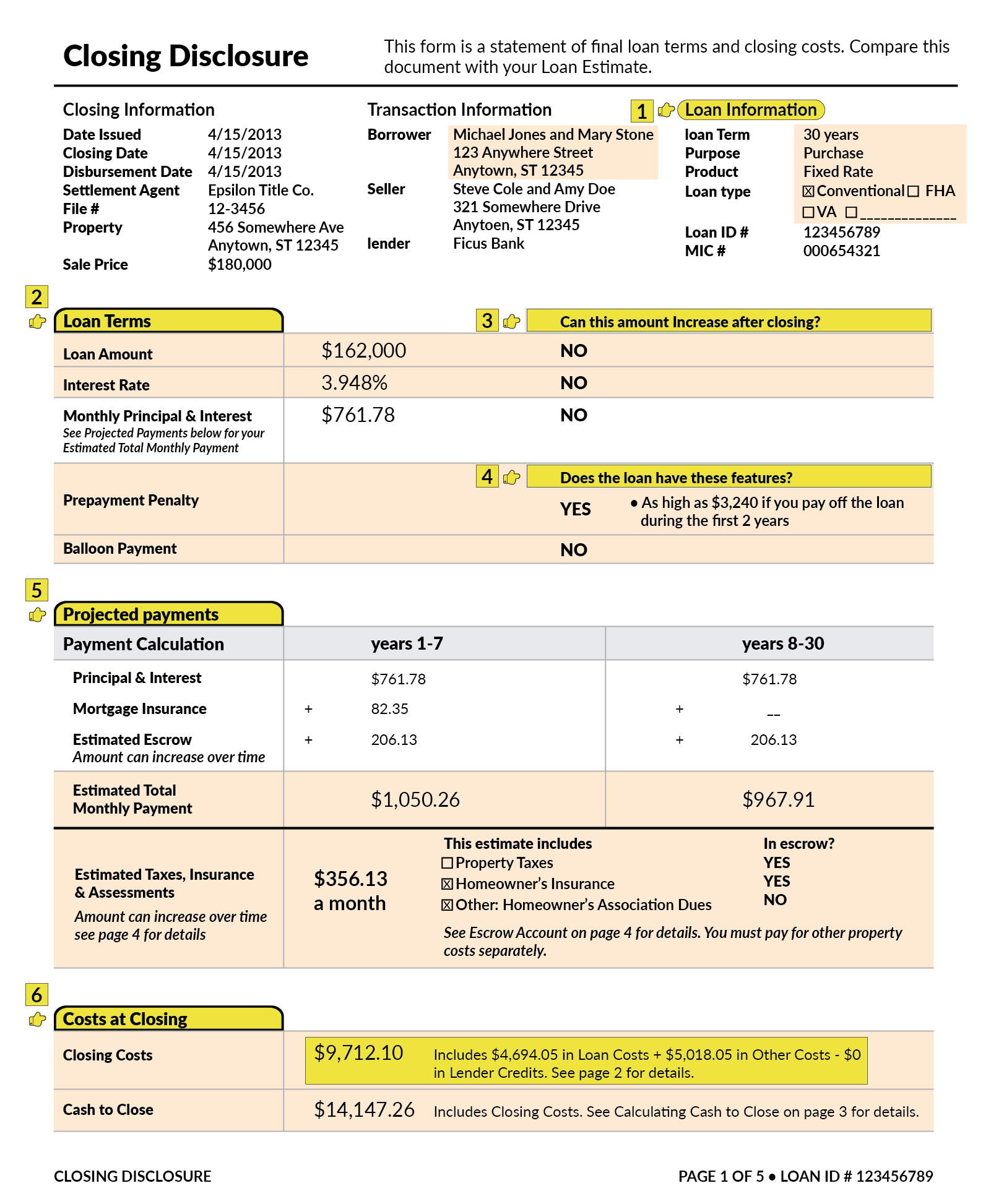 No. 1: Loan information
You'll want to do a quick scan of the upper right hand side of the closing disclosure to make sure the loan information hasn't changed. Because lenders have to disclose any changes before your closing disclosure is issued, it's very unlikely the information will be different, but it doesn't hurt to review the section to confirm.
No. 2: Loan terms
One of the most important parts of the first page of the closing disclosure is the Loan Terms section. This will include information about your final loan amount, interest rate and monthly payment amount with just the principal and interest calculation.
No. 3: Can this amount increase after closing?
There is a question at the top right that asks "Can this amount increase after closing?" If you have a fixed rate fully amortizing mortgage, the answer should always be "no." On the other hand, if you are taking out an adjustable rate mortgage (ARM), the answer will be "yes," and there will information explaining how your ARM payments could adjust over the years.
No. 4: Does this loan have these features?
There is another question in this section that asks "Does the loan have these features?" Prepayment penalties and balloon payments are the listed options, and if you are taking out a traditional loan under FHA, VA, USDA or conventional lending guidelines the answer will be "no."
If you took out a mortgage through an alternative lender that allowed you to be approved with bank statements instead of tax returns, or because you recently had a foreclosure or bankruptcy, then the balloon payment or prepayment penalty option might apply.
No. 5: Projected payments
The projected payments section reflects your total final PITI payment at the time of closing, and then over the life of the loan. PITI stands for principal, interest, taxes and insurance.
Most borrowers prefer to have their property taxes and homeowners insurance included in their monthly payment so the lender can pay the bills when they come due. The lender creates a savings fund called an escrow account to make these payments and collects one-twelfth of the total amount due every month and adds it to your monthly payment.
If you are making less than a 20% down payment, you may also have to pay mortgage insurance. Mortgage insurance protects the lender against losses if you default on your loan, and the premium can either be paid as part of your monthly payment, a lump sum or a combination of both.
The most common type of mortgage insurance is private mortgage insurance (PMI), which insures conventional lenders. You'll pay an upfront mortgage insurance premium (UFMIP) and annual mortgage insurance premium (MIP) if you are approved for FHA financing.
No. 6: Costs at closing
This is the section that hits your pocketbook at closing, with a basic breakdown of any costs the seller or your lender is paying on your behalf. The cash to close is the amount you'll be cutting a cashier's check for or that you'll wire to the closing table to finish the loan.
If this amount doesn't look right, you'll want to look at the itemizations that show the breakdown of all of the credits and charges on page 2.
Page 2 of the closing disclosure
The second page of the closing disclosure is very similar to the format of the old HUD-1 settlement statement provided at the closing of mortgages before 2015. This page provides closing cost details with an itemized breakdown of all of the fees that make up the closing costs and cash-to-close figures on page 1.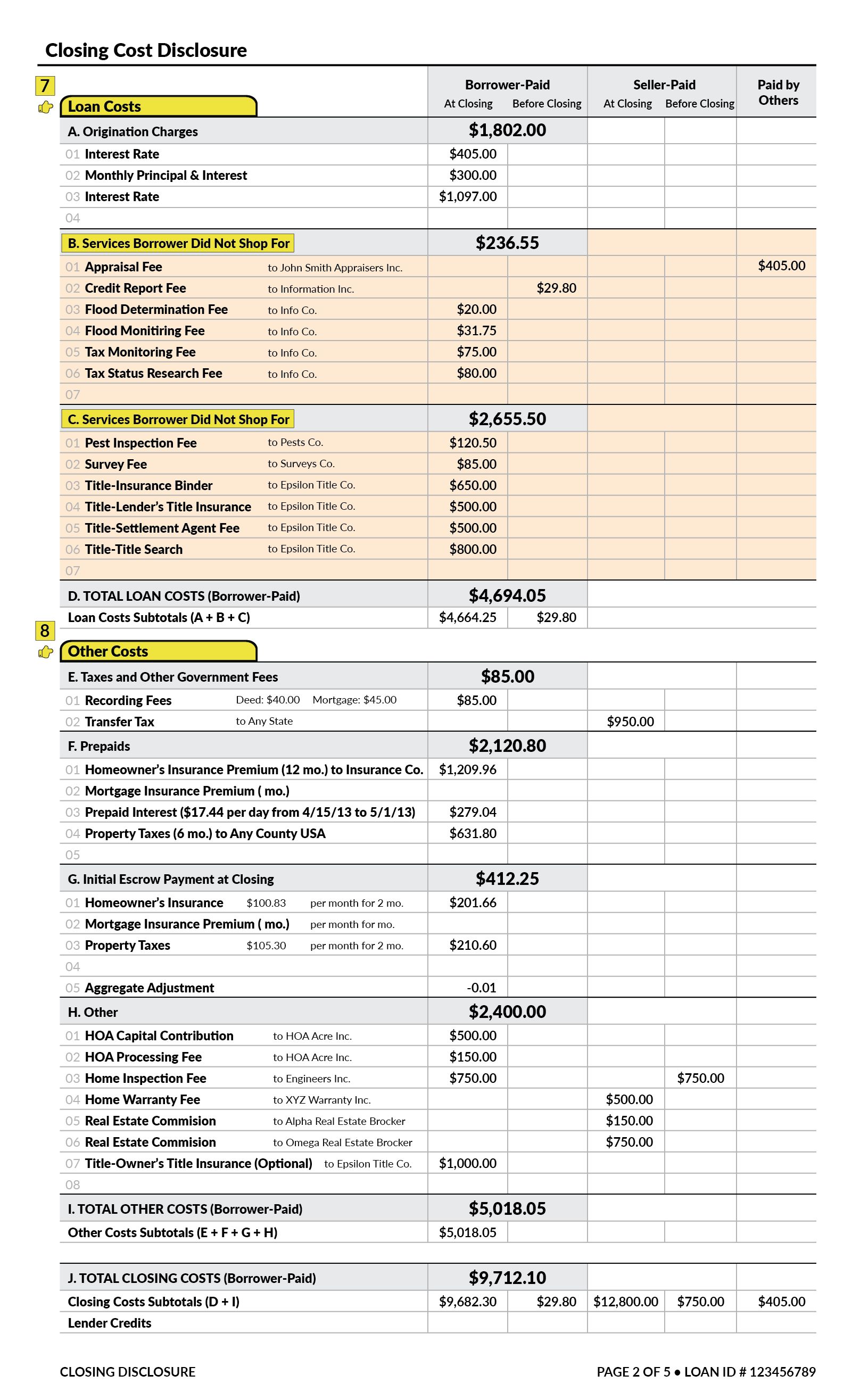 No. 7: Loan costs
The costs in section A, B and C of page 2 are the ones that are restricted by federal law. There should be no change in what you were quoted on your loan estimate and what you see on the closing disclosure in sections A and B. If there are any changes, the lender should be paying the difference or should have notified you in advance of preparing your closing disclosure about the reasons for the changes. We'll discuss acceptable reasons these fees can change later in this article.
Section C fees can change, but only by 10% from what they were quoted. Again, exceptions may apply, which we'll outline below.
No. 8: Other costs
The costs outlined in section E can't change by more than 10%, but everything else in the other sections is subject to unlimited changes, depending on the timing of your closing and the type of property you are buying. For example, if your property is part of a homeowner's association, you may have to pay transfer fees, and if you purchased a home warranty, that charge will be here as well.
Other inspection fees like termite or home inspections may be reflected here, but because the lender doesn't require them, they can increase. One important note about owner's title insurance: Some lender may show this as a charge to you, but it is usually paid for by the seller to confirm that you can take ownership of the home without any prior claims such as tax liens or judgments against the prior owner.
Page 3 of the closing disclosure
The information on page 3 is an extension of page 2, and it looks very similar to the old page 1 of the HUD-1 settlement statement. It provides a summary of all the itemizations on page 2 and shows any additional credits, such as title fee and property tax proration credits.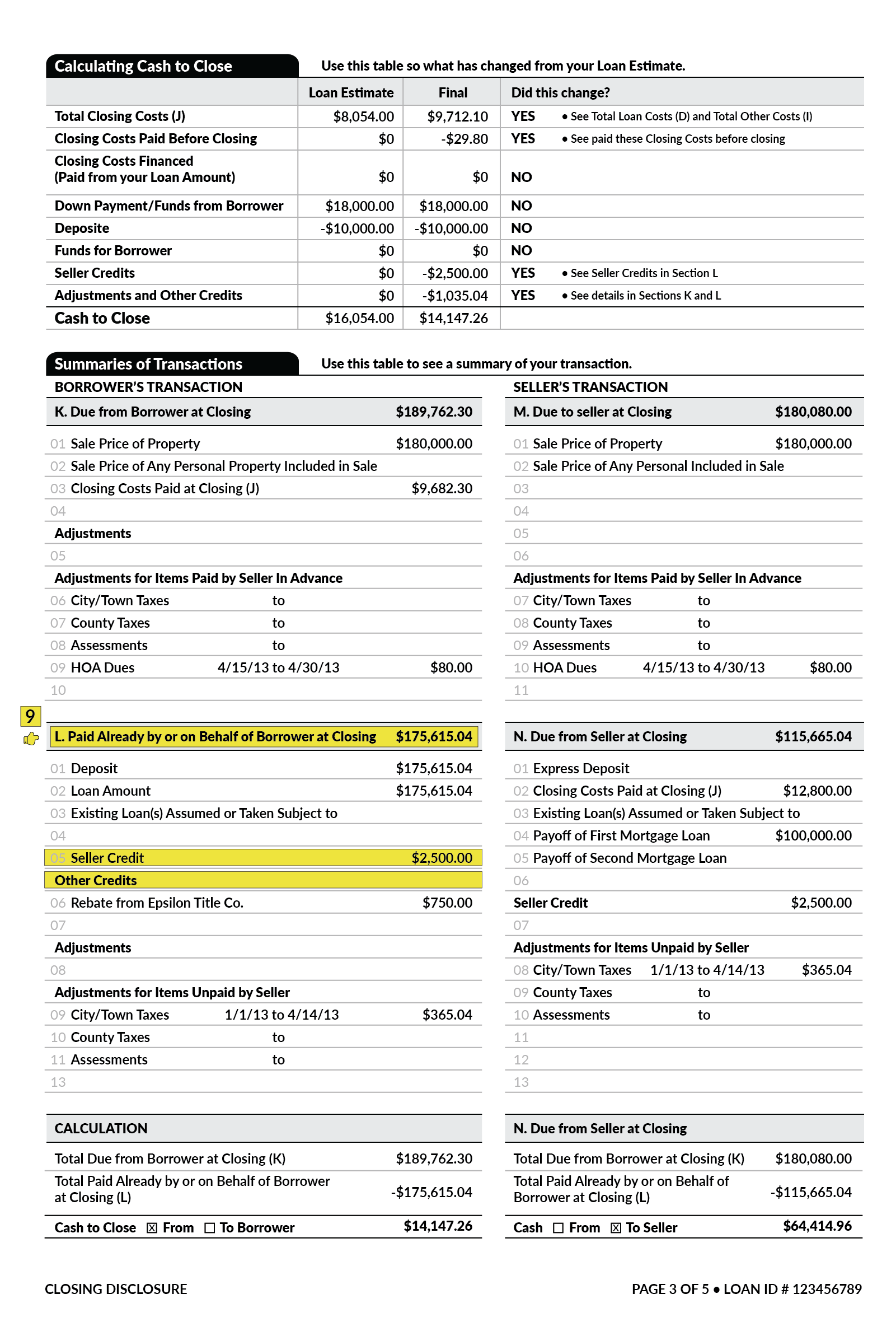 No. 9: Paid already by or on behalf of borrower at closing
One very important section here relates to costs paid either by you or on your behalf as the borrower. The total amounts should be reflected here as a "seller credit," or something similar to that, and should match the amount the seller agreed to pay on your purchase contract.
If you think any credits are missing in this section, this is the time to call your loan officer to confirm they are added.
Page 4 of the closing disclosure
By the time you get to page 4 of the closing disclosure, you may start zoning out when you see all the text-filled information. However, the information here discusses how expenses related to your mortgage payment will be handled, as well as what happens if you are late on your payment.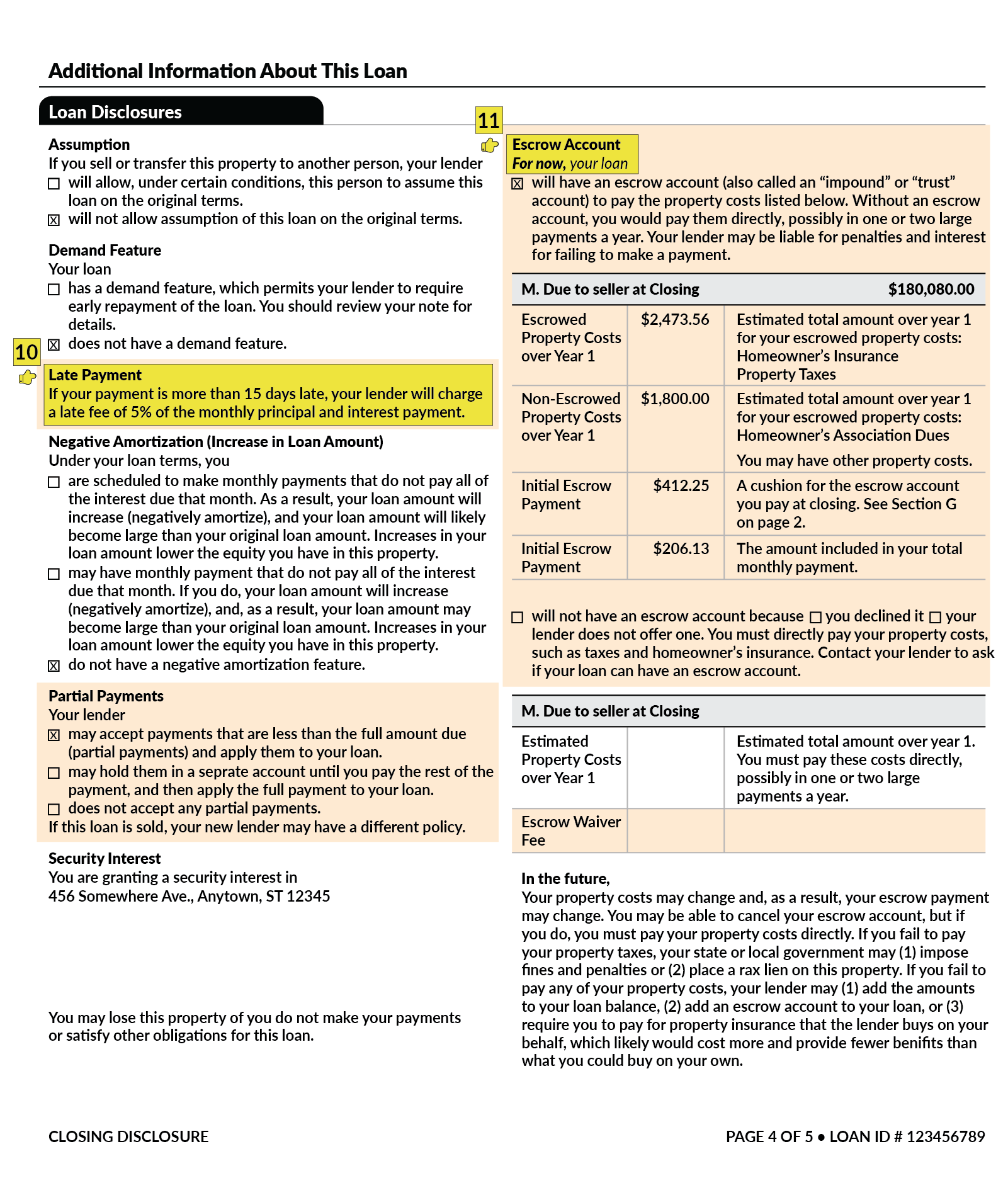 No. 10: How much a late payment will cost you
Your monthly mortgage payment is always due on the first of the month and is technically considered late on the second day of the month. However, over the years lenders have recognized that pay schedules or unexpected expenses can sometimes delay mortgage payments, so they don't generally charge late fees unless you payment is made after the 15th of the month.
Be sure to read the fine print, as late fees can add up if you consistently make payments past the grace period allowed for your payment. One of the best ways to avoid late fees is to set up your payment on auto-pay or direct withdrawal so you always pay on time.
No. 11: Escrow account details
If you have your property taxes and insurance included in your monthly payment, this section will show you how the lender will pay your ongoing housing expenses as they come due. An escrow account is a savings account, so if you pay your loan off or refinance it in the future, any balance has to be refunded to you.
You may want to take an extra look at this section because it may be significantly different from your initial loan estimate. This is because these property related expenses are often finalized right before closing and can vary significantly depending on the tax cycles in the area you are buying.
Page 5 of the closing disclosure
The final page of the closing disclosure features a recap of the total cost of the loan, some valuable information about other disclosures you should have received and a list of contacts you may want to keep handy if you have any questions after you've closed on your home.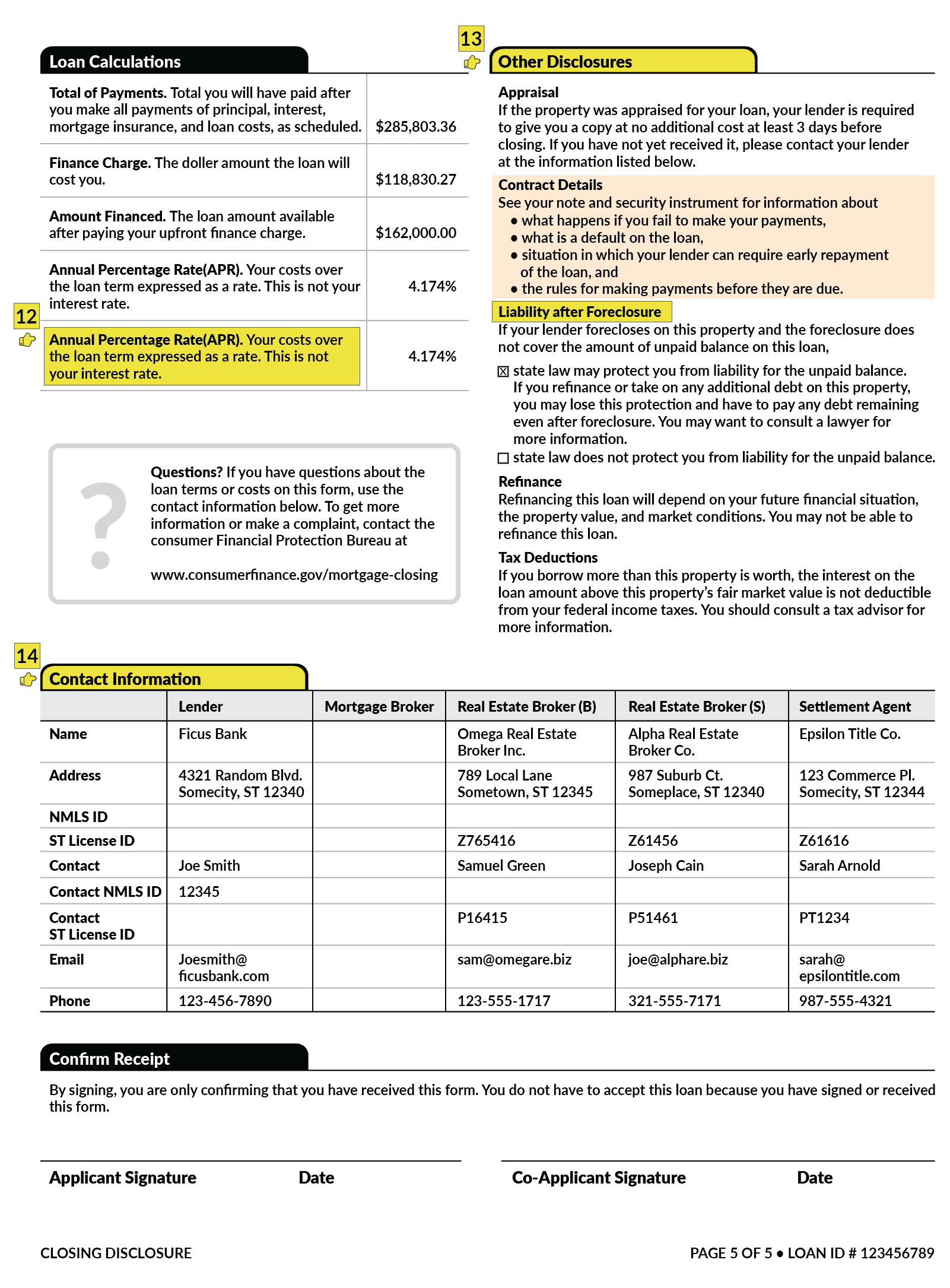 No. 12: The total interest percentage (TIPs)
The total interest percentage (TIPs) number is a new calculation featured exclusively on the new closing disclosure format. It reflects the ratio of the interest you'll pay compared to the amount you are borrowing. Although it may look frighteningly high, it's really just a representation of the interest cost over a long-term loan, like a 30-year fixed mortgage. The takeaway from this number is that if you can, you should try to pay off your mortgage faster to reduce your lifetime interest charges.
No. 13: Other disclosures section
Lenders are required to give you a copy of any home appraisal completed on your home at least three days before closing, and it's a good idea to make sure you have it handy after closing as well. It has valuable information about your home that you may need to shop for homeowners insurance, make improvements or quickly refer to room measurements.
The other two sections are contract details and liability after foreclosure. It's a good idea to at least know what your lender will do if you get behind on payments, and those details are outlined in your deed of trust.
Liability after foreclosure is important too. If your home is foreclosed on and your lender loses money, some states give the lender the right to sue you for those losses. You may need to take additional legal measures to protect yourselves if that occurs, so it's good to at least know the actions the lender could take if you default.
No. 14: Contact information
This is a helpful reference page with emails and addresses for everyone involved in your real estate transaction. Keep a copy handy so you can easily contact the appropriate person to help you with questions after closing,
How to sign your closing disclosure — and how it affects your closing timeline
Buying a home is a big commitment, and it can be stressful. There's nothing worse than getting to the closing table and being surprised by how much money you need to close, or finding out your interest rate is much higher than you expected.
The CFPB implemented "Know Before You Owe" mortgage rules to prevent these surprises. Lenders are now required to provide you with your closing disclosure at least three business days before closing. This gives you time to review the documents yourself, or with an attorney, financial advisor or another trusted financial professional.
If you find an error, don't e-sign your documents until you talk to your loan officer. There may be some missing invoices for fees you've already paid, or the escrow officer or attorney may not have added in the seller credits on the first draft.
It's not uncommon for there to be a preliminary and final version of the closing disclosure. Just make sure before you sign the preliminary closing disclosure that you have confirmation in writing from your loan officer that it any issues will be fixed by the time you get to closing.
There are four different ways you can sign your documents, and some of them may mean a longer wait until your closing. In most cases, lenders will encourage you to electronically sign your closing disclosure in an email, and that is usually the most fast and efficient way to sign.
Signing method
Waiting period before closing
E-signature
3 business days (Saturday included)
Hand delivery (in person)
3 business days (Saturday included)
Courier/Overnight delivery
5 business days (Saturday included)
U.S. Mail
7 business days (Saturday included)
3 reasons your closing could be delayed an extra 3 days
Most changes to a closing disclosure can be fixed fairly easily with the lender and the title company without causing any closing delays. However, there are three situations that will trigger a new three-day waiting period.
No. 1: The annual percentage rate (APR) increases
It's very rare, but there are sometimes last-minute situations that can arise that require your lender to increase the rate to cover costs. Your annual percentage rate (APR) is a reflection of the costs associated with your mortgage.
You could be buying in a homeowner's association that has a large transfer fee that the lender didn't know about until closing, leaving you with more in closing costs than you can afford. Or perhaps the lender wouldn't accept a large cash deposit you made from the sale of your Star Wars figurine collection because you couldn't provide proof of ownership, and the lender increased your rate to pay some of your closing costs.
Whatever the reason, an APR increase of more than an eighth of a percent on a fixed-rate loan, or quarter percent on an adjustable-rate loan, will trigger a new waiting period of three business days.
No. 2: A prepayment penalty is added
Lenders have the right to add a prepayment penalty to a loan that creates an interest charge if you pay off your loan within a pre-determined period. Prepayment penalties are rare, and usually are only charged on alternative lending products or hard money loans for borrowers with major credit issues.
If a prepayment penalty is added to your loan after your initial closing disclosure has been issued, you'll have to wait an extra three business days before you can close.
No. 3: The loan program is changed
As you get closer to your closing date, you may begin to ponder whether the program you've chosen is the best for your future circumstances. For example, if you know you'll only be in your home for five to seven years, you may consider switching to an adjustable-rate mortgage to take advantage of the lower temporary interest rate than you'll get with a 30-year fixed rate loan.
Or you may have to switch loan programs due to a change in credit scores, or a sudden spike in expenses. Because the rate and fees will change based on the final loan program, a new three business day waiting period will be required before you can close.
Waiving the 3-day waiting period
Emergencies can happen, and if you have a bonafide financial emergency, you can request a waiver of the waiting period. The only example of this given by the CFPB relates to a mortgage being obtained to prevent a foreclosure.
Because the waiting period was really created to give homebuyers extra time to review all the details of their loan before they buy a home, it's very rare that a bonafide emergency will be approved for a purchase loan.
How the extra waiting period affects a refinance
If you're thinking about refinancing, or are in the process of refinancing, the same closing disclosure waiting period applies. If you are refinancing your primary residence, this more than doubles the time it takes for you to get to the closing table, because you have to also wait the mandatory period for your "right of rescission" on a refinance.
The right of rescission requires an extra three business day waiting period after you sign, and before you fund. For example, if you sign refinance papers on a Monday, you'll need to wait Tuesday, Wednesday and Thursday before you can fund on Friday. During that time, if you think the refinance is not worth it, you have the right to cancel your loan application and can exercise your right to rescind by signing the cancellation form and providing it to your lender before midnight on the third business day after you have signed.
However, with the new disclosure laws, you also have to receive your closing disclosure three days before your signing. Using the example above, you'd have to receive your closing disclosure no later than Thursday of the previous week (Sunday doesn't count as a business day), to be able to close by the next Friday.
This may be confusing, and your loan officer should keep track of the timelines, but it may also limit your ability to close a refinance in 30 days or less. This is important because the shorter your lock period, the better your rate and the lower your closing costs will be.
You need to be prepared to provide documentation quickly and efficiently and pick a lender that has the ability to close your refinance in 30 days. Not all lenders specialize in refinances, and may prioritize purchase loans instead. If you find a lender is not willing to commit to less than a 60-day closing on a refinance, you may want to shop around for a lender that specializes in refinance loans.
Reasons your final closing disclosure may be different from your loan estimate
The closing disclosure provides you with a first draft of what you'll be signing at the closing table. Some lenders may call it a "preliminary closing disclosure" or an "initial closing disclosure" because it's still subject to finalizing certain items like homeowners association transfer fees, or an invoice showing you already paid for a fee like a credit report or appraisal.
There are some reasons your final closing disclosure may be different, but your lender should notify you in advance and may mention something called a "change of circumstance." These are situations in which your lender is allowed to change your closing costs without any restrictions.
Your interest rate wasn't locked at application
If you didn't request a lock-in of your interest rate, your final rate could be different. Most lenders will give you advice on locking, so it's not very common that you won't know your interest rate before you receive your closing disclosure. Lenders are required to notify you when your loan is locked in writing, so if you haven't gotten a lock confirmation email, be sure to call your loan officer.
You changed loan programs
If you have credit problems, your lender may have switched you from the more stringent underwriting guidelines of a conventional loan to the easier qualifying guidelines of an FHA loan. If that's the case, your interest rate and closing costs could be different on your closing disclosure.
The appraised value of your home was higher or lower than estimated
When you're buying a home, lenders will use the sale price on your contract or the appraiser's opinion of value, whichever is lower. If the value is lower than the sales price, the lender will have to adjust your loan amount, and you'll have to negotiate with the seller to either have him match the value, meet halfway, pay the difference out of your pocket or cancel the transaction.
A lower than expected appraised value may also affect your interest rate, and the amount you can borrow on a refinance transaction. With conventional loans, your interest rate is influenced by how much equity you have in your home. Home equity is the difference between your loan balance and your value, and the higher it is, the higher your interest rate is.
If you have less than 20% equity, you may end up having to pay private mortgage insurance on a conventional loan, which will increase your monthly payment, and possibly result in more closing costs or a higher interest rate. Mortgage insurance is usually required if you take out a mortgage with less than 20% equity.
Your score dropped on a new credit report
When you start the mortgage approval process, your lender pulls a credit report that is good for 90 days. As long as you close your loan within that period, you don't have to worry about your lender pulling another credit report.
In some situations, it may take awhile to get you approved for financing or to find a house that you really like. If your loan isn't scheduled to close before your credit report expires, new credit could be pulled. And if the score is lower, you could end up with a higher rate, more closing costs or both.
Real estate transaction costs were added
There are fees related to your real estate transaction that the lender may not be aware of at the time your initial loan estimate is issued. These may include fees for home inspections, termite treatment and, in some cases, an updated property tax bill that was just received by the title company.
Many times your real estate agents will provide these invoices while your loan approval is being processed, and you won't see them reflected until you receive your closing disclosure.
Which costs can increase on your closing disclosure and which can't
The TILA RESPA Integrated Disclosure (TRID) rule created a new set of laws that restrict a lender's ability to increase costs. In some cases, there is zero tolerance for any increases, while in others, there is no restriction at all.
The graphic below provides a breakdown of the three categories of costs and how much they can increase from your initial loan estimate to your closing disclosure.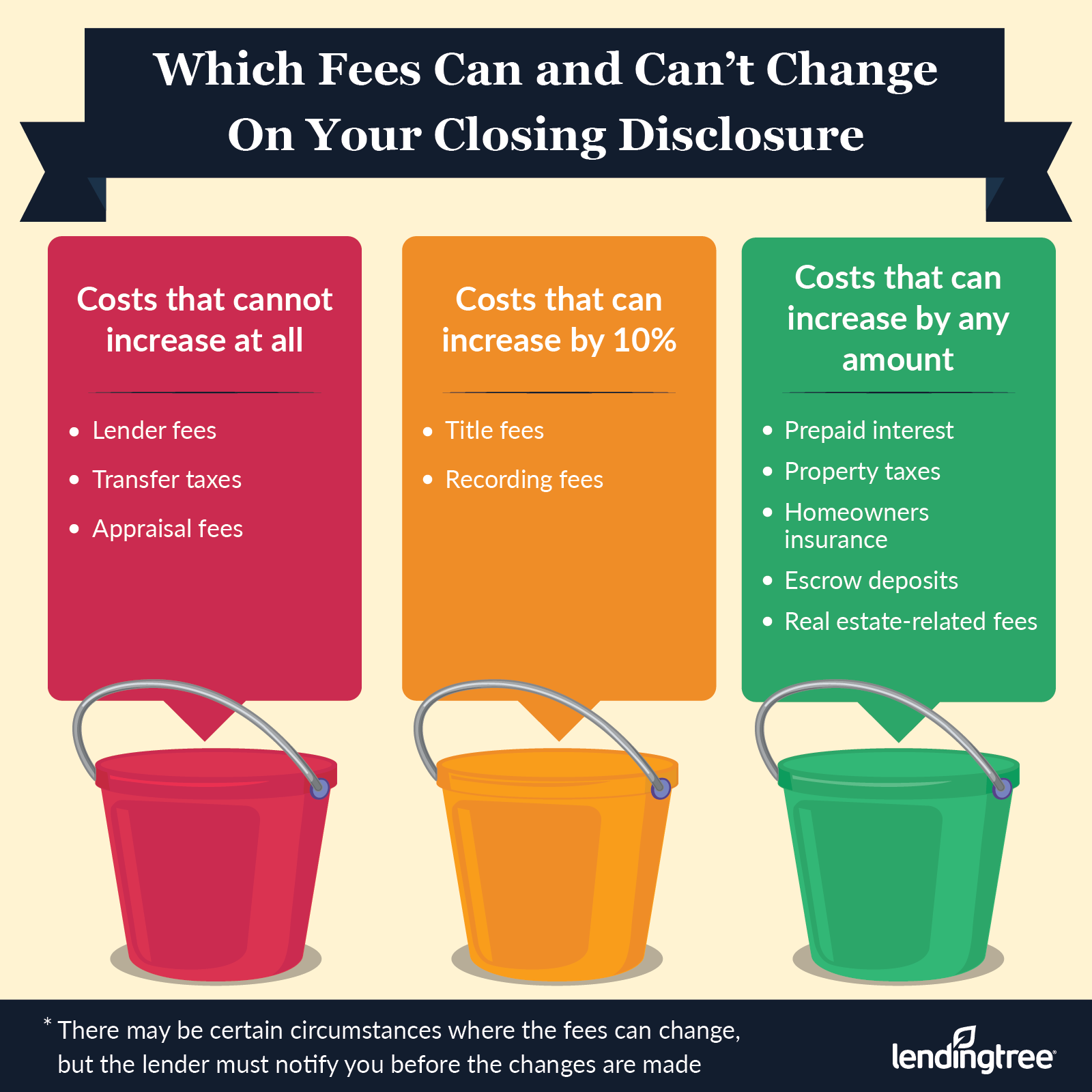 Note that this is not all-inclusive. There are also rules related to charges for services that your lender referred to you on a written list, and if you were required to use a service by your lender, the initial quoted fee cannot change on your closing disclosure.
Final thoughts about the closing disclosure
The closing disclosure may take some time to read through, but it is packed with information that will help you make a final informed decision before you sign on the dotted line and commit to a mortgage loan. It also helps you check the figures against what your loan officer originally quoted you, with built-in protections against unexpected charges.
Although there are situations where fees and rates might go up, the current regulations require lenders give you time to review the reasons for the changes, so you can determine if you want to continue with the loan or cancel the application. Either way, the closing disclosure is definitely a document you should read in its entirety before you schedule your closing.
The information in this article is accurate as of the date of publishing. 
---
Featured Articles