How Does LendingTree Get Paid?
LendingTree is compensated by companies on this site and this compensation may impact how and where offers appear on this site (such as the order). LendingTree does not include all lenders, savings products, or loan options available in the marketplace.
Foreclosure Definition: Process and Timeline Explained
Published on: November 12th, 2019
Editorial Note: The content of this article is based on the author's opinions and recommendations alone. It may not have been previewed, commissioned or otherwise endorsed by any of our network partners.
When you get a mortgage to buy your home, the new roof over your head becomes collateral for the loan you're repaying. If your circumstances change and you struggle to pay back the loan, your lender can ultimately take ownership of your home. That's the definition of foreclosure.
Let's take a closer look at what a foreclosure is and how the process works. In this article, we'll cover:
Foreclosure defined: What is it?
A foreclosure is when a lender repossesses a home after the borrower fails to make the agreed-upon monthly mortgage payments. In some states, the lender must go to court to file a lawsuit to foreclose on a property. In others, a lawsuit isn't necessary. When your home is foreclosed, you must move out and you no longer own the property.
Breaking down the foreclosure process
Now that you have the definition of foreclosure, let's discuss how a homeowner ends up in foreclosure.
When you first took out your mortgage, you signed a promissory note indicating that you would make all payments owed to your lender. If you fail to repay the loan, your lender has the right to take possession of your home and sell it to recoup the money they invested.
Foreclosure laws vary by state, but you typically have to be 120 days, or four mortgage payments, behind on your loan before the foreclosure process begins.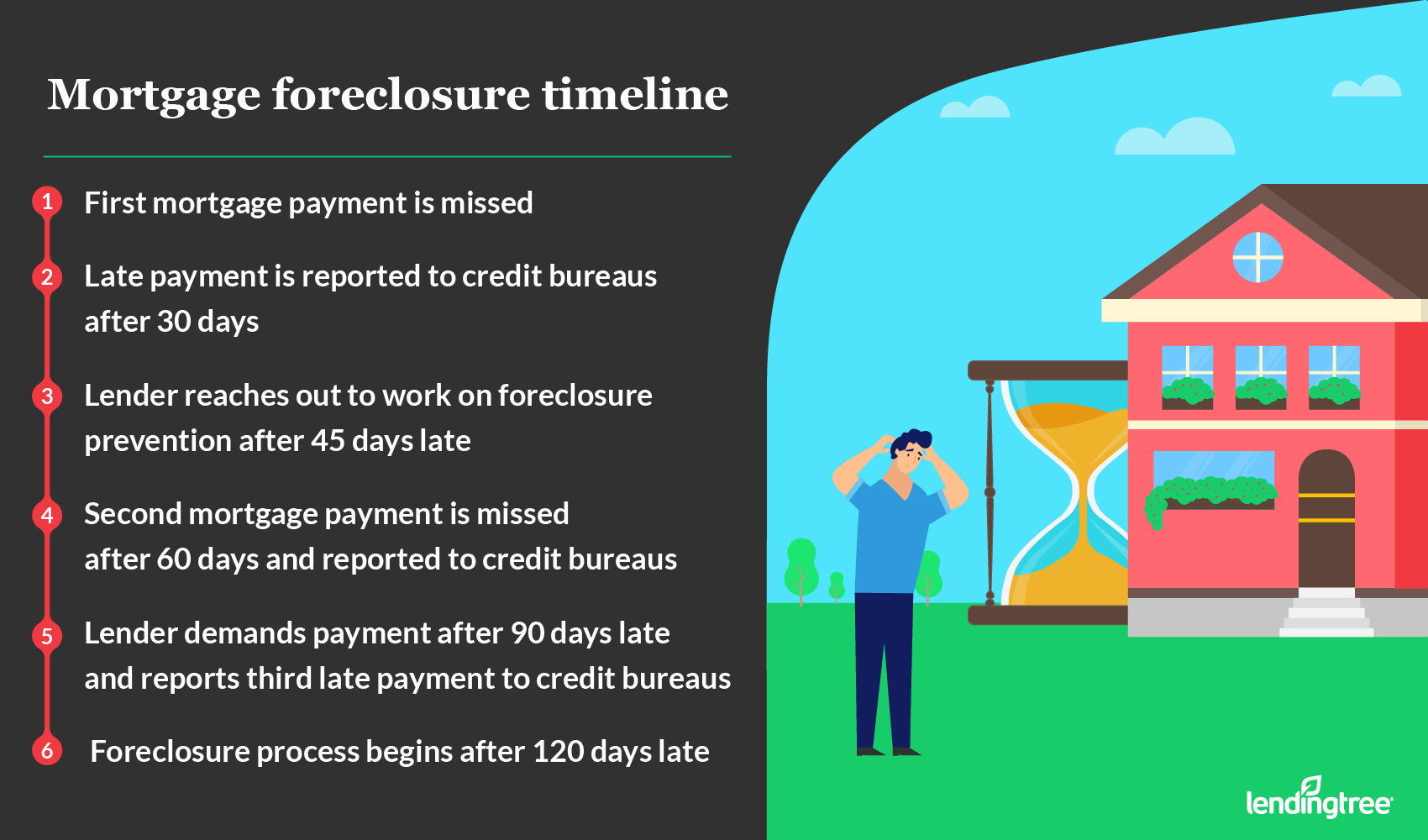 There are two types of foreclosure: judicial and non-judicial. If you live in a state with judicial foreclosures, your lender has to go to court to start the foreclosure process. Lenders don't have to sue to repossess a home in non-judicial foreclosure states, which can speed up the process.
Understanding the financial consequences of foreclosure
Foreclosure severely impacts your credit profile and can prevent you from buying a home for several years.
The hit your credit score takes from a foreclosure depends on where it stood before the foreclosure was added to your credit report. For example, if you had a 780 score before, your score could fall to as low as 620 — a 160-point drop — after you lose your home, according to data from FICO.com.
You'll also have a waiting period before you can qualify to buy another home, which can range from two to seven years, depending on the loan program. Here's a look at those waiting periods:
How soon can I get a mortgage after a foreclosure? 
Loan program 
Waiting period 
Conventional
7 years
FHA
3 years
VA
2 years
USDA
3 years
In cases of extenuating circumstances, such as a job loss or a sudden increase in medical expenses, your waiting period may be shortened. Check with your lender for more details.
How to avoid foreclosure
Lenders bear the financial brunt of a foreclosure, and typically prefer to avoid the process when possible. To help borrowers who might struggle repaying their mortgage, some lenders offer mortgage assistance to keep you in your home. If you fall behind on payments, reach out to your lender to see how they can help. Here are some foreclosure prevention options your lender might offer:
The bottom line
Going through foreclosure can be a devastating and discouraging experience, especially because you'll lose your home, see a major drop in your credit score and have to wait several years before you can qualify to buy another home.
Remember that it works in your favor to contact your lender as soon as you think you might miss a mortgage payment. Communicating early and often can help you avoid having your home foreclosed.