How Does LendingTree Get Paid?
LendingTree is compensated by companies on this site and this compensation may impact how and where offers appear on this site (such as the order). LendingTree does not include all lenders, savings products, or loan options available in the marketplace.
How To Buy a Mobile Home
Updated on: June 8th, 2023
Why use LendingTree?
We are committed to providing accurate content that helps you make informed money decisions. Our partners have not commissioned or endorsed this content. Read our .
A manufactured home (often called a mobile home) is built in a factory and moved to a permanent location. The process to buy a mobile home can be more complex than purchasing a regular home, but it could be a more affordable path to homeownership. Learn more about how you can finance a mobile home.
What is a manufactured home?
Manufactured homes are built in a factory and then taken in one or more sections on a chassis — or permanent frame — to a dealer, plot of land or manufactured home community. Many people think all manufactured homes are easily moveable, but in reality manufactured homes are typically not moved after being installed at a site.
What is a mobile home?
Manufactured homes are often referred to as mobile homes or trailers, but technically they aren't the same thing. In 1976, the U.S. Department of Housing and Urban Development (HUD), implemented the Manufactured Home Construction and Safety Standards (also known as the "HUD Code") that regulated mobile home construction. Manufactured homes built before June 15, 1976 are mobile homes; those constructed after that date are manufactured homes.
While "mobile home" is an outdated term, it continues to be used in everyday speech to talk about modern manufactured homes. The manufactured homes of today are built to follow HUD standards, and they can look and function surprisingly similarly to homes built on a specific site. One main difference, though, is that manufactured homes are usually bought from a dealer or retailer.
Manufactured home vs. modular home
"Modular home" is another term closely associated with manufactured homes, but they're not identical. Like manufactured homes, modular homes are factory-built and then transported before being finished at the site. But, just like site-built homes, modular homes follow state, local or regional building codes rather than federal requirements.
Unlike manufactured homes, modular homes aren't usually sold through a dealer. Instead, as is also common with site-built homes, a general contractor or builder has already completed construction before the house is put on the market.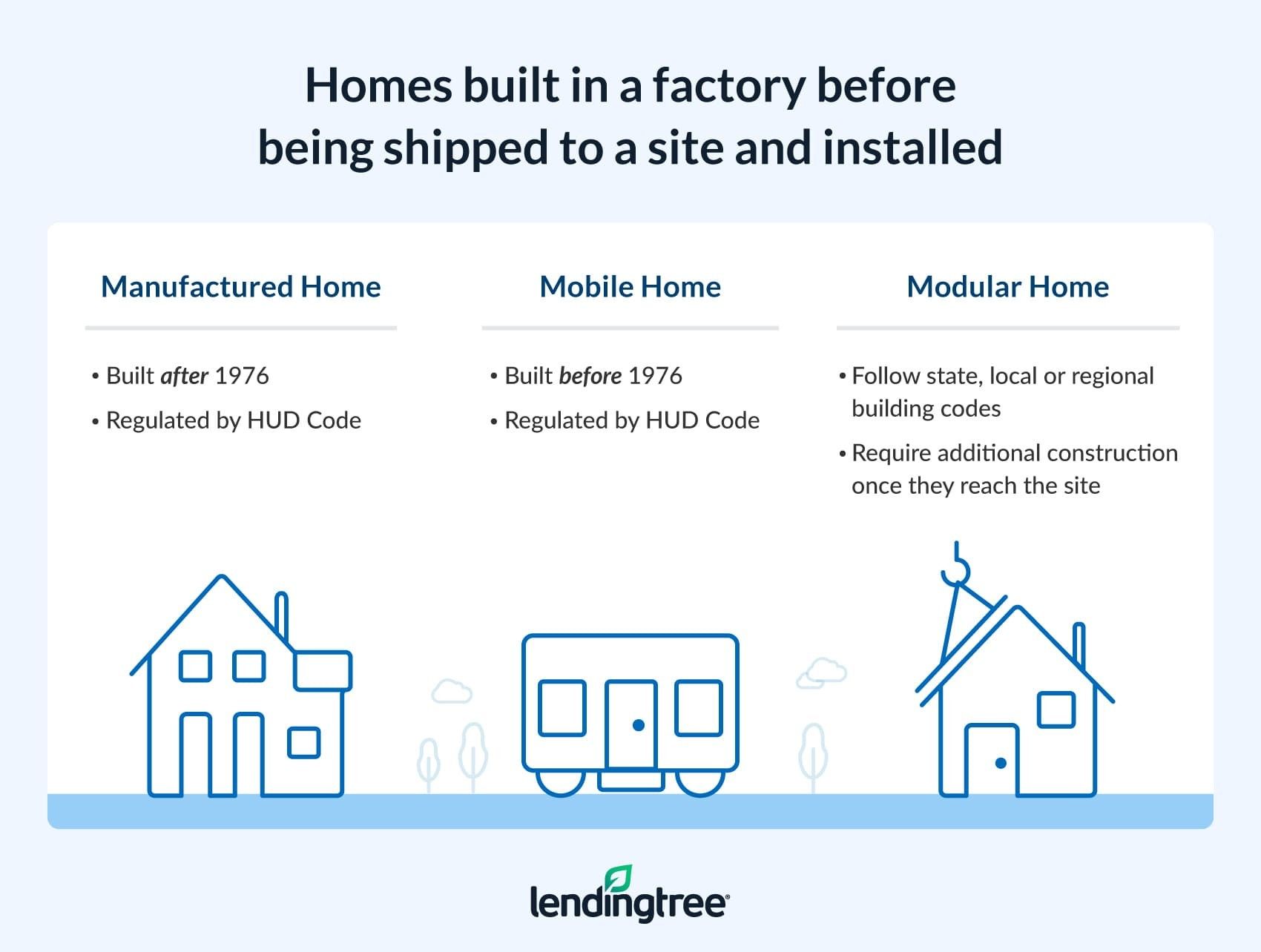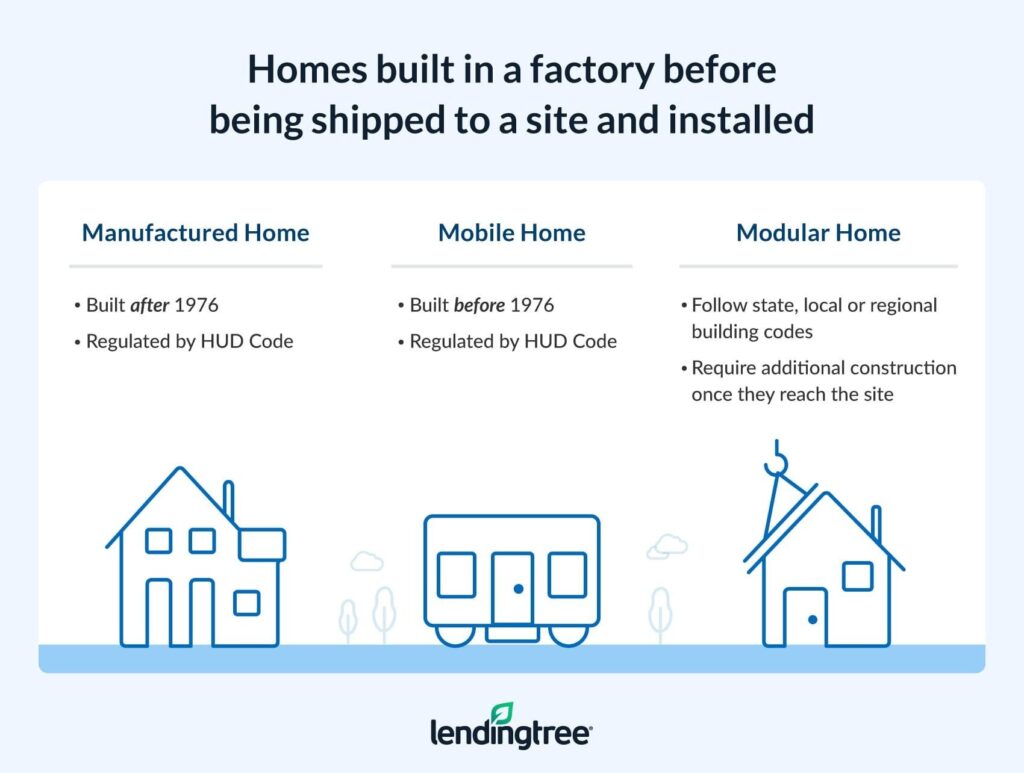 How much does a manufactured home cost?
The average cost of a manufactured home was $88,000 at the end of 2022. If you compare that to the $378,700 price tag on the average site-built home, manufactured homes are clearly significantly cheaper — but is it just because they tend to be smaller? The answer is no, because a new manufactured home in the United States is around $71 cheaper per square foot than a site-built home, according to data from the U.S. Census Bureau.
However, manufactured home costs vary by location and size of the home, so expect to find a broad range in prices. Manufactured homes are cheapest in Kansas, Ohio and Iowa, but most expensive in Washington, Nevada and Oregon, according to a recent LendingTree analysis.
Additional expenses when you buy a manufactured home
When you buy a manufactured home, here are some other expenses you'll need to consider as part of the costs of owning a manufactured home:
Land purchase
Site preparation
Delivery and installation
Utility hookups
Insurance
Taxes
You may be able to finance some of these costs — including the purchase of land — along with the home.
5 types of loans for buying a manufactured home
You have several options for a loan to buy a manufactured home and land, but your choices will depend on how your manufactured home is titled. Here's a look at the requirements side by side:
Conventional
Government-backed
Loan type
Fannie Mae
Freddie Mac
FHA
VA
USDA
Minimum down payment
3% to 5%
5%
3.5%
5%
0%
Maximum loan amount
Based on lender requirements
Based on lender requirements
Home only: $69,678
Lot only: $23,226
Both: $92,904
Based on lender requirements
Based on lender requirements
Loan type
Fixed- and adjustable-rate
Fixed- and adjustable-rate
Fixed rate
Fixed- and adjustable-rate
Fixed- and adjustable-rate
Minimum credit score
620
720
580 with 3.5% down,
500 with 10% down
Varies by lender
No minimum
Must be titled as real property and/or affixed to the land
Conventional loans
Many private lenders offer manufactured home loans, including financing a manufactured home with land. However, in most cases, in order to qualify for a manufactured home mortgage, you'll have to place the home on a permanent foundation and title it as real estate property. Here are some options for conventional loans on manufactured homes.
Fannie Mae MH Advantage. To finance a manufactured home, it must be certified as an MH Advantage home. Homes that qualify typically have construction, design and features similar to site-built homes and are located in residential areas. These manufactured homes are built on a permanent chassis, installed on a permanent foundation on land and are titled as real estate. Loans can be fixed- or adjustable-rate mortgages with terms up to 30 years.
Fannie Mae Standard MH. This loan option is for homes that don't meet the eligibility requirements of the MH Advantage program, including traditional single- and double-wide manufactured homes. However, unless it's in a co-op or condo project, the borrower must own the land the home is placed on. The manufactured home must be built on a permanent chassis, installed on a permanent foundation on land the borrower owns (with or without a mortgage) and titled as real estate. Loans may be fixed- or adjustable-rate, up to 30-year terms.
Freddie Mac Manufactured Home Mortgage. These manufactured home mortgages are available in most states. Loan terms include both fixed- and adjustable-rate mortgages. Homes must be on a permanent foundation and can be placed on private property owned by the borrower, in a planned development or project or — with written permission — on leased land.
If you're purchasing a manufactured home to place on land you already own, you may be able to
use your equity in the land
to cover all or part of the down payment.
Government-backed loans
FHA manufactured home loans
You can buy a manufactured home with a loan insured by the Federal Housing Administration (FHA). These loans are available to finance the purchase of a manufactured home only, a lot only or both at once. In addition, you can use an FHA manufactured home loan for a home installed on a leased lot. Terms range from 15 to 25 years.
FHA Mortgage Insurance Gets Cheaper in 2023
Good news for those shopping for FHA loans: As of March 20, 2023, the annual mortgage insurance premium will drop by 0.30%, saving new borrowers an average of $800 per year.
VA loans for manufactured homes
Loans backed by the U.S. Department of Veterans Affairs (VA) provide financing options to military service members, veterans and surviving spouses. VA loans for manufactured homes require that the homes be attached to a permanent foundation on land owned by the borrower or a manufactured home and land together. The home must qualify as real property.
USDA manufactured home loans
Low- to moderate-income homebuyers in rural areas who want to finance a manufactured home, or a home and lot, may qualify for a USDA Single Family Housing Guaranteed Loan. These loans offer flexible qualification requirements, including no minimum down payment and no minimum credit score.
Personal loans for manufactured homes
Depending on the cost of the manufactured home you're buying, a personal loan may be an option. Personal loans generally go up to $50,000 — however, some lenders issue loans up to $100,000.
These loans come with fixed rates, and terms are usually between two and five years. However, personal loans typically have higher interest rates than mortgages and auto loans. Exact personal loan qualifications often vary, but most lenders will usually review your credit score, income and other financial details.
Chattel loans
Another way to buy a manufactured home is with a chattel loan — it's like a mortgage, except it's meant for high-price personal property, such as boats, planes or heavy equipment ("chattel" is another word for "personal property"). Chattel loans for manufactured homes are common and typically have higher interest rates than mortgages. The loan will be secured by your manufactured home alone so; as such, unlike with a traditional mortgage, if you default on the loan only the home can be repossessed — not the land.
Pros and cons of buying a manufactured home
Manufactured homes represented about 9% of new single-family residential buildings in 2021, according to data from the US Census Bureau's most recent Manufactured Housing Survey. But before you jump into any type of homeownership, it always pays to consider the pros and cons.
Pros
  Affordability. Manufactured homes continue to offer a more affordable option during a nationwide affordable housing crisis. In 2021, the average manufactured home price was $108,100, but a single-family home cost an average of $365,904 (excluding, in both cases, the value of the land).
  Efficient construction. Because manufactured homes are made in factories, their construction isn't affected by weather or other factors that affect site-built homes.
  Multiple financing options. There are a wide range of options to help you finance a manufactured home. Many options allow you to finance both the land and the home, but it's very possible to finance or refinance just the manufactured home itself.
  Reasonably safe. Safety concerns around mobile home parks are largely a myth—crime rates aren't significantly different in or around mobile home parks when compared to any other residential neighborhood.
Cons
  Higher interest rates. Manufactured home loans typically come with higher interest rates than other loan types.
  Higher chances of loan denial. Only about 30% of manufactured home loan applications are approved, compared to more than 70% for site-built homes.
  Social stigma. Manufactured housing has come a long way in recent decades, but that doesn't mean that everyone's gotten the memo. You might receive negative opinions from colleagues, family or friends if you buy a manufactured home.
  Depreciating home value. Unlike traditional site-built homes, which tend to appreciate over time, manufactured homes may depreciate. That said, depreciation is far from guaranteed—in fact, between 2016 and 2021, manufactured home values nearly kept pace with site-built homes.
  Difficult resale. Manufactured homes aren't easy to resell, and can pose especially expensive challenges if you want to sell only the home while keeping the land. It'll likely cost thousands of dollars to move a manufactured home to a new site.
6 steps for buying a manufactured home
Buying a manufactured home includes a different process than purchasing traditional real estate. The exact method will vary by state, so contact the Manufactured Housing Association for information on regulations, permits and the process of buying a manufactured home in your state.
Here are six steps you'll need to take when buying a manufactured home:
STEP 1 Decide on the location for your manufactured home
If you're purchasing land, or placing the manufactured home on property you already own, study the zoning laws and any other guidelines you'll need to follow.
STEP 2 Search for a manufactured home
Work with your manufactured home retailer to customize your manufactured home, unless you're purchasing a standard model or an existing manufactured home.
STEP 3 Secure financing
Work directly with a lender, mortgage broker or your manufactured home retailer to weigh your options for manufactured home loans. Similarly, compare lenders and loan terms if you're considering a personal loan or chattel loan.
STEP 4 Prepare the home site
Your retailer will work closely with you to make sure the site is ready for the installation of your home. This includes securing necessary permits, addressing any issues that affect the installation of the home and preparing utility hookups.
STEP 5 Arrange delivery and installation of your home
Your home is delivered and installed after the land or lot is ready.
STEP 6 Sign up for insurance
Before you can move in, you'll need to insure the home and fulfill any other occupancy and maintenance requirements to avoid potential problems or delays.