Buying a Manufactured Home in 2019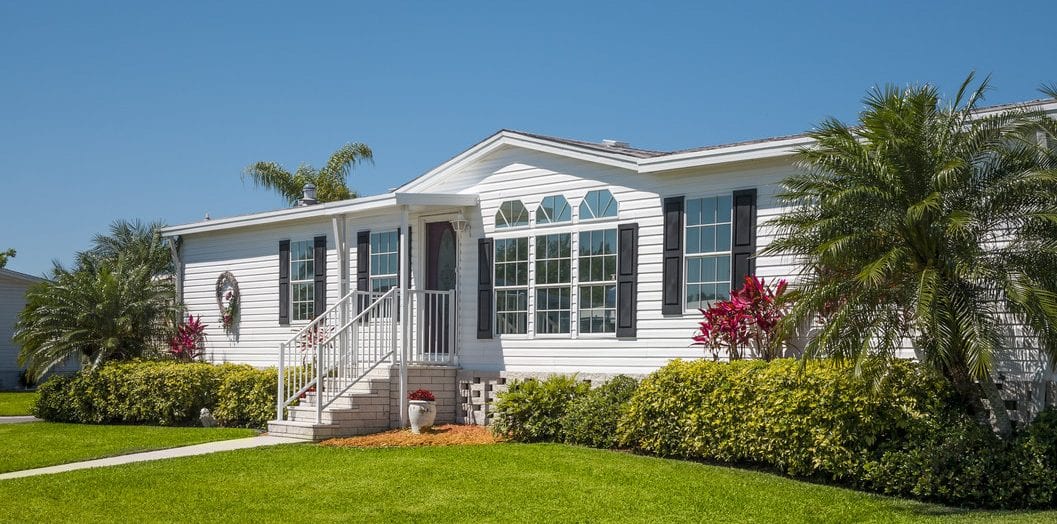 If you want to buy a house but find the prices higher than you can afford, it may be time to look at manufactured homes as a more affordable alternative. The average sales price for a manufactured home in May 2018 was about $81,000 — much less than the $264,800 you would pay for a traditional home during the same month.   
Despite still carrying a stigma, the quality of manufactured housing has dramatically improved in recent years. Further, a new study by the Federal Housing Finance Association indicates that prices on manufactured homes may perform just as well — making them more attractive for homebuyers in the coming years.
It is also easier to get a mortgage to buy a manufactured home than it was in prior years, with lower down payment requirements, lower mortgage insurance premiums and more flexible underwriting guidelines than lenders have offered in the past.  
What is a manufactured home?
Manufactured homes are often confused with mobile homes, but they are separate categories. A manufactured home is built in a factory, which produces sections that will be affixed onto a permanent chassis and then transported to the site the home will sit on.
The modern-day manufactured home is actually a relative of the 1930s trailer, a concept made popular by people who wanted to camp on the go during vacations. The trailers could be transported behind a car and provided some of the comforts of home —  with sleeping quarters, kitchen and small living areas.
As the trailers became longer and wider, people started using them as permanent residences, and by the 1970s, the industry had officially renamed them "mobile homes."
Soon, the lack of safety and construction standards on these residences led to the U.S. Department and Housing and Urban Development (HUD) to implement new construction and safety standards, and this new breed of not-so-mobile home became the modern-day "manufactured home."
Features of manufactured homes in 2019
You won't find any wheels or axles on manufactured homes built nowadays. High-end bathroom fixtures, custom countertops, upgraded bath and sink options, and even electric fireplaces are options you'd expect to find in a newly constructed home, but they are just a few of the bells and whistles available in manufactured homes today.
There is also a number of different styles to choose from, from farmhouse-style homes complete with custom doors and wood treatments to California bungalow style exteriors, complete with decorative exterior windows and a flexible entry porch.
Why are manufactured homes cheaper than traditional homes?
The primary reason manufactured homes are cheaper than traditional "site-built" housing has to do with the ability to mass produce the sections of the home in a factory setting. Site work is expensive and has to adhere to local building codes, whereas manufactured homes are built according to a preapproved nationwide building code enforced by HUD. This eliminates the additional engineering expenses associated with site-built homes.
Factory manufacturing also eliminates delays due to seasonal weather constraints. Theft and vandalization at the construction site are also not an issue, and you won't get as many conflicts between contractors and subcontractors.
5 manufactured home myths
You may have heard a lot of myths about manufactured homes that were characteristic of the unregulated days of mobile home building and materials before 1976. It's important to dispel those notions with the facts about modern-day manufactured homes.
The prices are lower because they're made with cheaper materials
There is no difference between the standard materials used for manufactured homes and site-built homes. Manufactured homes are more affordable because the factory-building process makes them more cost-effective.  
They're trailers and delivered with wheels that can be moved around
Manufactured homes may have evolved from trailers decades ago, but they are anything but trailers now.  Modern-day manufactured home factories build homes that  meet or exceed the Manufactured Home Construction and Safety Standards Act of 1974.
They are installed on a permanent chassis, which is used to transport the structure to its ultimate destination. The wheels are removed when the home is affixed to the permanent foundation during installation.
They're not as safe as site-built homes
The factory-controlled building process requires inspections to ensure HUD's safety standards of design are followed by every component of construction.
They're more likely to be damaged by a high-wind weather event
Besides requiring the HUD code seal of approval, manufactured homes must also meet the installation standards for wind zones in their respective regions. FEMA created four different zones to ensure manufactured homes can withstand the wind force that is common to the occurrence of hurricanes and tornadoes in different parts of the country.
You can only live in a trailer park
You can buy land to have your manufactured home installed on, which then makes your home considered real estate, rather than personal property. If you choose to lease the land rather than buy it (more about this below), modern-day manufactured housing communities (MHC) offer the same sense of community and attention to neighborhood standards that you might find in a homeowners association associated with a site-built home.
Buying a manufactured home with land
The only way for your manufactured home to be considered real estate comparable to site-built homes is for you to purchase the land that the home will be placed on. This requires a search that is similar to looking for a standard built home. However, this is worth the effort to get the best mortgage financing terms and appreciation potential from your manufactured home.
Where do you want to live?
Just like buying a house, location is important when purchasing land for your manufactured home. You'll want to consider things like privacy, access to utilities and how close — or far  — you want to be from civilization.
How much property do you need?
Many people choose to buy their own land so that they have the freedom to do what they want with the improvements. You can avoid the restrictions of neighborhood housing communities and associations by purchasing land that is not located near planned unit developments.
The more land you have, the more distance you'll have between neighbors, which means more privacy. The only drawback is you'll need to maintain the land, so the more acreage you have, the more time and money you'll spend to keep it up.
Are there any basic improvements on the land?
Being away from metropolitan areas may come with some added expenses, such as grading preparation for the land, and making sure you have or can get access to cable, electric, natural gas, water and sewage.  
You need to know how far your commute will be for shopping and entertainment, as well as the length of your commute. You'll also want to make sure you know how far your property is from emergency services like hospitals and fire stations.
Are there manufactured home restrictions in the area you are buying?
Unfortunately, there is still a stigma attached to manufactured homes in some areas of the country, and local zoning and building restrictions may not allow for you to add a manufactured home to the plot of land you want to buy. You'll need to make sure you know the local zoning and building regulations before you buy.
What type of weather and natural disaster conditions are applicable to your area?
Check on this with the manufactured home company you work with. As mentioned above, there are different zones that require certain manufacturing and anchoring installation to make sure the property can withstand the wind and weather conditions applicable to the area you are buying your land.
The requirements for a manufactured home in Florida, where hurricanes are prevalent, are likely more stringent those for Arizona, where monsoon thunderstorms are more common. For areas prone to flooding, the manufactured home may need to be built up so the property is sitting above the levels the waterline may rise to during flood season.
Financing your manufactured home as real estate or personal property
There are two ways you can finance the cost of a manufactured home. By itself, a manufactured home is considered personal property. In many ways, buying a manufactured home is like purchasing a vehicle — there is a HUD manufacturing tag similar to the VIN found on a car, and title is taken personally.  
Financing terms for a manufactured home by itself are similar to those found for automobiles. In order to be considered real estate, you need to own both the land and the manufactured home — the mortgage financing options below assume that you are purchasing an existing manufactured home on land or are planning to buy a land/manufactured home package.  
In all of the examples below, the property must be taxed as improve real estate, meaning you receive a property tax bill from the assessor's office just like you would get if you owned a site-built home. In order to be taxed as real estate, an affidavit of affixture must be recorded that confirms to the local tax assessing authority that the property meets the guidelines to be considered improved real estate.  
What home loan programs are there for manufactured homes?
One obstacle preventing many manufactured homeowners from receiving the same low rate mortgages as site-built homeowners, is their home is considered personal property.  Part of this may be due to a perception that mortgages for manufactured homes are more expensive or require higher down payments than mortgages for regular homes.  
The truth is, there are a number of new mortgage programs being offered by Fannie Mae and Freddie Mac that offer lower down payments, more liberal credit score requirements and lower rates and mortgage insurance requirements than in previous times. These programs are part of a larger affordable initiative undertaken by the Federal Housing Finance Agency called Duty to Serve, which seeks to provide more affordable housing partly through a large push to provide competitive financing for the purchase of manufactured homes.  
Here are some features of the newest programs for manufactured home purchases; the Fannie HomeReady® loan, the Freddie Mac Home Possible® loan and the Fannie Mae MH Advantage™ loan.
Key Details on Mortgages for Manufactured Homes
Loan Feature
Fannie HomeReady®
Freddie Home Possible®
Fannie MH Advantage™
Down payment minimum

5%

5%

3%

Down payment flexibility

Cash on hand, sweat equity, gift

Cash on hand, sweat equity, gift

Gift

Mortgage insurance coverage

25%

25%

35%

Minimum credit score

620

720

620

Nontraditional credit allowed

Yes

Yes

No

Nontraditional income allowed

Yes, boarder income.

No

No

Trade in equity allowed

No

No

Yes

Land equity allowed

No

No

Yes
Highlights of these programs
There be some features listed above that you aren't familiar with. They are unique to these particular programs and worth an extra explanation.
Down payment flexibility
Cash on hand is generally not permitted on a standard purchase program, but if you have a history of paying your bills with cash and are willing to sign an affidavit confirming none of the cash is borrowed money, you may be able to use the money toward your down payment. This situation can be common for people who keep earnings in a safe or in envelopes at home. You'll need to deposit the funds at least 30 days before closing, and explain that it's normal for you to use cash for expenses, and the amount of funds that you have saved are consistent with your income and regular monthly expenses.
Sweat equity is especially flexible under Freddie Mac Home Possible® guidelines. If you have handyman skills and the property you are buying needs some fix-up, the cost of your labor toward the work that needs to be done can be used as part of a down payment. This option is really only usable if you are buying an existing manufactured home on land.  
Credit flexibility
There are special flexibilities for borrowers who don't have credit scores or have very little credit history. A nontraditional credit history can be used, which usually involve verifying the last 12 months of rent, two housing-related expenses like a water and electric bill and then two other nonhousing expenses like car insurance, life insurance or a cellphone bill.
Boarder income
If there is a family member or friend who will occupy the home but not be on the loan, some of the income may be usable as qualifying income. You'll need to prove the person has been living with you for at least 12 months prior to the loan with documentation, such as a driver's license, bill or bank statement that shows the boarder has the same address as you.  
The boarder must be able to show that the payments were made directly to you toward the housing expense in the form of canceled checks or bank statements for at least the 12-month period for the income to be usable.
Trade-in equity
For borrowers who already own a manufactured home and land, and want to trade it in for a newer make and model, the equity in the existing manufactured structure can be used toward the new purchase. The value will be based on a maximum equity contribution of 90% of the retail value based on the NADA Manufactured Housing Appraisal Guide®.
Land equity
If you purchased the land for your manufactured home at least 12 months ago, you might be able to use the equity from any increase in the value since you bought toward your down payment. Depending on how fast land is appreciating in the area you bought it, your land equity could help you meet a part of or your entire down payment minimum.
Government loan programs for manufactured homes
Although this article is focused on the new programs for purchasing manufactured homes, government loan programs also offer financing options for manufactured homes. The table below shows some of the standard features.
Key Details on Government Programs for Manufactured Home Loans
Features
FHA
VA
USDA
Down payment

5%

5%

0%

Minimum credit score

580

620

640

Income flexibilities
43%, can be higher with compensating factors
41% recommended, may be exceeded with compensating factors
32/44%
Down payment flexibilities

Standard FHA

Standard VA

Standard USDA
Final thoughts about buying a manufactured home in 2019
Through July 2017, for every home listed above 3,000 square feet there was only one home listed between 750 and 1,500 square feet. The supply of starter homes has been declining at 17% year-over-year, nearly twice as fast as all other types of home sales as of 2017, according to Realtor.com.
With features and models that mirror those found in site-built homes at a fraction of the cost, and competitive financing, it may the perfect time to start considering buying a manufactured home in 2019.