How Does LendingTree Get Paid?
LendingTree is compensated by companies on this site and this compensation may impact how and where offers appear on this site (such as the order). LendingTree does not include all lenders, savings products, or loan options available in the marketplace.
Minimum Mortgage Requirements for 2021
Updated on: December 21st, 2020
Editorial Note: The content of this article is based on the author's opinions and recommendations alone. It may not have been previewed, commissioned or otherwise endorsed by any of our network partners.
If you're thinking about buying a home soon, knowing the minimum mortgage requirements can help you find the best loan program for your needs. Homebuyers qualifying for a mortgage in 2021 will have more borrowing power, thanks to higher loan limits. However, there are some changes ahead, too, as lenders adjust to changing market conditions arising from the ongoing coronavirus pandemic.
2021 minimum mortgage requirements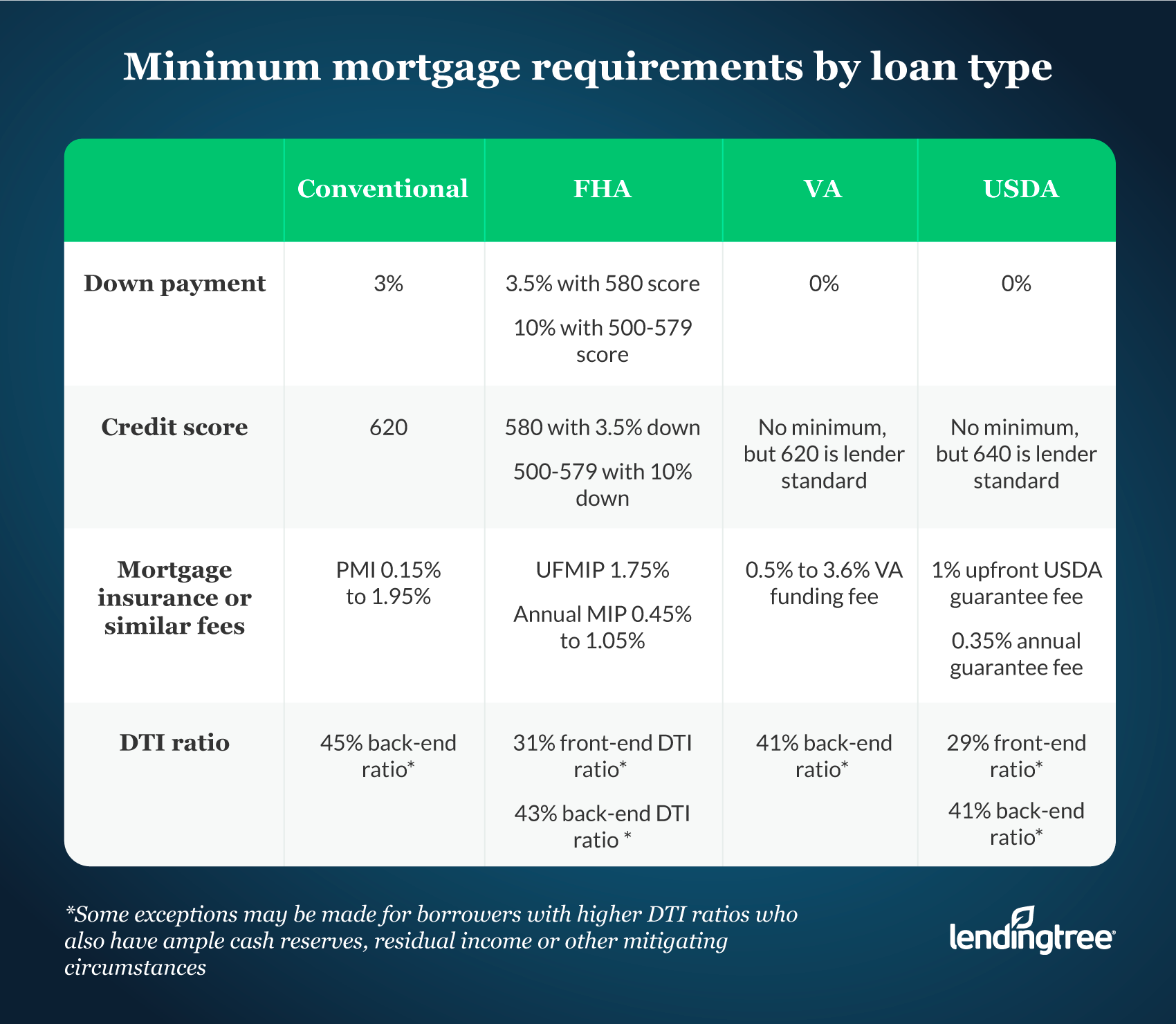 Conventional mortgage requirements
Conventional loans, the most popular mortgage option, aren't guaranteed by any government agency. Fannie Mae and Freddie Mac set conventional home loan requirements, which tend to be more stringent than government-backed mortgages.
Homebuyers qualifying for a mortgage for a higher-priced home can borrow more with 2021 conforming loan limits increasing to $548,250 for most parts of the country.
Current minimum mortgage requirements for conventional loans
Down payment. The minimum down payment is 3% for conventional loans. The funds can come from your own money or a gift from a family member.
Mortgage insurance. Conventional loans with less than 20% down require private mortgage insurance (PMI) to protect lenders if you default. The higher your down payment and credit score, the lower your PMI will be. You'll typically pay between 0.15% and 1.95% of your loan amount in annual PMI premiums. PMI is normally paid as part of your monthly payment — however, it can be paid upfront in a lump sum at closing.
Credit score. The minimum credit score for a conventional mortgage is 620. Higher scores get you the best mortgage rates and lower PMI premiums.
Employment. Lenders typically require proof of steady income, focusing on the past two years of employment history.
Self-employment. Fannie Mae and Freddie Mac usually require two years worth of personal and business federal tax returns, plus a year-to-date accounting of income you've received from your company's activities.
Income. Most conventional loans don't have income limits, with the exception of Fannie Mae's HomeReady® and Freddie Mac's Home Possible® (covered below). Borrower incomes for these programs must fall within set limits for their area.
Debt-to-income ratio. Your DTI ratio (DTI) ratio is measured by dividing your total debt by your gross income. Conventional lenders prefer a DTI of 45% or less, but may bump it to 50% with higher credit scores and additional mortgage reserves. In 2021, lenders may accept alternatives to the DTI ratio requirements, which we'll cover later.
Cash reserves. Also called mortgage reserves, these are funds you'll need in addition to your down payment and closing costs to prove you can pay several months of mortgage payments in an emergency. Up to six months of cash reserves may be required depending on your credit scores, DTI ratio, down payment and if you're buying a two- to four-unit home.
Occupancy. Borrowers can purchase a home used as a primary residence, second home (commonly called a vacation home) or rental property.
Property types. Conventional mortgage requirements allow you to finance a one- to four-unit home located in a regular subdivision, condominium project, co-op project or planned unit development (PUD). Conventional loans can also be used to buy manufactured homes attached to a permanent foundation.
Home appraisals. An appraisal is needed to meet conventional loan requirements for an unbiased opinion of a home's value from a licensed property appraiser. However, some borrowers making a down payment of 20% or more on a one-unit home may be eligible for a property inspection waiver (PIW), and skip a home appraisal.
Current minimum mortgage requirements for HomeReady and Home Possible Loans
The mortgage loan requirements for these conventional low-down-payment programs include income limits. Both Fannie Mae and Freddie Mac provide online lookup tools you can use to determine the maximum income based on an address you enter:
Both programs have extra qualifying features such as:
Homebuyer education. HomeReady and Home Possible borrowers must complete a homebuyer education course before closing.
No credit score option. Homebuyers without a credit score can prove their creditworthiness with alternative data. For example, lenders may accept 12 months of consecutive, on-time rent payments, along with utility bills and car insurance payments, to prove your history of paying bills on time.
Additional income from a boarder. You can add rental income received from someone who has lived with you for at least 12 months to help qualify for a HomeReady loan. You'll need proof the person has lived with you for a full year.
Freddie Mac HomePossible loans only:
Alternative down payment sources. Home Possible guidelines allow for the entire down payment to come from sweat equity, which means you can convert your DIY skills — rehabbing a home that needs improvements — into cash toward your down payment and closing costs.

FHA mortgage requirements
Qualifying for a mortgage that's backed by the Federal Housing Administration (FHA) may be easier than a conventional loan. Because the FHA insures the mortgage, FHA-approved lenders can offer more favorable rates and terms to first-time homebuyers
In 2021, there's good news for borrowers struggling to qualify for a mortgage to buy a more expensive home: FHA loan limits increased to $356,362 in 2021 for most parts of the country. Higher-cost areas get even more bang for the buck, with maximum loan amounts as high as $822,375.
Current minimum mortgage requirements for an FHA loan
Down payment. FHA loans require a 3.5% down payment with a 580 or higher credit score, and funds can come from employers, close friends, family members or charitable organizations. The down payment requirement jumps to 10% with a credit score of 500 to 579.
Mortgage insurance. FHA borrowers are required to pay two types of FHA mortgage insurance. The first is an upfront mortgage insurance premium (UFMIP) of 1.75% of the loan amount, typically financed into the mortgage. The second is the annual mortgage insurance premium (MIP) that ranges from 0.45% to 1.05% of the loan amount, and is divided by 12 and added to your monthly payment.
Credit score. You can have a credit score as low as 500 up to 579 with a 10% down payment. Homebuyers making a minimum 3.5% down payment will need a score of at least 580.
Employment. FHA loan income requirements look at the borrower's stability of income and employment for the past two years. Job-hoppers need to explain changes or gaps in employment.
Income. There are no income limits for FHA loans. However, borrowing power is limited to the FHA maximum loan limit cap of $356,362 in 2021, compared to $548,250 for conventional loans in most parts of the country.
DTI ratio. For FHA loans, the front-end DTI ratio max is 31% while the back-end DTI ratio is capped at 43%. The front-end ratio primarily considers your mortgage PITI payment (principal, interest, taxes and insurance). The back-end ratio looks at your mortgage payment, plus all other revolving monthly debt, including car loans, credit card payments and other loans. Higher DTI ratios may be approved with strong credit scores or extra cash reserves.
Cash reserves. FHA loan qualifications don't usually require cash reserves unless you're buying a two- to four-unit home, or trying to qualify with a lower credit score.
Occupancy. A one- to four-unit home financed with an FHA loan must be your primary residence for at least the first year after buying it.
Property types. With FHA financing, you can buy a one- to four-unit home in a subdivision, an FHA-approved condominium project, a cooperative unit or a manufactured home attached permanently to a foundation. Another perk: You can purchase a multifamily home with only 3.5% down and qualify for the loan with rental income from the other units, as long as you live in one of the units for one year.
Home appraisals.FHA purchase loans require an appraisal regardless of down payment. FHA appraisal guidelines have stricter safety and habitability requirements than conventional loans.
VA mortgage requirements
The U.S. Department of Veterans Affairs (VA) makes qualifying for a home loan easier for military borrowers, including active-duty personnel, reservists, veterans and eligible surviving spouses.
The VA removed loan limits, which means VA borrowers may be able to buy higher-priced homes. This gives military borrowers an edge over non-military borrowers who may need complicated and pricey jumbo loans, which are loans that exceed conventional conforming limits.
Current minimum mortgage requirements for a VA loan
VA entitlement. VA borrowers must provide a certificate of eligibility (COE) that shows enough military service to be "entitled" to a VA home loan. Most lenders obtain the COE from the VA directly, but current military personnel and veterans can also apply for it on their own online.
Down payment. VA loans don't typically require a down payment. However, you may need one if you try to buy a new home with VA financing, yet still have an unpaid VA loan on another home, or if you need a jumbo VA loan.
VA funding fee. Although VA loans don't require mortgage insurance, a VA funding fee of 0.5% to 3.6% may be charged to military borrowers to offset the cost of the program to taxpayers. The amount depends on your down payment amount, and whether you've used your home loan benefits before.
Credit score. The VA doesn't set a minimum credit score, but many VA lenders require a 620 minimum.
Employment. A two-year employment history is required, but exceptions may be made for military borrowers who are recently discharged from active-duty service.
Income. VA-approved lenders analyze your income to make sure it's stable. Military training and education related to a non-military job may be considered for borrowers with less than a two-year income history.
DTI ratio. The VA recommends a total DTI ratio of no more than 41%. However, higher DTI ratios may be allowed if you meet the residual income test.
Residual income. VA lenders calculate how much free cash you have each month after paying your monthly obligations. Unlike the DTI ratio, the residual income calculator analyzes your after-tax income. The requirements vary based on your family and home size, and the location of your home.
Cash reserves. Mortgage reserves aren't usually required for VA loans. However, reserves may be needed for active-duty borrowers with military income that ends within 12 months of the mortgage closing date. Six months of payment reserves are required for VA borrowers purchasing a two- to four-unit home.
Occupancy. VA loans are offered for primary residences only.
Property types. VA loans can be used to finance one- to four-unit homes, manufactured homes attached to land, modular homes, VA-approved condominium units and planned unit developments (PUDs).
Home appraisals. VA-approved lenders must order appraisals through the VA's online system. The VA appraisal must confirm the property meets minimum standards to complete a VA loan. Appraisal waivers are not permitted for VA loans as they are for conventional mortgages.
USDA mortgage requirements
Loans guaranteed by the U.S. Department of Agriculture (USDA) allow low- to moderate-income borrowers to purchase homes in eligible rural areas with no down payment.
Current minimum mortgage requirements for a USDA loan
Down payment. Borrowers that meet the USDA income limits can purchase a home with no down payment. Money needed for closing costs can come from your own funds or from a gift.
USDA guarantee fees. The USDA requires two types of guarantee fees instead of mortgage insurance. The fees are charged to offset the costs of the rural loan program to taxpayers. The first is a guarantee fee of 1% of the loan amount and is typically financed. The second is an annual guarantee fee equal to 0.35% of the loan amount, which is divided by 12 and added to the monthly payment.
Credit score. Although the USDA doesn't set a minimum score, USDA-approved lenders typically require a minimum credit score of 640.
Employment. USDA borrowers must have 12 months of stable income. If you're self-employed, a two-year history is required.
Income limits. The USDA counts the income of all adult household members to ensure the household income doesn't exceed the program limits in your area. Total household income for a USDA loan must be at or below 115% of the median household in the area you're buying. Use the income eligibility search tool to check on the limits in your state.
DTI ratio. The front-end DTI ratio maximum is 29%, while the back-end DTI ratio maximum is 41%. USDA borrowers with a credit score of 680 or higher may qualify with higher front- and back-end DTI ratios of 32% and 44%, respectively, with proof of steady income and extra cash reserves.
Cash reserves. You usually don't need mortgage reserves for a USDA loan, but the automated approval system used by lenders may consider them in the approval process.
Occupancy. USDA financing is for primary residences only.
USDA property eligibility. Only homes in USDA-designated rural areas are eligible for a USDA loan. Check the USDA's property eligibility link to see if a home you're interested in is eligible for USDA financing.
Home appraisals. A home appraisal is required for USDA loans and to ensure a property meets USDA guidelines. The USDA does not offer appraisal waivers.
Key mortgage documents
In addition to the list below, you may need to provide a few extra documents and letters of explanation if your income, employment or credit were affected by a financial hardship.
Pay stubs for the last 30 days
W-2s for the last two years
Bank statements for the last 60 days
Federal tax returns for the last two years
Proof of homeowners insurance
1099 forms (if you're self-employed or commissioned)
Documented dividends, stock earnings and other sources of income
Proof of bonus income
Pension statements
Securities documents, such as stocks, bonds and life insurance policies
Social Security or disability income award letters, if applicable
Specific forms required by FHA, VA or USDA-approved lenders
Gift letter (if any portion of your down payment is coming from a donor gift)
A fully signed purchase agreement
Additional financial hardship-related documents
Proof of after-forbearance payments
If you're selling a home with a mortgage that was recently in forbearance, you'll need proof that you've made three on-time payments and that your current mortgage is no longer in forbearance.

Multiple methods of employment contacts
Some lenders are allowing the following paperwork in lieu of the income documentation listed above:
An email from your employer confirming you're employed (with their name and title displayed)
A current bank statement that shows your pay being deposited
Proof that you have two months of cash reserves in the bank instead of pay stubs for VA and USDA loans
Extra explanations and documents for self-employed borrowers
Owners and operators of small businesses will have to jump through extra hoops to prove their self-employed income is stable. Additional requirements may include:
Copies of contracts and invoices that show your business is still operating
Current business receipts
Verification that the business is still open and active
A business website showing normal operations
Coronavirus pandemic mortgage requirement changes in 2021
Lenders have added additional mortgage requirements that may be very different from what you're used to if you haven't taken out a mortgage in the past year.
Outside-only home appraisals. Conventional, FHA, VA and USDA-approved lenders may allow exterior-only appraisals, meaning the appraiser will value the home without inspecting the inside.
Extra asset documents. Because of the volatility in the financial markets, lenders may ask for updated documentation of any retirement, stock and mutual funds needed to qualify for a mortgage to confirm the value just before closing.
Virtual closings. Many lenders require notary signings, power of attorney signings or electronic signings, especially in states heavily affected by COVID-related restrictions.
Final tip:
Mortgage rates
have been at record lows, which makes shopping for a mortgage more important than ever. Why? Because some lenders purposely increase interest rates when they have too much business and can't keep up with the volume. Review the
loan estimates
of at least three to five lenders to make sure you're getting your best rate.