How Does LendingTree Get Paid?
LendingTree is compensated by companies on this site and this compensation may impact how and where offers appear on this site (such as the order). LendingTree does not include all lenders, savings products, or loan options available in the marketplace.
What to Know About a VA Appraisal
Updated on: February 5th, 2021
Editorial Note: The content of this article is based on the author's opinions and recommendations alone. It may not have been reviewed, commissioned or otherwise endorsed by any of our network partners.
If you're buying a home with a VA loan, you'll need a VA appraisal. This is a report that estimates a home's value for a loan backed by the U.S. Department of Veterans Affairs (VA), and is often more involved than a standard home appraisal for a conventional loan.
VA-approved appraisers must take extra steps to ensure a home is safe, habitable and is a sound financial investment.
What's a VA loan appraisal?
A VA appraisal is a professional opinion of what a home is worth by a VA-approved appraiser, and it's required to buy or refinance a home with a VA loan. A licensed real estate appraiser compares the property with other homes sold nearby with similar features and issues a document called a "Notice of Value," or NOV for short. The NOV outlines the results of the appraisal report and details any conditions required.
Only VA-approved appraisers can complete a VA appraisal, and the process involves a detailed VA home inspection to ensure the home meets VA minimum property requirements. The appraisal is ordered directly through the VA , and often costs more than the $300 to $400 you'll typically spend on a conventional or FHA appraisal.
VA appraisal vs. a home inspection
Although the VA appraisal process includes a more detailed inspection of a home than other loan programs, its main purpose is to estimate the home's value. A home inspection, on the other hand, involves a deeper dive into the condition of a home's systems and components, from the roof to the foundation.
If a VA appraiser notices things like missing roof tiles or a leaky water heater, they might even recommend a home inspection to determine if repairs are needed. Their value estimation might be subject to a home inspection. This can potentially delay the closing until the home inspector's findings are reviewed and repairs are completed.

How much are VA appraisal fees?
VA appraisal fees can range from $500 to as much as $1,200, depending on where you live and the type of property you're buying. You can review the VA appraisal fees for your area and property type online.
Here's a snapshot of VA appraisal fees for different home types in the Western United States:
VA Appraisal Fees for Western United States Region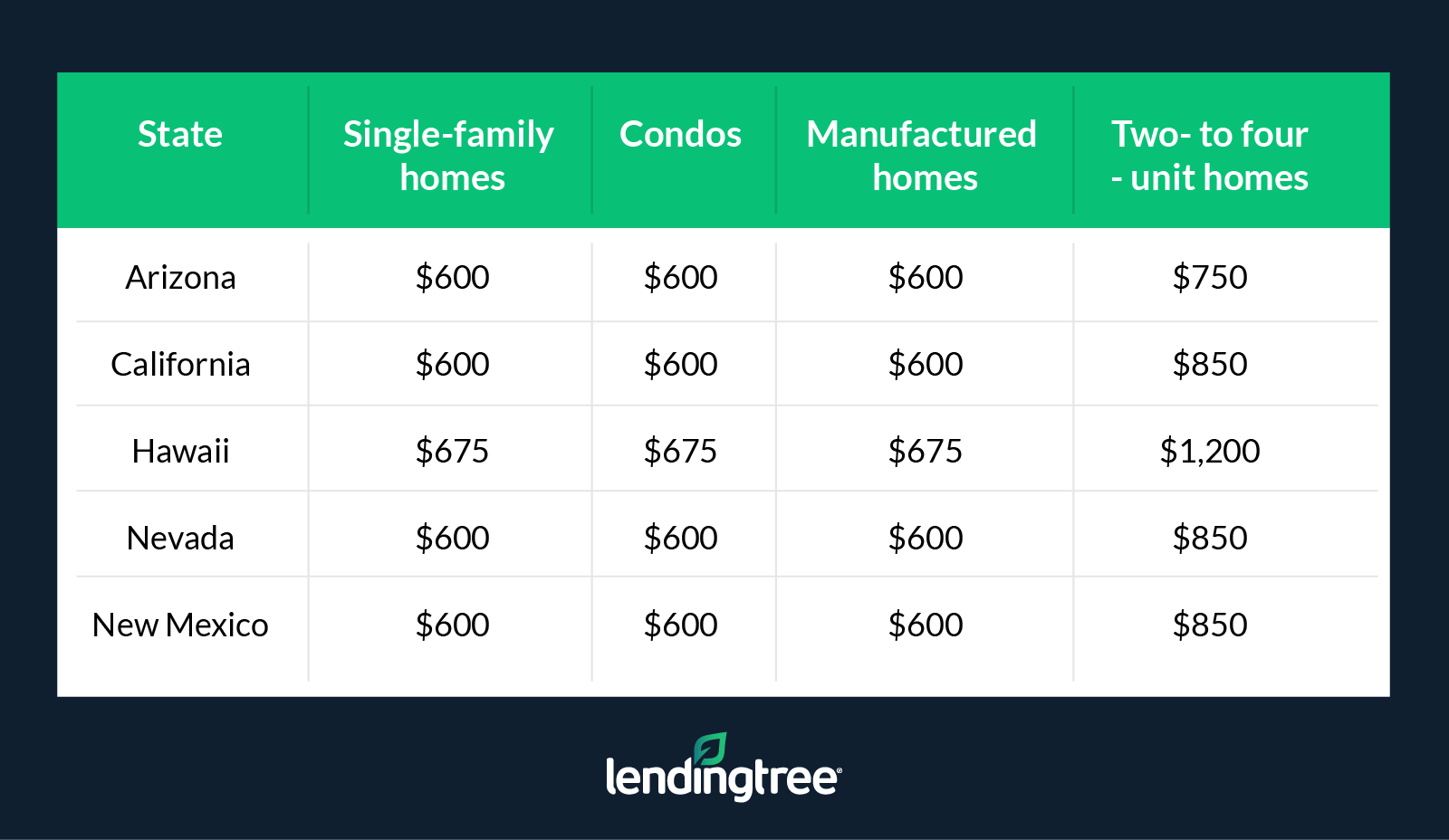 Who pays for a VA appraisal?
In most cases, you'll pay for a VA appraisal upfront. However, there are a few ways you can get someone else to pay the fee, plus other VA closing costs.
Ask the seller to pay the VA appraisal fees. VA guidelines allow a seller to pay up to 4% of a homebuyer's loan amount in closing costs (with the exception of discount points).
Ask for a gift from a donor. If you have a generous relative eager to help you become a homeowner, they can gift you funds for the appraisal fee and other loan costs. However, they must complete a gift letter and provide paperwork showing how and when the funds transferred from their account to yours.
Request a no-cost VA loan. Most lenders offer a no-cost mortgage option that allows them to pay closing costs, including the appraisal fee, on your behalf. The catch: You'll pay a higher interest rate over the life of the loan.
How long does a VA appraisal take?
Depending on where you live, appraisals can take as little as seven and as long as 21 business days to complete. The VA sets timeliness guidelines for VA appraisers with set turnaround times based on where you live. Check the VA's website to get a sense of turn times in your area.
One caveat: VA loan requirements have more stringent property standards than other loan types, which we'll cover in the next section.
What are VA appraisal requirements?
VA appraisal guidelines require any home financed with a VA loan is "safe, sound and sanitary".
VA minimum property requirements typically include:
Proof that each unit has enough space for living, sleeping, cooking and sanitary facilities
Private road access to the home if it's in a rural area
A drainage system that directs water away from the home
Proof the home has access to safe drinking water from a local health authority
How the VA escape clause protects you if your VA appraisal is too low
Military homebuyers sign a VA amendatory clause, which protects them from being pressured into buying an overpriced home. Under the VA's Tidewater appraisal policy, a military borrower can back out of a home purchase without penalty if the VA appraisal comes in lower than the sales price.
The VA escape clause is important for two reasons:
No down payment is required on a VA loan so VA borrowers have no equity when they purchase their home. If they relocate because of military orders soon after buying a home, they may lose money paying real estate commissions on the resale.
VA purchase borrowers pay a VA funding fee that's equal to 2.3% to 3.6% of their loan amount if they don't make a down payment. The fee is usually added to the loan amount. The fee offsets the cost of the program to taxpayers and, when added to the loan amount, might bump the mortgage balance higher than the home's value.
What does a VA appraiser look for?
VA-approved appraisers typically follow a set process when valuing a home. A standard VA appraisal checklist includes these six items:
 A properly completed appraisal form based on the type of property (single-family home, condominium, two- to four-unit home or manufactured home)
 A location map showing the location of the home being appraised and all comparable properties
 A sketch of the home's floor plan and how it's situated on the lot
 Photographs of the home's interior and exterior, as well as any obvious items that need immediate repairs
 A list of any recommended repairs, inspections or conditions to meet minimum property requirements
 A copy of the appraisal report invoice