How Does LendingTree Get Paid?
LendingTree is compensated by companies on this site and this compensation may impact how and where offers appear on this site (such as the order). LendingTree does not include all lenders, savings products, or loan options available in the marketplace.
VA Loan for a Second Home: How It Works
Updated on:
Content was accurate at the time of publication.
Sometimes moving is a fact of life for members of the military. In that case, you might be able to use a VA loan for a second home with the "tier 2 entitlement" or "bonus entitlement" benefits in order to take advantage of the benefits that the Department of Veterans Affairs (VA) offers popular benefits to enable military personnel and veterans, including the ability to buy without a down payment and more flexible income and debt requirements.
Can a VA loan be used for a second home?
You cannot use a VA loan for second home purchases, but you can use it for a second primary residence. In mortgage lending, the term "second home" typically refers to a vacation home, like a beach getaway. A VA loan cannot be used to purchase this type of home.
In contrast, a "second primary residence" is a home where you spend more than six months in a year. To be eligible, you must have enough entitlement and income to qualify for both houses.
Can I use a VA loan to buy a vacation home?
Because you can only use a VA loan for a primary residence, you cannot use a VA loan to buy a vacation home, unless you plan to spend the majority of the year there or you plan to live in the home upon retirement within the same year of purchasing it. However, one workaround is to use your old home as a vacation home and the new home as your primary residence. In this case, you would need to be able to keep up with both mortgages.
Can I use a VA loan for an investment property?
No. You cannot use a VA loan for an investment property, but you can turn your current home into a rental property while using a VA loan to purchase a new primary residence. You can also use your VA loan to purchase a multiple-unit property so long as you intend to make one of the units your primary residence. This scenario allows you to rent out the other units.
How the VA bonus entitlement works
A VA loan is a mortgage guaranteed by the Department of Veterans Affairs (VA) exclusively for active-duty military service members, veterans and eligible surviving spouses to buy or refinance a home with no down payment or mortgage insurance. The VA does not lend money but guarantees up to 25% of the loan; this guarantee is called an entitlement.
The VA bonus entitlement can help you finance a home with a purchase price of above $144,000 possibly without a down payment or to purchase a second primary residence. The VA loan entitlement refers to the maximum dollar amount that the VA will pay to your mortgage lender if you go into mortgage default, or fail to repay your loan.
With VA loans, there are two forms of entitlement: basic entitlement and bonus entitlement. The basic entitlement is $36,000, or 25% of $144,000. For homes with a sticker price above $144,000, the VA provides a bonus entitlement worth 25% of the home loan amount. Lenders will let you borrow up to four times the entitlement with no down payment.
Full vs. remaining entitlement: For military borrowers with full entitlement, there is no loan limit. However, borrowers with remaining entitlement have a loan limit based on their county. Full entitlement typically means that you've either never used the VA loan benefit, or paid a previous VA loan in full and sold the property (which restores your full entitlement). In contrast, remaining entitlement means that you're still paying your VA loan back or paid your VA loan in full and still own the home. When you use a VA loan to purchase a second home, your remaining entitlement comes into play.
Bonus entitlement example
Let's take a look at a scenario with the remaining entitlement. We'll assume you currently own a house that you bought for $200,000 with a VA loan with no down payment. So, you had to use $50,000 worth of entitlement to purchase it, or 25% of the purchase price.
$200,000 (purchase price of the home) x 25% (amount VA guarantees) = $50,000 entitlement
If you're not expecting to sell the house, you may keep it and rent it for the time being. You can find your remaining entitlement information on your Certificate of Eligibility (COE). You'll want your COE in hand before you start trying to crunch numbers on your bonus entitlement.
Below is an example of what your Certificate of Eligibility looks like. You need to know the "Total Entitlement Charged to Previous VA Loans" to properly calculate your bonus entitlement and maximum loan amount to buy another home with your VA home loan benefit.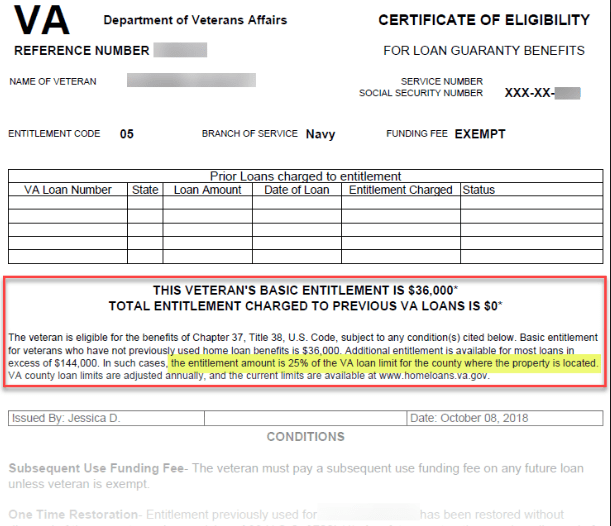 If you are moving to a city where the county loan limit is $510,400, and the home you are interested in buying is $250,000, the bonus entitlement calculation would be as follows:
First, multiply the local loan limit by 25% to get the maximum VA guarantee. In this case, it is $127,600.
$510,400 x 25% = $127,600 maximum VA guarantee
Next, you subtract the amount of entitlement you've already used from the maximum guarantee to determine how much bonus entitlement you have left.
$127,600 – $50,000 = $77,600 bonus entitlement
The VA will allow you to borrow up to four times the amount of your available entitlement for a new loan; $77,600 x 4 = $310,400. The $310,400 figure is the maximum loan amount you'll be able to get without a down payment. The $250,000 house is below the maximum limit, meaning you'd be able to buy the new house with no down payment.
Because the $250,000 house you are thinking of buying is less than the $310,400, you would not be required to make a down payment.
Understanding loan limits
Borrowers with remaining entitlement are subject to the 2021 VA loan limit, which is $548,250 for one-unit properties in most parts of the United States. You can look up the exact conforming loan limit in your county on the Federal Housing Finance Agency (FHFA) website. While most areas of the country have a maximum VA loan limit of $548,250, some high-cost areas have limits that go up to $822,375.
How many times can I use a VA loan?
VA loans are not a one-time benefit; you can use them multiple times so long as you meet eligibility requirements. You can even have multiple VA loans at the same time. Here's how it might work:
→ You sell your home and pay off the existing VA loan. Then you can either restore your entitlement or use your remaining entitlement to cover a new VA loan.
→ You can keep your current home and rent it out as an investment property. You could buy a second home using your remaining entitlement. This results in having two VA loans outstanding at the same time.
→ You've repaid your previous VA loan in full but kept the sold the home you bought with it. In this case, you restore your entitlement, but you can only do this one time.
How to restore your eligibility after you sell your home
It's important to know how to restore your entitlement benefit if you want to use a VA loan for a second home. The restoration process is not automatic and must be initiated by the veteran. To be eligible for restoring your entitlement, you must have either sold the home you bought with a VA loan and paid off the mortgage, repaid your loan in full and still own the home or another qualified veteran assumes your loan and replaces their entitlement with yours. If one of these scenarios applies to you, you can request restoration by submitting Form 26-1880 Request for Certificate of Eligibility to a regional VA processing center
In the example above, your remaining entitlement was enough to cover the second home purchase with no down payment. However, if you wanted to purchase a home with a higher value than $310,400 without a down payment, you would need to restore full entitlement.
What you need to know when someone assumes your VA loan
VA loans are assumable — which means someone buying your home can take over a great interest rate in addition to buying your home. The important thing to remember is your entitlement won't be restored unless the buyer is an eligible veteran who agrees to substitute his or her eligibility for yours. However, the VA doesn't restrict who can buy your home or assume your current VA mortgage. If you decide to sell a house to a non-military buyer, even if they take over responsibility for the loan payment through an approved loan assumption, some of your VA entitlement will be tied up in the property until the loan is paid in full.