How Does LendingTree Get Paid?
LendingTree is compensated by companies on this site and this compensation may impact how and where offers appear on this site (such as the order). LendingTree does not include all lenders, savings products, or loan options available in the marketplace.
VA Loans: Can They Be Used for Buying a Second Home?
Published on: January 30th, 2019
Editorial Note: The content of this article is based on the author's opinions and recommendations alone. It may not have been previewed, commissioned or otherwise endorsed by any of our network partners.
It's a scenario that plays out all the time for military families: You've been in your neighborhood a few years, and the kids have made some friends at their new school. Life is good. You're finally feeling settled — until you get the orders informing you of a permanent change of station.
Once the reality sets in and you have a timeline for your transfer, the next question often is: Can we sell our house and buy a new one using our VA home loan benefits? What if our home doesn't sell quickly, or at all?
For just this scenario, the VA loan program features something called "second tier entitlement" or "bonus entitlement" to help military families. In this article, we'll explain how it works and how you can take advantage.
In this article, we will cover:
How to buy a "second home" with your VA eligibility
In mortgage lending, a second home usually refers to a vacation home that you only live in for a portion of the year — a desert getaway to escape cold winters, or a tree-lined mountain refuge to get peace and quiet from the city. VA loans won't allow you to purchase this type of home with your benefits. You can only use them if intend to live in the home as your primary residence.
But you can buy a second primary residence with your VA benefits, potentially with a zero down payment. You just need to have enough entitlement and income to qualify for both houses. Bonus entitlement gives you extra borrowing power with your VA home loan benefits, even if you have an outstanding VA loan.
This comes in handy if you're in the middle of a relocation and want to buy a home in your new duty station before your old home has sold.

A quick overview of how VA mortgages work
The Department of Veterans Affairs home loan program works differently from other types of home loan programs. The VA does not actually lend any money. Instead, the agency guarantees up to 25% of the loan, and allows approved lenders to finance as much as 100% of the price or value for a home purchase or refinance.
One of the unique features of VA loans is they don't require mortgage insurance, even with a 0% down payment. Instead, a funding fee is charged to reduce some of the taxpayer costs related to the operation of the loan program. The amount of the funding fee will vary based on your military status, length of service, what branch of service you served in, how much down payment you're making and whether you've use your eligibility before.
As of 2019, the VA loan limits for most regions of the country were increased to $484,350. The limits vary by county, and the VA's guaranty is limited to the lesser of 25% of the county loan limit or 25% of the loan amount.
Benefits of a VA loan
No down payment is required: If the military is moving you, they may cover the bulk of your moving costs, but you'll probably still incur some expenses, or may not have the funds to make a substantial down payment. Your bonus entitlement may allow you to buy another home with very little, if any down payment.
Income tests are more lenient: The suggested maximum debt-to-income for VA loans is 41%, but the VA uses a different measure called residual income to qualify people for mortgages. This looks at how much money you have left over each month after your housing payment is made.
There is no credit score minimum: If there are some bumps in your credit on the road to your new home's destination, the VA doesn't require a minimum score for you to qualify. If you have bad credit due to your relocation, a VA underwriter may make an exception if you prove the late payments or collections occurred as you were relocating to a new duty station.

How the VA bonus entitlement works
Let's start by assuming you currently own a house that you bought for $192,000 with a VA loan with no down payment. That would have required you to use $48,000 worth of entitlement to purchase it, or one-quarter of the purchase price.
If you're not expecting to sell the house, you may keep it and rent it for the time being. Your remaining entitlement information can be found on your certificate of eligibility (COE). You'll want your COE in hand before you start trying to crunch numbers on your bonus entitlement.
Below is an example of what your Certificate of Eligibility looks like. You need to know the "Total Entitlement Charged to Previous VA Loans" in order to properly calculate your bonus entitlement and maximum loan amount to buy another home with your VA home loan benefit.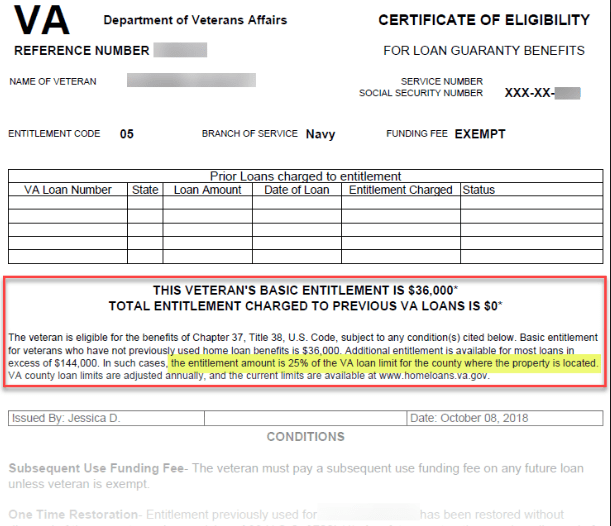 If you are moving to a city where the county loan limit is $484,350, and the home you are interested in buying is $275,000, the bonus entitlement calculation would be as follows:
First multiply $484,350 x 25% to get the maximum VA guaranty; in this case it is $121,087.50. Next, you subtract the amount of entitlement you've already used from the maximum guaranty to determine how much bonus entitlement you have left. Subtracting the $48,000 you used comes out to $73,087.50.
The VA will allow you to borrow up to four times the the amount of your available entitlement for a new loan; $73,087.50 x 4 = $292,350.The $292,350 figure is the maximum loan amount you'll be able to get get without a down payment. The $275,000 house is below the maximum limit, meaning you'd be able to buy the new house with no down payment.
Because the $275,000 house you are thinking of buying is less than the $292,350 maximum loan amount, you would not be required to make a down payment.

How to restore your eligibility after you sell your home
If you have sold your home, it's important you know the steps to restore your eligibility so you can buy a second home using a VA loan. Paying off your first VA loan doesn't automatically restore your entitlement. It's not uncommon for veterans to find out their eligibility hasn't been restored after paying off a VA loan.
The restoration process is not automatic and must be initiated by the veteran, and many homeowners don't learn this until they attempt to buy another home. The paperwork can be done online, or by filling out, printing and sending a Form 26-1880 Request for Certificate of Eligibility to a regional VA processing center.

What you need to know when someone assumes your VA loan
With interest rates rising to the highest levels in five years, the interest rate on your current mortgage may be very low. That could give you an edge over other sellers if you have a current VA loan.
VA loans are assumable — which means someone buying your home can take over that great rate in addition to buying your home.
The important thing to remember is your entitlement won't be restored unless the buyer is an eligible veteran who agrees to substitute his or her eligibility for yours. The VA doesn't restrict who can buy your home or assume your current VA mortgage, but a substitution of eligibility can only be completed between two eligible veterans.
If you decide to sell a house to a non-military buyer, even if they take over responsibility for the loan payment through an approved loan assumption, some of your VA entitlement will be tied up in the property until the loan is paid in full.
Find an experienced VA loan officer for bonus entitlement questions
When you're shopping for the best VA mortgage rates, be sure to ask your loan officer how much experience they have calculating bonus entitlement on VA loans. You need to get an accurate answer quickly about how much house you can qualify for, and if you aren't getting solid answers from the first phone call, you should contact a lender with a loan officer that has experience and knowledge about the VA's bonus entitlement options.