How Does LendingTree Get Paid?
LendingTree is compensated by companies on this site and this compensation may impact how and where offers appear on this site (such as the order). LendingTree does not include all lenders, savings products, or loan options available in the marketplace.
VA Home Loan Requirements: Eligibility and Qualification Made Simple
Updated on: November 29th, 2022
Why use LendingTree?
We are committed to providing accurate content that helps you make informed money decisions. Our partners have not commissioned or endorsed this content. Read our .
VA home loans, backed by the U.S. Department of Veterans Affairs, have uniquely accessible eligibility requirements and qualification standards. Struggling with low credit? Short on cash for a down payment? No problem, as long as you're an active-duty military service member or qualifying spouse. VA loans give military borrowers a flexible option for buying or refinancing a home.
VA loan eligibility: Are you an eligible service member or spouse?
According to the VA, you meet the minimum service requirement for a VA loan if:
For active-duty service members: You've served at least 90 continuous days of active duty.
For veterans, National Guard members or Reserve members: You meet the active-duty requirements for your dates of service.
For surviving spouses: Your spouse was a service member who is missing in action, died while in service or died from a service-related disability. In some cases, you may be disqualified if you remarry.
If you're not sure about any of this information, you can request your military service records online to confirm the details of your service.
How to prove your VA eligibility
You must get a Certificate of Eligibility (COE) from the military to prove your eligibility for a VA loan. However, there are a few options for how you can go about obtaining this document.
Three ways to verify your eligibility for a VA loan:
Get a COE online. It's simple to obtain a COE online using the VA's Veterans Information Portal. If you aren't registered in that system yet, don't worry — you can sign up at any time.
Request a COE by mail. Send a completed VA Form 26-1880 to your nearest VA regional processing center.
Let your lender get a COE for you. VA-approved lenders can get your COE online when you apply for a VA loan.
Your COE will show the current state of your VA loan entitlement — whether you have used it before and how much of it is available to you now. If you have used it before, you may now have only partial entitlement (if, for example, a previous VA loan hasn't been completely paid off or went into foreclosure).
Entitlement is important because whether you have full or partial entitlement determines whether you're subject to conforming loan limits and when you're able to put zero down on a home. Rest assured, though, that in 90% of cases borrowers do not have to put any money down.
Documents you'll need to get a COE
In most cases, you won't need to hunt down a mountain of separate documents in order to get your COE — you'll be able to view it online within minutes or, if you're requesting by mail, by sending in a single request form. However, if you need to update or correct a mistake on your COE, you may need to also submit a Certificate of Release or Discharge from Active Duty (DD214 Form) or points statement in order to prove your dates of service and discharge type.
Other situations that may require additional documentation include:
You're currently serving on active duty. You may need to obtain a statement of service signed by your commanding officer.
You've been awarded a Purple Heart. You may be asked to provide proof of this award in order to receive a VA funding fee exemption.
You paid off a previous VA loan and want to restore your full entitlement. Usually the VA is automatically notified when you pay off a VA loan but, in some cases, you may have to provide proof such as a settlement statement (HUD-1 Form) or a paid-in-full statement from the lender.
How to prove your eligibility as a military spouse
If you're the surviving spouse of a military service member, you still need to obtain a COE to prove your eligibility for a VA loan. But how you get a COE depends on whether you're receiving Dependency and Indemnity Compensation (DIC) from the military or not.
→ Documents needed for a spouse receiving DIC:
A Request for Determination of Loan Guaranty Eligibility — Unmarried Surviving Spouses form (VA Form 26-1817)
Your spouse's discharge or separation papers (VA Form DD214)
→ Documents needed for a spouse not receiving DIC:
An Application for DIC, Survivors Pension and/or Accrued Benefits (VA Form 21P-534EZ)
Your spouse's discharge or separation papers
A copy of your marriage license
Your spouse's death certificate
What if I don't meet the minimum service requirements?
You may still be able to get a COE if you were discharged for any of these reasons, as defined by the VA:
Hardship. Enlisted service members with dependents can be discharged for certain hardships under 10 U.S.C. 1173.
"Early-out" discharge at the government's discretion. Service members are sometimes given an "early-out" discharge under 10 U.S.C. 1171 but, if your service was in the Army, in order to remain eligible for benefits you must have served at least 21 months of a 2-year enlistment.
Service-connected disability. Service members discharged because of disabilities directly linked to their military service.
VA loan qualification: Can you meet these requirements?
VA guidelines provide more qualifying flexibility for than any other type of home loan. In addition, special safeguards are built into VA home loans to protect military borrowers from excessive lender fees. Here are the current VA loan requirements:
Credit score
VA loan requirements don't include a minimum credit score; however, many VA lenders will set the minimum at 620. Besides credit scores, VA-approved lenders use the Credit Alert Interactive Reporting System (CAIVRS) to verify that you haven't defaulted on federal debt like student loans or a past VA loan.
Down payment
In most cases, VA home loans require no down payment. However, you may need one if you have a current VA loan, own a property financed with a VA loan that was paid off or owe money on a previous VA loan — even if you no longer own the property.
Residual income
VA lenders use a residual income calculator to determine how much free cash you have each month, after paying your monthly obligations from your after-tax income.
The requirements vary based on your family size, the size of your home and location of the property.
Residual Income Requirements by Region
| Family size | Northeast | Midwest | South | West |
| --- | --- | --- | --- | --- |
| 1 | $450 | $441 | $441 | $491 |
| 2 | $755 | $738 | $738 | $823 |
| 3 | $909 | $889 | $889 | $990 |
| 4 | $1,025 | $1,003 | $1,003 | $1,117 |
| 5 | $1,062 | $1,039 | $1,039 | $1,158 |
| Over 5 | Take the figures given for a family of 5 and add $80 for each additional family member (up to a family of seven) | | | |
Steady income and employment history
Lenders prefer a two-year history of steady, full-time employment job history. However, VA guidelines do allow some wiggle room — if you haven't been employed for two years, you aren't automatically disqualified. The lender can take other factors into account.
Debt-to-income (DTI) ratio
VA home loan requirements recommend a DTI ratio (calculated by dividing total monthly debt — including your housing payment — by your gross monthly income) of no more than 41%. However, the maximum DTI ratio for a VA loan may be higher if you have high residual income or your DTI is high because of tax-free income.
Property requirements
Homes financed with VA loans must meet the department's minimum property requirements (MPRs). These guidelines ensure that the property is safe, sanitary and structurally sound. VA lenders use a VA-approved appraiser to estimate the value of a home, and the appraiser will note if any obvious repairs are needed. There may be special MPRs depending on the location of the home or for service members in the Specially Adapted Housing program.
Closing cost guidelines
The VA imposes a 1% closing cost cap on VA loans to ensure lenders don't charge exorbitant fees. That means lender charges for origination fees, credit report, flood certification and tax monitoring can't equal more than 1% of your loan amount.
Occupancy
In general, you must live in the home you're financing with a VA loan as your primary residence. However, one exception is that you can use a VA interest rate reduction refinance loan (IRRRL) to lower the rate on a rental property you previously lived in.
VA funding fee
Most VA loan borrowers must pay a one-time VA funding fee, although disabled service members will receive an exemption. Since VA guidelines don't require down payments or mortgage insurance on VA loans, this payment helps to offset the cost of VA loans to taxpayers. Borrowers can choose to pay the funding fee upfront, at closing or roll it into the loan amount.
Current VA Funding Fee Structure
| Type of loan | Down payment | First-time use | Subsequent uses |
| --- | --- | --- | --- |
| Purchase and construction | Less than 5% | 2.3% | 3.60% |
| | 5% to under 10% | 1.65% | 1.65% |
| | 10% or more | 1.4% | 1.4% |
| Cash-out and regular refinance | Any | 2.3% | 3.6% |
| Interest rate reduction refinance loan (IRRRL) | Any | 0.5% | 0.5% |
VA loan limits
For borrowers with full entitlement, there aren't any VA loan limits. Borrowers with partial entitlement, on the other hand, can only borrow up to the Federal Housing Finance Agency's (FHFA) conforming loan limits. The 2023 conforming loan limit for a single-family home in most US states is $726,200, a significant jump up from the 2022 limit of $647,200.
How do loan limits affect my VA home loan?
If you have full entitlement, your VA loan won't be affected by loan limits at all.
If you have partial entitlement, the conforming loan limits won't actually limit how much you can borrow — they will only limit how much you can borrow without having to make a down payment. If you want to buy a home and your remaining entitlement won't cover the guaranty, you can choose to make up the difference with a down payment.
Example: Using a VA loan with partial entitlement
Let's say you want to use a VA loan to buy a house with a list price of $600,000. Since the guaranty required is 25% of the home's price, this house requires a $150,000 guaranty.
However, several years ago you purchased a different home using a VA loan and, when you look at your COE, it shows that this purchase used $25,000 of your entitlement. Therefore, you need to now subtract $25,000 from $150,000 to calculate the amount you have left to use on your second home loan. You'll get $125,000.
Finally, you need to subtract that $125,000 from the guaranty amount required for the home you're interested in buying now, which is $150,000. The number you'll end up with is $25,000 — and that's the amount you'll need to come up with as a down payment.
How to get a VA loan
1. Confirm your eligibility.You won't get to the next step if your military service didn't qualify you for benefits or you don't have enough entitlement for a VA loan that meets your needs. If you already have a VA loan, make sure you have enough entitlement left to buy another house either without a down payment or with a down payment you can afford.
2. Make sure you meet the minimum loan requirements.Don't change jobs, start a new business or rack up credit card debt before you apply. You want to preserve your credit and employment history so that you'll qualify easily.
3. Shop for a VA-approved lender.Not all loan officers are experienced with VA loans, and not all lenders offer VA loans. Get at least three to five loan estimates and compare the fees to find the best VA loan rates.
4. Gather your financial documents. Make sure you dig up your military documents ahead of time. If you can't locate them, it may take a while to have duplicates sent.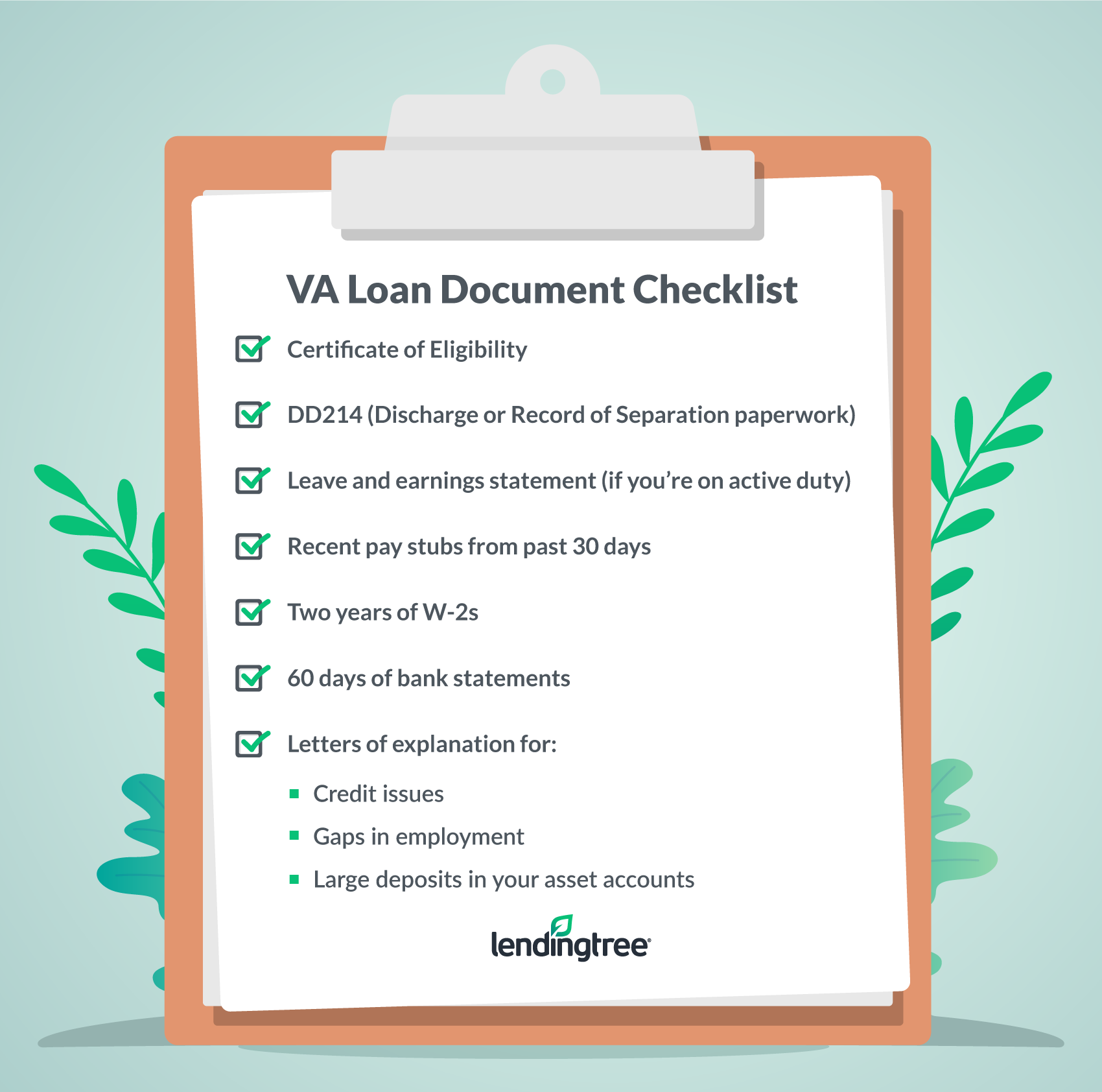 5. Find a home and close your loan.The rest of the process works like a regular loan: Lock in your rate, provide documents, get an appraisal and review your closing disclosure three business days before your closing appointment. Once you sign your paperwork, you'll be a homeowner.