How Does LendingTree Get Paid?
LendingTree is compensated by companies on this site and this compensation may impact how and where offers appear on this site (such as the order). LendingTree does not include all lenders, savings products, or loan options available in the marketplace.
VA Cash-Out Refinance: What You Need to Know
Updated on: January 30th, 2023
Why use LendingTree?
We are committed to providing accurate content that helps you make informed money decisions. Our partners have not commissioned or endorsed this content. Read our .
A VA cash-out refinance gives you access to more of your home's equity than most other cash-out refinance programs. In some cases, you can convert all of your home's equity to cash and use the funds for repairs, improvements or consolidating pesky high-interest debt.
However, there are costs and risks associated with a VA cash-out refinance worth knowing before you decide if it's the best way to tap your home's equity.
What is a VA cash-out refinance?
A VA cash-out refinance is a mortgage that allows qualified military borrowers to borrow more than they owe — up to 90% of their home's value in most cases — and pocket the difference in cash. VA cash-out refinance loans are backed by the U.S. Department of Veterans Affairs (VA), which guarantees a percentage of the loan to protect lenders against losses if you default.
The VA cash-out refinance allows eligible borrowers to tap more equity than FHA and conventional cash-out refinances, whose guidelines only allow a maximum 80% loan-to-value (LTV) ratio.
You can see the VA cash-out refinance's equity-borrowing power in action compared to its Federal Housing Administration (FHA) and conventional loan counterparts below. The example assumes you own a $400,000 home with a $300,000 current loan balance.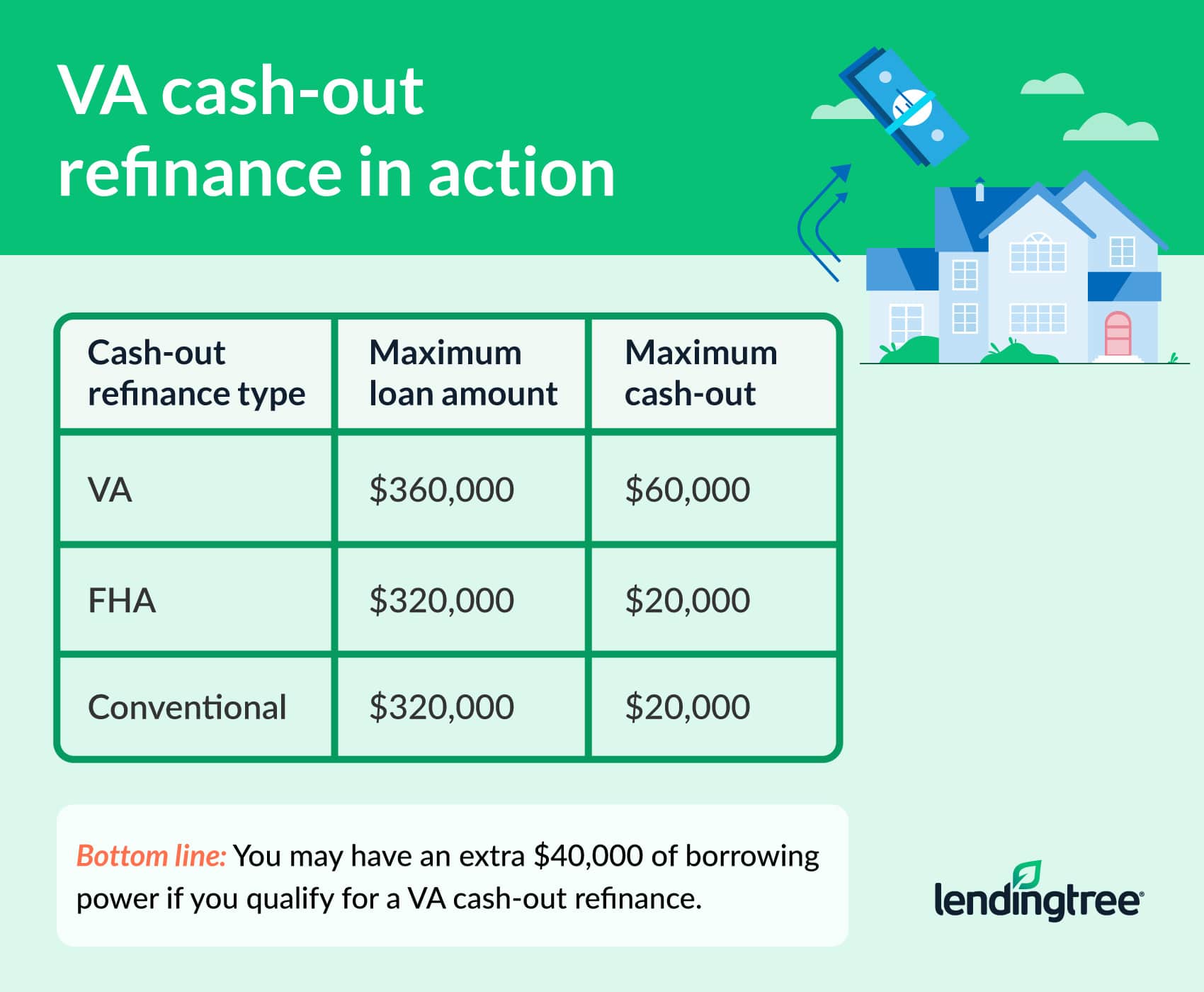 How VA cash-out refinances work
The moving parts of a VA cash-out refinance are similar to those of a regular cash-out refinance:
You must qualify based on your income, credit and total debt
Your lender orders an appraisal to confirm your home's value
You'll pay off any mortgage balance currently on your home
You'll pay VA closing costs of 2% to 6% of your loan amount
Some important steps apply only to VA cash-out refinances:
1. You must shop for a VA-approved lender. This may seem obvious, but not all lenders offer VA loans. Or if they do, they may not have a lot of experience with all the government calculations and systems involved in a VA cash-out refinance.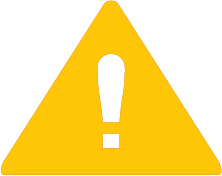 VA rate shopping tip: Make sure you gather loan estimates from VA lenders on the same business day. Rates change daily, and the only way to compare apple-to-apples rates is to compare estimates with similar dates.
2. Your lender verifies you have sufficient VA entitlement. You'll need enough VA entitlement to guarantee the higher VA cash-out refinance loan amount. You can obtain a COE online to find out how much entitlement you currently have. Active-duty and retired veterans as well as their surviving spouses may be eligible.
3. A VA-approved appraiser completes your home appraisal. The VA assigns a VA-approved appraiser to complete a VA appraisal, and the cost is typically pricier than what you'd pay for an FHA or conventional appraisal. There is no appraisal waiver option for a VA cash-out refinance.
4. You'll probably have to pay a funding fee. Unless you're exempt due to a service-related disability, a VA funding fee of 2.3% to 3.6% is charged and added to your loan amount. This is in addition to regular closing costs.
Are you eligible for a VA cash-out refinance?
You may be eligible and qualify for a VA cash-out refinance if you meet the requirements below. One other note: You don't have to currently have a VA loan to complete a VA cash-out refinance — you can pay off any other type of existing loan with the funds you receive.
VA cash-out refinance requirements
Credit score. The VA doesn't set a minimum score, but many lenders set their guidelines at 620.
CAIVRS. VA-approved lenders must use the Credit Alert Verification Reporting System (CAIVRS) to confirm you haven't defaulted on federal debt (such as student loans).
VA entitlement. Your VA entitlement is based on how long you served and how much you currently owe on previous VA loans.
DTI ratio. Lenders divide your total monthly debt by your gross income to determine your debt-to-income (DTI) ratio. The maximum is set at 41%, but exceptions may be possible with a high residual income.
Residual income. The VA requires a residual income calculation to ensure VA homeowners have enough free cash each month to meet their expenses. The requirements vary based on where you live, your family's size and your home's square footage.
Income history. While VA guidelines prefer a two-year employment history, lenders may be flexible, especially if your new job is related to skills gained from your military service.
Home equity. Current VA guidelines require you to have at least 10% equity in your home, but some lenders may allow you to borrow up to 100% of your home equity.
VA funding fee. You may pay between 2.3% and 3.6% for a funding fee, which is charged to offset the taxpayer cost of the VA loan program.
Closing cost cap. Lenders can't charge an origination fee equal to more than 1% of the total loan amount. This is to keep VA borrowers from being overcharged.
Fees you're not allowed to pay. There is a list of "nonallowable" fees that VA borrowers can't pay. Your loan officer should explain them after your loan estimate is issued.
VA appraisal conditions. Your home must meet minimum property standards set by the VA. If it doesn't, the VA appraiser may require you to complete repairs before your closing.
Inspections. Pest inspections (such as termite reports) are typically required to show there are no critter problems with the home.
VA loan limits. Loan limits no longer apply to VA loans. If you qualify based on your income, available VA entitlement and total debt, you may be able to borrow much more than $726,200 — the conforming loan limit for a single-family home in 2023. One caveat: Lenders may set their own loan limits, so ask about their maximums if you're buying in an expensive part of the country.
Occupancy. You can only complete a VA cash-out refinance on a home you live in as your primary residence.
VA cash-out refinance rates vs. standard cash-out refinance rates
VA rates tend to be cheaper than conventional and FHA rates. There is a catch: The annual percentage rate (APR) — a measure of the total cost of the refinance over the life of your loan — may be higher if you're required to pay the 3.6% funding fee. You'll find the APR quote on page three of your loan estimate.
VA cash-out refinance costs
As mentioned above, you can expect to spend between 2% and 6% of your loan amount on closing costs for a VA cash-out refinance. Total VA closing costs can get a little pricey when you add in the funding fee and the VA appraisal costs. However, there are some safeguards built into the VA loan program to prevent price gouging.
VA funding fee
Unless you can prove you have a disability related to your military service, you'll be stuck paying this fee on a VA cash-out refinance. The cost is 2.3% of your loan amount if you've never used your benefits before. It spikes to 3.6% if you've had a VA loan before.
VA appraisal fee
You can't shop for a VA appraiser, which means you'll have to pay the fee set by the VA for the area you live in. The extra inspection process requires a more detailed report, which costs you more money. VA appraisal fees range from $500 to $1,200 — much more than the $300 to $400 you'd pay for a conventional or FHA appraisal.
VA closing cost cap
This one is worth repeating — lenders can't charge more than 1% toward origination fees. VA-approved lenders must verify this and won't be able to close your loan if their fees exceed this percentage.
Nonallowable fees
You can't be charged any of the following fees on a VA cash-out refinance:
Attorney fees
Prepayment penalties
Inspection fees charged by government agencies
Appraisal fees not requested by the lender
Should you get a VA cash-out refinance?
It makes sense for you to get a VA cash-out refinance if:
You have enough entitlement to borrow the amount you need
You have enough equity in your home to pocket cash you can use
You can afford the higher payment
You can pay off high-interest-rate debt
You need more cash that FHA and conventional cash-out guidelines allow
VA cash-out refinance vs. VA streamline: Which should I choose?
Another popular VA refinance option is the VA streamline, or interest rate reduction refinance loan (IRRRL). If you currently have a VA loan, you can skip the income documents and the cost of an appraisal because you don't need either. An added bonus: The funding fee is only 0.5% on a VA streamline loan.
However, you can't get extra cash out unless you're using it to pay for closing costs. Use the table below to determine which of these programs is best for you.
| Choose a VA cash-out refinance if: | Choose a VA streamline if: |
| --- | --- |
| You need extra cash | You currently have a VA home loan |
| You have equity built up in your home | You have little to no equity |
| You can afford a higher payment | You can't or don't want to verify your income |
| You have enough VA entitlement to cover the higher loan amount | You want to keep your costs to a minimum |
Alternatives to a VA cash-out refinance
Conventional cash-out refinance. Conventional loans don't require any mortgage insurance or funding fees, though they do limit you to an 80% LTV. You can tap equity from a second home or investment property, though the maximum LTV is lower.
FHA cash-out refinance. Borrowers with credit scores as low as 500 may be approved to borrow up to 80% of their home's value with an FHA cash-out refinance. With this loan, you'll pay two types of FHA mortgage insurance, which may make your payment significantly higher than a comparable VA cash-out refinance.
Home equity line of credit (HELOC). A HELOC is like a credit card secured by your home. You'll only make payments on the balance you charge, and you can draw funds during a set time called a draw period. After the draw period ends, the balance is paid in monthly installments until it's paid in full.
Home equity loan. A home equity loan is received in a lump sum and paid back in fixed installments, usually in five to 30 years. It may be a good option if you want to leave your first mortgage alone but want the predictability of a fixed monthly payment.