How Does LendingTree Get Paid?
LendingTree is compensated by companies on this site and this compensation may impact how and where offers appear on this site (such as the order). LendingTree does not include all lenders, savings products, or loan options available in the marketplace.
What Is House Hacking?
Updated on: April 21st, 2021
Editorial Note: The content of this article is based on the author's opinions and recommendations alone. It may not have been reviewed, commissioned or otherwise endorsed by any of our network partners.
House hacking is a real estate investment strategy that also allows you to decrease your current living costs. If that sounds good to you and you're wondering, "How can I hack my house?" you're in the right place. Read on below for a beginner's guide to this process.
What is house hacking?
Essentially, adopting a house-hacking strategy involves buying a house and renting out rooms or units and using the rental income to cover property costs. Since you'll be using your tenants' money to cover the costs of owning the property, house hacking essentially allows you to live in the property for free while still enjoying the tax and price appreciation benefits of owning your own home.
This practice is a unique form of real estate investing because, unlike other strategies, it's an option for those who have limited cash flow. Put simply, while you're typically not allowed to use a loan insured by the Federal Housing Administration (FHA) or U.S. Department of Veterans Affairs (VA) for real estate investing, since you'll be living in the property, you have the option to use a government-backed loan on a multifamily home. These loans typically come with more flexible qualifying standards and lower down payment requirements, which means you'll be able to come to the closing table with less cash-on-hand.
5 house-hacking strategies
If your goal is to uncover how to live in a house for free, picking the right house-hacking strategy will be key to making it happen. With that in mind, we've laid out five different house hack ideas below. Read them over to get a sense of which one will be the best fit for you.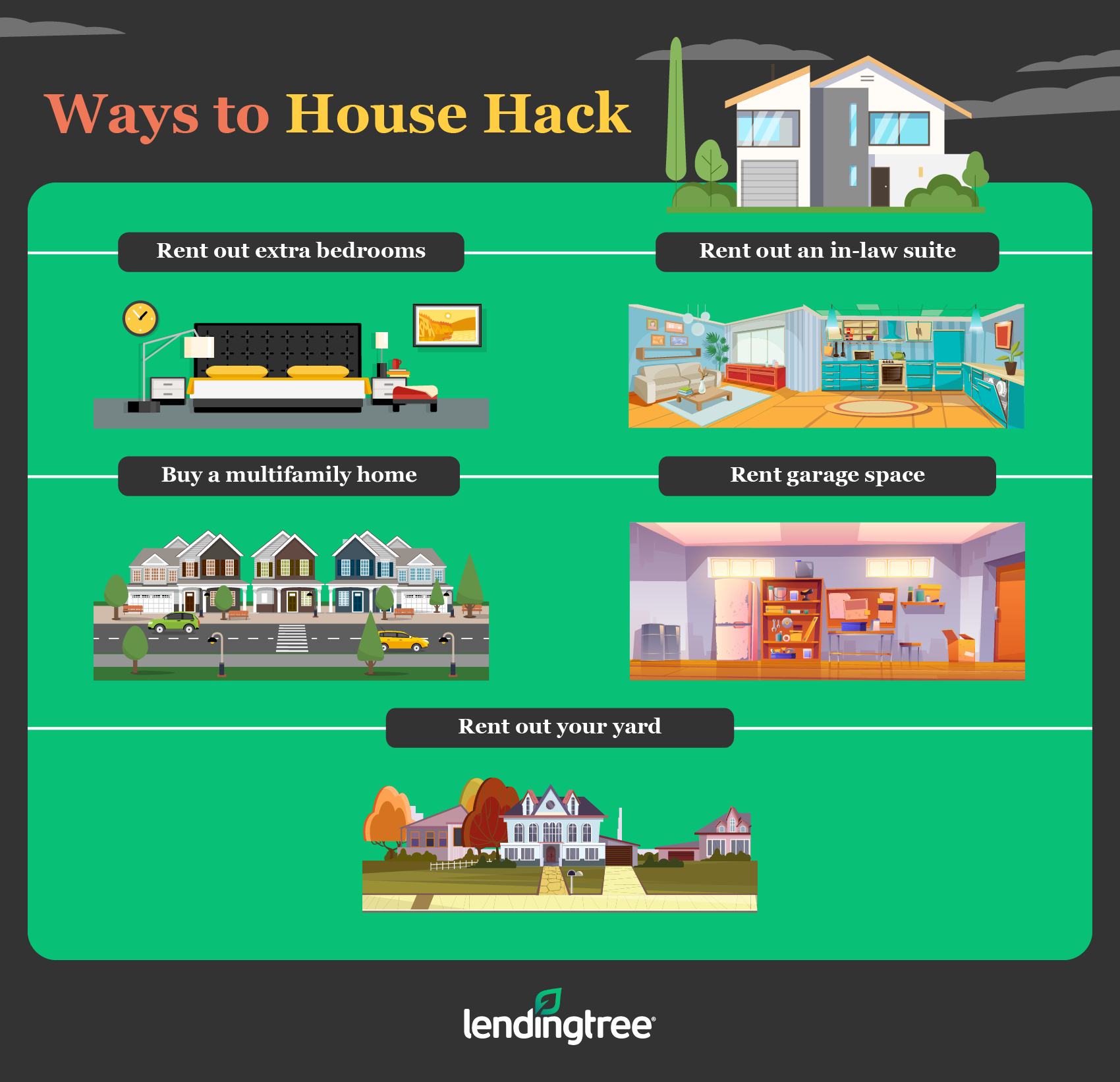 Rent out extra bedrooms. If you're house hacking a single-family home, taking on a roommate or two is likely your best bet. If you have a guest bedroom or office you barely use, you can set it up as a rental. How much you can charge in rent will depend on the housing demand in your area, but you can at least offset a portion of your own monthly rent or mortgage payments.
Rent out an in-law suite. If your house has an in-law suite or another separate apartment or structure, that can be a great income-generating property, particularly if it's equipped with its own kitchen and bathroom. The advantage here is that you won't need to share those spaces while still earning passive monthly income.
Buy a multifamily home. Perhaps you're in the market for a new home and are considering how you might make it pay for itself, at least in part. House hacking a duplex, or another type of multifamily home, enables you to set up your own space while renting out the other units. As with the in-law suite, you'll have more separation and privacy than with a roommate.
Rent garage space. Chandler Crouch, a real estate agent in the Dallas-Fort Worth metro area, said there are plenty of other ways to house hack if you're willing to get creative. For example, those who can't or don't want to give up any of their extra bedrooms might want to rent storage space in their garage.
Rent out your yard. Meanwhile, if you have a large backyard or substantial piece of land, you might rent space to tiny house owners who need a place to park their homes. Crouch said anyone considering this option should research city ordinances associated with putting other structures on the property, as well as homeowners association guidelines. He said this would likely only be an option for property owners who live outside city limits.
A step-by-step guide to house hacking
Prepare your finances
If you plan to purchase a home for the purpose of house hacking, you'll need to organize your finances as you would with any mortgage. Steps to take will include boosting your credit score as much as possible, paying off debts and saving for your down payment and closing costs.
Then, you'll also need to factor in saving for the additional expenses associated with rental properties. You should have at least three months' worth of rent in reserves, said Casey Fleming, a mortgage advisor at C2 Financial Corp. in San Jose, Calif. He also advised having savings in place to cover repairs and other expenses that occur when you're managing a rental.
Talk to a lender about your financing options
There are so many questions that go along with financing a house-hacking property. Prospective buyers may ask things like, "Can I rent out a room in my FHA house? or "Can you buy a duplex with a USDA loan?"
While those are great questions, they may not have straightforward answers. In reality, each loan program is different and has its own unique set of guidelines and stipulations. With that in mind, your best bet is to find a lender who can walk you through your financing options. They can answer any specific questions you have and help you find the loan program that works best for you.
Purchase the right property
Once you have your financing in order, the next step is to purchase the right property. Truthfully, whether you are house hacking with an FHA loan or a conventional loan, your main focus should be finding a property where the math makes sense and house hacking is allowed.
In order to help you zero in on the right property, consider using the 1% rule of real estate investing. At its core, the rule states that viable investment properties should generate enough rent to cover at least 1% of the purchase price. However, ideally, your goal should be to buy a property that will generate enough rent for you to cover your entire mortgage payment.
In addition, before buying a property, find out what laws apply to rentals in the area. The Fair Housing Act, which prohibits discrimination in tenant selection, doesn't apply to roommates but it does apply when renting out separate units. That said, if you're acting as a landlord, you will be held to strict standards regarding how you advertise the property and how you evaluate potential tenants. You'll also be responsible for maintaining the property, so it's best to know what laws apply to you before you make a purchase.
Find your tenants 
After you've bought the property, the last step in this process is to find tenants who are a good fit for your property. You want to know who will be living in your home, whether you have compatible lifestyles and whether they have strong employment and credit records.
Mihal Gartenberg, a New York City-based licensed real estate salesperson and advisor to real estate investors, recommends hiring an experienced broker or property manager to handle tenant searches and relations.
They will know the appropriate process for conducting credit and background checks, and will be versed in signs that someone is likely to be a good tenant. She offered the example of someone who has excellent credit but gaps in their employment history. Even with those gaps, they fulfilled their financial obligations, indicating that they are responsible and live within their means.
Pros and cons of house hacking
Pros
 You'll decrease your expenses. If you can rent out your extra space for enough money to cover your mortgage payment, you will no longer have to worry about affording that expense.
 You'll increase your net worth. As you use your rental income to pay down your mortgage, you'll build home equity in the property, which you can leverage later on to buy a new home or to finance big expenses.
 You'll gain valuable experience. If your goal is to eventually build a bigger real estate portfolio, this will give you valuable experience in vetting tenants, negotiating leases and managing a property.
 You'll form new connections. Sometimes the best part of renting out space is getting to know your tenants. In addition to the obvious financial benefits of house hacking, you'll also have the opportunity to form new connections and make new friendships.
Cons
 You'll have to cover some upfront costs. Many new investors want to learn how to house hack with no money, but unfortunately, that's not really possible. Buying a home and getting it ready for tenants does come with some upfront costs, such as a down payment and closing costs, which you will need to be able to afford.
 You'll have more responsibility. Being a live-in landlord comes with responsibilities beyond being a good roommate. As mentioned above, you will have to find tenants, collect rent and manage any maintenance and upkeep on the property.
 You'll have less privacy. No matter which method you choose, house hacking involves living in close quarters with other people. You'll have to be willing to give up some of your privacy in exchange for the financial benefits.
 You'll need to prepare for the worst. While no one likes to think about it, there is always the possibility that your tenants will default on their rent. If that happens, you will need to be prepared to pick up your mortgage payments to stay in good standing with your lender.
How to avoid the pitfalls of house hacking
Like any financial opportunity, house hacking does come with a risk of falling victim to certain pitfalls. To that end, we have listed them below for your review. Read them over and learn how to successfully avoid them.
Forgetting to assess the market. In order for your house-hacking strategy to work, you need to collect enough rent to cover your financing costs. Be sure to assess the state of the local market before you make a purchase to verify that your property will generate enough rental income to cover your costs.
Not checking state and local laws. Some states and municipalities have laws governing rentals, especially those that are short-term. Make sure you're aware of and able to comply with any laws in your area before you invest any money into this strategy.
Not thoroughly vetting your tenants. Be sure to do at least a credit check, employment check and background check on each potential tenant that you want to bring into your home. Otherwise, you could end up with a tenant that doesn't pay or causes other problems.
Neglecting your landlord responsibilities. Again, as a landlord, you are responsible for certain duties, including keeping the property in decent condition. If you neglect to follow up on these responsibilities, you could find yourself with a high turnover rate, or worse, in a lawsuit.
Draining your reserves. If a tenant decides to stop paying rent, you'll need to pick up the tab while you work to evict. With that in mind, it's a good idea to have an emergency fund to cover those costs.