How Does LendingTree Get Paid?
LendingTree is compensated by companies on this site and this compensation may impact how and where offers appear on this site (such as the order). LendingTree does not include all lenders, savings products, or loan options available in the marketplace.
How Much Should You Put Down on a House?
Updated on: January 11th, 2021
Editorial Note: The content of this article is based on the author's opinions and recommendations alone. It may not have been reviewed, commissioned or otherwise endorsed by any of our network partners.
Your down payment is a lump sum of cash you'll pay upfront when buying a home. Choosing how much to put down on a house involves evaluating your financial situation to ensure you're contributing as much as you can without draining your savings.
Not everyone needs a big down payment to buy a home, and some people don't need any down payment at all. Still, your down payment amount plays an important role in the homebuying process because lenders use it as evidence that you're willing to put some skin in the game.
How much should you put down on a house?
Your mortgage down payment amount depends on your loan program, credit score and home's purchase price. Different loan programs require different down payment percentages, but it's possible to get a mortgage with as little as 3% down or even no down payment.
Minimum down payments by loan program

Loan program

Minimum down payment

Conventional loan

3%

FHA loan

3.5% with 580+ credit score




10% with 500-579 credit score

VA loan

0%

USDA Loan

0%
The average down payment on a house is 12%, according to the latest data from the National Association of Realtors (NAR).
Your down payment percentage doesn't just influence how much you'll need to borrow. It also impacts:
Your mortgage interest rate
What type of mortgage program is best for you
Whether you'll pay for mortgage insurance
The more money you put down, the better. Your monthly mortgage payment will be lower because you're financing less of the home's purchase price, and you can possibly get a lower mortgage rate. Still, you'll want to think critically about how much you contribute toward your home purchase.
Here's a look at several down payment percentages translated into dollar amounts, based on a $250,000 house: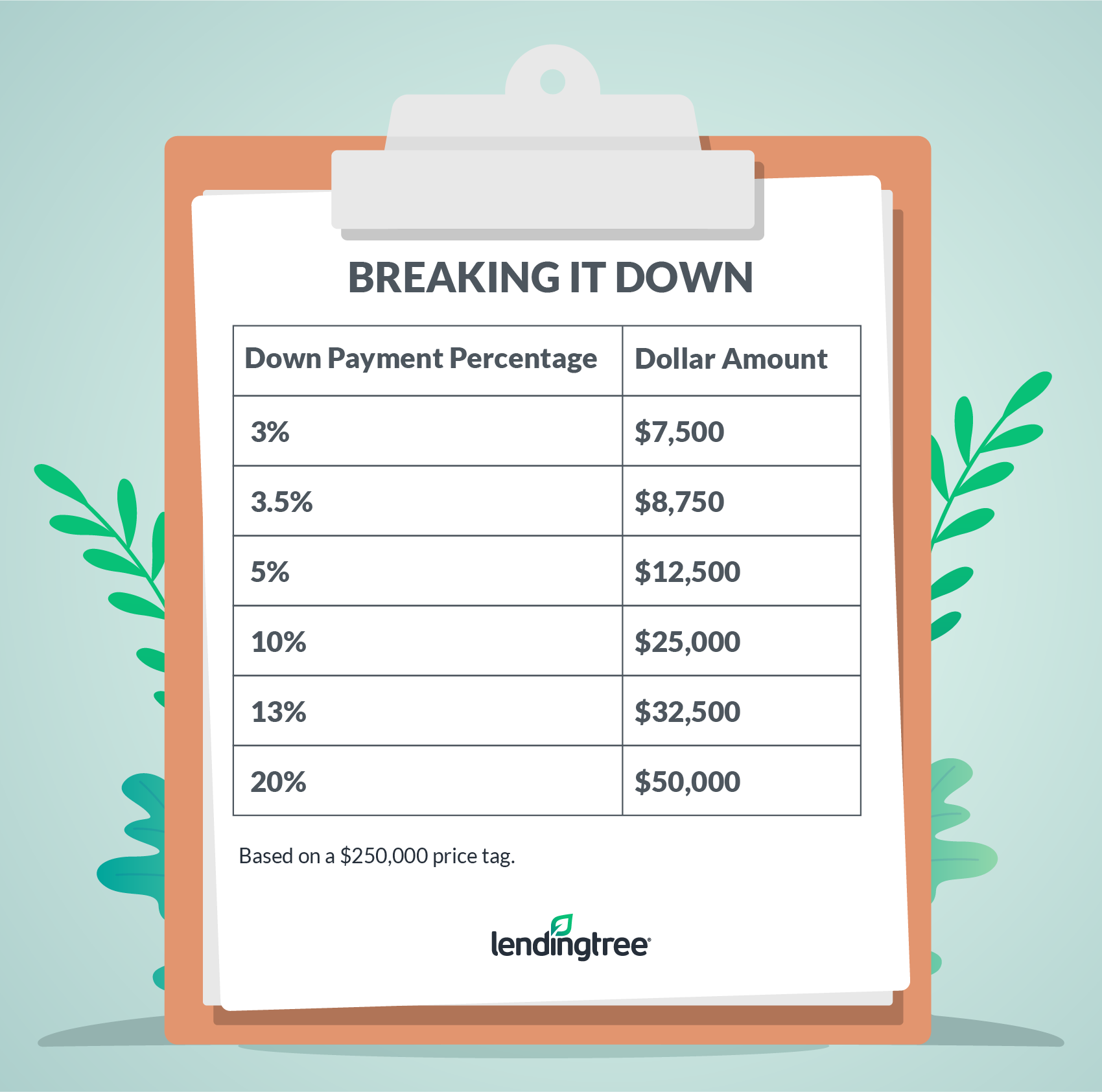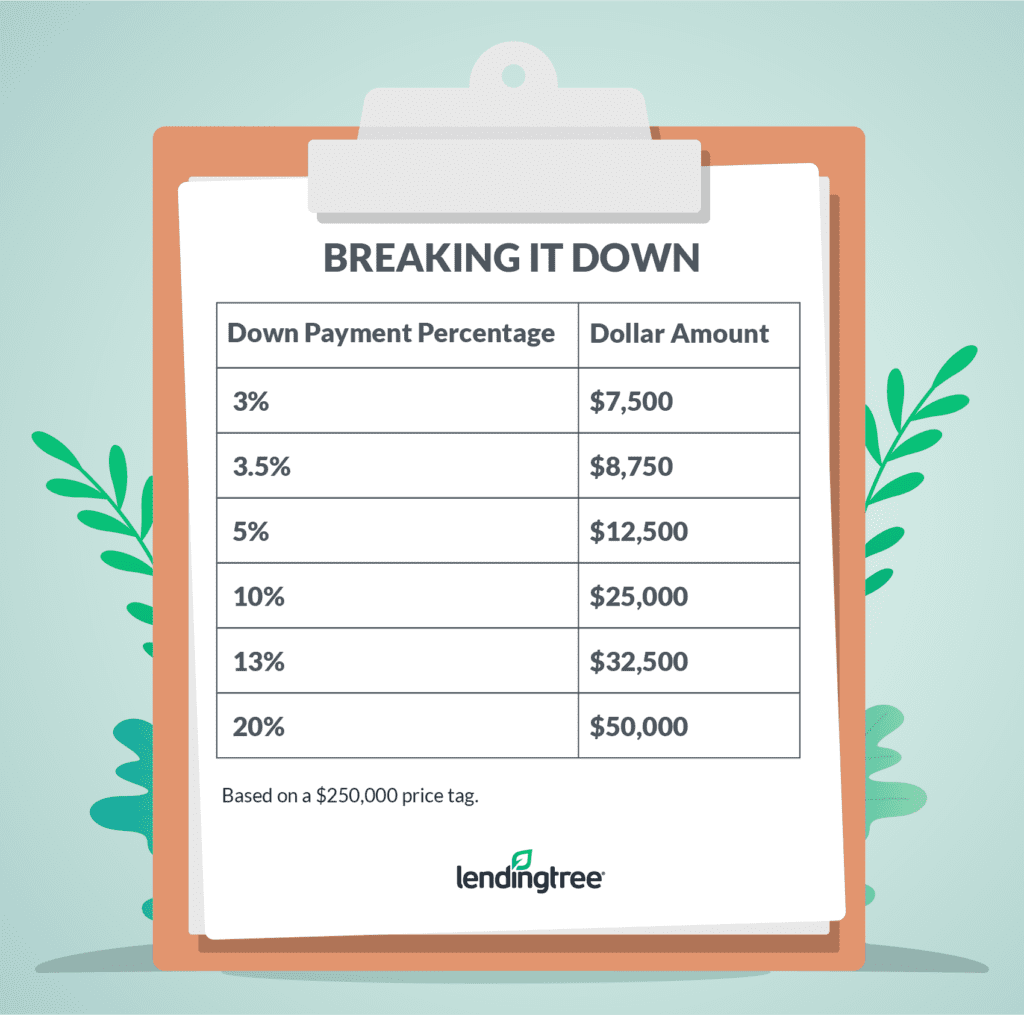 Should I make a 20% down payment?
A 20% down payment is considered the gold standard, and comes from guidelines set by Fannie Mae and Freddie Mac, two major mortgage agencies backed by the federal government that buy and guarantee most of the mortgages made in the U.S.
A homebuyer must either put down at least 20% or pay for private mortgage insurance (PMI) to meet Fannie and Freddie guidelines for a conventional loan. PMI is usually paid monthly as part of your mortgage payment and protects the lender if you go into mortgage default.
As mentioned in the graphic above, a 20% down payment on a $250,000 home is $50,000.
Benefits and drawbacks of a 20% down payment

BENEFITS

DRAWBACKS

You avoid paying for private mortgage insurance

You borrow less money for your home purchase

You'll likely have a lower interest rate and monthly mortgage payment

You give up a larger chunk of your cash reserves

You'll have to tap your equity or sell your home to get your money back

You could lose your equity if home values drop
Should I put down more or less than 20%?
A 20% down payment is often recommended as an ideal amount, but you have the option to put down more — or less.
Comparing a 5% and 20% down payment
One of the best ways to fully understand how your down payment affects your home purchase is to run the numbers by using a home loan calculator.
Let's take a look at two buyers, Kate and Steve, who are borrowing conventional loans, each with excellent credit scores. They're both borrowing a 30-year fixed-rate mortgage to buy a $250,000 home.
Kate is making a 20% down payment and is eligible for a 2.75% interest rate. Steve is putting down 5% and receives a 3% interest rate.
Kate
Steve

Down payment amount

$50,000

$12,500

Loan amount

$200,000

$237,500

Interest rate

2.75%

3.00%

Monthly mortgage payment




(Principal and interest)

$816.48

$1,001.31

Monthly PMI payment

$0

$123.70

Total PMI paid




(Until 80% LTV)

$0

$10,390.80*

Total interest paid

$93,933.65

$122,971.45
*Estimate based on PMI removal after seven years of payments.
As the table illustrates, Kate can save nearly $40,000 ($29,037.80 in interest and $10,390.80 in PMI payments) over the life of her loan by making a 20% down payment.
The upsides of a larger down payment include starting out with a significant amount of equity and avoiding PMI. You may also be also to negotiate lower closing costs.
However, it's important to consider the potential downsides of making a bigger down payment:
Low or no cash reserves. Putting all your savings toward a down payment may not leave you any money in the event of an emergency. A job loss, serious medical issues, significant home repairs and other financial surprises could happen before you've had time to rebuild your emergency fund.
Competing financial goals. To come up with a down payment larger than 20%, you may have forgone or cut back on contributing to your 401(k) or individual retirement account (IRA). Or perhaps you have existing credit card debt or other loans you haven't been paying off aggressively because you were saving for a down payment.
In this case, it's a good idea to balance saving for a down payment with other financial priorities, such as boosting your retirement funds and paying down debt.
5 low down payment mortgage options
The median price of an existing home is more than $310,000, so it's not surprising that many would-be buyers are struggling to come up with a sizable home down payment.
Fortunately, there are low- and no-down-payment mortgage program options available.
Fannie Mae HomeReady® loans. The HomeReady loan program requires a 3% minimum down payment. You'll need a 680 or 720 credit score — depending on your debt-to-income ratio — to qualify for the minimum down payment, however.
Freddie Mac Home Possible® loans. The Home Possible loan program also requires a minimum 3% down payment. In most cases, you'll need at least a 660 credit score.
FHA loans. The minimum required down payment for an FHA loan is 3.5% — if you have at least a 580 credit score. The down payment minimum jumps to 10% if your credit score is between 500 and 579.
VA loans. Military service members, veterans and eligible surviving spouses can get a VA loan with 0% down. While there is no required minimum credit score, many lenders have a 620 score cutoff.
USDA loans. The U.S. Department of Agriculture (USDA) offers 0% down payment home loans to eligible low- and moderate-income homebuyers. Most USDA lenders expect to see a 640 credit score, and borrowers must buy a home in a designated rural area.
Things to consider when making a smaller down payment
Factor in the following considerations if a smaller down payment makes more sense for your finances:
Your mortgage rate
You're contributing less money toward your home purchase and financing a larger percentage of the home price, so lenders will consider you a riskier borrower. Your mortgage interest rate will likely be higher as a result, but you may counteract that somewhat by having a higher credit score. A 740 score or higher can help you qualify for a better rate.
Mortgage insurance
Your monthly mortgage payment will be higher because of the added cost of mortgage insurance. If you borrow a conventional loan, you can eventually drop PMI once your loan-to-value ratio drops below 80%. But if you have an FHA loan, you must pay annual mortgage insurance premiums for the life of your loan unless you put down 10% or more, in which case you can have it removed after 11 years.
Interest payments
The larger your loan, the more you'll pay in interest. You can cut down on the interest you pay by making extra mortgage payments and/or later refinancing your mortgage to get a better rate or shorter loan term.
Mortgage down payment assistance programs
If you need extra help coming up with down payment funds, you may find that your state or county offers down payment assistance programs. Check with your local housing finance agency for more information. Below are a couple of examples:
Good Neighbor Next Door
The Good Neighbor Next Door program from the U.S. Department of Housing and Urban Development (HUD) is available to law enforcement officers, teachers, firefighters and emergency medical technicians buying homes in certain communities designated as revitalization areas.
The program offers eligible borrowers 50% off the list price of the home if the borrower commits to using a property in one of these communities as their primary residence for three years. Eligible buyers can purchase a home with as little as $100 down if they take out an FHA loan.
National Council of State Housing Agencies (NCSHA)
Many state agencies and nonprofit organizations have programs aimed at helping potential homebuyers get approved for a mortgage. Locate the resources in your area by using the NCSHA directory.
Available programs vary by location, but they typically provide competitive interest rates and low- or no-down-payment programs, and help with closing costs. They may also be able to connect you with conventional or government-backed loans that fit your circumstances.
FAQs about how much you should put down on a house
How does a down payment affect your LTV ratio?
Your down payment amount determines your loan-to-value (LTV) ratio, or the percentage of your home's value being financed by the mortgage you're borrowing. For example, if you make a 5% down payment, that means your LTV ratio is 95%.
What happens if I make less than a 20% down payment?
If you take out a conventional loan and put down less than 20%, you'll pay private mortgage insurance. This cost is added to your monthly mortgage payment and can be removed after you reach an 80% LTV ratio.
If you have an FHA loan, you'll pay for upfront and annual FHA mortgage insurance regardless of your down payment amount. You can get rid of it after 11 years if you put down at least 10% at your mortgage closing, or by refinancing into a conventional loan after you reach an 80% LTV ratio.
Can I get a 0% down payment loan?
If you qualify for a VA loan or USDA loan, you won't be required to make a down payment, in most cases. VA loans are reserved for certain military service members, veterans and eligible surviving spouses. USDA loans are exclusive to homebuyers in designated rural areas who have low or moderate incomes.
How can I avoid mortgage insurance without putting down 20%?
You can avoid making monthly mortgage insurance payments by:
Paying your PMI upfront in a lump sum at closing
Asking your lender to cover your PMI payment in exchange for a higher interest rate
Taking out a piggyback loan for 10% of your down payment, while also contributing another 10% down payment yourself
What other homebuying costs will I have besides a down payment?
You'll also have closing costs, which can range from 2% to 6% of your loan amount. Additionally, you'll want to budget for ongoing maintenance and unexpected repairs by stashing away three to six months' worth of living expenses in an emergency fund.