VA Home Improvement Loan: Key Things To Know
Updated October 30th, 2019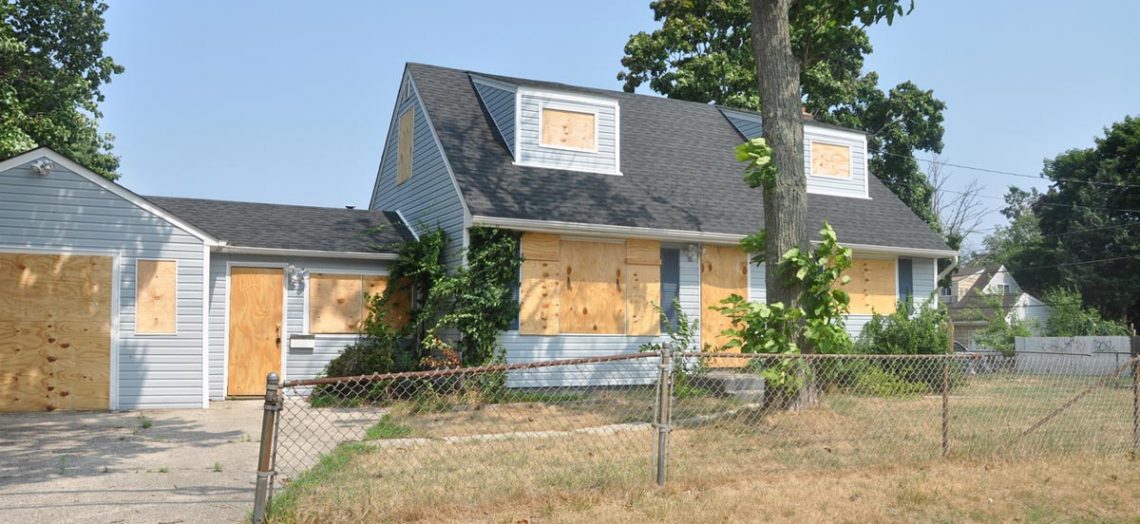 Half of all owner-occupied houses in the United States were built more than 40 years ago. Some of these older houses are showing signs of their age and falling into disrepair. Historically, getting a Department of Veterans Affairs loan for homes that didn't meet habitability standards was nearly impossible. However, in April 2018, the VA updated its alteration and repair purchase and refinance loan program for qualified borrowers.
Today, VA loan holders and eligible borrowers can use the VA's loans for alterations and repair to buy or refinance a home that needs repairs. If you're eligible for the VA home loan program, and you want to rehabilitate a home, the VA home improvement loan programs could be important for you to understand.
Types of VA home improvement loans
The VA offers three important loans for veterans looking to rehabilitate their homes (or purchase homes that need some TLC). These are the loan programs to understand.
VA purchase and refinance loans for alterations and repair
The VA loan for alterations and repair can be used to purchase a property that doesn't meet minimum property requirements at the time of purchase. As a part of the purchase loan, borrowers can fold in expected renovation costs. In general, the cost of repairs is limited to $50,000 or $75,000 with a VA specification of repairs report. Limits for repair costs may vary by lender.
Cola Galvin, vice president of renovation lending for OVM Financial told LendingTree, "I love renovation loans because they help people get the house of their dreams now. A lot of times, it's the least expensive way to [get the house you want]. When you use a renovation loan, you don't have to use a credit card or take cash out of your investments. The costs are built right into a low-interest, 30-year term mortgage."
The loan for alterations and repairs can also be used as part of a cash-out mortgage refinance. It allows existing homeowners to refinance a loan up to the full repaired value of the home. Normally, you can only take a cash-out refinance up to the existing value of your home, but when your home falls into disrepair, it's possible that you'll owe more than your house is worth. But with a VA loan for alteration and repair, it's possible to get the funds as long as the improvements will cause your home value to rise up to the total size of the mortgage.
8 things to know about VA loans for alteration and repair
Can take a long time to close. To complete closing on a VA renovation loan, you'll have to submit a renovation bid from a licensed and registered contractor in your area. Galvin explained that this tends to extend the process for closing. "Contractors are great at swinging a hammer and making the renovations happen, but many are not very good at getting papers signed in a timely manner." Galvin estimates that the VA loan for alteration and repairs usually takes 30-45 days to close from when the bank gets a copy of the estimate from the contractor. By contrast, a typical mortgage can often close in less than 30 days.
Must be eligible. VA loans are only for active U.S. military service members, veterans who were in uniform for a certain length of time, Reservists, National Guard members and certain surviving spouses. Before taking out any type of VA loan, you need to get a Certificate of Eligibility (COE). The COE proves that you met service standards, or are an eligible spouse or beneficiary of a service member.
Subject to loan limits. The maximum loan amount is the lesser of the expected value of the property once the repairs are complete, or the total cost to buy and rehabilitate the house. Additionally, most VA loans meet conforming loan limits. Throughout most of the country, borrowers can only borrow up to $453,100 on their purchase loans.
Repaired property must meet minimum property requirements. Before the VA issues its loan guarantee, the property must meet standards of safety, security and habitability. You'll need to understand these standards before you purchase a "fixer-upper." The property has to meet these standards within 90 days of closing.
No lavish remodels. Alterations and repairs have to be in line with the standards of the community where the home is located. Of course, those standards may vary by region of the country and even by neighborhood. Rather than relying on guesswork, Galvin recommended, "Be sure the loan officer understands renovation loanshttps://www.lendingtree.com/cms/wp-admin/admin.php?page=custom-search-plugin. You really want to work with experts who know what they're doing. Someone with experience in multiple renovation loan types will be able to guide you on a case by case basis."
Up to 2% construction fees. Anyone taking out a VA loan will pay closing costs and an upfront funding fee (ranging from 1.25-3.3%). However, people taking out purchase loans for alterations and repairs may pay an additional construction fee of up to 2% of the loan's value. This fee compensates the lender for disbursing funds as construction is complete.
Maximum debt-to-income ratio. Generally, your total minimum monthly debt payments (including your new mortgage) cannot exceed 41% of your total monthly income. Lenders can push that limit higher, but that isn't always the case.
Can't do the work yourself. Even if you're a handy person, you cannot use a VA loan to do the repairs yourself. This requirement protects you as a buyer since you retain the right to sue if your repair isn't done correctly.
Energy efficient mortgages
Energy efficient mortgages are loans that allow VA borrowers to finance the costs of energy efficiency improvements like installing insulation, vapor barriers, weatherstripping or solar panels. The cost of these projects is added to either a VA purchase or refinance loan. That means borrowers can finance energy efficiency projects over 15 to 30 years.
Even though the cost of the energy efficiency projects raise the amount you'll borrow, the increase may be offset by decreased utility costs.
5 things to know about VA energy efficient mortgages
Must be a VA mortgage borrower. The VA energy efficient mortgage isn't a stand-alone mortgage. It allows borrowers to finance energy efficient improvements when they are purchasing a home or refinancing using a VA loan.
Raises the VA loan limit by up to $6,000. In most cases, qualified borrowers can finance up to $6,000 for energy efficiency projects when buying or refinancing a VA mortgage. If you want to finance more than $6,000, you'll need to get a certificate of commitment from the VA.
Borrowers still subject to underwriting. Even though the energy efficient mortgage program provides borrowers up to $6,000 (or more) in extra financing, that doesn't mean your lender will approve you for the full $6,000. Remember, the VA is not a direct lender, but it does guarantee a percentage of the beneficiary's loan, which allows approved banks or other lenders to provide more favorable terms.
The VA tells lenders energy efficiency mortgages for under $3,000 will be offset by decreases in utility spending, but the lender is responsible for determining whether projects between $3,000 and $6,000 are worth the extra costs and whether you have the income to cover the increased payments.
Projects that cost over $6,000 are subject to additional scrutiny and require a VA Certificate of Commitment.
Subject to upfront funding fee. Funds borrowed through the energy efficient mortgage are subject to the upfront funding fee. VA borrowers pay 1.25%-3.3% when they first take out a mortgage.
You can do the repairs yourself. If you're handy, and you want to make the improvements yourself, you can still finance the costs of materials with the energy efficient mortgage program.
Supplemental loans
A supplemental loan is a VA loan that allows veterans to make substantial improvements to their primary residence as long as the house is secured by a VA mortgage.
Supplemental VA loans can be funds added to an existing loan, or they can be part of a home refinance or they can be a second loan (like a home equity loan). Supplemental loans cannot raise the interest rate on an existing loan. However, the interest rate on a supplemental loan can be higher than your current mortgage rate if the loan is a second position mortgage.
3 things to know about VA supplemental loans
No luxury renovations: The supplemental VA loan is a renovation and repair loan that's designed to help veterans protect or improve the basic habitability of their homes. You cannot install a pool or other luxuries using this loan.
Must be owner-occupied: You must currently occupy the house (or plan to occupy it at the end of major renovations) to qualify for the loan.
Must prove value of the repairs: If you're applying for a loan under $3,500, you can detail the expected costs of the loan on a statement of reasonable value. However, if you're applying for more than a $3,500 loan, the lender needs a notice of value (like a home appraisal) and proof of compliance. The maximum amount of a supplemental loan will depend on how much you've borrowed previously, the loan limits in your area and the estimated value of repairs.
Housing grants for disabled veterans
If you're a permanently disabled veteran, you may qualify for the Specially Adapted Housing (SAH) grant or the Special Housing Adaptation (SHA) grant for veterans. The SAH grant provides up to $81,080 for a veteran who needs to adapt their own home to accommodate a disability. The SHA grant provides up to $16,217 for veterans who need to adapt their home.
These grants are also available (at lesser amounts) for veterans who want to adapt a family member's home. You can qualify for a maximum of three grants over your lifetime.
When does it make sense to refinance your mortgage to a VA home improvement loan?
If your primary residence has fallen into disrepair, a traditional cash-out refinance may be off the table. Your house simply may not have enough equity to make the cash-out refinance work for the lender. That's where the VA loan for alteration and repair makes a ton of sense. You'll get the funds you need to improve your house, and your bank can underwrite the loan based on the value of the repaired house. For veterans and banks, the loan creates a win-win situation.
However, eligible borrowers should not assume that a VA loan makes the most sense for them. An FHA 203k loan or a Fannie Mae Homestyle® loan may be a better product. Galvin explained, "Each loan has different nuances. For example, if you have a home built before 1978, and you want to repaint the house, you may need a certified lead-based paint specialist for certain loans." A lender that understands the ins and outs of renovation loans will help guide you to the right loan for you.
Additionally, if you've got your mortgage locked in at a super-low interest rate, refinancing to a higher interest rate might not make sense. You may be better off investigating options like a home equity loan or a HELOC instead of a specific renovation loan.
Other loan and grant programs that help veterans
In addition to federal loan programs, many veterans are eligible for state and local housing assistance. For example, all states have veterans homes for disabled veterans, and most offer transitional housing benefits for homeless veterans. On top of those services, several states offer partial or complete property tax exemptions for veterans. You can learn more about state-level housing programs (and other benefits) by visiting your local Department of Veterans Affairs office.
Here, we will cover several state-level loan and grant programs that can help veterans living in certain parts of the country. Again, call your local VA office to see what programs may be available to you.
California — The CalVet home loan program offers loans with below-market interest rates to most veterans who want to buy in California. The CalVet loan program is used in conjunction with a federal VA loan.
Iowa — The military homeownership assistance program provides eligible service members up to $5,000 for down payment and closing costs. This is a grant program which means the proceeds don't have to be repaid.
Maine — Maine offers a 0.25% loan discount, plus up to $3,500 in closing cost assistance to veterans who qualify for the Salute ME or Salute Home Again loan programs.
New York — The Homes for Veterans program offers veterans loans with interest rates 0.375% below standard State of New York Mortgage Agency interest rates. The program also offers $3,000-$15,000 in closing cost assistance.
Oregon — Oregon's Department of Veterans' Affairs offers low cost purchase loans for veterans who want to buy a house in Oregon. The program is completely separate from the federal VA loan program.
Texas —The Veterans Land Board in Texas offers home improvement loans to Texas veterans. The loans have discounted rates that make home improvement projects more cost-effective.
Washington — The Washington State Housing Commission offers a Veterans Downpayment Assistance Loan Program. The down payment loan has a 3% interest rate and no payments for at least 30 years. The maximum loan amount is $10,000.
In addition to government programs, nonprofit organizations often help veterans repair or buy homes. These are a few of the largest programs nationwide.
Operation Finally Home provides custom-built mortgage-free homes for wounded veterans or surviving spouses. The organization also provides home modifications for wounded veterans.
Homes for Wounded Heroes offers mortgage-free houses to combat-wounded veterans or their surviving spouses who have not remarried. You can review the available homes on their website.
Habitat for Humanity Veterans Build partners with local agencies to help meet the housing needs of military veterans and service members. Habitat for Humanity can help low-income veterans buy their first home or modify an existing home.
Are you a veteran looking for home repair loans?
Whether you're looking to make repairs to your 40-year-old house or you want to buy a fixer-upper, a VA renovation loan may be the right option for you. If it makes sense for you, be sure to compare rates from several lenders (as well as rates on comparable loans such as the FHA 203k loan and Homestyle® loan).
With the right house, the right contractor and the right loan, you can turn your house into a comfortable and affordable place to call home.