How Does LendingTree Get Paid?
LendingTree is compensated by companies on this site and this compensation may impact how and where offers appear on this site (such as the order). LendingTree does not include all lenders, savings products, or loan options available in the marketplace.
24% of Homeowners Made an Offer Sight Unseen — And That Nearly Doubles Among Recent Buyers
Updated on: June 21st, 2022
Why use LendingTree?
We are committed to providing accurate content that helps you make informed money decisions. Our partners have not commissioned or endorsed this content. Read our .
Today's housing market is challenging for homebuyers, thanks to a combination of factors. With inventory scarce, buyers are competing for homes. At the same time, prices continue to climb, while mortgage rates are increasing.
The current climate has buyers making offers on homes without even seeing them. In fact, nearly half of buyers in the past two years (47%) have done this, according to the newest LendingTree survey of more than 1,000 homeowners.
Others say they've purchased a home that wasn't their first choice, while almost a quarter of recent buyers say they've paid above the asking price. See what else the survey reveals about the current state of home shopping.
TABLE OF CONTENTS
Key findings
Nearly half (47%) who bought a home in the past two years made an offer without physically touring the home. Comparatively, 24% of homebuyers overall and 12% who purchased their most recent home 10 or more years ago did the same.
As consumers are buying homes sight unseen, 30% of homeowners say the house they live in  wasn't their first choice. This is far more common among Midwesterners (35%) than Northeasterners (25%).
First choice or not, many buyers are paying above the asking price. In the past two years, 24% paid more than the asking price, versus 5% who bought 10 or more years ago.
More than a third (36%) of recent buyers say they plan to move within the next five years. Almost half of these newer buyers (48%) say they plan to upsize with their next purchase, buying a larger home than the one they currently live in.
Despite these homebuying stresses, 85% of homeowners agree that owning is ultimately more affordable than renting. However, that may be in conflict — at least in the short term — with a 2021 LendingTree study that found renting is cheaper than owning in each of the nation's 50 largest metros.
Nearly half of recent homeowners bought sight unseen
Those who bought their homes in the past two years are most likely to have made an offer before seeing the house in person, with 47% doing so. This is nearly double the overall percentage of homebuyers who report the same (24%).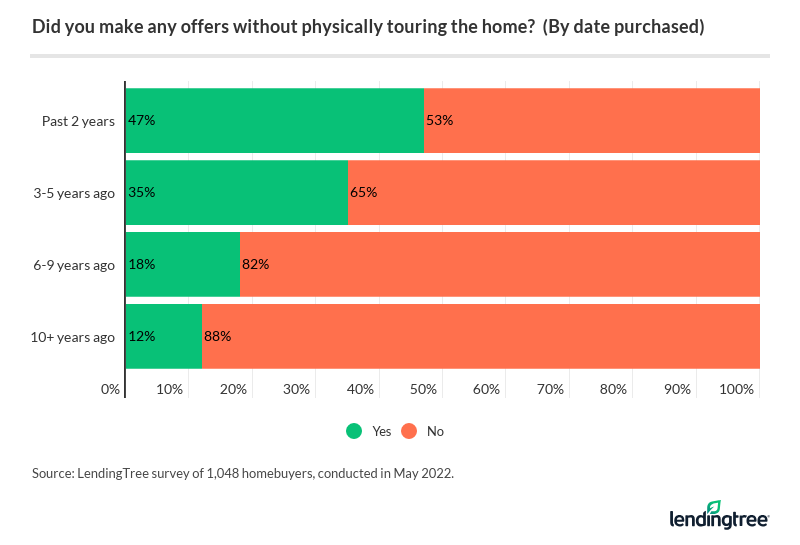 Regionally, people buying a home in the West are most willing to take a chance on a potential purchase without seeing the home (30%), while Midwest homebuyers are the least likely to make an offer without a tour (15%).
"Buying a home sight unseen may seem like a good option if you're in a hurry and want to make an offer as soon as possible, but it can easily backfire," warns Jacob Channel, LendingTree senior economic analyst.
Beyond not being able to get a real feel for the size and floor plan, you could miss important red flags like structural damage, he adds.
"If you do decide to buy a home sight unseen, be sure that it has been professionally inspected by someone you can trust," Channel says. "That way, at the very least, you'll know if there's anything structurally wrong with the home before it becomes yours."
3 in 10 Americans aren't living in their first choice
Nearly a third of homeowners (30%) say they feel like they missed out on other homes they liked more than the one they ended up buying. It's especially the case for those who purchased in the past three to five years (36%).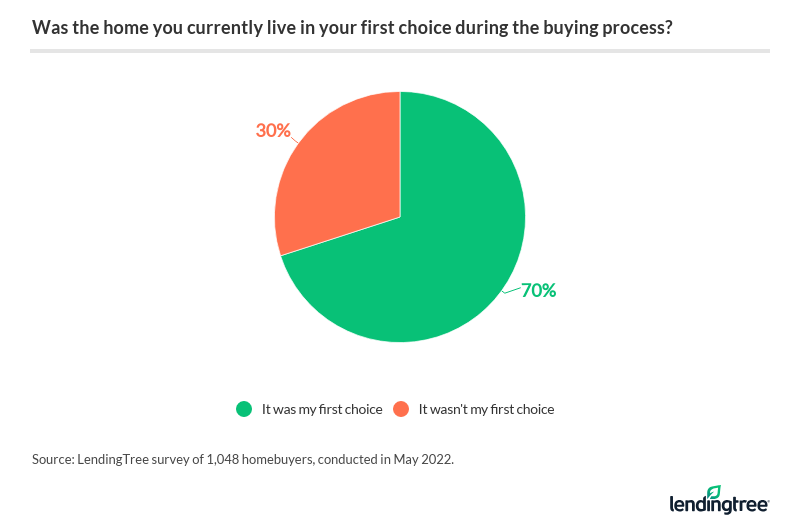 In particular, Midwesterners (35%) were more likely to settle for a home that isn't their top pick than Northeasterners (25%).
Still, whether it was the home they wanted or not, the vast majority of people (71%) say they only made one home offer for their most recent home purchase. Millennials (ages 26 to 41) are the demographic most likely to have made multiple offers before buying, with 42% doing so.
But despite what feels like a hurried process, most buyers (52%) say they spent six months or more looking at homes before they were ready to buy. Nearly 1 in 5 (18%) say they looked for more than a year. First-time homebuyers started looking earlier than repeat buyers.
Recent homebuyers more prone to paying above asking price
About a quarter of people who purchased their home in the past two years say they paid above the asking price. Meanwhile, just 5% of people who bought 10 or more years ago say the same.
"The combination of low housing supply and the greater financial freedom that low rates provided buyers resulted in many people becoming willing to spend extra on the limited number of homes that were on the market," Channel says.
Remember: The lower your mortgage rate is, the lower your payments will be — and the more expensive a home you can potentially afford.
Before the pandemic, higher rates and more supply disincentivized people from bidding over the asking price, which is why it's more common for recent buyers to have spent extra on a home, he added.
"With that said, the market is now showing signs of cooling down, so the days of tons of people paying well over asking price are likely coming to an end," Channel says.
More favorable prices are certainly good for buyers, especially since 72% of respondents cite price as one of the top three factors for choosing their current home. That percentage is even higher among first-time homebuyers (78%) and Gen Xers ages 42 to 56 (77%).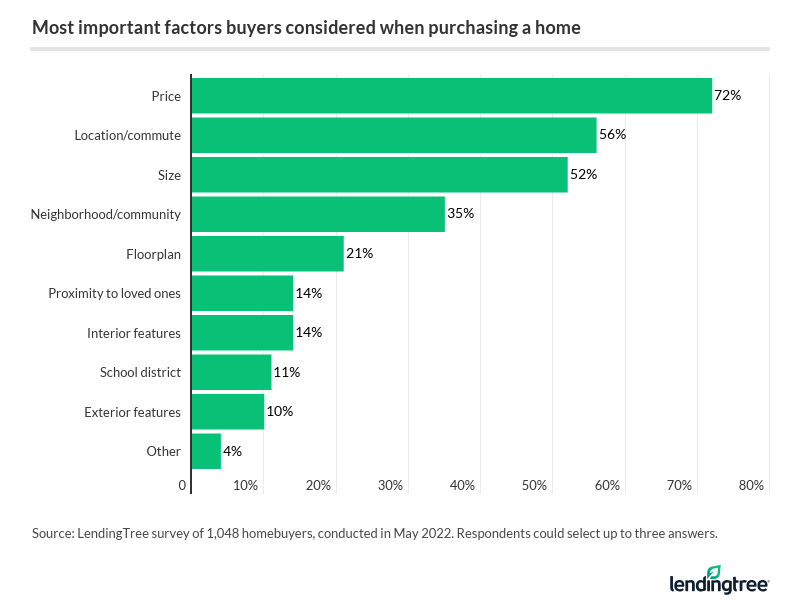 Location (56%), size (52%) and neighborhood (35%) are the other major considerations overall. Regionally, the neighborhood plays a bigger role in the West and Northeast (42% and 41%, respectively). In the South, location is a more significant factor (60%), while Midwest residents are most concerned about school districts (17%, versus 11% overall).
More than 4 in 10 homebuyers lost sleep due to homebuying stress
With so many factors to consider, 41% of homebuyers overall report feelings of stress keeping them up at night. And it's been way worse for homebuyers in the past two years, with 63% reporting homebuying insomnia.
Millennials are the demographic most prone to sleepless nights (60%). The least likely to be stressed, however, are those who've been through the homebuying process before (36%). Comparatively, 47% of first-time homebuyers say they lost sleep.
For 18% of homebuyers, the stress even manifests into arguments with the family — and even more so among the highest-earning households (22%).
36% of recent homebuyers expect to move in next 5 years
Perhaps a bit of buyer's remorse exists for those who bought homes in the past two years (many sight unseen, or who paid above the asking price), as more than a third of them are looking to move in the next five years.
But more likely, it's just the nature of homeownership to expect to move within five years, as 39% of respondents overall cite this. On the other hand, 36% of those who've put down roots in their homes for 10-plus years say they don't ever plan to leave.
For those who think selling a home and moving to a new house is in the cards, it's almost an even split between those who want to upsize (36%) and those who want to downsize (37%). Millennials are the most likely group to want a larger home (60%), with first-time homebuyers (49%) next in line.
For their future homes, the top three features buyers will look for include:
Price: 73%
Size: 58%
Location: 49%
With price top of mind, about two-thirds of respondents say they expect to spend less than $400,000 on their next home purchase. However, in the West, just 40% say they'll spend below $400,000, most likely reflecting pricier homes in that region.
"For people who decide to move in the near future, two of the most important things that they'll need to consider are home prices and mortgage rates," Channel says.
Considering mortgage rates have already increased significantly since the start of the year while home prices have stayed high, it's important to set realistic expectations.
"Some people who decide to move may find that they have fewer affordable options than they did in the past," Channel says.
Despite everything, homeowners confident owning is more affordable
A staggering 85% of homeowners think owning is more affordable than renting, and that is fairly consistent across the various demographics.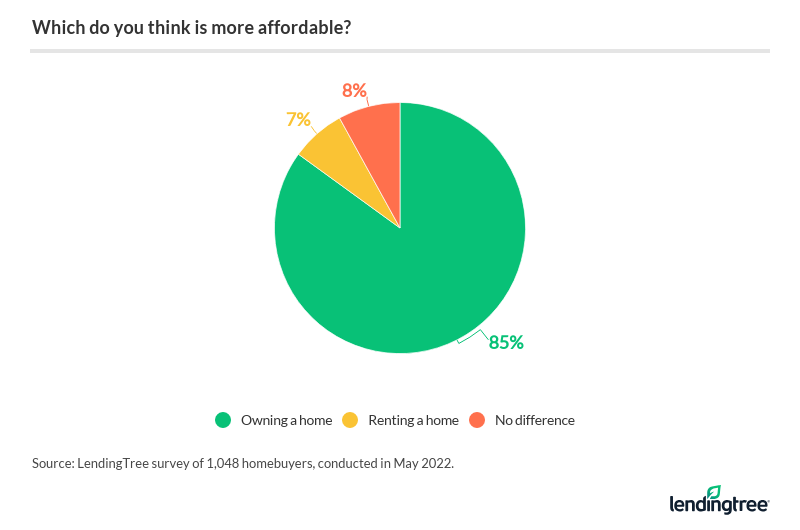 This might seem to conflict with a 2021 LendingTree study that found renting is cheaper than owning in each of the nation's 50 largest metros.
"This is usually true both in terms of how much money it costs each month to rent a home versus how much it costs to own one, and in terms of how much money it costs upfront to move into a place," Channel says.
For example, a down payment will likely cost more than a security deposit. Plus, owners also have to deal with extra costs that renters usually don't, like taxes or repairs.
In addition, Channel doesn't think there have been enough significant changes in the housing or renting market this year to turn the tides.
So what about the homeowners who overwhelmingly responded that owning is more affordable? Channel says they were likely considering the bigger picture.
"In the long term, renting can become the less affordable option," he explains.
That's because assuming a buyer gets a fixed-rate mortgage, their housing costs are unlikely to majorly change over time. For renters, the same isn't necessarily true, as their landlords could raise rent from year to year.
"Because of this, a homeowner who bought a median-priced home 20 years ago in a given area could end up spending less money on housing costs each month than a renter who rented a median-priced unit in the same area two years ago," Channel says.
Methodology
LendingTree commissioned Qualtrics to conduct an online survey of 1,048 U.S. homeowners ages 18 to 76, fielded April 9-25, 2022. The survey was administered using a nonprobability-based sample, and quotas were used to ensure the sample base represented the overall population. All responses were reviewed by researchers for quality control.
We defined generations as the following ages in 2022:
Millennial: 26 to 41
Generation X: 42 to 56
Baby boomer: 57 to 76
While the survey also included homeowners from Generation Z (ages 18 to 25), the sample size was too small to include findings related to that group in the generational breakdowns.