How Does LendingTree Get Paid?
LendingTree is compensated by companies on this site and this compensation may impact how and where offers appear on this site (such as the order). LendingTree does not include all lenders, savings products, or loan options available in the marketplace.
U.S. Mortgage Market Statistics: 2020
Published on: February 23rd, 2021
Editorial Note: The content of this article is based on the author's opinions and recommendations alone. It may not have been reviewed, commissioned or otherwise endorsed by any of our network partners.
In 2020, the U.S. housing market and the economy saw dramatic changes. The pandemic drove up unemployment rates to their highest levels since the 1980s while mortgage rates plummeted to record lows.
Although the housing market had a sluggish start, it soared back in the remainder of 2020, thanks to record-low mortgage rates and strong buyer demand. Meanwhile, the broader economy faltered as COVID-19 cases surged. Social distancing and shutdown orders continued throughout the country, contributing to a domino effect of job losses.
At the same time, home prices rose, housing supply dwindled and record-high numbers of Americans either took out a new mortgage or refinanced their current loan.
What else happened to the housing and mortgage markets in 2020? To answer that question, LendingTree analyzed the most recent housing data from 2019 and 2020. Read on to see the results of LendingTree's analysis and learn a variety of facts and figures related to the 2020 U.S. housing market, including what kind of borrowers got home financing, how mortgages were structured and how Americans managed debt.
Summary
Total mortgage debt as of Q3 2020: $10.8 trillion1
Average mortgage balance as of April 2020: $151,6862
Average new mortgage balance as of 2019: $285,4343
Homeownership rate (share of owner-occupied homes) as of Q4 2020: 67%4
Homeowners with a mortgage as of 2019: 63%5
Median credit score for a new mortgage as of Q3 2020: 7866
Average down payment made as of Q3 2020: $15,0237
Mortgages originated in 2019: $2.38 trillion8
Share of purchase mortgages originated by nonbank lenders as of Q3 2020: 69%10
Share of refinance loans originated by nonbanks as of Q3 2020: 73%10
Share of mortgages with a delinquency rate of 30 days or more as of Q3 2020: 2.81%13
Share of mortgages in forbearance as of December 2020: 5.53%16
Homeownership and equity levels
In the second quarter of 2017, real estate values in the United States surpassed their pre-housing-crisis levels and have continued to climb.12 Despite headwinds from the COVID-19 pandemic, as of the third quarter of 2020, the total value of real estate owned in the United States rose to more than$31.2 trillion.12 Total mortgage debt in the same time period reached $10.8 trillion.1 This means that Americans have amassed $20.4 trillion in home equity.11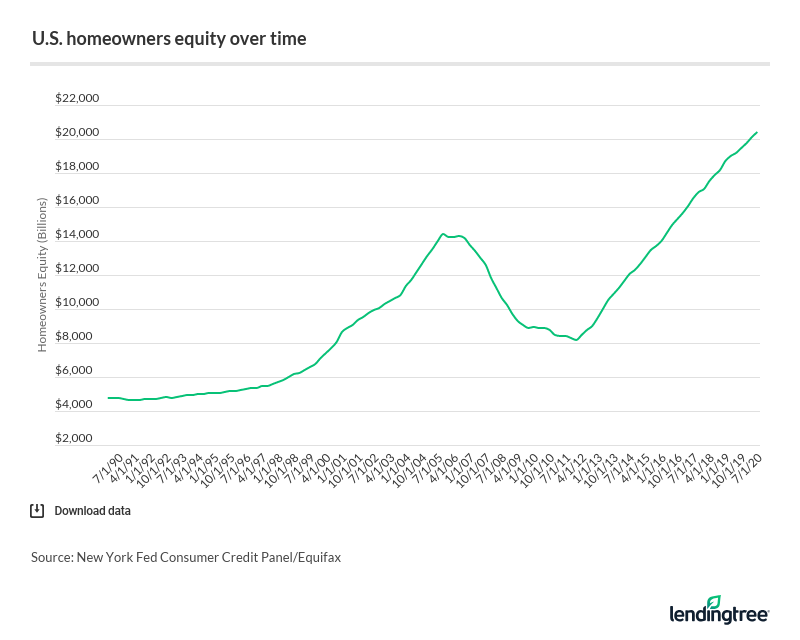 Although Americans have a staggering amount of home equity, real estate wealth is becoming increasingly concentrated in the hands of fewer homeowners as overall homeownership rates fall. In 2004, 69% of all Americans owned homes. Today, that number has fallen to 65.8%.4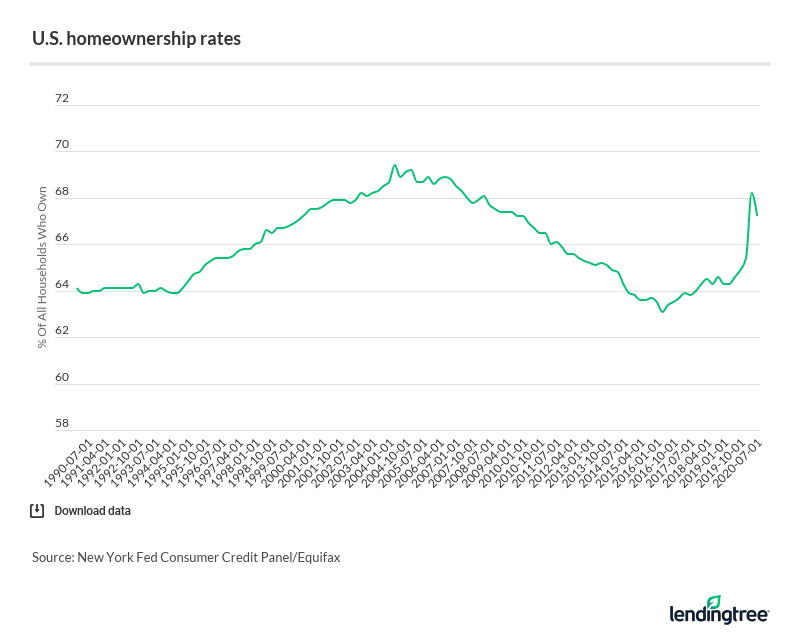 New mortgage originations
Mortgage origination levels have recovered from their housing crisis lows. In 2008, financial institutions originated just $1.4 trillion in new mortgages. However, by 2016, new first-lien mortgages topped $2 trillion.8 Though that number fell in subsequent years, it rose to $2.38 trillion in 2019 and continued to rise to $2.49 trillion through the third quarter of 2020.11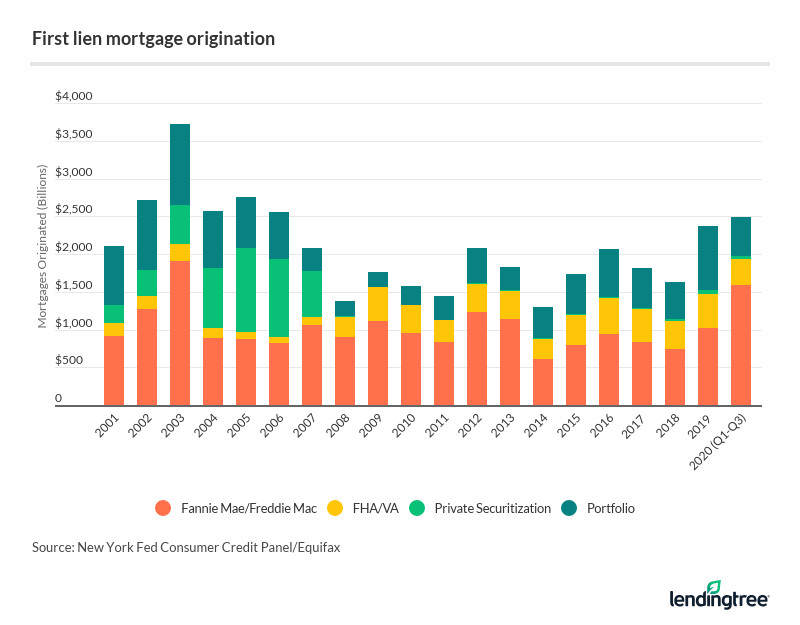 In 2010, three banks (Wells Fargo, Bank of America and Chase) originated 56% of all mortgages.9 Since 2010, though, the number of mortgages originated by nonbanks has increased; nonbanks now originate the majority of mortgage loans.10 One key reason: Nonbanks usually have more lenient lending standards and appeal to borrowers looking for more flexible underwriting requirements. As a result, they've been able to carve out a significant share of business from traditional banks in the purchase and refinance lending markets.
Government vs. private securitization
Government-sponsored enterprises (GSEs) have traditionally played an important role in ensuring that banks have enough capital to issue new mortgages. In Q3 2020, GSEs Fannie Mae and Freddie Mac purchased 61.9% of all newly issued mortgages, up from 45.3% in the third quarter of 2019.10
In Q3 of 2020, private securitization companies purchased just 1.1% of all mortgages, down from 1.8% over the same time period in 2019.10
As private securitization firms exited the mortgage landscape, programs from the Federal Housing Administration (FHA) and U.S. Department of Veterans Affairs (VA) have filled in some of the void. FHA and VA loans can help qualified borrowers get loans despite having smaller down payments or lower incomes and credit scores. FHA and VA loans accounted for 17.4% of all loans issued in Q3 2020, down from 19.5% compared to the same period in 2019.10
Portfolio loans — mortgages held by banks and not resold to another servicer — accounted for $223 billion in new home loans in Q3 202010. This represents a 19.6% share of first-lien originations, down significantly from 33.3% in Q3 2019.10
Mortgage credit characteristics
As of November 2020, the median FICO Score for a newly originated mortgage was 786.6  Though the credit score needed to be approved for a mortgage varies, this high median score can be attributed in large part to tightening lending standards in the wake of the COVID-19 pandemic.
The increase in median scores means that more borrowers with credit scores of 760 and above have accessed mortgage credit since the financial crisis of 2007. For example, as of the third quarter of 2020, around two-thirds of all mortgages originated were for borrowers with credit scores in this range. Before the housing crisis, a majority of mortgages were originated for those with lower credit scores between 660 and 759.6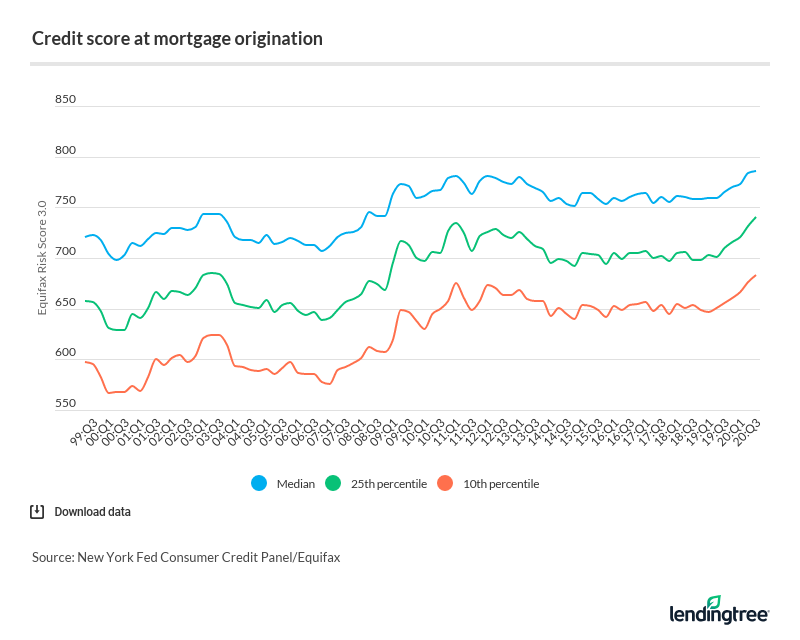 From the first quarter of 2003 through the end of 2008, an average of 20% of all mortgages originated went to people with subprime credit scores (lower than 660). In the third quarter of 2020, subprime borrowers received an average of just 4% of all mortgages, down from 7.9% in Q3 2019.6
Meanwhile, the share of mortgages issued to borrowers with excellent credit (scores above 760) went up substantially. Between the third quarter of 2001 and the end of 2008, an average of just 28% of all mortgages went to people with excellent credit. In the third quarter of 2020, though, 72% of all mortgages went to people with excellent credit, up 11 percentage points from 61% in Q3 2019.6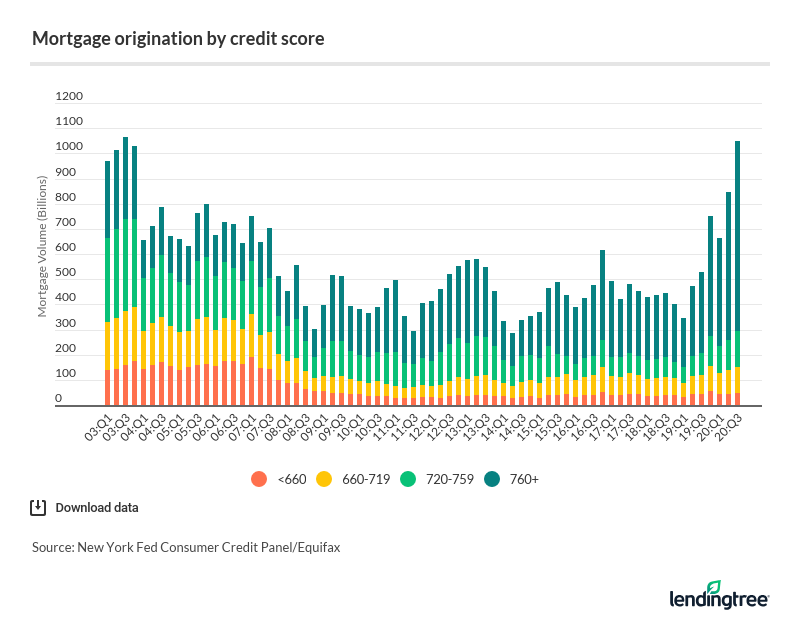 Following the housing crisis of 2007, banks tightened their lending standards for maximum debt-to-income (DTI) ratios but, in recent years, these standards have gradually loosened.
However, because of the COVID-19 pandemic, lenders began to put stricter guidelines back into place to avert risk yet again. For example, in 2020 the average DTI ratio from Freddie Mac and Fannie Mae was 33.8%, nearly two points lower than it was in 2019.14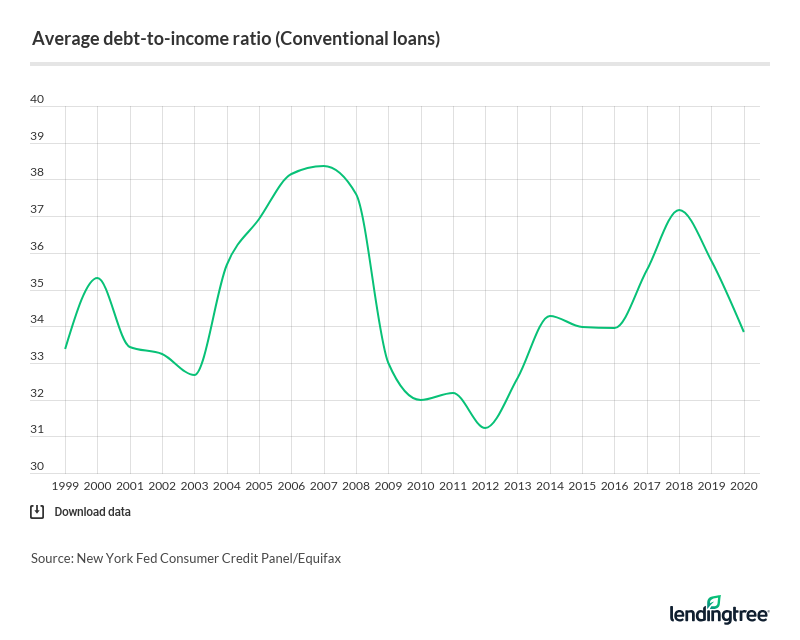 Loan-to-value ratio and delinquency trends
Banks continue to screen customers on the basis of credit score and income, but mortgage borrowers are taking out larger loan amounts than ever before. As of 2019, a new mortgage has an average unpaid balance of $285,433, according to data from the Consumer Financial Protection Bureau (CFPB).3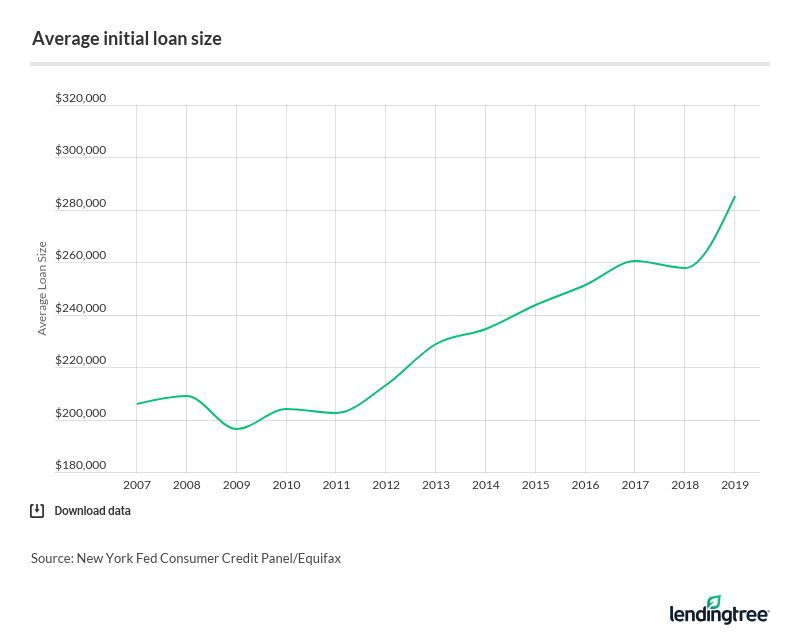 The primary driver behind larger loan amounts are higher home prices, but lower down payments also play a key role. As of the third quarter of 2020, the median loan-to-value (LTV) ratio at loan origination was 95%, while the average was around 88%.10 In the years leading up to the financial crisis, from 2000 to 2007, that number was closer to 80% for the median and between 80% and 85% for the average.10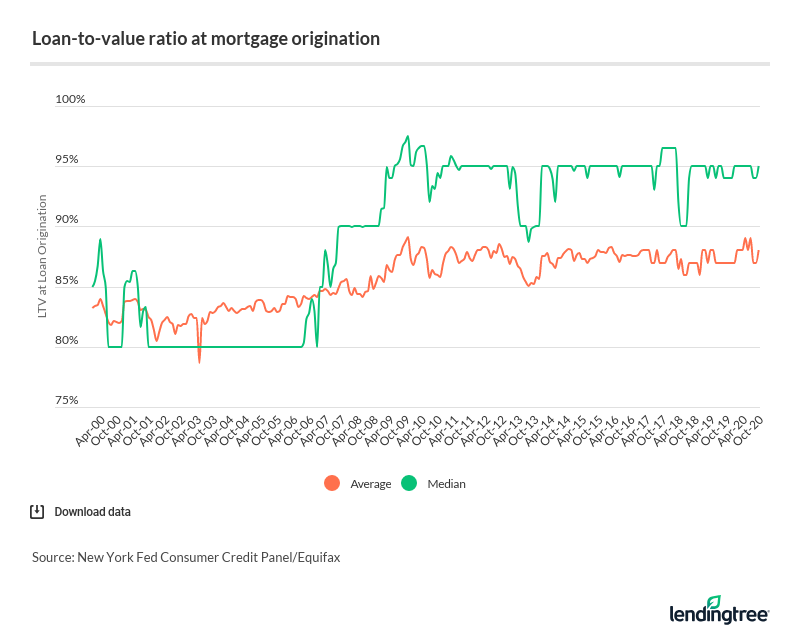 As of the third quarter of 2020, the LTV ratio across all homes in the United States is an estimated 35%. The average LTV on mortgaged homes is 55%.11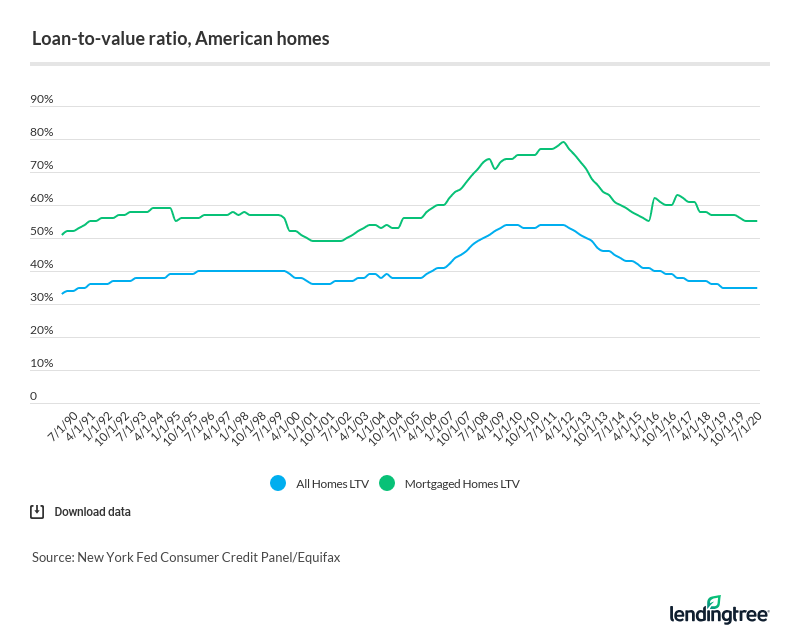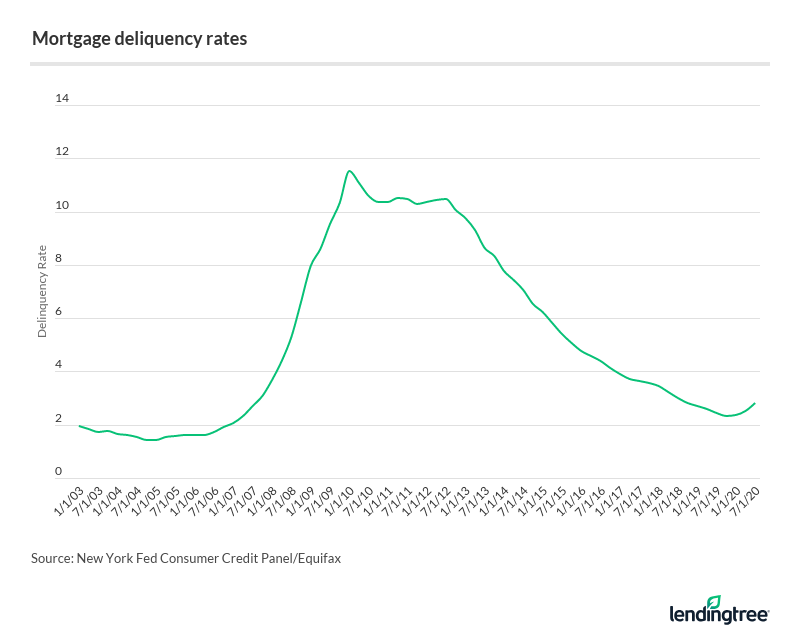 Americans continue to manage their mortgage debt well. Current homeowners have annual mortgage payments that make up an average of just 18.4% of their annual household income.2
Despite the pandemic-induced recession, delinquency rates were 2.8% in Q3 2020 — well below the 2010 peak of 11.5%.13 These low rates in the face of recession can be attributed to a variety of factors, including an uptick of mortgages in forbearance as well additional unemployment benefits supplied by the government.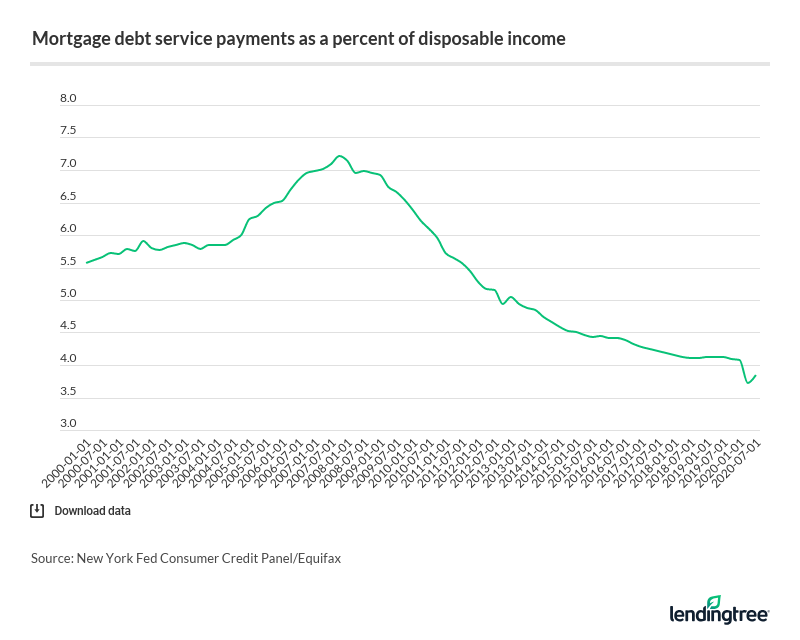 Mortgage debt service payments as a percentage of disposable personal income have fallen to 3.8%, their lowest levels since 1980 (the earliest year available in the Federal Reserve data).15
LendingTree research analyst Jacob Channel contributed to this report.
Sources: