How Does LendingTree Get Paid?
LendingTree is compensated by companies on this site and this compensation may impact how and where offers appear on this site (such as the order). LendingTree does not include all lenders, savings products, or loan options available in the marketplace.
LendingTree's State Migration Study Finds Homebuyers Heading South
Published on: October 30th, 2017
Editorial Note: The content of this article is based on the author's opinions and recommendations alone. It may not have been reviewed, commissioned or otherwise endorsed by any of our network partners.
A LendingTree study looked at where residents in each state are looking to move and discovered a southern tilt in preferences of out-of-state home buyers. LendingTree reviewed purchase mortgage loan requests for primary residents in all 50 states in the last year – from October 2016 to October 2017 – to find the percentage of all requests from residents looking to move outside of their current state. The results reveal the most popular new destination for each state along with the percentage of out-of-state requests for that location.
State
Percentage Looking TO MOVE Out-of-State
Top New State Destination
Percentage Looking to Move to Top Destination
(of out-of-state movers)
VT
24.07%
FL
14.01%
HI
23.10%
CA
12.67%
AK
22.51%
WA
11.24%
ND
21.50%
MN
27.42%
WY
21.09%
CO
15.87%
NY
20.80%
FL
21.57%
RI
20.67%
MA
31.00%
NH
19.17%
MA
22.00%
CT
19.09%
FL
22.50%
MD
18.94%
FL
13.00%
DE
18.64%
PA
22.03%
NJ
18.08%
FL
21.09%
MA
17.86%
NH
19.89%
SD
17.27%
MN
11.80%
VA
17.05%
NC
17.35%
KS
16.39%
MO
29.67%
WV
16.04%
OH
15.41%
NV
15.36%
CA
17.73%
IL
14.66%
FL
14.07%
CO
14.50%
TX
10.87%
NM
14.44%
TX
24.93%
CA
13.96%
NV
10.64%
PA
13.47%
FL
17.14%
MO
13.40%
KS
12.95%
NE
13.04%
IA
16.64%
ME
12.99%
FL
22.11%
OR
12.95%
WA
26.67%
WA
12.91%
OR
11.08%
MT
12.30%
AZ
10.50%
UT
12.29%
CA
10.88%
ID
12.15%
WA
18.88%
IA
11.89%
FL
10.38%
AZ
11.79%
CA
13.54%
MN
11.75%
WI
17.27%
MS
11.45%
AR
16.30%
WI
11.45%
FL
14.10%
KY
11.11%
FL
15.81%
TN
11.07%
FL
16.19%
LA
10.98%
TX
23.07%
NC
10.64%
SC
26.91%
AL
10.30%
FL
22.09%
SC
10.18%
NC
29.97%
IN
10.13%
FL
18.24%
AR
9.73%
TX
17.17%
GA
9.68%
FL
26.32%
OK
9.68%
TX
23.64%
OH
9.66%
FL
19.83%
FL
9.51%
GA
12.04%
MI
9.18%
FL
21.52%
TX
7.46%
FL
10.49%


Key Findings:
Florida is the number one destination. Florida was the number one new destination for 18 of the 50 states. Of all purchase mortgage requests during the study's time period, 9.14% were for consumers looking to move to Florida. The Sunshine State has a history of bringing in visitors and new residents, particularly retirees.
Texas residents love the Lone Star State. Texas had the highest percentage of residents looking to move within the state versus outside of the state. 92.54% of purchase mortgage requests from individuals in Texas were for properties within the state. The second location with the highest percentage of residents looking to move within the state was Michigan.
Vermont has the most residents looking to move away. In contrast to Texas, Vermont had the lowest percentage of residents looking to stay in state. 75.93% of requests in Vermont were for properties within the state.
If individuals are looking to move outside of state, most don't want to go far. More than half of the most popular new destination states border the current state. Of the states that the residents' most popular new location does not border their current state, 16 were Florida.
South Carolina leads out-of-state mover popularity. LendingTree created a Moving Popularity Score Index* to analyze destination states adjusted by population. South Carolina scored highest, as mortgage loan requests from out-of-state movers were 56% greater than suggested by its share of the national population. Other popular states are Florida, Delaware, North Carolina and Georgia, revealing a southern tilt in the preferences of out-of-state home buyers. At the other end of the spectrum, home buyers are least attracted to South Dakota, which received just 71% of the loan requests its population would suggest. California, Minnesota, North Dakota and Hawaii complete the bottom five.
*Moving Popularity Score Index Methodology
The popularity score for each state was created by dividing the percentage of all out-of-state purchase mortgage requests for the state by the percentage total population each state represents. A score of 100 means a state receives loan requests proportional to its population, above 100 means a state is more popular than its share of the national population and below 100 means a state is less popular than its share of the national population. For example, South Carolina represents 2.40% of all out-of-state mortgage requests, and its population is 1.54% of the nation. So, the South Carolina score is 2.40/1.54 x 100, or 156.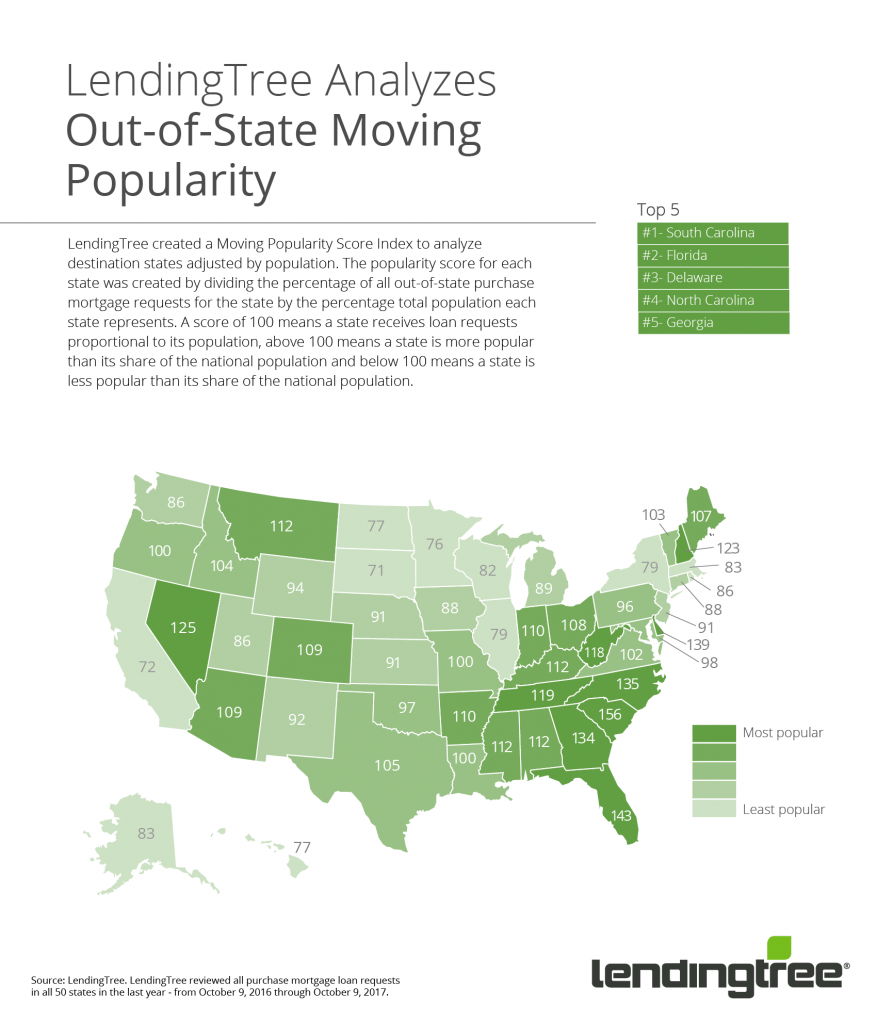 State
Moving Popularity Score
SC
156
FL
143
DE
139
NC
135
GA
134
NV
125
NH
123
TN
119
WV
118
MS
112
AL
112
KY
112
MT
112
AR
110
IN
110
CO
109
AZ
109
OH
108
ME
107
TX
105
ID
104
VT
103
VA
102
OR
100
LA
100
MO
100
MD
98
OK
97
PA
96
WY
94
NM
92
NE
91
NJ
91
KS
91
DC
90
MI
89
CT
88
IA
88
WA
86
UT
86
RI
86
MA
83
AK
83
WI
82
IL
79
NY
79
HI
77
ND
77
MN
76
CA
72
SD
71