How Does LendingTree Get Paid?
LendingTree is compensated by companies on this site and this compensation may impact how and where offers appear on this site (such as the order). LendingTree does not include all lenders, savings products, or loan options available in the marketplace.
42% of Buy Now, Pay Later Users Have Made a Late Payment
Updated on:
Content was accurate at the time of publication.
More than 4 in 10 Americans who've taken out a buy now, pay later loan have made a late payment on one of those loans, according to a new survey from LendingTree.
That's just one of the surprising data points we found when we asked more than 1,500 consumers about these installment loans that have taken the country by storm in the past few years. We also found that many people have used buy now, pay later (BNPL) loans 10 or more times, have overspent with them and have even regretted using them.
The fact that 42% of BNPL users said they'd made a late payment was the most troubling and most shocking finding. In fact, we were so surprised by what we found that we re-fielded that and other related questions to make sure the high percentage wasn't a fluke or an error. It wasn't.
That figure is even more disturbing when you consider that BNPL loans are growing more popular by the day, and that nearly half of consumers would prefer them to credit cards. It means that a huge number of Americans are overextending themselves using these loans. In a time of skyrocketing inflation, rising interest rates and overall economic uncertainty, that's a big deal.
Key findings
43% of Americans have used a buy now, pay later (BNPL) service, an increase from 31% a year ago. These services are gaining traction among baby boomers: 22% of those ages 57 to 76 have used BNPL, up from 9% this time last year.
BNPL becomes a gateway to overspending for many consumers. Nearly 70% of BNPL users admit to spending more than they would if they had to pay for everything upfront.
42% of BNPL users say they've made a late payment on one of these loans. That's likely one reason 23% of BNPL customers have regretted financing a purchase this way.
Consumers still prefer credit cards, but BNPL is gaining share. 47% of consumers would prefer to use BNPL to pay for a purchase they don't have money in the bank to cover. BNPL is preferred to plastic among women (51%) and those making less than $50,000 a year (53%).
BNPL providers are building brand loyalty among consumers. Nearly half of customers (47%) are loyal to a specific BNPL brand, often choosing to shop at retailers that accept their preferred provider.
More and more Americans using BNPL
In the last few years, buy now, pay later (BNPL) loans have become a staple of American retail. Once found only occasionally on retailers' websites, BNPL is now an option seemingly everywhere. And whether they're using the pay-in-four, interest-free flavor most typically associated with BNPL or the longer-term version, people are embracing these loans in droves.
Our survey found that more than 4 in 10 Americans (43%) said they've used a buy now, pay later service. Last year, that percentage was 31%.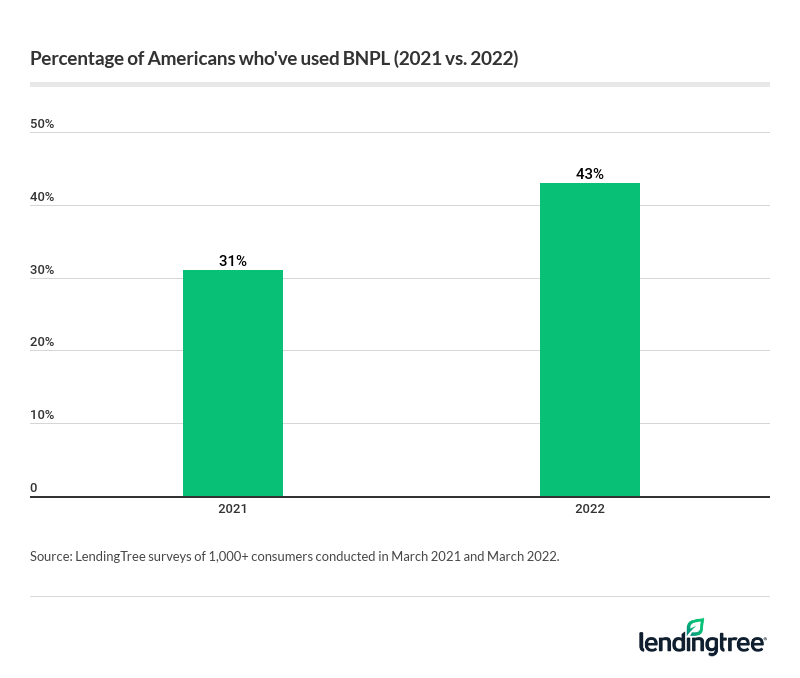 Women, Gen Zers (ages 18 to 25), parents with kids younger than 18 and those making $50,000 to $74,999 a year are the most likely to say they've used these loans. However, as the BNPL phenomenon has spread, all types of consumers have jumped in.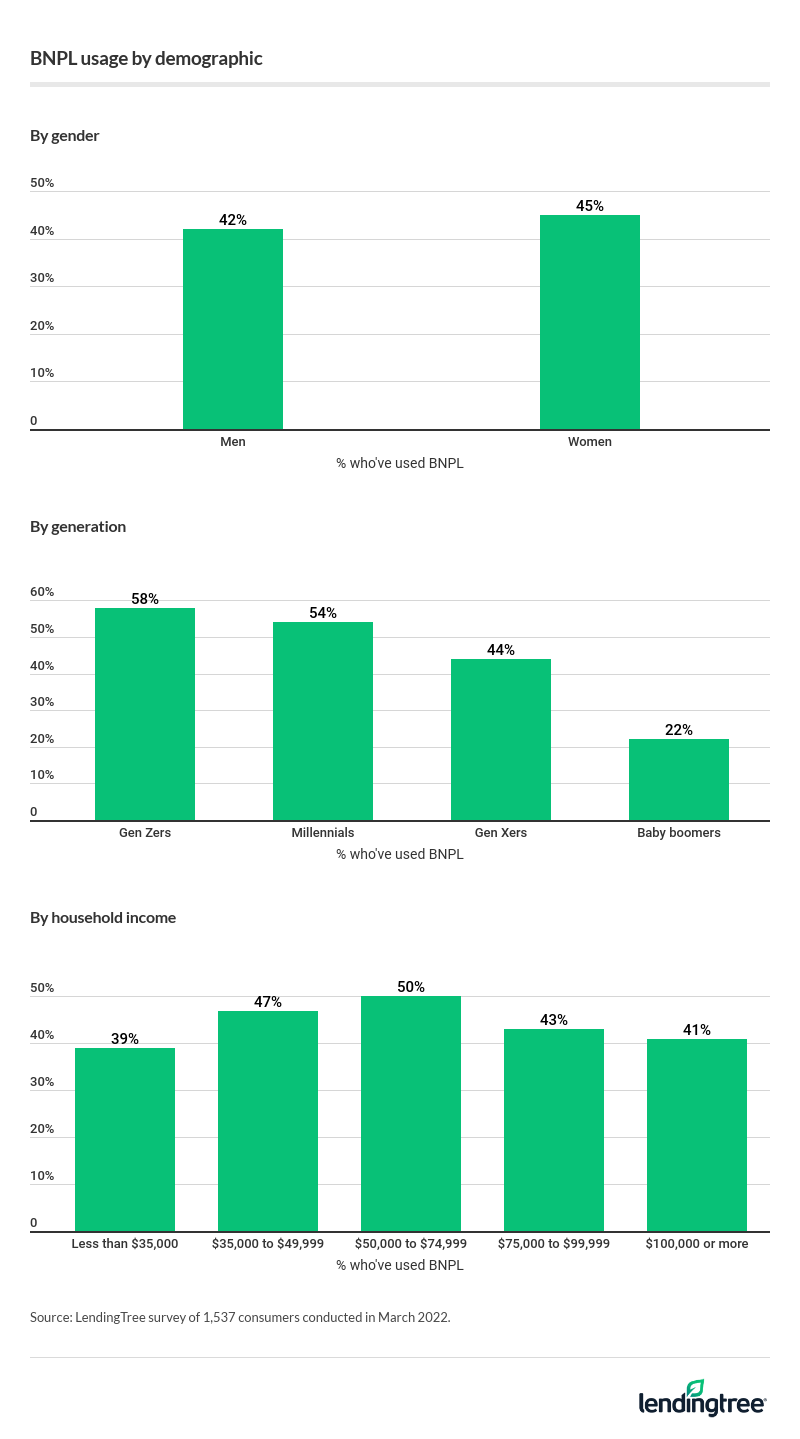 Some of the biggest growth has come from older Americans. Just 9% of baby boomers said last year that they had used a BNPL loan. This year, that percentage shot up to 22%.
We've also seen major growth among households with low income. About 4 in 10 people who make less than $35,000 a year said they've used a BNPL loan. Last year, that figure was just 19%.
Note that we didn't include a breakdown by race in the chart above. That's because the sample size by race in the survey was small, making it difficult to make any concrete judgments.However, in our monthly
LendingTree BNPL Tracker
, we've seen that people of color are consistently about 20 percentage points more likely than white Americans to at least consider using a BNPL loan in a given month and about twice as likely to say they'd definitely apply.
The sample size by race is small in those surveys as well. But given the consistency that we've seen in the data over the past four months in which we've done the BNPL Tracker, we felt comfortable reporting the information.
Among all respondents in the new survey, the most common thing to buy with a BNPL loan is clothing. Half of BNPL users (50%) said they'd bought clothing with one of these loans in the past, while 29% have bought shoes and 22% have bought accessories such as a purse or scarf.
Technology items such as laptops and gaming systems are also popular (33%), as are home décor items such as furniture and kitchen appliances (25%).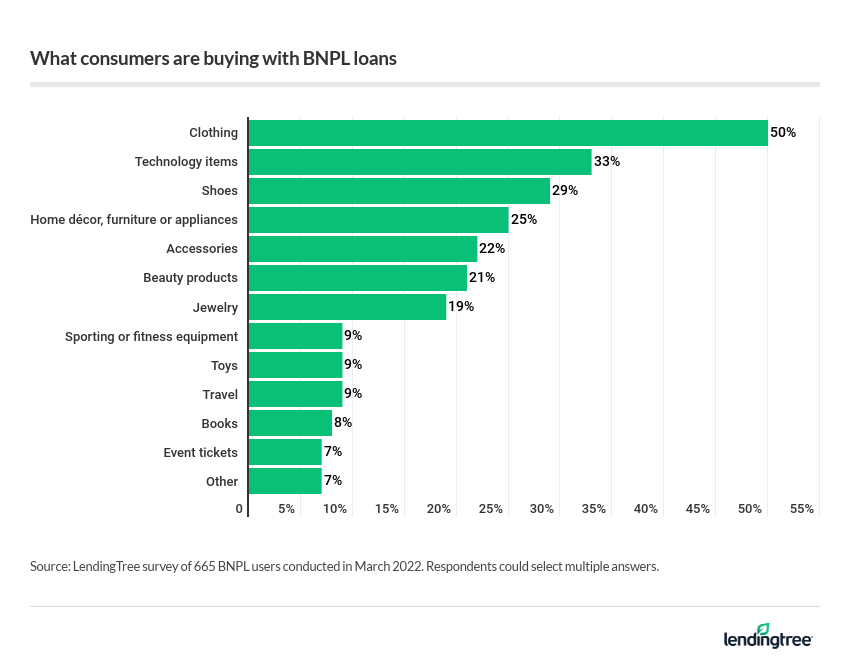 A gateway to overspending
Any type of loan can be a double-edged sword. On the one hand, the right loan — especially interest-free ones like a pay-in-four BNPL loan or a 0% interest credit card — can be a godsend for folks who just need a little bit of wiggle room to make a purchase or make an investment like remodeling their house or starting a small business.
On the other hand, loans can be dangerous by making it too easy to spend yourself into debt. And once you're in that cycle of debt, it can be really hard to break away.
Nearly 4 in 10 BNPL users (38%) have used the loans five or more times, including 15% who have used it 10 or more times.
Our survey asked people if this statement describes them: "When using buy now, pay later services, I typically buy more than I would have if I had to pay for everything upfront."The answer was a resounding yes. More than two-thirds of respondents (68%) said so.
Among the most likely groups to agree: Millennials (ages 26 to 41), women and those who make $50,000 to $74,999.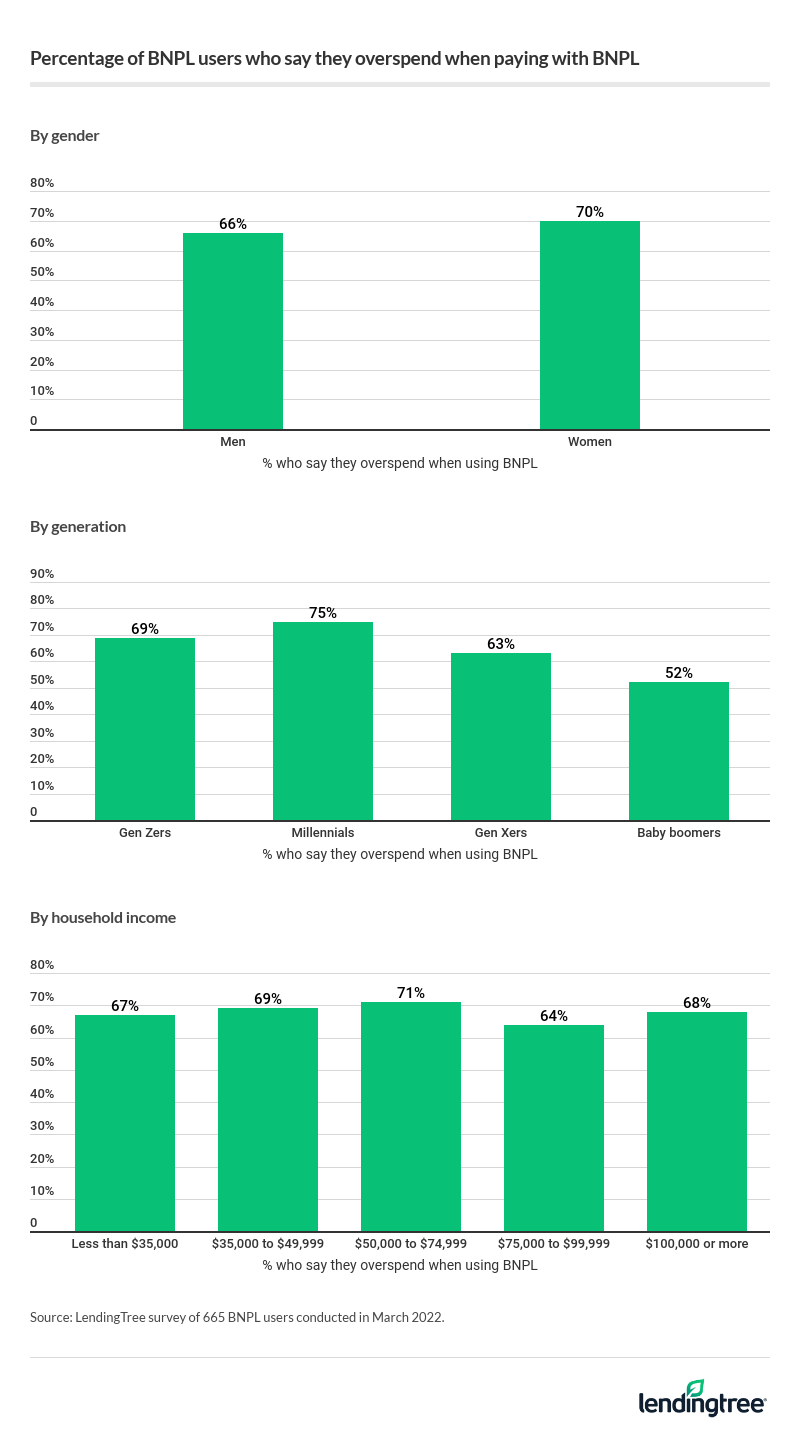 Again, to a degree, overspending is the point of these loans. Used wisely, they can be an effective way to extend a budget when money is tight. BNPL loans in particular can be great because they're more easily available to folks with thin credit or bad credit and are cheaper than other options such as a retail credit card or a personal loan.
The trouble comes when that overspending gets out of control. With BNPL loans being so easy to get for so many people, it isn't hard to go overboard with them and start to have some real problems. That's exactly what's happening for a disturbingly large group of people right now.
Huge rate of BNPL users say they've made a late payment on one of these loans
More than 4 in every 10 BNPL users (42%) said they've been late with a payment on a BNPL loan. That's a huge percentage, especially when you consider that BNPL is a relatively new phenomenon and that — during their existence — delinquency levels have typically been at or near historic lows for many other types of loans.
That 42% includes 25% who said they were charged a fee or interest due to the late payment and 17% who said they weren't.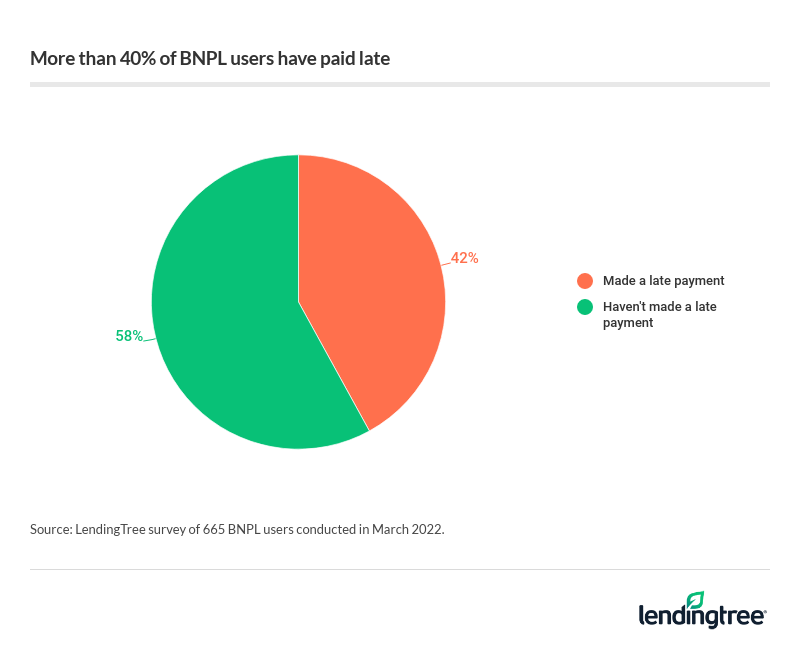 All types of consumers said they've paid late. Men and women were equally likely to say they've paid late, at 42%. Gen Zers were the most likely age group to say so at 55%, versus just 15% of baby boomers.
Given the high rate of late payments, it makes sense that many BNPL users would have buyer's remorse. Nearly 1 in 4 BNPL users said they've regretted financing a purchase with one of those loans. Surprisingly, 31% of folks earning $100,000 or more a year said they'd regretted a BNPL purchase, higher than any other lower-income group.
Credit cards still preferred over BNPL, but it's close
Despite the regrets and late payments, buy now, pay later loans keep getting more popular. When we asked consumers — not just BNPL users — whether they'd rather use a BNPL loan or a credit card to pay for a purchase they don't have money in the bank to cover, 53% chose credit cards and 47% chose BNPL.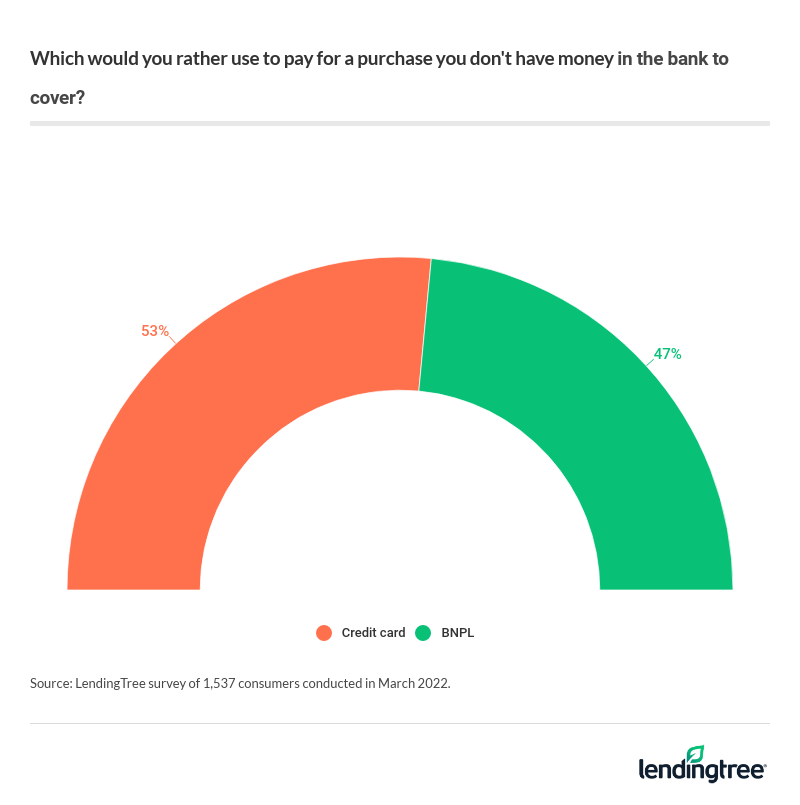 Among those preferring credit cards: Men, higher-income folks, baby boomers and, perhaps surprisingly, Gen Zers.
A few years ago, it would've been unfathomable to think that more Americans would prefer buy now, pay later loans to credit. Now, given the rapid growth in BNPL, it wouldn't be surprising if when we did this survey again a year from now, that's precisely what we saw.
4 brands dominate BNPL and have generated loyal followings
As buy now, pay later grows, four companies stand out: PayPal, Afterpay, Klarna and Affirm. We asked respondents whether they'd used any of seven BNPL firms, and those four were by far the most used. They're the Mount Rushmore of buy now, pay later firms.
Among the four leaders, PayPal stands head and shoulders above the rest. More than half of BNPL users we surveyed (55%) said they had used PayPal. However, there is the possibility that our respondents might have used PayPal's other services rather than just their BNPL service and still answered yes.
The other three companies are all known first and foremost for their buy now, pay later services. Among those, Afterpay (36%) was the most used, followed by Klarna (30%) and Affirm (27%).
Despite the relative newness of these brands, they've generated a great deal of loyalty.
When BNPL users were asked how they decide which BNPL provider to use when making a purchase, 47% said they'll choose their retailer based on whether they work with the person's BNPL provider of choice. For 53% of users, they simply use whichever BNPL provider the retailer has a relationship with.That's a testament to the strength of these BNPL brands. Many online retailers will have relationships with specific BNPL providers, featuring them prominently on their online checkout pages as an option for customers alongside traditional options like credit cards.
However, some BNPL lenders also allow shoppers to use their services at many other retailers through the lenders' app. That gives shoppers more options, and our survey clearly indicates that shoppers see that as a good thing.
The bottom line: What to know about BNPL loans
Buy now, pay later (BNPL) isn't going anywhere. All the data shows that Americans love it. Sure, many regret using it sometimes and miss payments more often than they should, but they keep going back.
That's totally understandable — the idea of a relatively-easy-to-get, interest-free loan with which you know exactly how much you have to pay and how long you have to pay it is definitely appealing. That's especially true in a time of skyrocketing inflation, rising interest rates and general economic uncertainty.
All that said, there are key things that everyone needs to understand before applying for these loans, whether it's your first or 21st time.
They're not all interest-free: The pay-in-four loan that folks associate most with BNPL is often interest-free, but other forms of these loans aren't. They can have rates as high as those seen with credit cards, so make sure you know the deal before applying.
Their payment schedules can vary: Pay-in-four BNPL loans tend to require you to pay every two weeks. That can be a surprise for folks used to paying every month, so it's crucial to know the schedule before you apply. Longer-term BNPL loans tend to have monthly payments, though.
They probably won't help your credit: If you're looking for a way to build credit, BNPL likely isn't the best choice. Yes, lenders, credit bureaus and credit-scoring companies are slowly working toward integrating BNPL data into credit reports and scores, but the truth is that it's going to take a while. In the meantime, a secured credit card or a student card is a better choice for building credit. (Note: Some BNPL lenders will report negative information, such as missed payments, to the credit bureaus, though not all do.)
They lack some of the protections that come with credit cards: Credit cards can be a great help when something you buy is faulty or broken when it arrives or if you simply want to return something. That's typically not the case with BNPL lenders. It's a good idea to check into lenders' return policies before you apply.
Methodology
LendingTree commissioned Qualtrics to conduct an online survey of 1,537 consumers March 17-24, 2022. The survey was administered using a nonprobability-based sample, and quotas were used to ensure the sample base represented the overall population. All responses were reviewed by researchers for quality control.
We defined generations as the following ages in 2022:
Generation Z: 18 to 25
Millennial: 26 to 41
Generation X: 42 to 56
Baby boomer: 57 to 76
While the survey also included consumers from the silent generation (those 77 and older), the sample size was too small to include findings related to that group in the generational breakdowns.