Auto Debt Is Bigger in Texas: Here's How It Looks Around the Lone Star State
Published on: September 10th, 2019
Editorial Note: The content of this article is based on the author's opinions and recommendations alone. It may not have been previewed, commissioned or otherwise endorsed by any of our network partners.
Auto debt is almost more Texan than going through a Whataburger drive-thru — residents of the Lone Star State carry 44% more auto debt than Americans as a whole.
Per the Federal Reserve, if you take all the money owed for vehicles in Texas and spread it to everyone in the state — regardless of whether they have auto debt — each person with a credit report owes $6,820. If you do the same with everyone in the U.S., each person owes $4,740.
Texan vehicle culture can have far-reaching financial consequences for borrowers. The pressure of a longer and larger auto loan could delay residents from reaching life milestones such as getting a mortgage or retirement. LendingTree researchers took a magnifying glass to auto debt in Texas to see how things look throughout the state.
Key findings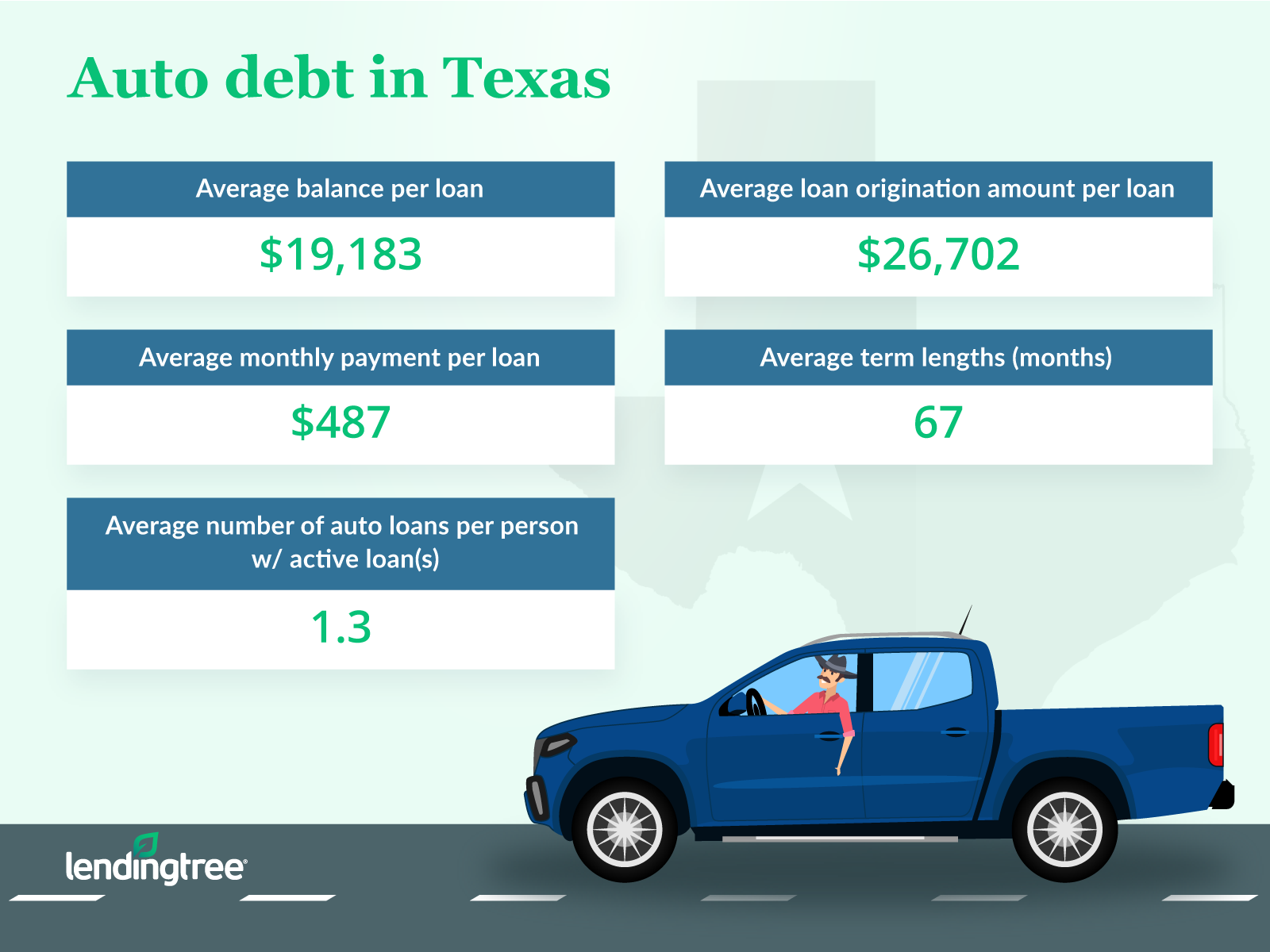 On average, Texans with auto debt pay $487 a month per loan, while the outstanding balance on a loan is $19,183.
Auto loan originations are 9.9% higher and monthly payments are 13.1% higher in Texas than they are for the U.S. as a whole.
Residents of Andrews in western Texas take out the biggest auto loans — $33,644 on average — and have the highest monthly payments at $614 a loan.
Less was borrowed — and owed — on vehicles in more urban areas. People who live in cities borrowed an average of $26,622 in loans. Those in large towns borrowed $26,987, while rural Texans borrowed $27,838. Rural Texans pay $26 more a month for each loan than do metropolitan Texans.
Among the five largest metropolitan areas — Austin, Dallas-Fort Worth, Houston, McAllen and San Antonio — auto debt is largest in the McAllen metro, where residents owe an average of $21,562 on an average loan origination of $29,779, with an average monthly payment of $520.
Texas auto debt: The highs — and lows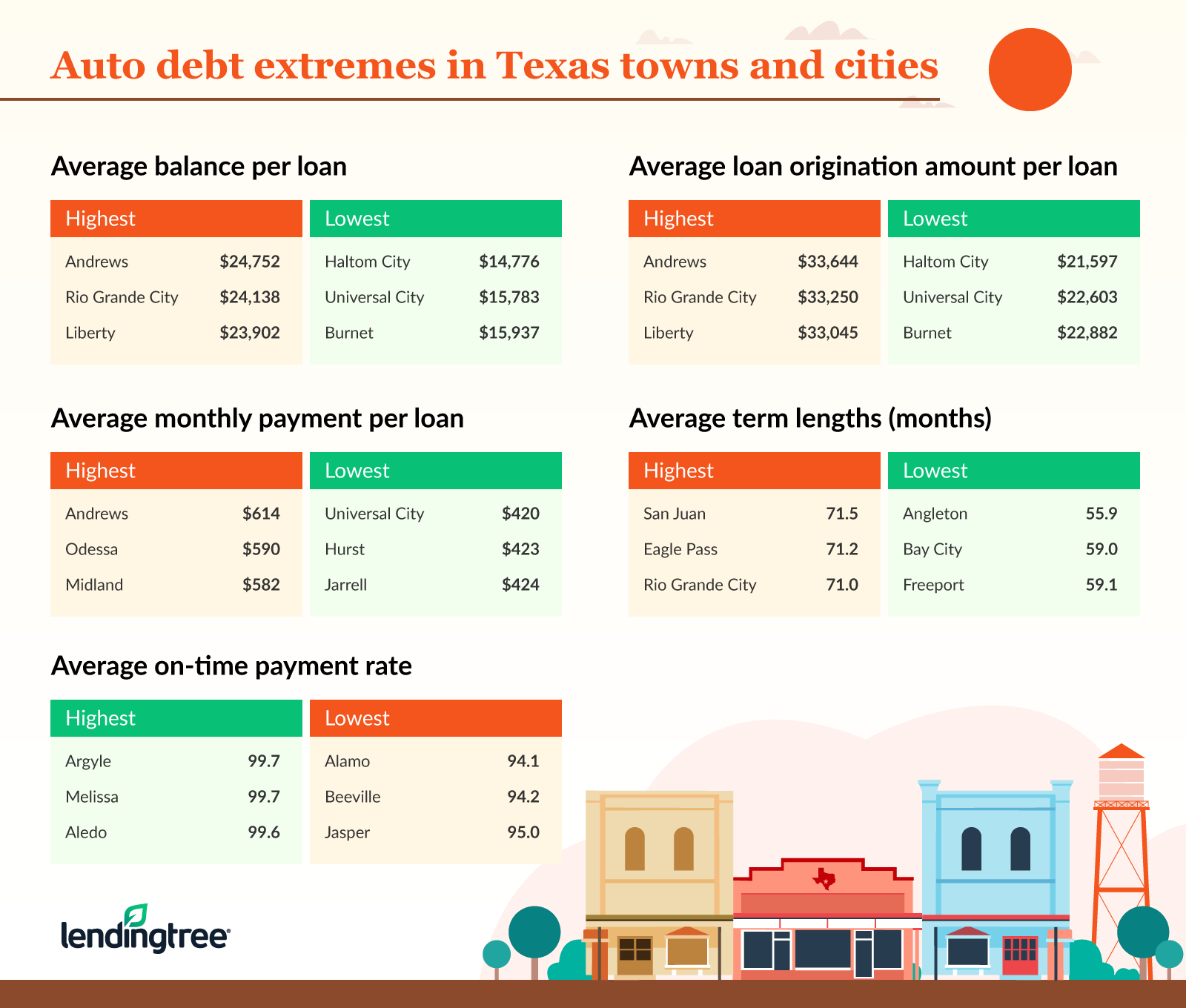 Now, we'll break down the above info even further to show you exactly where these towns and cities are located in Texas.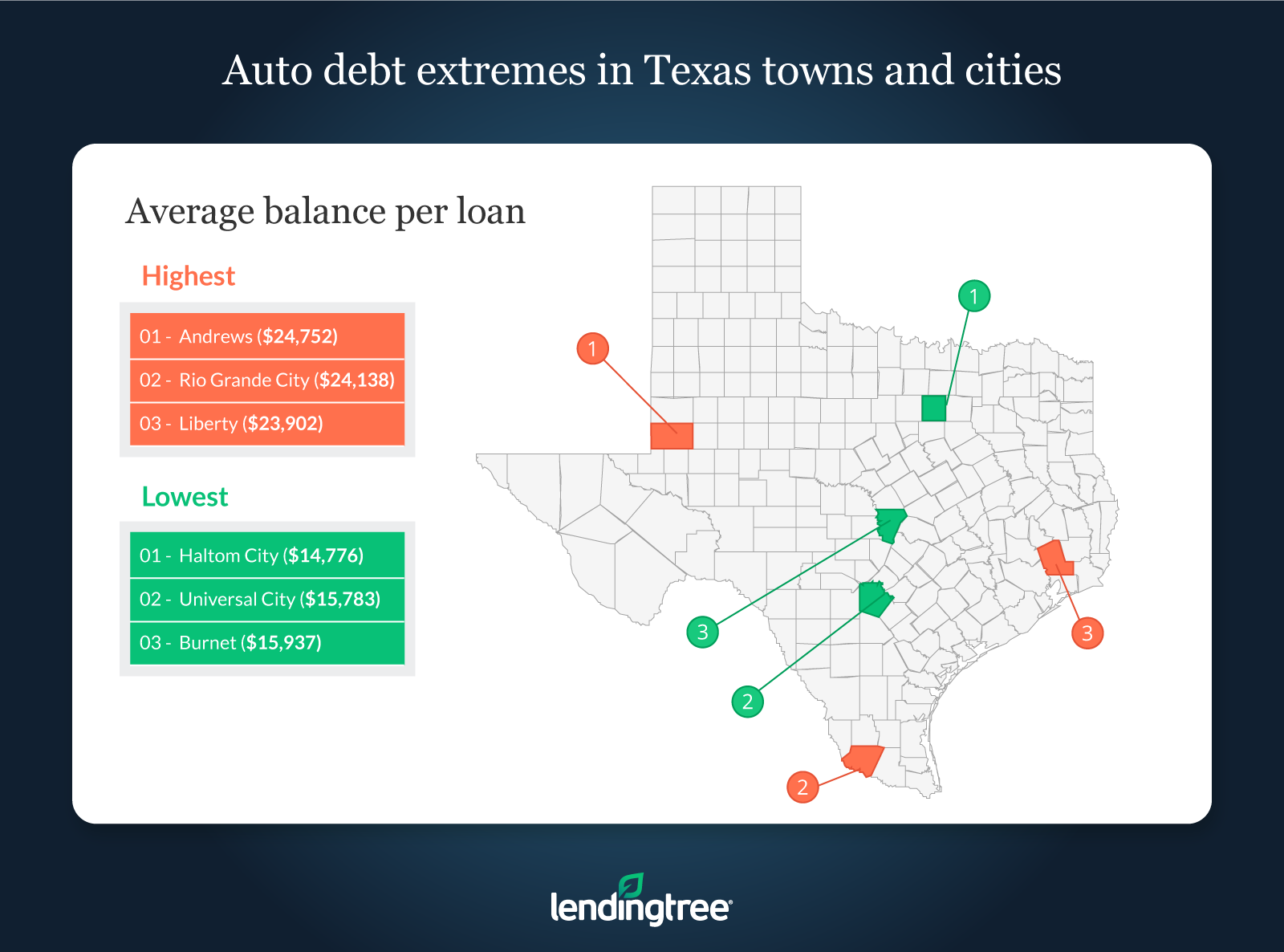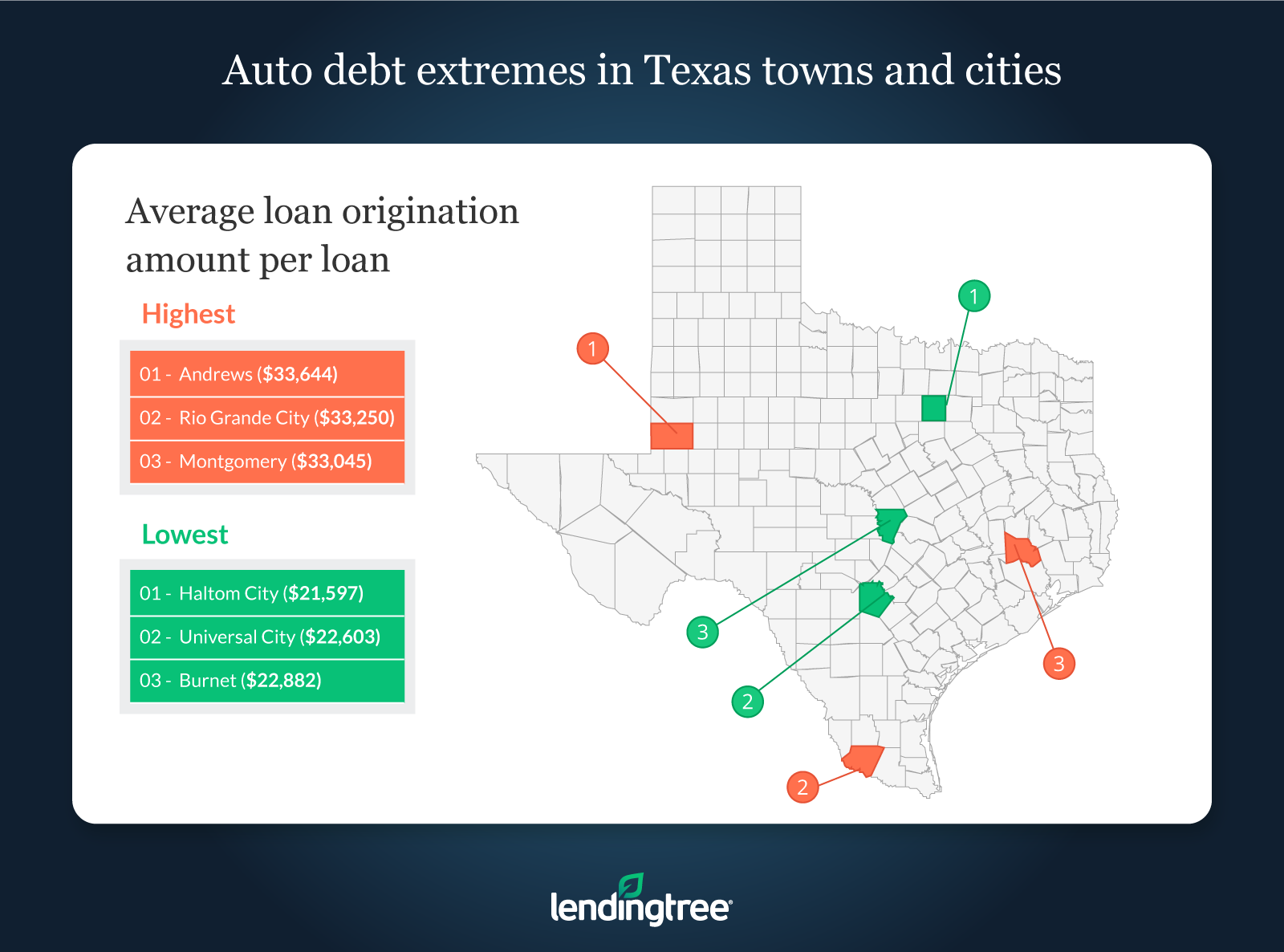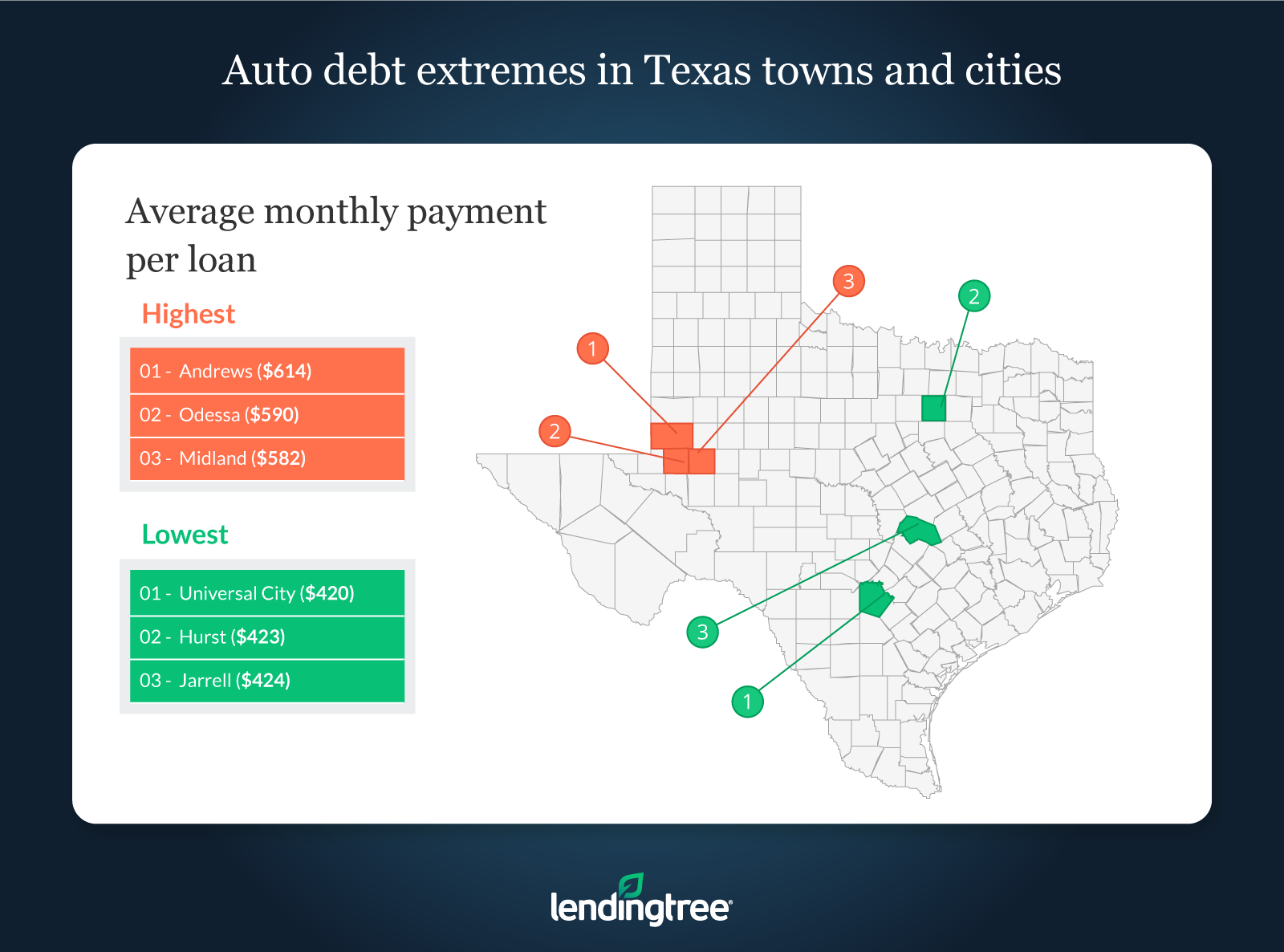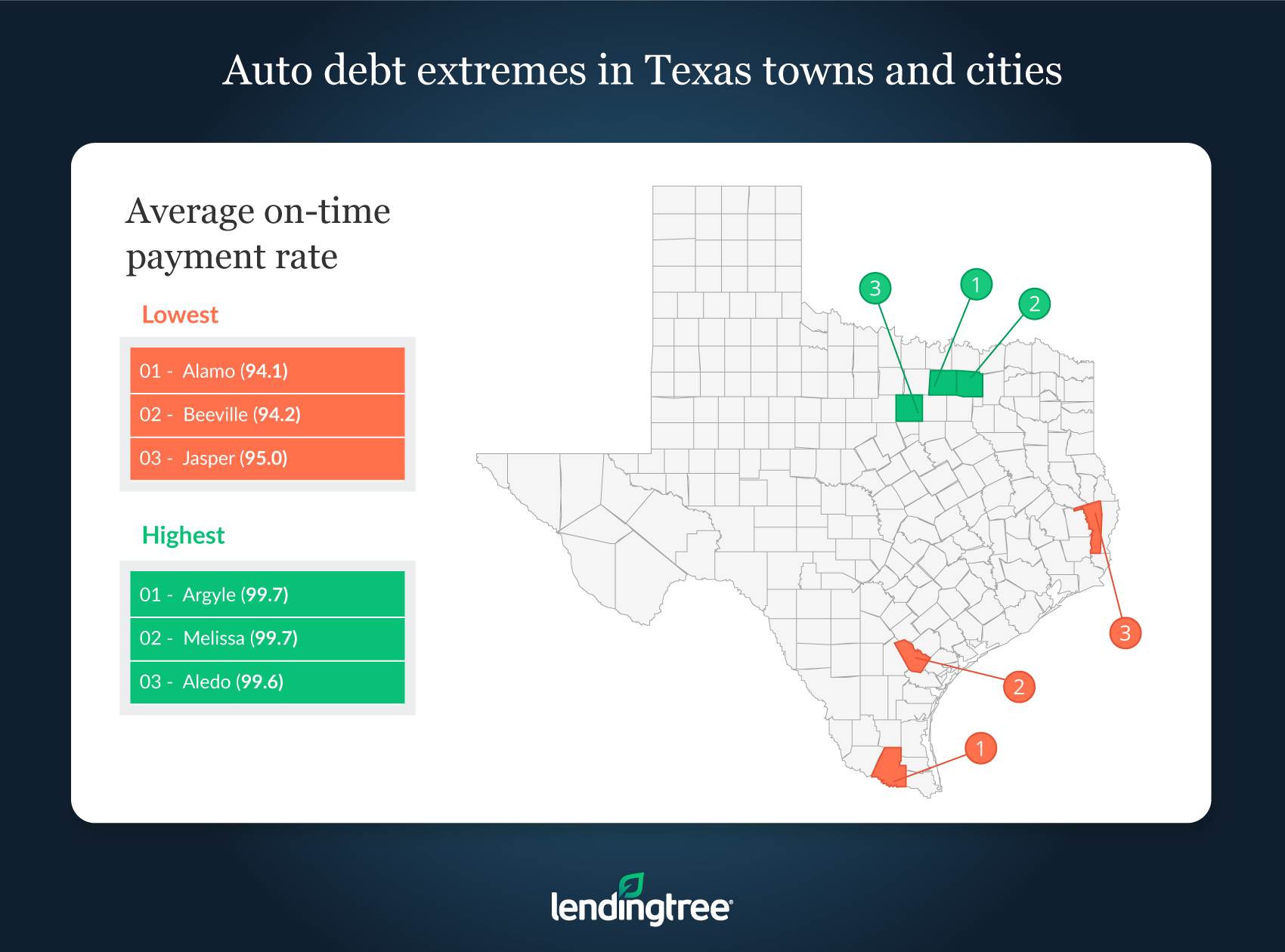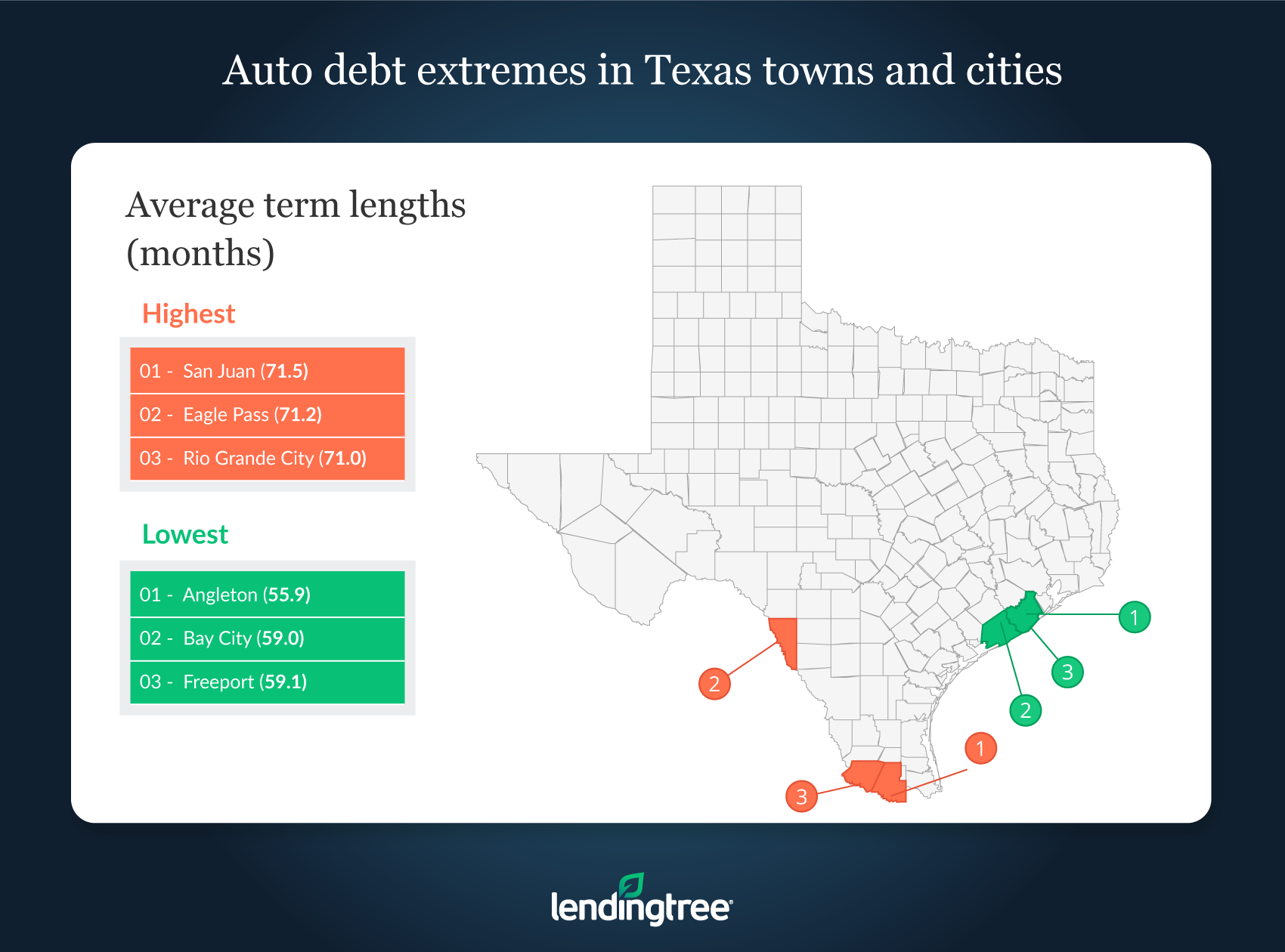 Urban vs. rural areas
Drivers in rural areas of Texas, from the oil fields to the cattle ranches, tend to have higher auto loan balances, origination amounts and payments than those in micropolitan and metropolitan areas;  however, their auto loan terms are slightly shorter. Texas' big city drivers have fewer car loans per person and lower numbers of auto loan debt, as compared to micropolitan areas.
Generation vs. generation
Generation Xers have the most auto debt in Texas, followed by millennials, baby boomers and the silent generation. Generation Xers and baby boomers have more active car loans per person.
State breakdown
While the Lone Star State as a whole apparently likes making car payments, different areas within the state have a greater preference for it. Barring drivers in El Paso, drivers in the far south and west of Texas tend to be in the red — deeper in auto debt — while drivers further north and east are comparatively better off.
Breakdown among largest metros
Austin
Austin, the capital of Texas, has the lowest auto debt among the five largest Texas metros, with current debt of $17,969 on loans that originated at $25,271 with average monthly payments of $455.
Dallas-Fort Worth
The average balance per loan for drivers in the Dallas-Fort Worth metro is $18,580, slightly higher than in Austin. Average monthly payments in the metro are $476, which sits in the middle among the metros being discussed.
Houston
Drivers in this metro — home to the largest city in Texas and the fourth-largest in the nation — have an average balance per loan of $19,667 on an auto loan origination amount of $27,623 with a payment of $503.
McAllen
McAllen sits in a necklace of border towns — all with high auto debt. As noted above in our key findings, auto debt is largest in the McAllen metro among these metros.
San Antonio
Drivers in this metro sit in the middle among the five largest in the state when it comes to current loan balance. The average balance per auto loan in the metro is $18,620.
Methodology
Using a sample of anonymized Q1 2019 credit reports of LendingTree users who have active auto purchase loans and a Texas ZIP code, researchers mapped the more than 125,000 borrowers and 175,000 representative loans to the Census-designated places, metropolitan statistical areas and micropolitan statistical areas by ZIP code.
Researchers then calculated the averages (mean) across those geographies for current auto loan balance, loan origination amount, monthly payment and term lengths on a per-loan basis, as well as the number of auto loans and on-time payment rates on a per-borrower basis.
LendingTree offers a free credit monitoring service available to the general public, regardless of their debt and credit histories or whether they've pursued loans on a LendingTree platform. LendingTree has over 12 million users.