How Does LendingTree Get Paid?
LendingTree is compensated by companies on this site and this compensation may impact how and where offers appear on this site (such as the order). LendingTree does not include all lenders, savings products, or loan options available in the marketplace.
American Express Car Buying Review
Updated on: January 30th, 2020
Editorial Note: The content of this article is based on the author's opinions and recommendations alone. It may not have been reviewed, commissioned or otherwise endorsed by any of our network partners.
Card holders can use the American Express car-buying service to find their next vehicle at a dealership that will allow them to use Amex for all or part of the purchase. Accumulating reward points is a potential big benefit. However, you may be able to negotiate better pricing on a wider selection of vehicles on your own. We'll walk you through the pros and cons of the American Express Auto Purchasing Program.
How does the American Express car buying program work?
American Express has partnered with online car-buying platform TrueCar, which provides research as well as price discounts (more on TrueCar in a minute). Amex cardholders who use this program, known as the American Express Auto Purchasing Program, are eligible for up to $2,000 in auto repair and insurance deductible benefits, if you report your purchase within 45 days. That's in addition to potential rewards points you could rack up by using your American Express card to pay for part or all of the vehicle.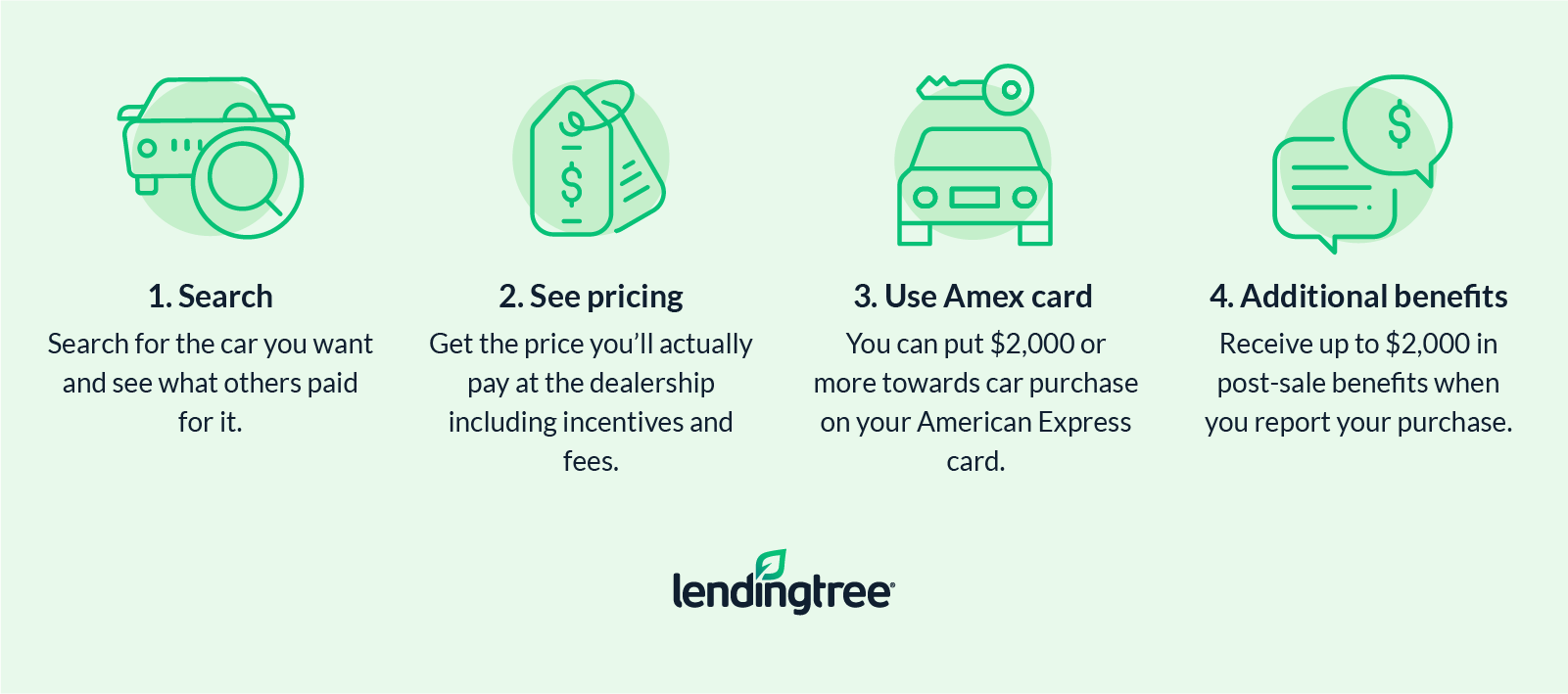 Here are the steps to get started:
Go to the AmEx TrueCar network and type in the make, model and year of the vehicle you're seeking in your area.
To see the card member price, you'll need to provide your email address and phone number.
Participating dealers will contact you with offers.
If you accept an offer, report your purchase to American Express to be eligible for the Buyer's Bonus program.
How much could I charge on my AmEx card?
Dealers in the AmEx network will accept an AmEx charge for at least $2,000 and, possibly, up to the full price of the vehicle, depending on your credit card limit. Yet, we want to stress that you shouldn't walk into the dealership and expect to put a $60,000 charge for a car on your card — dealers are only required to accept a charge of $2,000.
How many points could I earn?
This depends on the card you use, how much you charge on it and whether the charge is made in a welcome offer period. You could use the American Express rewards calculator to calculate the value of your points when redeemed.
What's the Buyer's Bonus program?
Once you buy a vehicle through the American Express Auto Purchasing Program and report your purchase within 45 days, you could get auto repair and insurance deductible benefits worth up to $2,000.
Here's how it breaks down:
Repairs: Reimburses 20% of a repair payment made on a vehicle purchased through the program, up to $500. It covers parts and labor, except for in New Hampshire and New York, where only parts are covered.
Deductibles: Reimburses your insurance deductible up to $500, twice a year, when you file a claim with your auto insurance company (not available in New Hampshire or New York).
My Auto Expert™: Talk directly with a certified mechanic for an expert opinion on car problems, repairs and potential repair costs. The mechanic can review repair estimates you have received on your covered vehicle and help determine if you're getting a fair price.
More about TrueCar
TrueCar isn't just for American Express customers — anyone may research vehicles on its site to see various vehicle options, read owner reviews and look at pricing information. TrueCar displays actual dealership pricing, including incentives and fees, and what others in your area have recently paid for the same type of vehicle. Once you picked out your vehicle, you could print off a guaranteed savings certificate (for new vehicles) and take it with you to the dealer.
Only TrueCar-certified dealers can post their vehicles for sale on the site. They compete for your business knowing you can see what others paid and other dealer pricing in the same search results. Dealers participate because they want the business. And to become and remain a TrueCar dealer, dealerships must meet high standards of customer service and pay a monthly fee to TrueCar.
Is the American Express car buying program worth it?
Given that anyone can use TrueCar, not just Amex card holders, why bother using the American Express Auto Purchase program? Here are the benefits and drawbacks of using TrueCar through American Express.

| Pros | Cons |
| --- | --- |
| Use your Amex card for a down payment (or more) on a new car | Must purchase from a TrueCar certified dealer |
| Up to $2,000 Buyer's Bonus | Dealers have your contact information |
Pros of the Amex car buying program
Besides the convenience of shopping in one place, online, and having dealers come to you, there's the incentives of earning rewards points and credit toward repairs and insurance deductibles.
Points for your down payment
Using your Amex card for a vehicle purchase could help you amass rewards points that you could later redeem for such things as online shopping, booking or upgrading travel or transferring to a travel loyalty program.
Ability to use your credit card
Not all dealerships accept credit cards. By using the American Express car buying service, you're automatically connected with dealers that do.
Protection against repairs, accidents
While it's unlikely that a new vehicle will need immediate repairs, American Express cardholders who register their TrueCar purchases may be reimbursed up to $2,000 for repairs or insurance deductibles.
Cons of the Amex car buying program
You might be able to get a better deal on a car by doing the legwork yourself.
Limited dealerships
Not all dealerships qualify or opt to participate in the American Express Auto Buying Program, which means your choices could be more limited. TrueCar's network includes about 16,000 dealers, about 20% of all franchised dealers.
Dealers have your contact information.
By using the American Express car buying program, you're allowing dealerships to contact you, either by phone and/or email. While it may feel like first-class treatment at first to have someone contact you to set up a test drive, it may also be annoying when salespeople from multiple dealerships text, call and email until you opt out.
Other FAQs
Are there American Express auto loans?
No, American Express doesn't offer car loans. While you could buy a car entirely or partly with your Amex credit card, that still counts as a credit card purchase, not an auto loan. We wouldn't recommend putting a large charge on a credit card unless you're able to quickly pay off your balance. Average credit card interest rates are much higher than average auto loan interest rates.
Compare rates. If you are looking for an auto loan, shop for one the same way you'd shop around for a car. Potential lenders could include your bank, credit union or online lender. If you fill out an online form at LendingTree, you could receive up to five potential auto loan offers from lenders, depending on your creditworthiness.
What are the alternatives to the Amex car buying program?
If you decide you don't want to use the program or if you try it and it doesn't work for you, here are some alternatives that could help you in your car-buying quest.
Do it yourself
Industry guides. You shouldn't pay more for a car than its value, and you can find its value the same way dealers and lenders do: through the National Automobile Dealers Association (NADA) and Kelley Blue Book. Both offer a free, online guide of car values. You can show the salesperson the NADA or KBB value off the webpage and tell them you're not paying more. Those same guides can help you know how much money you should get for your trade-in, if you have one.
Hire a professional
Car brokers. These are professional negotiators who will find the car you want and haggle the price and any add-ons you want. They do charge a fee, the amount of which will depend on the broker.
Consider a competitor
TrueCar partners with other banks and organizations like the American Automobile Association, and  AAA also provides its own concierge service for members in certain areas. That's in addition to services through Consumer Reports and others. Check with your bank or credit union to see if similar services are available.
Who is the American Express car buying program best for?
The Amex car buying program is best for people who plan to use their American Express credit card for part of or all of their car purchase and can pay it off quickly.
The Amex car buying program might not be the best for those who wouldn't be able to pay off the credit card charge quickly. And if you have time or inclination to do your own negotiating, you might get an even lower price on your car.