How Does LendingTree Get Paid?
LendingTree is compensated by companies on this site and this compensation may impact how and where offers appear on this site (such as the order). LendingTree does not include all lenders, savings products, or loan options available in the marketplace.
Vroom Review: Online Used Car Buying
Published on: November 30th, 2021
Editorial Note: The content of this article is based on the author's opinions and recommendations alone. It may not have been reviewed, commissioned or otherwise endorsed by any of our network partners.
Vroom is a major online car sales site, featuring delivery and pick up, no-haggle pricing and online financing for all types of used vehicles. Like its competitors, CarMax and Carvana, it makes it possible to skip a brick-and-mortar dealership entirely. But it's important to note that the company has a consumer alert and an 'F' grade on the Better Business Bureau (BBB) website. Here's more on Vroom so you can decide if it's right for you.
How Vroom works
Vroom focuses on the used car market and aims to provide a car-buying experience that's much less stressful than the traditional price haggling at a physical dealership. It allows consumers to buy, trade in, sell and finance a vehicle all online through its website.
Vroom provides a return period of seven days and 250 miles, and a free limited warranty that is good for 90 days and 6,000 miles.
Its pricing is largely in line with its competitors, so it could pay off slightly to comparison shop all three. Here's a price comparison table on three different vehicle models available on each site.
Vroom purchase price comparison
Vroom (miles)
Carmax (miles)
Carvana (miles)
2015 Toyota Corolla
S trim
$17,999 (44K)
$18,998 (21K)
$18,990 (11K)
2018 Ford F-150
SuperCrew Cab, 4WD, XLT trim
$37,999 (48K)
$33,998 (54K)
$35,990 (56K)
2018 BMW M2
Coupe, Base trim
$52,999 (23K)
$51,998 (14K)
$54,990 (23K)
*Note that none of these prices include potential taxes and fees, like sales tax, registration and fees for state inspection, document processing and delivery.
Can you negotiate price with Vroom?
No, you can't negotiate price with Vroom. All vehicle prices on the website are the set prices. All offers Vroom makes to purchase a trade-in or buy a car outright are accept-or-decline offers.
Consumer Vroom reviews
While many businesses face negative online reviews, Vroom has a large number of them. The Better Business Bureau (BBB) issued an alert on Vroom noting several customer complaint patterns that began in January 2020 and continued through September 2021. The patterns include undisclosed vehicle damage, delayed paperwork issues and a lack of any action-oriented response by Vroom. The company has earned an 'F' rating for its lack of resolution and response to consumer's complaints.
How to buy a car from Vroom
1. Browse the inventory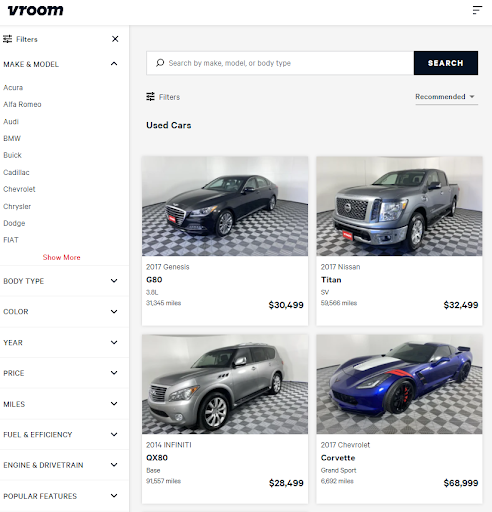 Go to Vroom.com and click on the "buy" tab at the top of the page or go straight to Vroom.com/cars. You can search by make, model or body type and use filters like color and price to narrow down the results.
Each vehicle has its own detail page with a 360-degree view of the car's exterior and plenty of photos. In full transparency, Vroom tags damage, such as scratches, on the 360-degree view with a yellow circle. Clicking on it provides close-up photos.
Under the photos, you can learn about the car's ownership history, features, specs and warranty information.
Can you test-drive a Vroom car?
No, you can't test-drive a Vroom car, but Vroom does have a seven-day, 250-mile return period.
2. Start the purchase
Each car's detail page has two buttons at the top, under the photos.
"Get pre-qualified" makes a pop-up window appear. In this window, Vroom asks for your personal information — your income, name, address, phone number and email — in order to give you a prequalification, which ballparks how much you may qualify to borrow. Doing this does not affect your credit score. You do not have to do this to purchase the vehicle.
"Start purchase" takes you to Vroom's sign-in page. You must login or start an account to continue. To start an account, you need to provide your name, email and phone number, and agree to receive marketing materials. When you are logged in, Vroom walks you through the process.
If you have a trade-in, Vroom can give you an offer and pick up the car. If you don't have a trade-in or don't accept the offer, you can still continue with the purchase.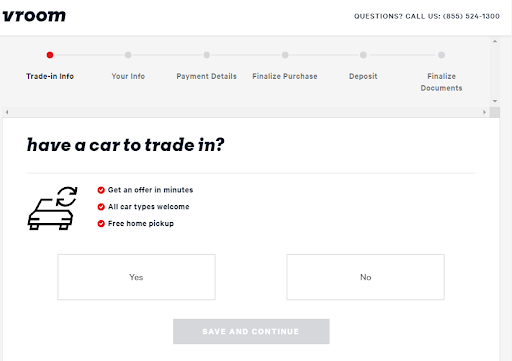 How do you set up Vroom delivery?
In the "your info" section, Vroom will ask for the delivery address. You can choose to have it delivered to your door or to a convenient location. Your car will typically arrive within 10 to 14 days of purchase. You may also be able to pick the car up from a Vroom location.
3. Provide payment
Vroom gives you three ways to pay for the vehicle: finance with them, pay with cash or provide your own financing.
If you choose Vroom financing, it's important to know that Vroom itself won't be lending you the money. Instead, they act as a loan broker and send your application to lenders that partner with them, like Chase, Santander and Ally Bank. Vroom makes some money on the transaction when you choose to use them as a middleman.
Because middlemen, including car dealers, can make money off consumer financing, they may present loan options that aren't the best for you. We always recommend that you get a car loan offer directly from a lender for comparison's sake. Here are the current best auto loan rates from national lenders, including banks, credit unions and online lenders.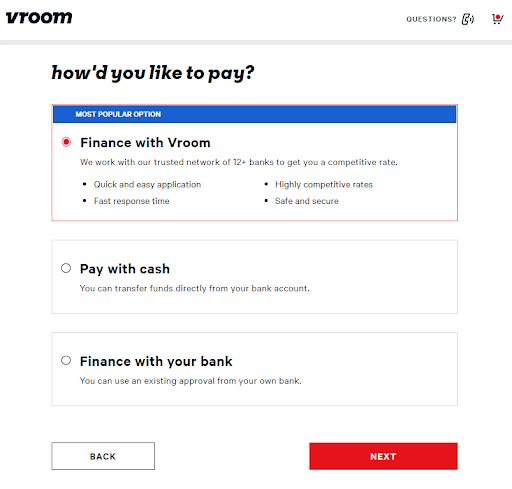 4. Make the deposit and finalize the purchase
To finalize the purchase, you'll need to verify your identity and sign a contract or two. You can verify your identity by uploading a photo of your driver's license and proof of auto insurance. If you're paying cash, the main form you'll need to sign is the buyer's order or the purchase order. If you're financing, you'll also have to sign a loan agreement with the lender. Vroom gives you 24 hours to review and complete all the paperwork that they ask you to sign.
To reserve a car and take it off the market during the purchase process — or at any time — you can pay a nonrefundable $49 deposit. Before Aug. 24, 2021, this fee used to be a $500 refundable deposit.
When everything is signed and Vroom receives the money from you or your lender, the car is yours and Vroom will arrange shipping or coordinate a pick up time with you.
5. Enjoy your ride
Vroom will update you as your car is shipped. It will typically arrive within 10 to 14 days from the time you completed the purchase. When it arrives, take it for a spin and then check your email. You'll receive an email about any next steps for titling and registration.
What if your Vroom car has a problem?
Contact Vroom as soon as possible to tell them about the issue and seek a solution.
How to return a Vroom car
If you are unsatisfied with the car, you need to start the return or exchange process within the window of seven days, 250 miles. If you go over the mile limit, Vroom charges $1 for each mile over 250. If you go over the time period, you cannot return the car.
Contact Vroom. To return a car, have your personal and vehicle information on hand and call the company.
Arrange pickup. If Vroom delivered the car to you, they will pick it up for free. If you picked up the car from a Vroom location and didn't pay a delivery fee, you may have to pay a $599 restocking fee.
Receive the refund. Once Vroom receives the vehicle, it will refund its purchase price. It will not refund any other costs, including the delivery fee. If you paid cash, you'll receive the refund. If you took out a loan, the lender will receive the refund.
If you had a trade-in, Vroom will either return your trade-in or pay the price that you agreed it was worth in the sales contract.
Important: Vroom will refund the purchase price of your vehicle. The purchase price does not include potential taxes and fees.
How to sell a car to Vroom
To sell a car to Vroom, go to Vroom.com/sell and enter either your car's license plate information or its VIN. On the next page, Vroom will ask you about the car's condition and mileage. Then the company will make an offer that's good for seven days and 250 miles.
If you accept it, Vroom will ask you to verify ownership and schedule a pickup date. Vehicle pickup is entirely free in the contiguous 48 states. To verify that you own and can legally sell the car, you'll need to upload pictures of your photo ID, registration, vehicle title (if applicable) and odometer. After the company picks up the vehicle, Vroom will send a check or a direct deposit.
Vroom pros and cons
Comparison shopping for a car on Vroom can be useful when researching cars, even if you end up buying elsewhere. Vroom has a lot of inventory and advertises a great service, especially if you dislike price negotiation. However, the fact that you can't test drive a vehicle and the pattern of consumer complaints may turn some buyers away.
Pros
Cons

Lots of inventory
Home delivery and pickup
Extensive photos and detail on the car
Free CarMax report
Three ways to pay: bring your own financing, Vroom financing and cash

No test drives possible
History of consumer complaints
Potential delivery fee
Refunds only cover the vehicle purchase price
If you fall in love with a vehicle on Vroom — or anywhere else — make sure you read any contracts carefully and understand them before you sign.