How Does LendingTree Get Paid?
LendingTree is compensated by companies on this site and this compensation may impact how and where offers appear on this site (such as the order). LendingTree does not include all lenders, savings products, or loan options available in the marketplace.
Boat Financing: How To Finance A Boat
Published on: July 31st, 2020
Editorial Note: The content of this article is based on the author's opinions and recommendations alone. It may not have been reviewed, commissioned or otherwise endorsed by any of our network partners.
Boating is fun; paying for it, less so. To launch your boat financing successfully, first look at your budget, then use our boat loan calculator and start shopping for the best boat loan. Finding a boat loan isn't quite as easy as when financing a car or truck, but don't worry, the process is similar and like auto loans, there are plenty of flexible options.
Choose a boat within budget
The average cost of a boat is around $68,000, but prices can range from $1,000 for a tandem fishing kayak to $1 million and up for yachts. Choosing a boat within budget is crucial for successfully attaining a boat loan. Here are theree things to keep in mind as you shop.
1. Can you afford a 10%-20% down payment?
Most marine lenders expect at least a 10% to 20% down payment on a boat loan. There could be deals available that require less or no down payment at all, but putting down less could put you at risk for becoming underwater or upside down on your loan. Financing more than the boat is worth could raise your APR and make it harder to trade in or sell your boat down the line.
2. Would the payments be comfortable?
You should get a payment that is comfortable for your budget because boat ownership costs will be more than your payments. Other potential costs include boat insurance, licensing and fees for docking, storage, winterization and safety equipment.
3. How long can you afford payments?
In boat financing, 20-year terms are normal, nearly as long as a home mortgage. It's also important to keep in mind that the longer the loan, the more you pay in interest.
Use a boat loan calculator
Now that you have an idea for your budget and how long you might want to finance a boat, plug in the amount (minus any down payment), expected interest rate and term to see your monthly payment and loan amortization schedule in the calculator, below. To give you an idea of what to expect before you click around, here are some monthly payment examples.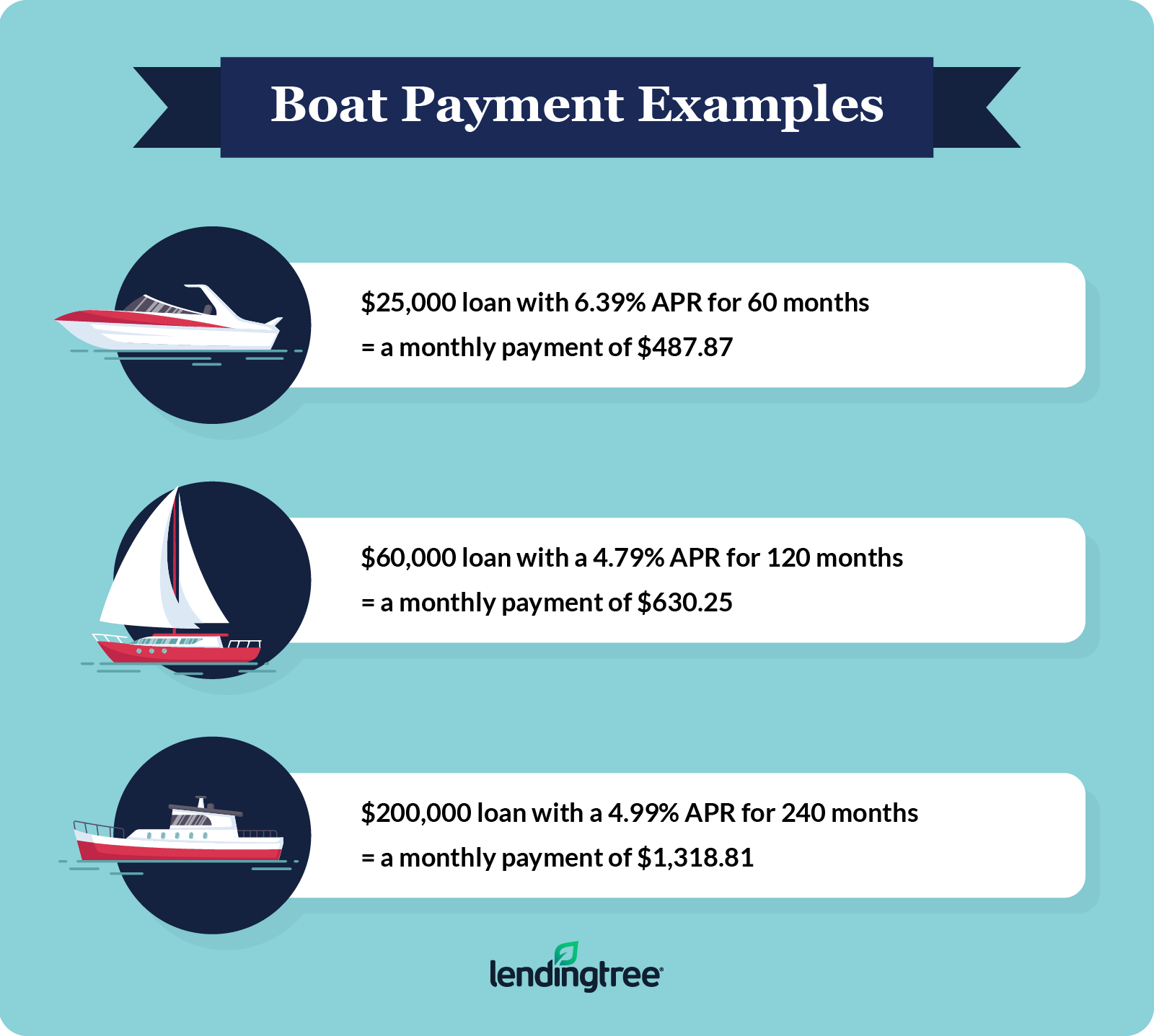 A rule of thumb is that you should not finance a boat for more than 20 years minus your boat's age. If your boat is 6 years old, the longest you should finance is 14 years.
Get a boat loan preapproval
Armed with your preferred loan amount, term and rate, it's time to see if a lender will approve it. In short: Get a preapproval. After that, boat financing comes down to visiting the dealership, finalizing your boat choice and signing the paperwork.
While you do not need a preapproval, we highly recommend you get one before you go to a dealership. Dealers are able to arrange financing for you, but they can — and often do — raise  consumers' APRs and take the difference as profit. By getting an offer directly from the lender, you can beat the dealer at their own game.
What you'll need
Borrowers shopping for preapproval do not need a boat contract in-hand to go through the process, but it's a good idea to have a boat in mind. Prospective lenders for both a preapproval and a regular approval may want to know the:
Boat make, year and (estimated) purchase price
Applicant's legal name, address, phone number, Social Security number
Applicant's employment details, verifiable income, assets and debts
Lenders will also look up
the boat's book value
and you can, too, through the National Automobile Dealers Association. Ideally, you should not pay more than the guidebook price.
Boat loan providers
Potential providers for your boat loan include banks, credit unions, financing companies and online lenders. Some lenders maintain alliances with the National Marine Lenders Association designating themselves as boat loan specialists. The way to find the best boat loan rates is to compare offers from multiple sources.
Boat loan interest rates
Boat loan interest rates are generally higher than those for cars or trucks, and not all lenders offer them, or may limit loan amounts to $100,000 or $150,000. Here's a closer look at some of the lowest rates we've found:
Boat and Marine Financing Rates
Starting APRs*
Loan Amount
Maximum Loan Term
Essex Credit
3.99%
$10,000–$5,000,000+
240 months
LightStream
4.49%
$5,000–$100,000
120 months
Truist
4.99%**
$25,000–$4,000,000
240 months
BoatUS
4.49%
$25,000–$500,000+
240 months
*May include autopay discounts
**Fixed rate
Boat loans vs. marine loans
The waters around the term "boat loan" can get choppy. Marine loans may refer to loans for vessels 25 feet or longer while boat loans are for vessels under 25 feet. Larger vessels may be registered with the U.S. Coast Guard — some lenders may even require it.
Fixed vs. variable rate
Many buyers prefer the stability of a fixed-rate, fixed-term simple interest loan. The advantage of a variable rate is a typically lower introductory rate, but as the  name implies, your rate can change over time.
Bad credit boat loans
It may be possible to get a boat loan with a mid-500 FICO credit score, although your interest rate might be higher. You could read more on how to get a bad credit boat loan.
Houseboats
Consumers looking to finance a floating home (or converted live-aboard boat) could look at a houseboat loan, which is similar to a mortgage. You may even be able to deduct interest like a traditional home (check with your financial adviser).
Boat loan alternatives
Boat loans aren't the only way to finance your next watercraft. You could use different types of loans to finance your boat.
Personal loan. Unsecured personal loans give you the advantage of only relying on your credit and income, not on the collateral. This could be best for inexpensive or smaller boats.
Home equity loan. As real estate tends to appreciate and boats tend to depreciate, you may find a better loan rate on a home equity loan than a boat loan. A home equity line of credit is another way to tap your home's equity.
Powersport loan. If your boat is on the smaller side, a powersport loan might do the trick.