How Does LendingTree Get Paid?
LendingTree is compensated by companies on this site and this compensation may impact how and where offers appear on this site (such as the order). LendingTree does not include all lenders, savings products, or loan options available in the marketplace.
Half of Americans Want More Local Businesses in Their Communities
Updated on:
Content was accurate at the time of publication.
Despite an abundance of online retailers and chain stores, most Americans remain loyal to local businesses and want more small shops in their communities, according to a new survey from LendingTree.
More than half — 52% — of survey respondents would like to see an increase in the number of local businesses of all kinds in their area. This is surely hopeful news for merchants wondering if customers will return to their shops, restaurants and storefronts as states loosen restrictions caused by the coronavirus pandemic.
Perceptions of small businesses are strong
How Americans decide where to shop
Potential challenges for local small businesses
Methodology
Key findings
Consumers want more restaurants, clothing stores, coffee shops, grocery stores and bookstores. 
Consumers are most likely to shop online for gifts and at a chain for groceries.
60% of Americans think online retailers hinder small businesses. Older generations are more likely to think so than younger Americans.
Before stay-at-home restrictions resulting from the COVID-19 pandemic were in place, about 25% of respondents said they generally visited a local business at least once per week.
Perceptions of small businesses are strong
More than half of Americans believe local businesses make a positive community impact, and they'd like more opportunities to support their local economy.
Nearly half of respondents said they would like more local restaurants, while 30% would prefer more clothing stores. Coffee shops and local grocery stores are almost tied in popularity, at 26% and 24% respectively, while 23% of people want more local bookstores in their neighborhood. (Respondents could select more than one answer.)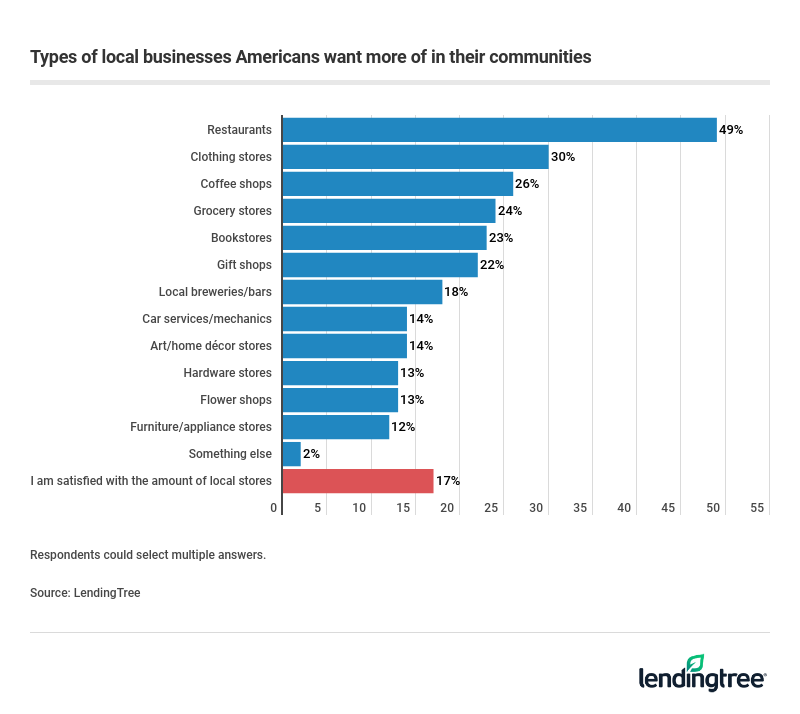 Somewhat less popular are retail stores selling specific items like art and home décor, hardware, floral arrangements and furniture. Survey respondents did not appear as eager to shop locally for those items.
When respondents were asked about the one area where they're most likely to choose a local business, 33% said they're most likely to dine at local restaurants to support businesses in the community.
How Americans decide where to shop
Price is a major factor when Americans choose where to spend their money, while individual purchase needs also affect whether people decide to shop locally, online or at a chain store. About 35% of survey respondents said they choose where to shop based on what they need to purchase, while 34% prioritize finding the lowest price. Just 12% make their decision based on whether a store is a local business.
Time of year could be a factor as well. About 43% of respondents shop locally year-round, but nearly 20% find themselves at local businesses in the summer. During winter, when the holiday shopping season is in full swing, just 12% of people shop locally.
Americans are most likely to turn to small businesses when in need of services. When searching for car repair, 58% of people prefer a local business versus a national chain. On the other hand, 53% of people would choose a chain store when shopping for groceries.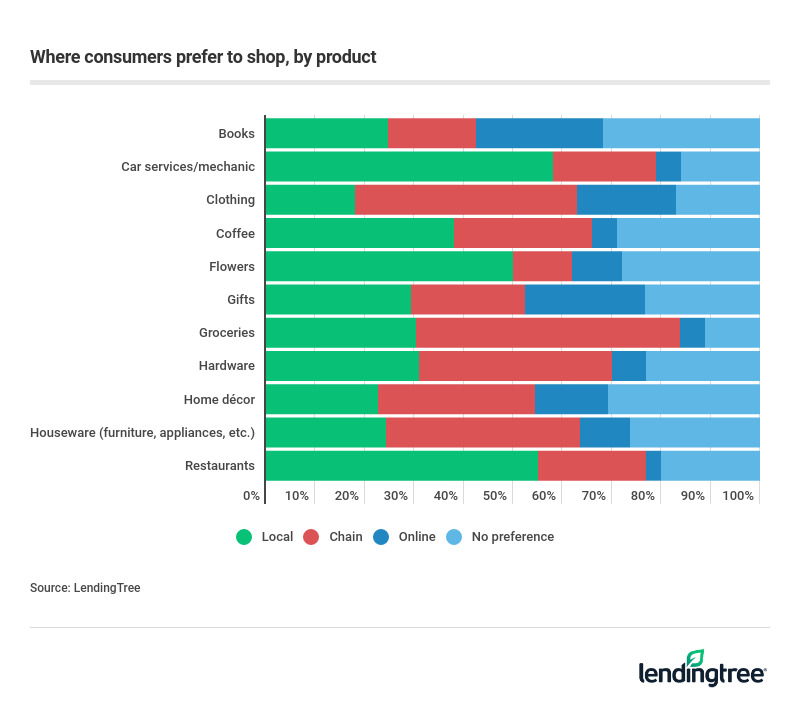 Online retail is a popular choice for those seeking books, gifts and clothing, although many people don't have a strong preference when shopping for those items.
Potential challenges for local small businesses
Consumers say local businesses are up against several challenges in the marketplace, which could cause them to shop elsewhere.
Online competition
Online retailers like Amazon represent a looming threat for all brick-and-mortar businesses — 60% of survey respondents believe online retail hinders local business. Those belonging to older generations were more likely to think so than younger respondents.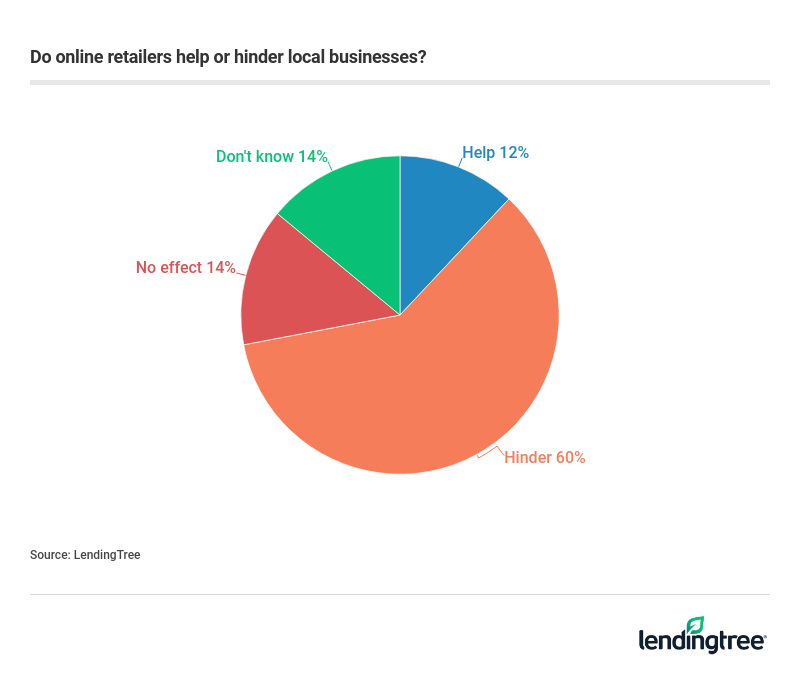 However, local businesses don't need to choose between e-commerce and brick-and-mortar retail. Depending on their industry, local business owners could sell both online and in-person. Starting online is often an inexpensive way to launch a retail business, providing a way to generate income and a customer base before opening a physical location at a later time.
Higher prices
Half of respondents think local small businesses charge more for products than both chain and online stores. However, that perception is often unsupported, as 37% of survey respondents also said they usually spend more money when shopping at chain stores compared to shopping locally.
But that may not be a reflection of price — it may mean consumers feel comfortable buying more merchandise from chain stores than local businesses.
Regardless of the challenges, local businesses are still valued in their communities. About 21% of people enjoy the personal touch of a local business or getting to know the business owner and employees. Unique products are often a selling point as well.
Methodology
LendingTree conducted an online survey of 1,041 Americans, with the sample base proportioned to represent the overall population. The survey was fielded through Qualtrics from Feb. 14-18, 2020.
We defined generations as the following ages in 2020:
Gen Z: 18 to 23
Millennials: 24 to 39
Gen X: 40 to 54
Baby boomers: 55 to 74
Silent generation: 75 and older