How Does LendingTree Get Paid?
LendingTree is compensated by companies on this site and this compensation may impact how and where offers appear on this site (such as the order). LendingTree does not include all lenders, savings products, or loan options available in the marketplace.
How to Start a Restaurant That Lasts
Updated on: September 19th, 2020
Editorial Note: The content of this article is based on the author's opinions and recommendations alone. It may not have been reviewed, commissioned or otherwise endorsed by any of our network partners.
Getting into the restaurant industry is notoriously tricky, but knowing how to start a restaurant that lasts could help you avoid contributing to the industry's failure rate.
Only 40% of restaurants that opened in March 2010 survived the decade, according to data from the Bureau of Labor Statistics. Lack of startup capital, poor location and insufficient knowledge about the market and competition are some of the causes of restaurant failure.
But these are common challenges among all startup businesses, not just restaurants. The more research you can do up front, the more likely you'll be able to tackle those challenges and thrive. This guide is designed to help you gather all of the resources you need to start your own restaurant.
7 steps to open a restaurant
Opening a restaurant can be a complex process with many moving parts. Here are a few steps — including conducting market research, meeting local legal requirements and hiring the right staff — to help you stay on track.
Step 1. Choose a restaurant concept
Think of your favorite restaurant. What sets it apart from the others? Generally the restaurant's theme, or concept, is a large part of that. When you walk in, you know exactly where you are. Pay close attention to the most popular food types in your area and try to find a concept that isn't already heavily covered.
Your restaurant name, menu, decor and ambiance all contribute to your overall concept, but the service style you choose may have the biggest impact. Common types of restaurant service include:
Bar
Bistro
Buffet
Coffee shop
Family style
Fast casual
Fast food
Fine dining
Mid-scale dining
Ghost restaurants (delivery only)
Pop-up — different from a food truck, this might be a good way to test a concept. For example, a pop-up restaurant could be a one-time takeover of another restaurant or temporary stall at a local farmer's market.
Once you have an idea for the type of food and service style you prefer, you can then approach market research in one of two ways:
Decide on a location and work to understand the demographics of that area.
Find the area that matches your concept's ideal demographic.
If you're set on a certain type of restaurant from the start, you'll need to be more flexible on your location. There are several online resources for researching demographics, including the U.S. Census Bureau and local government websites.
Considering a franchise restaurant?
One alternative to starting a restaurant from scratch is buying a franchise location. The International Franchise Association lists franchise opportunities online, including openings with popular restaurant chains.
If you'd like to open an Outback Steakhouse, for instance, you'd be looking at startup costs of $500,000 with a total investment up to $4 million. Compare this to the average startup costs of an independent restaurant (which we'll discuss later) and decide if it works for you. But even if the cost is similar, you may find the benefits you gain from being affiliated with a nationally recognized brand make it a better option.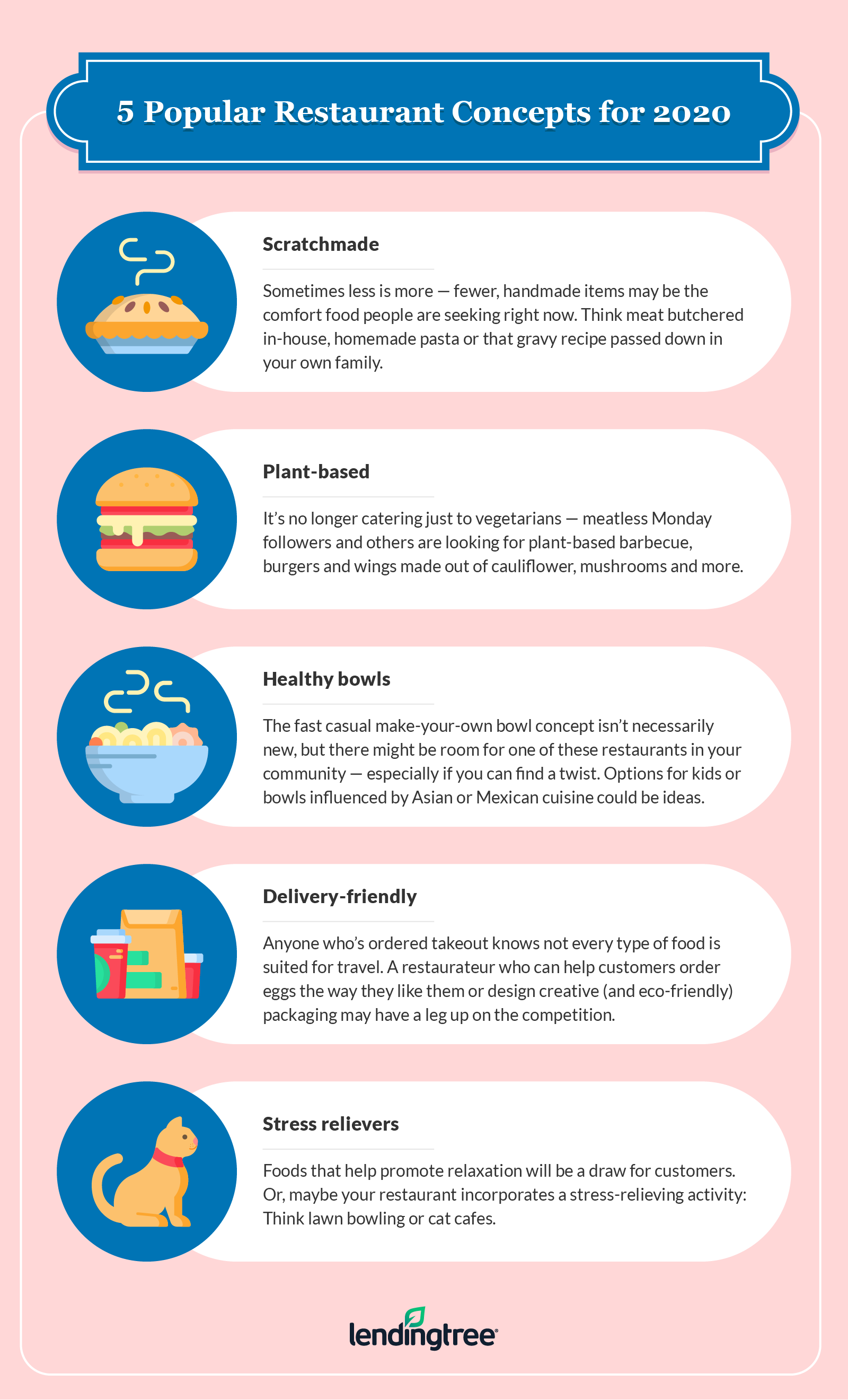 Step 2. Write a business plan
Every business needs a solid business plan from the start. There are various formats you can use, but in general you need to include information investors and business partners will want to know. Your restaurant business plan would include how you'll structure your business and who will run it on a daily basis.
As you outline the details of your restaurant, you'll need to abide by the strict regulations in place to protect the general public. Each state has its own regulations, which you can find online from the U.S. Food and Drug Administration (FDA). In general, though, you'll need to be aware that your property is subject to inspection in accordance with FDA regulations, and the results of those inspections are public information. We'll talk more in a moment about the permits and licenses you may need in order to serve food.
Step 3. Find a location and design your space
As we mentioned earlier, your restaurant concept should fit the demographics of the area in which you're located. Beyond that, there are many other aspects to take into consideration when choosing your space. Although affordability is certainly important, if you don't have sufficient parking or your restaurant is in a remote part of town, you may not be able to keep seats filled.
You'll also want to find a property that minimizes the renovations you'll need to make to move in. If you can find a building that includes a commercial kitchen, for instance, you may save money on appliances and equipment, depending on the condition they're in.
Once you've secured a space, it's important to take time to customize the interior to create an atmosphere guests will enjoy. Do you want a dark, romantic ambiance or a fun, friendly, casual environment? Pay close attention to the paths people will take as they maneuver through the restaurant: You would not want servers rushing from the kitchen and colliding with customers on the way to the restroom.
Step 4. Obtain necessary licenses and business insurance
Restaurants may need several local, state and federal business licenses and permits to operate. Your business will need permits to serve alcohol and a food service license. Employees who will be handling alcohol will also need a permit from the state to do so.
In addition to getting a business license, you're expected to collect and remit sales tax to local authorities. You should also research regulations specific to your state. In New York, for instance, if you sell a packaged item such as potato chips, you may find the item could be nontaxable in accordance with the state's regulations on grocery store food sales, depending on where it's meant to be consumed.
TIP:
Your state government may have a one-stop website for new business owners, including restaurateurs. California, for example, has a
business portal
and even designed a
guide
for new restaurants, bakeries and bars.
General liability business insurance is also essential for a restaurant; slips and falls are a common occurrence in restaurants, so you'll need to ensure you're protecting yourself in the case such an event results in an injury. You'll also need property and casualty insurance, and if you plan to employ delivery drivers, you may need to insure them.
Step 5. Hire a chef and other employees
A good chef can make or break a new restaurant. Many customers will return specifically for the chef's offerings. Find someone with a strong history in the business and who, most importantly, creates food you enjoy. If you have a passion for the food you're serving, ideally, that passion would be passed on to your customer base.
You could use a recruiting agency to help you hire a chef, or try online and word-of-mouth marketing to advertise the open position. When interviewing chefs, consider asking about the following topics:
Formal training or culinary school experience
Kitchen management style and experience
The relationship between a chef and the front of house
Continuing culinary education
Before opening, you'll also need to hire and train your employees. Within that process, front-of-house or customer-facing staff should each try every item on your menu, since they'll have more interaction with your guests than anyone else. Consider creating a training manual that shows each employee how their actions affect the team as a whole and contribute to the performance of the restaurant.
Step 6. Promote your new restaurant
Before you set an opening date, create a website and social media presence so that you can begin building buzz. Ask friends and family to spread the word. You'll find community Facebook pages are great for promoting a new business, since local residents are often excited about a new eatery in town. Be sure to post quality photos of your food on your social channels to entice your audience.
Create a marketing budget
For many restaurateurs, the majority of their marketing budget is allocated toward social media. Community event sponsorship, search engine ads and television or magazine promotions may also be valuable to include in your restaurant marketing budget.
Also, make sure your business appears on Google so potential customers can find your restaurant when searching for a place to eat. You can visit Google My Business to manage your restaurant's listing on the search engine.
Step 7. Reinvest in your business and employees
The work doesn't end after you've opened  — you'll need to consistently make the effort to keep customers coming back. If you can keep employees happy, customer loyalty would likely go up — a strategy that has been embraced by successful restaurant chains like Chick-fil-A.
Monitor your market and be receptive to change. As you get to know your customers, regularly review your original business concept and see if you need to tweak a few things to encourage loyalty.
How to get funding to start a restaurant
There are several types of business financing that restaurateurs can rely on, such as short-term loans, business lines of credit, equipment financing and merchant cash advances. And you may have the best luck securing this type of funding from alternative, online lenders.
Online lenders offering business loans for restaurants typically extend leniency around eligibility requirements. Additionally, online lenders often have faster funding timelines than banks. Be aware, however, that you would likely pay for the convenience that online lenders provide, as interest rates are generally higher for online loans than bank loans.
Online lenders vs. banks
Traditional financial institutions like banks often view restaurants as risky borrowers. These lenders may not be willing to take a chance on restaurants that don't have a solid business history and strong credit profiles. When first starting out as a restaurant owner, bank financing may be out of reach. However, many banks act as preferred lenders for the U.S. Small Business Association (SBA), which provides guaranteed, low-interest loans for businesses, like restaurants, that may not usually qualify for bank financing.
Costs of starting a restaurant
The total cost to start a restaurant could range from about $175,500 to $750,500 or more, depending on details such as the location and restaurant type. Whether you're leasing or buying your space would also affect your overall costs, as you could expect to pay about $159 per square foot if you lease and $178 per square foot if you buy.
If you plan to do any construction in the space or install any equipment, fixtures or furniture, you may want to budget between $200 and $400 per square foot to be on the safe side. Look out for any equipment or fixtures that need to be replaced if you take over an existing restaurant.
Depending on the needs of your particular restaurant, you could expect to spend money on the following restaurant requirements:
Bar equipment
Cookware and utensils
Dishwasher
Flooring
Glassware, dishware, silverware and linens
Icemaker
Lighting
Refrigeration units
Sound system
Staff uniforms
Stove, oven or grill
Tables, chairs or booths
Wall decor and window coverings
Shopping for used equipment instead of new could help you cut costs. In some cases, you may be able to lease equipment, which would make the most sense for items that need to be replaced frequently.
FAQs about starting a restaurant
What do you need to open a restaurant?
When starting a restaurant, you need a concept that appeals to the people in your surrounding area and stands out from the competition. You also need a strong head chef and team of employees to take care of daily duties. Depending on the details of your space, you may need to install restaurant essentials such as an oven and stove, refrigeration units, tables or booths and lighting. You may need financing to help cover startup costs, which you could find in the form of online business loans.
How much does it cost to start a restaurant?
The total cost to open a restaurant would depend on several factors, such as whether you're buying an existing restaurant space or building a new one, or if you are leasing or buying the building. Choosing to purchase new or used equipment would impact your expenses as well. For budgeting purposes, you may want to plan to spend between $200 to $400 per square foot opening your restaurant.
How hard is it to open a restaurant?
Opening a restaurant can be a difficult endeavor. You could expect to face economic challenges, as the economic climate usually changes from year to year. You may also face difficulty staffing your restaurant, managing your budget, maintaining consistency, keeping up with marketing and remaining legally compliant. There are organizations that can help answer your questions in all of these areas, including the National Restaurant Association. However, if you can weather tough times, you'll feel confident in your ability to make it over the long haul.