How to Start a Restaurant: 18 Steps to Follow
Published on: July 6th, 2018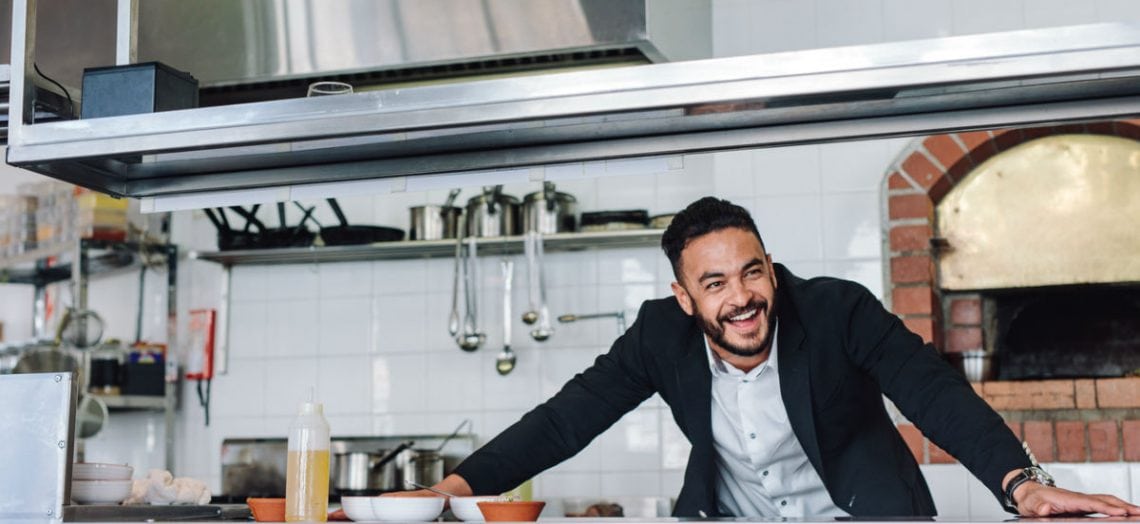 It's the great American dream. Many entrepreneurs imagine opening and growing a successful restaurant, whether they've worked in the industry or they've simply seen how lucrative it can be. With so many people relying on restaurants for at least one meal per week, the industry is likely to continue to thrive in the coming years.
But like any business, starting a restaurant comes with a unique set of challenges. The more research you can do up front, the more likely you'll be to tackle those challenges with grace. This guide is designed to help you gather all of the resources you need to start your own restaurant.
Benefits of owning a restaurant
If you're a savvy manager, owning a restaurant can be a profitable venture. The restaurant industry has grown exponentially over the years and is continuing its momentum. With $799 billion in sales in 2017 and 1.6 million new jobs expected to be created by 2027, this industry is thriving.
The dynamism of the industry puts would-be restaurateurs in a position to succeed. Lenders are taking notice — seeking funding for a restaurant may be easier than you were expecting. And the Internet is opening up new possibilities in restaurant management. A restaurant that offers curbside takeout or delivery through a service like GrubHub or Uber Eats may find that they thrive as the popularity of on-demand takeout increases.
Owning a restaurant gives you the satisfaction of having your own business. And restaurants – more than many other businesses types – allow you to develop a strong relationship with your local community. Local residents tend to be excited to hear that a new restaurant is in town, and if you open strong, those customers are likely to spread the word to everyone they know.
With all this wind at your back, opening a restaurant could be good investment, not to mention a satisfying and creative way to run your own show.
Challenges of owning a restaurant
Although you'll read many dire statistics about the restaurant industry, a comprehensive 2014 study found that only 17% of full-service restaurants fail in the first year. In fact, restaurants fail at a lower rate than other new service-based businesses, which fail at a rate of 19% in the first year. The median lifespan of a new service-based business is 4.25 years, but restaurants survive slightly longer — 4.5 years.
Still, you will face challenges, most notably the unpredictability of the economy. Even if you open in strong economic conditions, that can change from one year to the next. Over multiple decades you're sure to ride a roller coaster of business conditions. But if you can weather tough times, you'll know you can make it over the long haul.
The challenges you will face are diverse, including staffing, managing budgets and people, managing consistency, and ensuring marketing and legal concerns are taken care of. The key to confront those challenge successfully, says Dean Small, founder and managing partner of SYNERGY Restaurant Consultants, is "running it as a financial business enterprise and not as a place to entertain your friends and your family. Oftentimes people think it'll be a lot of fun, but the reality is it's a lot of work."
A common complaint of restaurant owners is the difficulty in finding and retaining good workers. With average hourly pay in the $10 range, your servers and bartenders will likely rely on tips to make a living. Managers can ensure reduced turnover by following the 80/20 rule, which requires that employees who take tips only do side work for a maximum of 20% of their time on shift.
Even if you stick to that, though, the youth and transience of many restaurant workers can present challenges. Many restaurants attract employees who are still in high school and college. Others use restaurant work to fill in while they pursue other career options. These types of workers frequently move on quickly, resulting in high turnover. If your area has a heavy concentration of restaurants and shops, you'll also compete with local businesses for the talent pool in that wage range.
One challenge restaurant owners face is the large contingent of foreign-born talent that the industry employs. It's important to verify that all workers have the necessary employment documentation and that it is up to date. There also may be language barriers for those employees who may not speak fluent English, highlighting the importance of having at least one multilingual team leader.
Founding and launching a small business of any type is challenging, but you can overcome hurdles through careful planning and some sacrifice. You'll need to be prepared to put in long hours and possibly go a period of time without taking a salary. These sacrifices will help you take your restaurant beyond the first few years to become a long-term success.
18 steps to start a restaurant
There are numerous steps in building a successful restaurant, but the research phase is perhaps the most important. If you choose the right type of restaurant in the right part of town at the right time, you'll find that people naturally gravitate to your business. Conversely, a poorly-timed, ill-conceived concept in the wrong area could backfire no matter how well you run your business.
Here are some very important steps to follow to build a successful restaurant.
Decide on a concept—Think of your favorite restaurant. What sets it apart from the others? Generally the restaurant's theme, or concept, is a large part of that. When you walk in, you know exactly where you are. Pay close attention to the most popular food types in your area and try to find a market that isn't already heavily covered. In many states, pizza and bakeries are the most popular, but you'll notice market variations, like barbecue in Mississippi and Mexican food in Colorado and Nevada.
Conduct market research—You can attack this research one of two ways: decide on a location and work to understand the demographic of that area or find the area that matches your concept's demographic. If you're set on a certain type of restaurant from the start, you'll need to be more flexible on your location. There are several great resources for researching demographics, including American Fact Finder and local government websites.
Research franchise opportunities—One alternative to starting a restaurant from scratch is to open a franchise location. The International Franchise Association lists franchise opportunities on its website, including popular restaurant chains like Outback Steakhouse and Burger 21. If you opt to open an Outback, for instance, you're looking at startup costs of $500,000 with a total investment of $1.6 million to $4 million. Compare this to the recommended startup costs of an independent restaurant and decide if it works for you. But even if the cost is even, you may find the benefits you gain from being affiliated with a nationally recognized brand make it a better option.
Write a business plan—Every business needs a solid business plan from the start. The Small Business Administration (SBA) has a business plan creation tool that can walk you through the steps necessary to put one in place. There are various formats you can use, but in general you need to include information investors and business partners will want to know. This includes how you'll structure your business and who will run it on a day-to-day basis.
Research regulations—One complication you'll find in starting a food-based business is that there are strict regulations in place to protect the general public. Each state has its own regulations, which you can research from the U.S. Food and Drug Administration website. In general, though, you'll need to understand that your property is subject to inspection in accordance with FDA regulations, and the results of those inspections are public information.
Find a chef—A good chef can make or break a new restaurant. In fact, many customers will return specifically for the chef's offerings. Find someone with a strong history in the business and who, most importantly, creates food you enjoy. If you have a passion for the food you're serving, that passion will be passed on to your customer base.
Find a location—As mentioned previously, your concept should fit the demographics of the area in which you're located. Beyond that, there are many other considerations. Although affordability is certainly important, if you don't have sufficient parking or your restaurant is in a remote part of town, you won't be able to keep your seats filled every night. You'll also want to find a property that minimizes the renovations you'll need to make to move in. If you can find a former restaurant with a kitchen for sale, for instance, you'll save money on appliances and equipment, although be alert to their conditions.
Design your interior—The "customer experience" is a large factor in your restaurant's ongoing success. It's important to take time customizing the interior to set up an atmosphere guests will enjoy. Do you want a dark, romantic ambiance or a fun, friendly, casual environment? Experts recommend paying close attention to the paths people will take as they maneuver through the restaurant. Will servers rushing from the kitchen collide with customers on the way to the restroom?
Line up financing—Any small business needs startup funding. Whether this comes from your own bank account or investors is up to you. You can also check into loans from local lenders who might be interested in helping out a new business in the community.
Register to pay taxes—From the time you accept your first dollar, you're expected to collect and remit sales tax to local authorities. In addition to getting a business license and setting up your software to set sales tax aside, you should also research regulations specific to your state. In New York, for instance, if you sell a packaged item such as potato chips, you may find the item is nontaxable in accordance with the state's regulations on grocery store food sales.
File for necessary licenses—A business license is only the beginning. Your business will also need permits to serve alcohol and a food service license. Employees who will be handling alcohol will also need a permit from the state to do so.
Get insurance—General liability insurance is essential; slips and falls are a common occurrence in restaurants, so you'll need to ensure you're protecting yourself in the case of such an event resulting in an injury. You'll also need property and casualty insurance, and if you plan to employ delivery drivers, you may need to insure them.
Order equipment and furniture—In addition to booths and tables, you'll also need a fully stocked kitchen and a point of sale system. It is necessary to set up the software and hardware for your point of sale. You will also need to install software to manage your bookkeeping and human resources activities.
Create signage and menus—Your sign will be a huge draw, so it's important to find a professional designer to create your logo. You'll also need to work with your chef to create and print menus. Once you have a logo, you can also order uniforms and name tags for your employees to wear.
Hire employees—One of the final steps before opening will be to hire and train your employees. Front-of-house or customer-facing staff should each try every item on your menu since they'll have more interaction with your guests than anyone else.
Promote your new business—Before you set an opening date, create a website and social media presence so that you can begin building buzz. Ask friends and family to spread the word. You'll find community Facebook pages are great for promoting a new business, since local residents are often excited about a new eatery in town.
Invest in your employees—After you've opened, the work doesn't end. You'll need to work consistently to keep customers coming back. One study found that by keeping employees happy, customer loyalty automatically went up—a strategy that has been embraced by successful restaurant chains like Chick-fil-A.
Regularly tweak your concept—As you get to know your customers, regularly review your original business concept and see if you need to tweak a few things to encourage loyalty.
The cost of starting a restaurant
The total cost to start a restaurant depends on the location and the type of business. A handy infographic by Bid on Equipment based on data from a variety of sources, including the National Restaurant Association, shows that if you lease your restaurant space, you should plan for at least $495,000 to start. This includes first month's rent and security deposit, insurance and licensing fees, food and equipment inventory, employees, and publicity. If you're buying your space, you'll pay somewhere in the neighborhood of $735,000 to get started.
Small advises those opening restaurants to budget at least $200-400 per square foot to install or overhaul construction and furniture, fixtures, and equipment. He says that taking over an existing restaurant can be deceptive in its costs, since much of the equipment, fixtures, and furniture in such spaces are not in good shape and must be replaced.
Interestingly, fast food franchises tend to be the most expensive restaurant type to open, but they're also among the most successful. You'll need $1.5 million to open a KFC and $2 million to $3.5 million for a Wendy's. Behind fast food, fast casual tends to perform best, followed by fine dining, family dining, and casual dining. Despite fast food being at the top of that list, customers tend to state a preference for healthy dining options when choosing where to eat.
Financing a restaurant
If you have hundreds of thousands of dollars squirreled away in a bank account, financing won't be an issue. Chances are that won't be the case, but if it is, beware that it is very common for costs to far exceed what you expect.
Here are some options to consider if you aren't flush with cash.
Bootstrap:
Some restaurateurs start their ventures with their own savings, or live extremely economically while starting out to retain as much money in the business as possible. This is a difficult way of starting a business — and may not even be possible for ventures with many upfront costs like restaurants — but it is also the best way to pursue your dream without owing anyone anything.
Friends and family:
Some people take money from friends and/or family to invest in their restaurant. This can have drawbacks, however: That person may want a stake in your business or a say in how you run things. And mixing personal relationships with business can get complicated fast. If you go this route, make sure you have everything in writing and reviewed by an attorney before you agree.
Other types of investors:
Crowdfunding is another option, especially if you have a unique concept that will appeal to the patrons of sites like Kickstarter or Indiegogo. Finding angel or venture capital financing is an option for some restaurants, though these will fit some food industry projects better than others. Most of these investors will have minimum requirements and/or are looking for novel concepts and extremely fast-growing businesses.
Bank financing:
Banks large and small give businesses loans and lines of credit to use for starting up a business. You may find you have the best luck with a small local lender that understands the benefits your business will have locally. Nonprofit lenders like credit unions can be especially helpful in this regard. Small business loans and lines of credit comes in many shapes, sizes, and costs, so do your homework before committing. Some loans are specific to equipment or other particular uses, while other types of financing can cover almost any business need. If you have difficulty getting a loan, the Small Business Administration offers SBA-backed loans through participating lenders designed to help those who have exhausted other options.
Alternative online financing:
New types of lenders are popping up online to fill gaps in the traditional bank lending landscape. Proceed cautiously here; many of these lenders give small, fast loans with high-interest rates and fees to borrowers who have no other options. Some online lenders, however, are less inclined to charge usurious amounts since they're simply trying out new models, such as peer-to-peer lending. Which of these types of funding you can qualify for will depend on the nature and status of your business and your credit history.
Check out our top picks for the best restaurant loans here. 
Is the restaurant business right for you?
Perhaps the most important question of all is whether a restaurant is the right type of business for you. As with any industry, it can help if you have experience in the industry and know what to expect. Those with experience in the industry are accustomed to giving up nights, weekends, and holidays and working 18-hour days. Years of restaurant experience also give an owner knowledge of how to keep employees happy in a job that can be very demanding.
However, restaurant experience isn't required, since you can hire employees who bring that to the table. Dean Small lists a number of qualities that are essential in successful restaurant owners: well-organized, prudent, laser-focused, able to hold people accountable, and possessed of great people skills and sound business acumen.
More than anything, however, what you need most is a hard-driving desire to do the difficult work and take on the risk required to start your own dining establishment. The rest is just details.