How Does LendingTree Get Paid?
LendingTree is compensated by companies on this site and this compensation may impact how and where offers appear on this site (such as the order). LendingTree does not include all lenders, savings products, or loan options available in the marketplace.
How to Start a Clothing Line
Updated on:
Content was accurate at the time of publication.
For a fashion designer, a clothing line can be an expression of artistry. But to make money from that art, you'd need business savvy in addition to your existing passion. We'll help you understand what it takes to bring your sketches to life and start your own clothing line.
On this page
5 steps to start a clothing line
As the owner of a clothing business, you'd be responsible for more than designing and constructing garments. Follow these five steps to get started.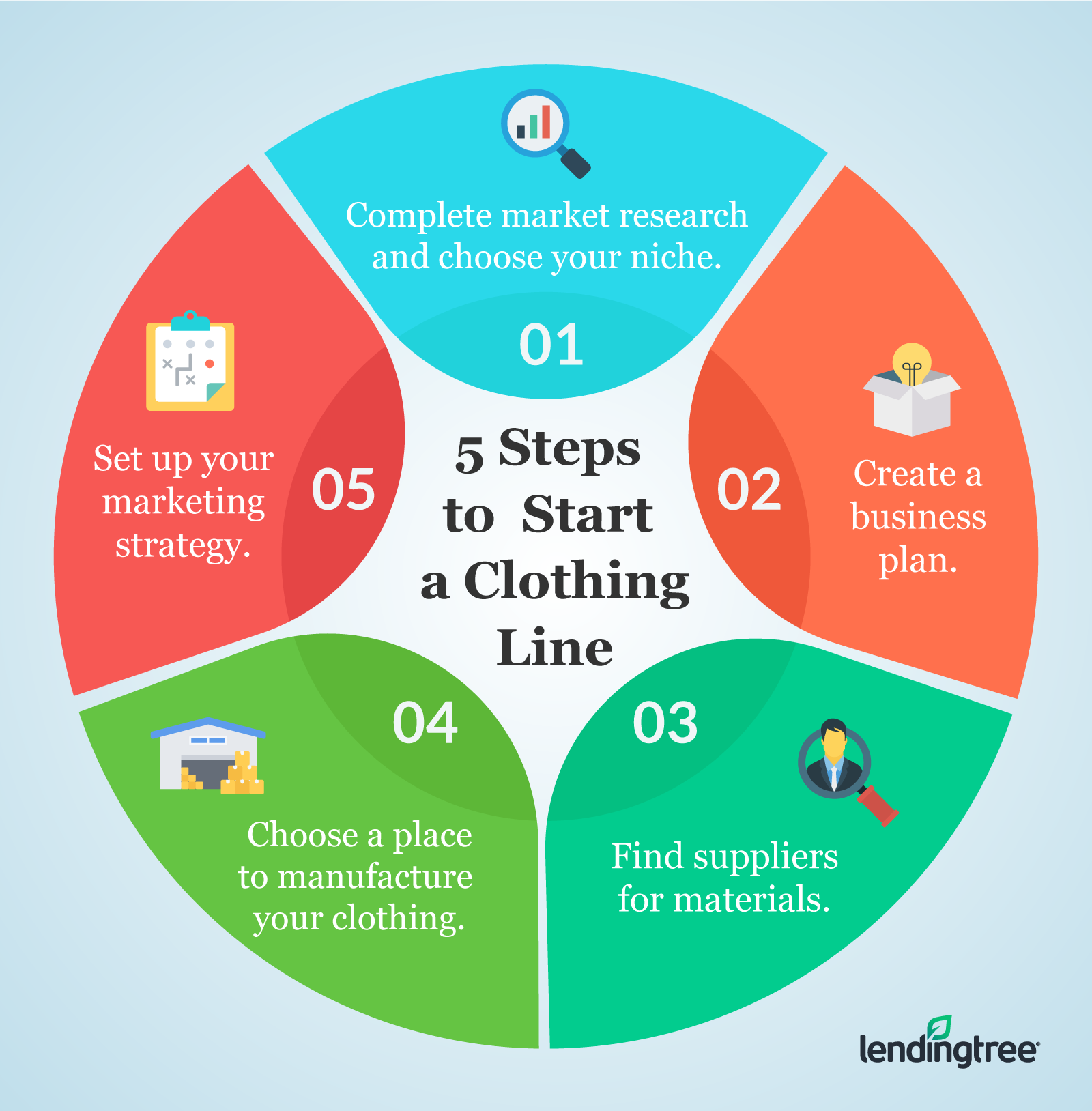 1. Choose your market segment.
First, you would need to determine what type of clothing you want to make and the customers you want to buy your clothing. Being as specific as possible would help you focus on a particular product and hone in on capturing a certain segment of clientele. For instance, a business that specializes in high-end men's dress shirts can buy fabrics and target customers that match the vision for the brand.
Market research would inform your decision. You could gather your own data through focus groups or surveys to find out what needs consumers have in the market. Information about consumers' shopping habits, attitudes and buying behavior could help you shape your product offering and marketing strategy.
2. Write a business plan.
A business plan describes each aspect of your business, such as how you expect to generate revenue and how much money you need to operate. This could be required when you apply for financing, which we'll discuss more in a later section. You would write your business plan before choosing a legal entity or structure for your business. This would determine your personal liability for the business, as well as how much you would owe in taxes.
When you sit down to write your business plan, include the following sections:
Executive summary: Describe the clothing you plan to offer, your mission statement and information about any additional employees or managers.
Company description: This is where you would illustrate how your clothing line would be different than others already in the market. You would also describe the customers you plan to serve.
Market analysis: Your market research should include industry outlook and what competitors are offering.
Organization and management: Here, you would describe the entity you plan to choose, whether that's a sole proprietorship, partnership or a limited liability company, for example.
Product description: Go into greater detail about what your clothing line entails.
Marketing and sales: Outline your marketing and branding strategy, as well as your plans for sales and promotions. You should have a clear idea of how you'll reach customers.
Financial projections: Your financial outlook could span up to five years. Include balance sheets, income statements, cash flow statements and budgets to demonstrate your financial goals. Be careful to stay realistic and avoid embellishing numbers.
3. Source materials for your clothing.
Before you can construct your clothing, you would need to find cloth and fabric suppliers to provide materials. Industry newcomers can search online for sources and look to trade associations, such as the American Association of Textile Chemists and Colorists or the American Cotton Shippers Association.
Is sustainability a priority for you?
Sustainability comes down to where a material comes from and how it is produced, including labor standards regarding workers. If you want to create a sustainable clothing line, you could trace the origins of your raw materials. For instance, you could analyze your cotton fabrics – find out where the cotton was grown and milled and whether workers were paid fair wages throughout the process.
Sustainability certifications are becoming more common and make it easier to identify suppliers that engage in fair practices. Unfortunately, certified materials are often expensive. You might need to charge more for your clothing to account for that cost, but customers may be willing to pay a higher price for ethically-produced clothing.
4. Find a space to create clothing.
Depending on the size of your business, you could make clothing in your home or rent or lease a larger space, Lyons said. If you open a brick-and-mortar clothing boutique, you could set up your equipment in the back of the store. Or perhaps you want to run your business strictly online — making and storing your clothing at home and selling it through your website would be a way to keep costs down. Some e-commerce businesses later add brick-and-mortar locations.
You may need to find a manufacturer to produce your garments in a factory if you have larger ambitions for your clothing line. Before settling on a manufacturer, you should have the factory create sample garments to make sure the look and the quality is right for your brand. A producer may charge for samples and you should include that cost in your startup budget. Also discuss timeframes to get an understanding of how quickly a manufacturer could fill your order.
If you decide to produce materials in-house, you'd need equipment that allows you to keep up with your orders. Basic equipment needs for clothing businesses include:
Sewing machines
Cutting machines
Garment pressing machines, such as a steam press or iron
Washing machines
The type of equipment you need would depend on the output of your business. Some industrial sewing machines are designed to handle a large production volume with software that can cut and size garments as well.
5. Put a marketing strategy in place.
Before the clothing line launches, you would want to create brand awareness ahead of time to build anticipation. Consider establishing social media accounts for your clothing line and writing a blog on your business website. You could also speak at industry conferences or events to get your name out there as a business owner.
After the clothing line debuts, you could introduce your line to potential new customers through pop-up shops and trunk shows at various locations. Collecting email addresses and regularly corresponding with your subscribers through email marketing platforms could also bolster your connection with customers, she said.
Costs of starting a clothing line
To get a clothing business off the ground, you may need some startup funds. You could expect the following initial expenses:
Preproduction costs
Prior to producing your full clothing line, you would need to create patterns and sample garments. If you plan to work with a manufacturer, you would also need to supply a tech pack that details the specifications of your designs. Your tech pack would include sketches, photographs, a list of materials and specific instructions for constructing each garment.
Marketing
New business owners often don't realize they need to invest in marketing and advertising before the clothing line is officially available. Early strategies include finding paid social media or in-person marketing opportunities. You should also pay for quality marketing materials, such as well-made videos or professional photographs.
Marketing doesn't necessarily have to be a big cost though. There are also free marketing opportunities for business owners, like participating in industry events and using social media forums.
Machinery
Machinery can easily become your top expense if you produce clothing on your own, depending on your volume, Lyons said. A mom-and-pop boutique could likely get away with manual sewing machines, while a larger operation would need more expensive industrial equipment.
Labor
Labor costs would depend on how many hands you need to craft your garments, especially if you're operating your own production site. Excessive labor needs are the reason many clothing producers have historically used unethical practices to keep costs down.
Materials
Suppliers typically work with buyers who need a large amount of materials, like hundreds of yards of fabric. Placing bulk orders is often less expensive than buying material in smaller amounts. Be prepared to make a large purchase when ordering materials.
Financing your clothing line
Self-funding your clothing line could keep you out of debt, but business financing is available if you need outside assistance. You may not get far on your savings alone, as startup costs could consume the majority of your funds and then you wouldn't have the resources to grow the business.
Securing financing could give you breathing room to develop your clothing line. Here are a few financing options to consider:
Business loans
You could apply for a business loan from a traditional bank or an online business lender. Banks often consider new businesses risky and you may need strong credit and collateral, such as your home, to secure the loan. Online business lenders usually don't require collateral or a high credit score, and often have faster time to funding if you're approved. However, online lenders generally charge higher interest rates than banks.
Business lines of credit
A business line of credit would allow you to draw funds from a credit line on an as-needed basis. The line would be revolving, which means the full amount would become available after you pay back what you borrow. You could obtain a business line of credit from a bank or online lender. Your personal credit profile and business performance would determine your eligibility and interest rate on your line of credit.
Crowdfunding
Crowdfunding can fill a financial gap for new business owners who can't qualify for loans or lines of credit. Crowdfunding can have an added benefit for clothing designers, who can pre-sell garments to raise funds. You would be able to cover your first round of production costs and you would have customers waiting to receive those garments, Giordano said.
See small business loan offers
How to keep costs down
Start online: Selling your clothing online would save you the cost of renting or buying a storefront. However, shipping costs would become an added expense. Also, you could miss out on the benefits — namely foot traffic — of operating a brick-and-mortar boutique. Running a retail store would also give you added opportunity to become part of your local art and business community.
Sell made-to-order designs: Taking a made-to-order approach would allow you to make garments as customers place orders without wasting extra resources. You also wouldn't need to buy large-scale production equipment.