How Does LendingTree Get Paid?
LendingTree is compensated by companies on this site and this compensation may impact how and where offers appear on this site (such as the order). LendingTree does not include all lenders, savings products, or loan options available in the marketplace.
| Advertising Disclosure
LendingTree is an advertising-supported comparison service. The site features products from our partners as well as institutions which are not advertising partners. While we make an effort to include the best deals available to the general public, we make no warranty that such information represents all available products.
67% of Americans Plan to Spend Money on Football Season This Year
Updated on: September 8th, 2021
Editorial Note: The content of this article is based on the author's opinions and recommendations alone. It may not have been reviewed, approved or otherwise endorsed by the credit card issuer. This site may be compensated through a credit card issuer partnership.
This week marks the start of the official NFL season, and now that all teams have been cleared to allow for full-capacity stadiums, fans are gearing up for a return to more social viewing events.
To find out how people are thinking about spending money this football season, LendingTree surveyed more than 2,100 people about their plans. Most said they'll be spending some cash on football, with food and drink for at-home game watch parties being the most common expenditures. And some — particularly avid fans — say they'll go into debt to partake in America's favorite pastime.
Here's what else we found:
Key findings
67% of Americans will spend money on at least one item for the upcoming football season. The most common purchases are food and drink for at-home game watch parties (26%), streaming services or cable TV (22%) and food and drink away from home (20%).
Nearly 40% of consumers are planning a special splurge for football season to make up for last year. Most notably, 14% of those who typically only watch games at home plan to attend a live game.
51% of Americans hope to attend at least one live football game this season, including 13% who will travel to another city and 6% to another state.
1 in 4 consumers say it's somewhat likely they'll incur credit card debt due to their football spending this season. As an example, 27% of football fans will shell out $1,000+ on the sport this year.
32% of avid football fans say their spending on the sport has caused an argument with a loved one. Relatedly, about 3 in 10 have been in credit card debt due to the sport.
Americans plan special splurges for football season
While most people plan on spending money for football season, about a third say they won't: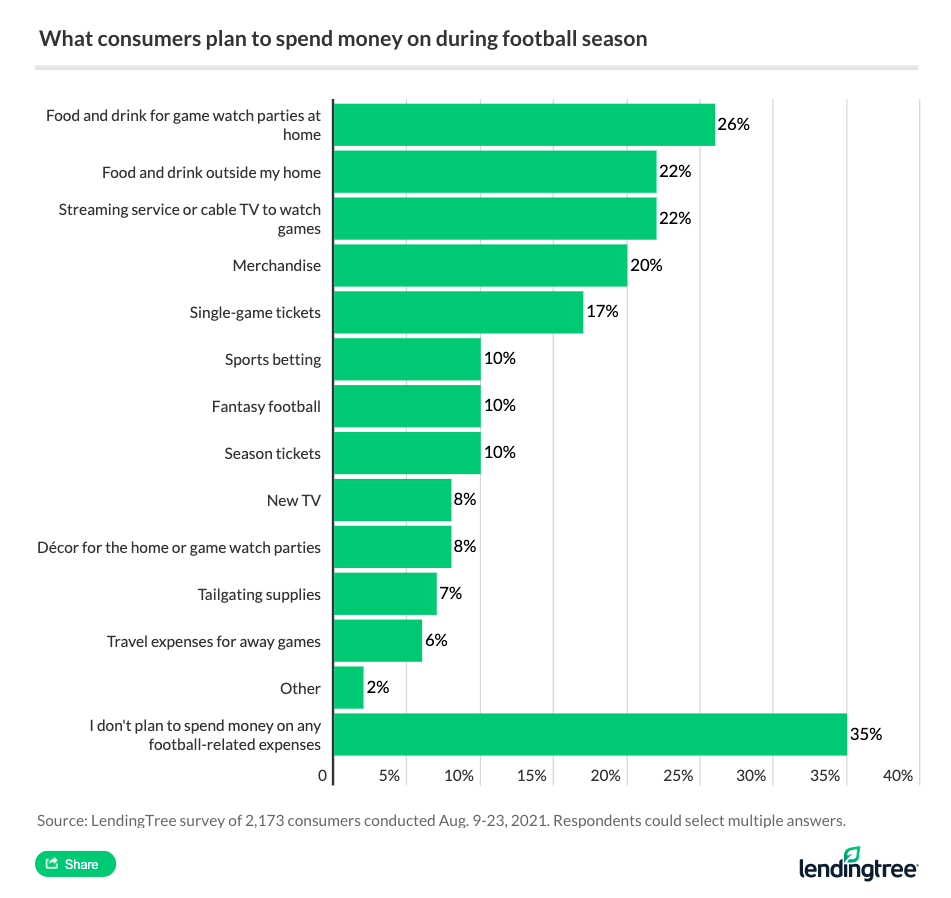 Among self-proclaimed football fans, food and drink for game watch parties at their home (41%), streaming services or cable TV (37%) and merchandise (35%) were the most-common expenditures. By contrast, just 7% said they didn't expect to spend on football-related expenses during the season.
We also asked those who said they would spend money on at least one thing for football season about how much they planned on spending. About 22% said they will spend at least $1,000. Men (25%) were slightly more likely to fall into this category than women (19%). And Gen Zers (27%) and millennials (26%) were also more likely to spend $1,000 or more than their older counterparts.
For some, the reasoning behind spending money this football season is to help make up for 2020.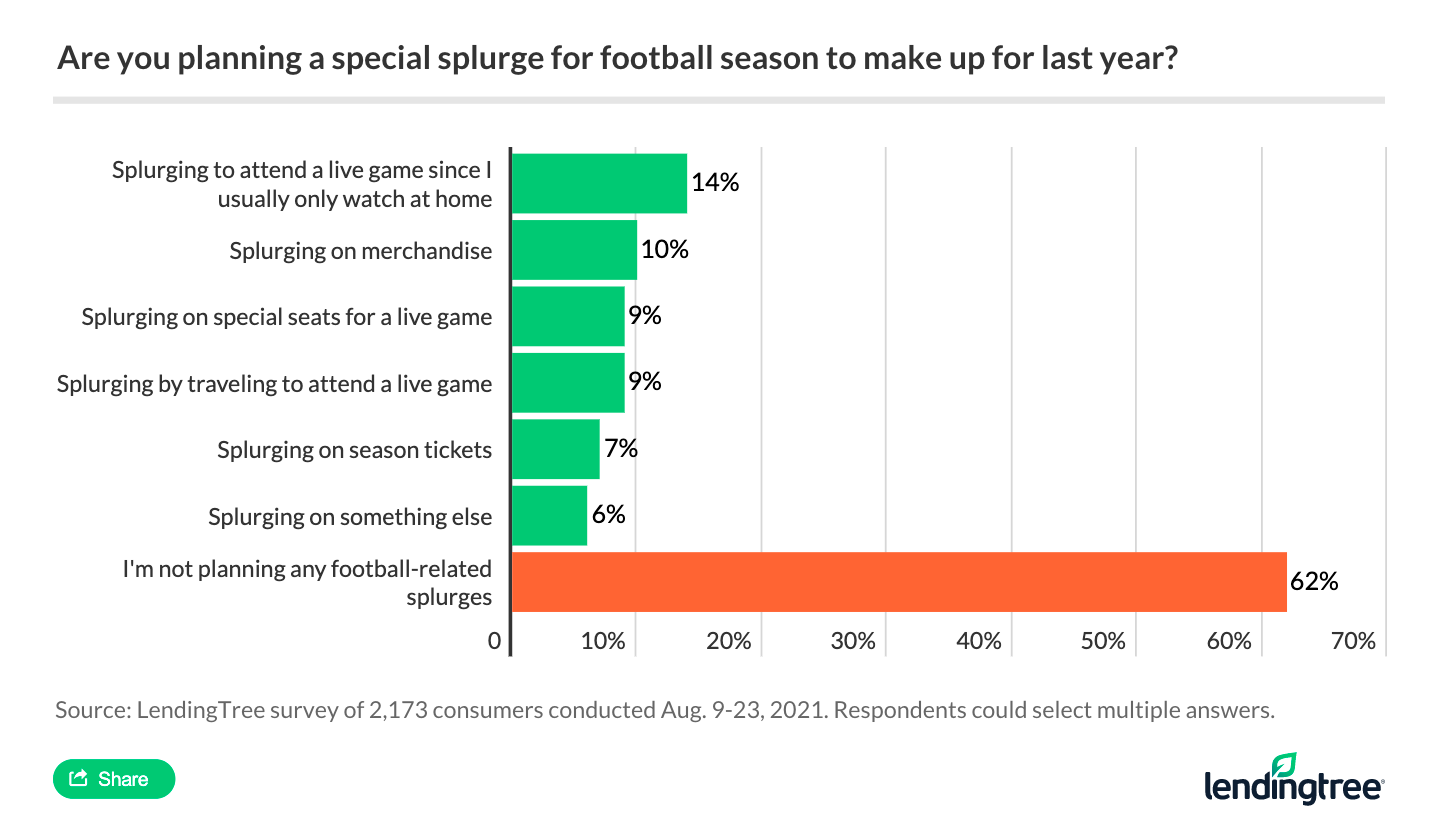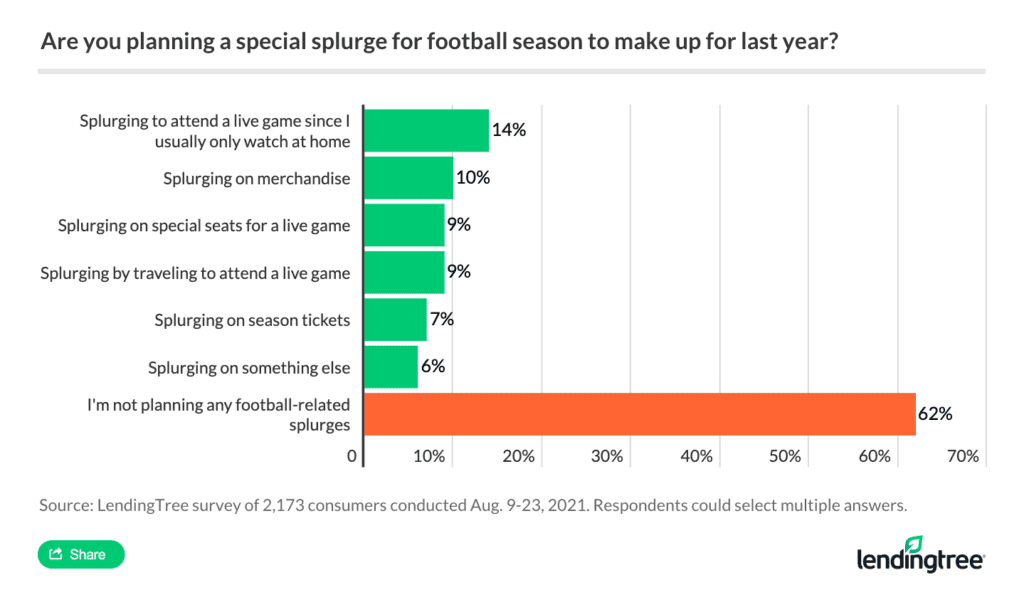 Men (17%) were more likely than women (10%) to say they planned on going to a live game this season to make up for last year. Also following the trends set above, younger generations (23% of Gen Zers and 21% of millennials) were more likely to spend on live games for this reason than older generations were (11% of Gen Xers and 6% of baby boomers).
More than half hope to attend a live game
As mentioned above, live games are a special splurge for many. From a generational perspective, Gen Zers (64%) and millennials (56%) were most likely to say they planned on going to a live game.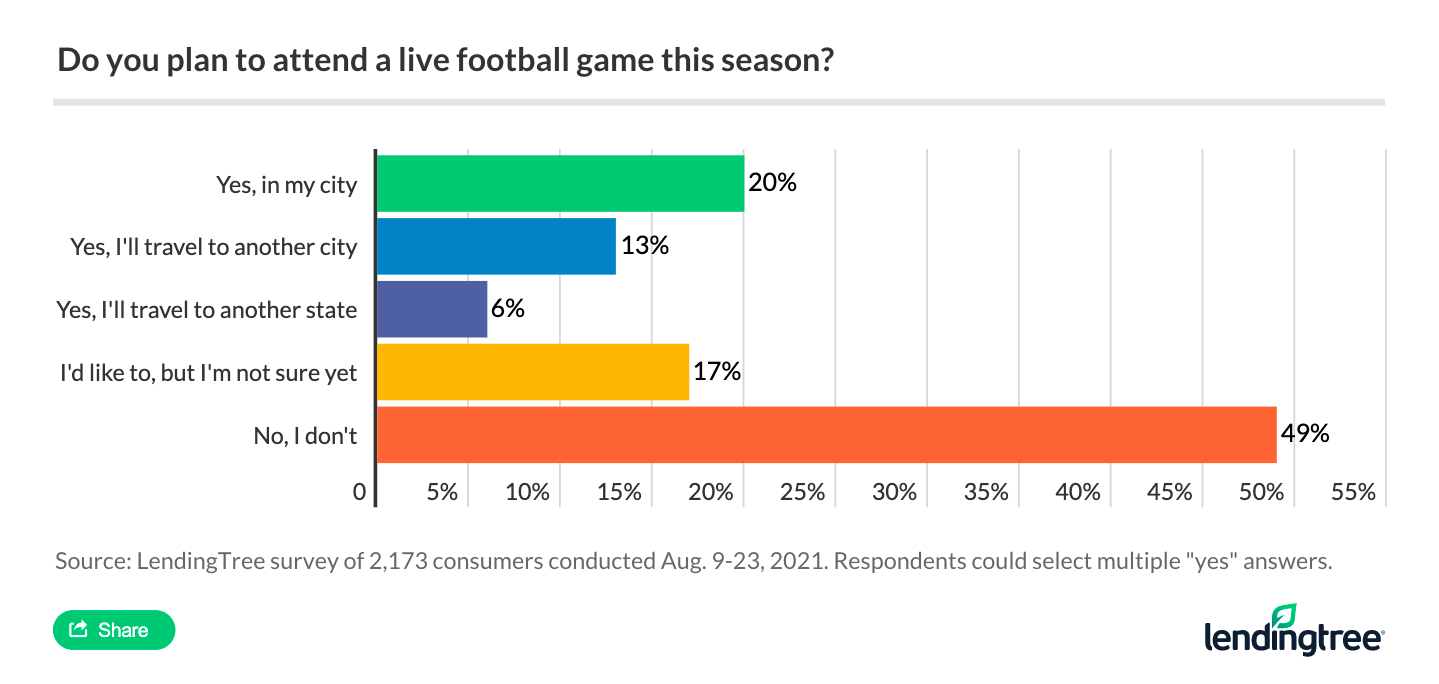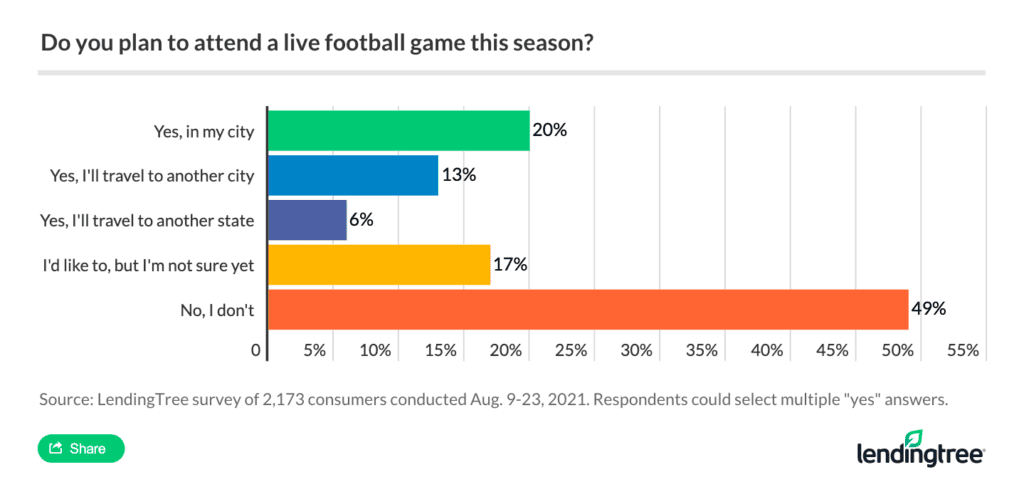 "People are absolutely desperate to get back to doing the things they love, and there are few things Americans love more than football," says Matt Schulz, chief credit analyst for LendingTree. "I do think that game attendance may vary widely by region, though. For example, stadiums in the South may be packed like it is 2019, while those in other areas might be a bit more sparsely populated."
A quarter of consumers expect to go into football-related debt
For most (84%), football-related spending has not yet led to credit card debt. However, going into debt for these expenses was more common among younger Americans as well as those who identified as "definite" football fans.
We asked how likely respondents were to go into credit card debt because of their football spending this season, and about a quarter said they were at least somewhat likely: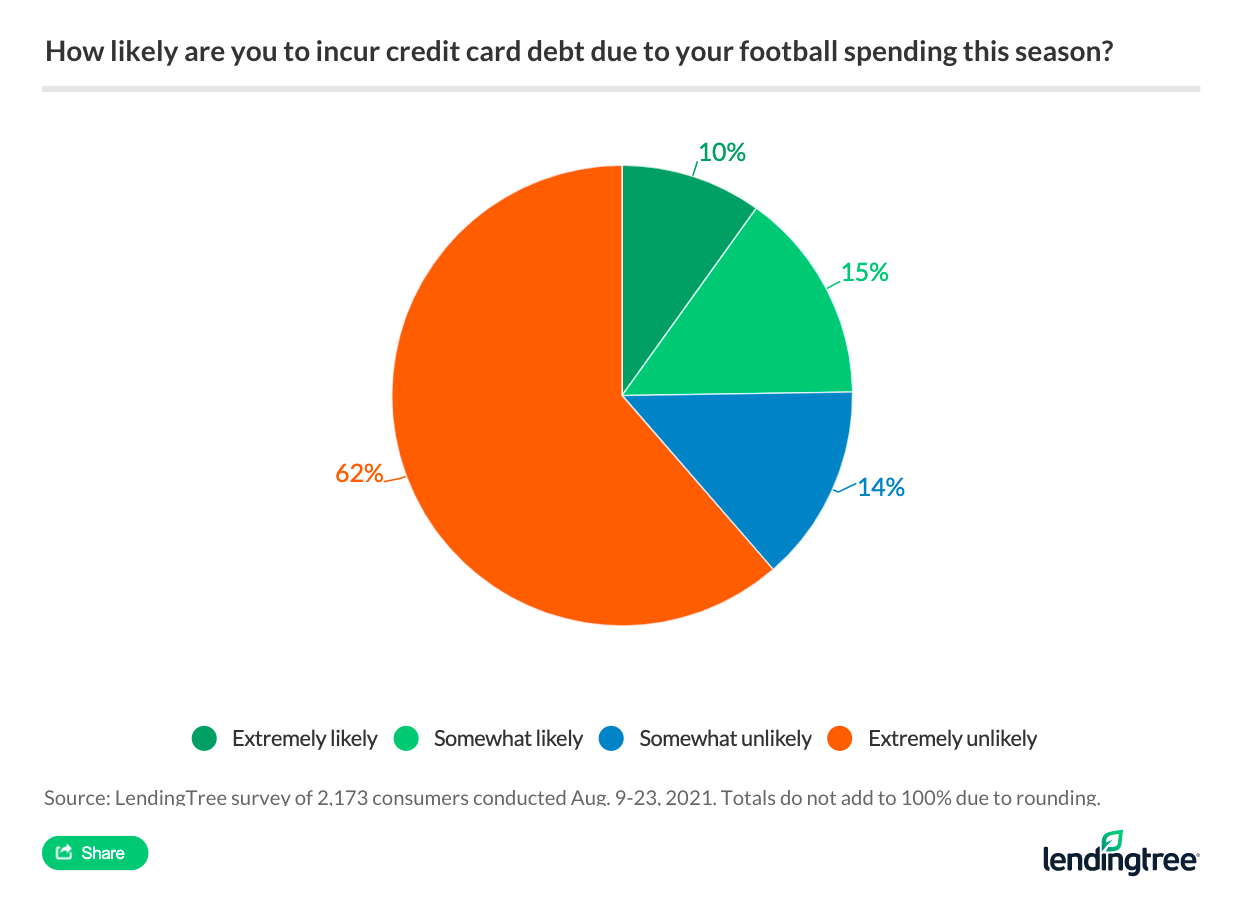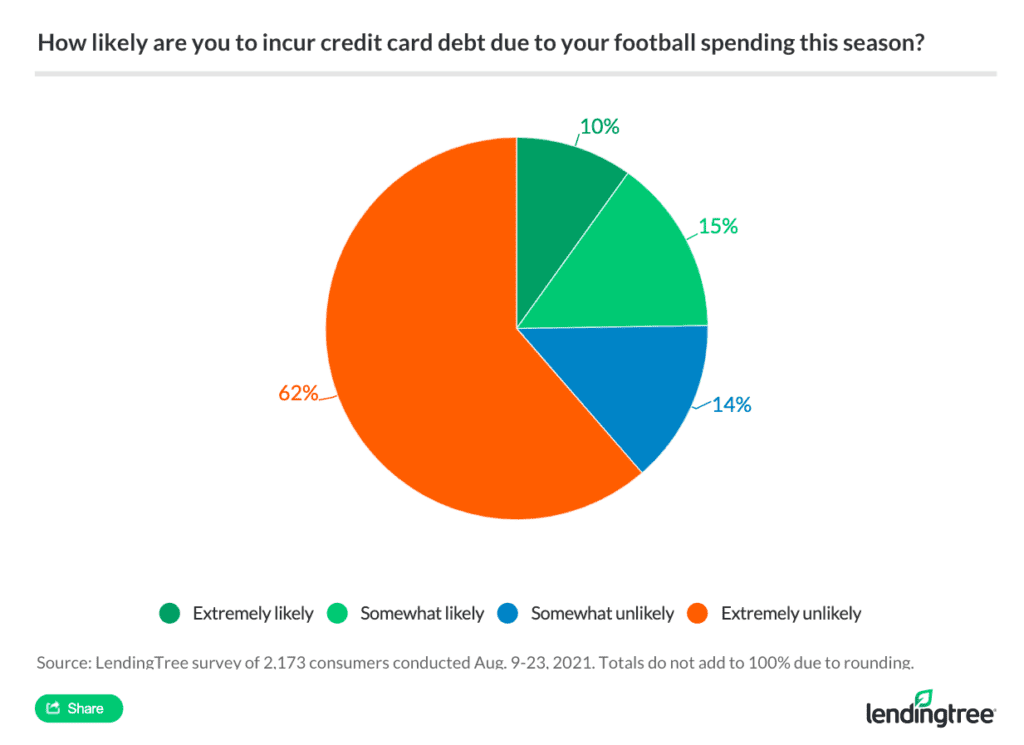 Football-related expenses seem to be where some Americans are willing to go into debt. Unsurprisingly, avid fans (38%) were more likely to say they were at least somewhat likely to go into credit card debt to pay for football-related charges this season than casual fans or those who didn't identify as fans at all.
Some avid fans say their spending has caused disagreements
While most (82%) say football-related spending hasn't caused an argument with a loved one, there are certain demographics where that's more likely to happen. For example, 22% of men said it had, compared with 15% of women. And almost a third of avid fans said they'd had a football-related argument over money compared with just 17% of casual fans and 4% of non-fans.
5 tips for a budget-friendly football season
If you're planning on funding your football fandom this season, it's important to plan ahead:
Create a football-specific budget: "If football matters to you, and you know you'll be spending a significant amount of money on it this season, go ahead and carve some money out of your budget for it," says Schulz. This may require sacrifices in other areas, but he adds that this is better than going into debt for your love of the game.
Look into a cashback credit card: Getting rewarded for the money you're already planning on spending is one way to save on football-related expenses. Just make sure the cashback credit card you choose will reward you well for these kinds of expenses. For example, many cards offer streaming service credits.
Get creative to save: Take a look at what you're planning on spending this season, and try to come up with cheaper alternatives. For example, you could carpool to games and share parking costs, split an Airbnb or make games at home into a potluck with friends.
Curb football-related gambling expenses: "If you plan to spend a significant amount of money betting on games or playing fantasy football, make a budget for that so you'll better understand just how much you can afford to lose. And of course, if the gambling becomes problematic, please get help. There are many amazing resources out there to help people with their addiction, so take advantage of them," says Schulz.
Look into a balance transfer card: For those who do end up with credit card debt, either from previous seasons or this season, a balance transfer card can help you save on interest payments. That way, you'll have a set period to pay off the balance before the regular interest rate kicks in, saving you money long term.
Methodology
LendingTree commissioned Qualtrics to conduct an online survey of 2,173 U.S. consumers from Aug. 9-23, 2021. The survey was administered using a non-probability-based sample, and quotas were used to ensure the sample base represented the overall population. All responses were reviewed by researchers for quality control.
We defined generations as the following ages in 2021:
Generation Z: 18 to 24
Millennial: 25 to 40
Generation X: 41 to 55
Baby boomer: 56 to 75
While the survey also included consumers from the silent generation (defined as those 76 and older), the sample size was too small to include findings related to that group in the generational breakdowns.