How Does LendingTree Get Paid?
LendingTree is compensated by companies on this site and this compensation may impact how and where offers appear on this site (such as the order). LendingTree does not include all lenders, savings products, or loan options available in the marketplace.
Sports Fans Will Shell Out an Average of $664 This Fall, and 33% May Take On Debt
Updated on:
Content was accurate at the time of publication.
Fall has arrived, and with it comes fall sports. The college football and NFL seasons are underway, with the MLB playoffs just around the corner.
To analyze fan engagement, LendingTree surveyed nearly 1,600 Americans about spending on sports — whether that's merchandise, fantasy sports or betting. But fall sports can also mean something different for many Americans: kids enjoying youth sports activities that can lead to a hefty bill.
Keep reading for valuable insight into how much Americans plan to spend on sports this fall, as fans and as parents.
Key findings
41% of Americans will spend money as sports fans this fall. Top purchases include live game tickets (21%), merchandise (16%) and food, alcohol and/or tailgating (15%).
Sports fans plan to shell out $664, on average, this fall. Spending surges even higher among six-figure earners ($931), Gen Xers ($827) and men ($767).
A third of fall sports fans say they may take on debt this season, rising to 44% of those making less than $35,000 a year and 42% among Gen Zers and millennials.
38% of parents with kids younger than 18 say their child will play on a sports team this fall. This rises to 57% among six-figure earners, compared with 27% among those who make less than $35,000.
59% of parents whose children play fall sports say the cost is a financial strain for their family. Of those whose children are on sports teams for the fall season, about 1 in 5 say their expenses are $1,000 or more.
Game tickets, merchandise and tailgating: How Americans will spend money as sports fans this fall
More than 4 in 10 (41%) Americans plan to spend money as sports fans this fall, with the top purchases being:
Live game tickets (21%)
Merchandise (16%)
Food, alcohol and/or tailgating (15%)
The following graphic provides more insight into how sports fans plan to spend this fall: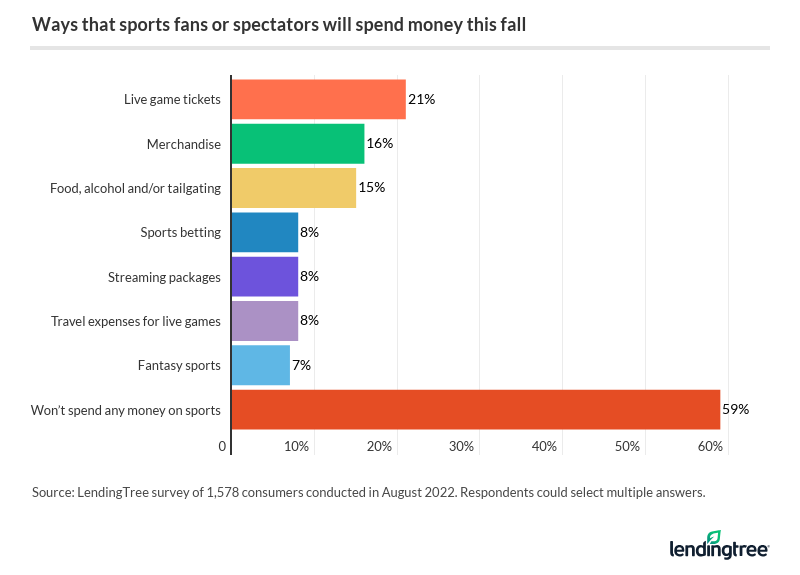 The demographics most likely to spend money on sports as fans or spectators this fall are six-figure earners (57%), men (51%) and millennials (ages 26 to 41) (50%).
One in 4 millennials will spend money on live game tickets — the highest among the generations. Meanwhile, Gen Xers (ages 42 to 56) plan to spend money on food, alcohol and/or tailgating — either in-person or at a watch party — at the highest rate (18%).
Fans' main spending focus will be on football (73%), with basketball (38%) and baseball (26%) falling far behind. Here's a closer look overall: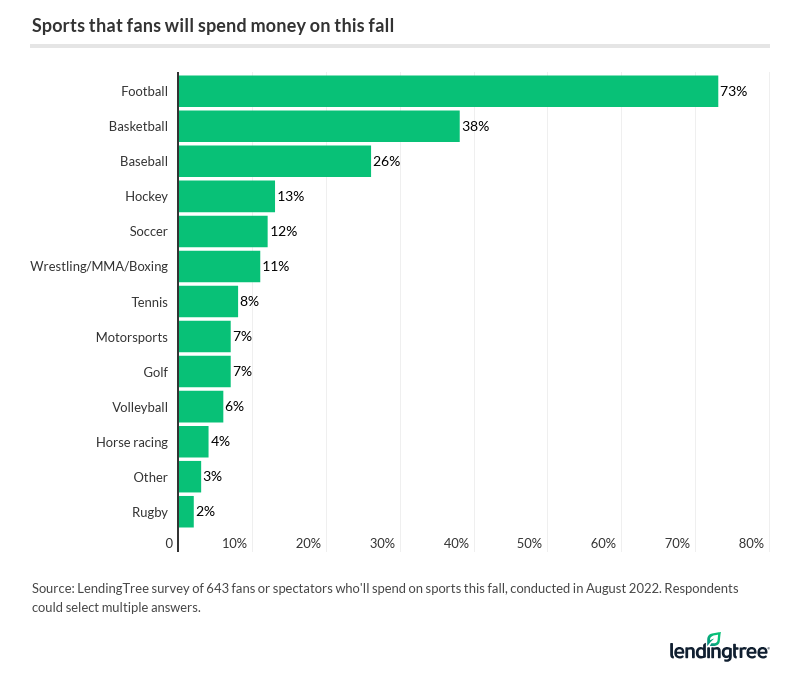 More than 3 in 4 men (77%) say they'll spend on football, versus 67% of women. Meanwhile, 9% of women will spend money on volleyball, triple that of men (3%).
Sports fans will shell out an average of $664 this fall, led by 6-figure earners, Gen Xers and men
Fans aren't afraid of spending on their favorite sports — on average, they plan to spend $664 this fall.
Here's a full breakdown by income and generation:
Those who make $100,000 or more a year: $931
Those who make $75,000 to $99,999: $900
Those who make $50,000 to $74,999: $571
Those who make $35,000 to $49,999: $483
Those who make less than $35,000: $382
Gen Xers: $827
Millennials: $645
Baby boomers (ages 57 to 76): $641
Gen Zers (ages 18 to 25): $464
And here's a look at men versus women: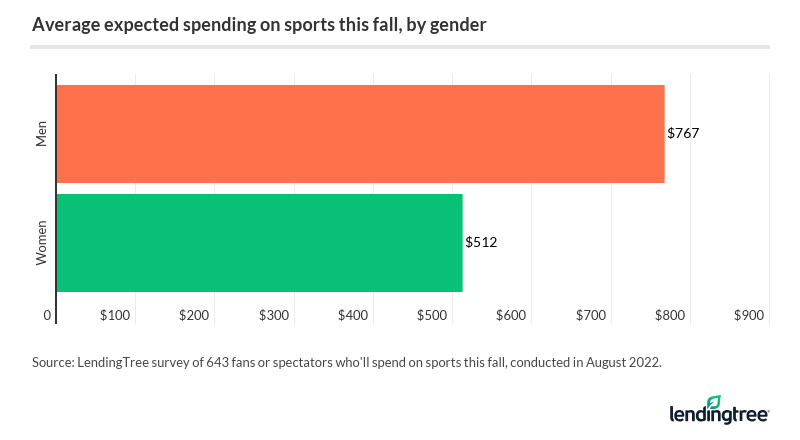 "Americans love, love, love their sports, and we aren't afraid to spend money on it," says Matt Schulz, LendingTree chief credit analyst. "That's true of many different groups of people in this country, at least to some degree, but it's certainly true of wealthier, older men."
For many Americans, Schulz says, sports isn't just about the game. It's an excuse to have a great time with family and friends and bond over a shared experience.
"If having that experience means spending a little bit of money and maybe taking on a little bit of debt, many people are OK with making that trade-off," Schulz says.
1 in 3 sports spenders may take on debt this fall — what are the financial implications?
There are indeed trade-offs, as a third of fall sports fans suspect they may take on debt related to fall sports, with 42% of Gen Zers and millennials admitting to this.
Younger generations have more disposable income to spend on recreation activities, but many are likely to rack up some debt this fall. Schulz says this debt may not be as bad as it sounds.
"As long as it isn't too excessive, entertainment debt can be good debt," Schulz says. "Good debt, to the degree that such a thing exists, is debt that eventually gives you a big return."
We generally think of returns in financial terms, like an investment. But Schulz believes that it could be positive if a little bit of debt allows you to do something that can create lifetime memories with family and friends — just be sure not to overdo it.
Here's the full breakdown of which generations are most likely to take on debt for sports this fall: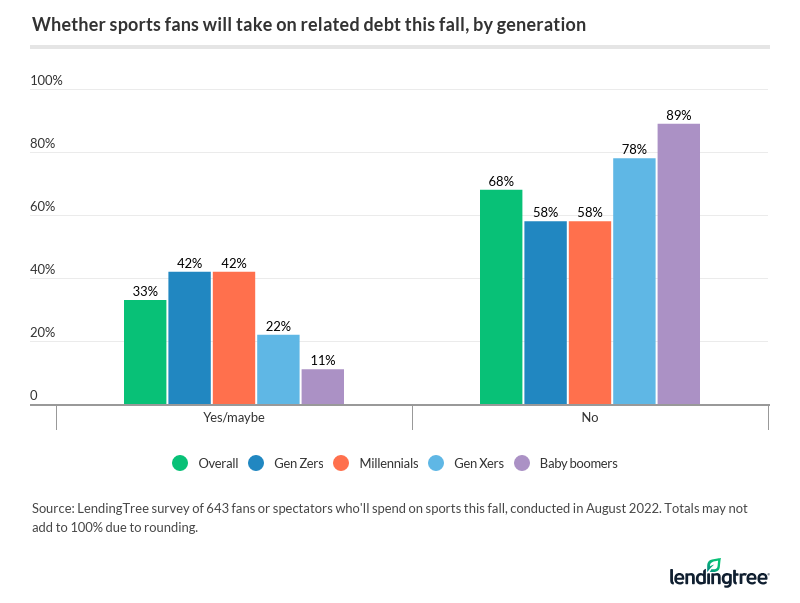 An even higher rate of people who make less than $35,000 — 44% — expect to take on sports-related debt this fall, versus 28% of six-figure earners.
As highlighted in an earlier graphic, 8% of fans expect to bet on sports, while another 7% will spend on fantasy sports. While these figures may seem low, 33% of these sports betters and fantasy players will shell out more than $1,000 this fall — including 3% who estimate they'll spend $3,000 or more.
"Done wisely and in moderation, sports betting can be an amazing, fun thing," Schulz says. "Fantasy football leagues, March Madness brackets, Super Bowl pools and trips to Vegas with family and friends can be fun and lucrative — and create memories that last a lifetime. And the adrenaline rush you feel when you win a sports bet can be powerful."
However, Schulz warns that there's no question about the dangers of sports betting, too. It can ruin lives and — it bears repeating — has to be done in moderation.
How do people plan to pay for expenses like tickets, food, merchandise and betting? More than half (53%) of fall sports fans will use their credit card to pay for related expenses.
The best way to pay for sports entertainment, Schulz says, is to use a credit card to earn rewards, then pay that card off each month in full.
"Life is expensive in 2022, so that's not always possible, but it should always be the goal," Schulz says. "Paying with a card allows you to earn rewards that can stretch your budget and even get you access to some unique experiences and discounts that might only be available to cardholders, while paying the card off in full each month allows you to get all of those things without paying any interest. That's a pretty good deal."
Beyond credit cards, millennial (14%), women (13%) and Gen Z (12%) sports fans are turning to
buy now, pay later
(BNPL) loans at higher rates than their peers.
The other side of fall sports: Kids taking the spotlight
More than a third (38%) of parents with kids younger than 18 plan for at least one child to play a youth sport this fall. Expenses for this — similar to sports spending in general — can rise quickly.
Half of parents (50%) plan to spend $100 to $499 on their children's fall sports expenses, followed by:
$500 to $999 (22%)
$1,000 to $1,999 (14%)
Less than $100 (10%)
$2,000 or more (5%)
With inflation increasing the cost of almost everything, nearly 6 in 10 parents (59%) say youth sports cause financial strain for their family. That breaks down to 48% who say they'll make it work and 11% who'll likely take on debt.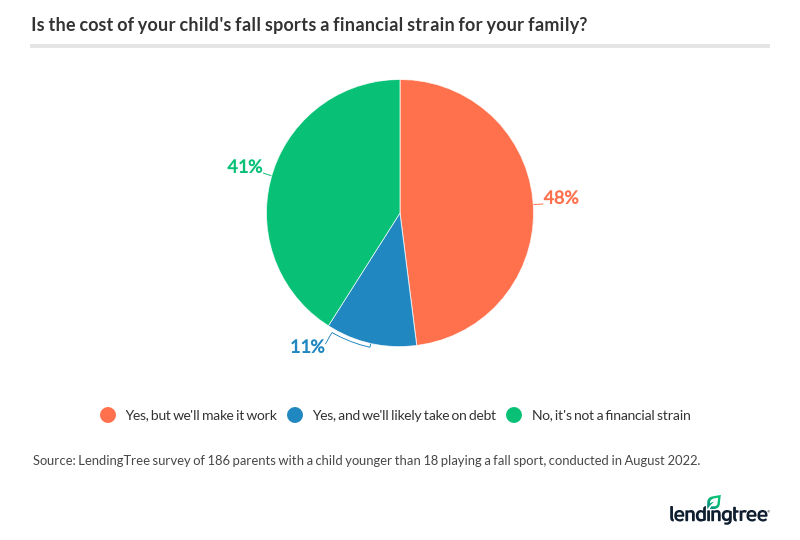 To reduce the costs associated with team sports, 34% of parents with a child on a sports team plan to participate in fundraisers. Other cost-reduction strategies include scholarships (18%), volunteering (11%) and having the child work to help chip in for costs (11%).
How to budget for youth sports
Schulz offers the following on how parents can budget for expensive youth sports costs:
Utilize credit card rewards. As Schulz explained earlier, you can use a rewards credit card to earn valuable benefits (such as cash back) that can help offset the cost of youth sports. Remember to have a plan to pay off your balance in full each month, as interest charges outweigh rewards benefits.
Get thrifty. Last year's equipment can sometimes be perfectly fine to use. Hand-me-downs and used equipment bought online or at consignment stores can help keep down costs, too.
Volunteer. There are no guarantees, but it's worth asking if an organization might be willing to reduce the price of registration or other costs in exchange for volunteering your time. "As a dad who has done a whole lot of volunteering in youth sports over the years, I can tell you it's a great way to create memories," Schulz says.
Communicate. If times are tough, talk about it with your family. As Schulz notes, you don't have to open your books and give them chapter and verse on all your financial worries — still, letting your kids know that the family may need to make some sacrifices is a good idea. It can be a teachable moment for your kids and help them understand the importance of prioritizing your expenses.
Prioritize. "Youth sports can be crazy-expensive, and that sometimes means sacrifices have to be made," Schulz explains. "Sometimes they're small, such as canceling a streaming service for a while. Sometimes they're bigger, such as starting a side hustle or selling something of value. It's about deciding what's important to have your spending reflect that."
Methodology
LendingTree commissioned Qualtrics to conduct an online survey of 1,578 U.S. consumers ages 18 to 76 from Aug. 12-18, 2022. The survey was administered using a nonprobability-based sample, and quotas were used to ensure the sample base represented the overall population. All responses were reviewed by researchers for quality control.
We defined generations as the following ages in 2022:
Generation Z: 18 to 25
Millennial: 26 to 41
Generation X: 42 to 56
Baby boomer: 57 to 76