How Does LendingTree Get Paid?
LendingTree is compensated by companies on this site and this compensation may impact how and where offers appear on this site (such as the order). LendingTree does not include all lenders, savings products, or loan options available in the marketplace.
|
Advertising Disclosure
LendingTree is an advertising-supported comparison service. The site features products from our partners as well as institutions which are not advertising partners. While we make an effort to include the best deals available to the general public, we make no warranty that such information represents all available products. We are compensated by companies on this site and this compensation may impact how and where offers appear on this site (such as the order).
No Shave November: 48% of Americans Think Bearded Men Are Better With Money
Published on: November 9th, 2021
Why use LendingTree?
We are committed to providing accurate content that helps you make informed money decisions. The content on this page has not been reviewed, approved or otherwise endorsed by any credit card issuer. We do maintain partnerships with some issuers, and our site may be compensated through those partnerships. Read our .
As No Shave November and Movember charity events get underway, here's a fun fact: Almost half of Americans think bearded men are better with money than their clean-shaven counterparts.
That's according to a LendingTree survey of more than 2,000 Americans about grooming in honor of this month's tradition of letting mustaches and beards grow to raise awareness of men's health issues.
Then again, the survey also found that guys with beards spend more money on grooming products than non-bearded men – and even women. Check out our other facial hair and financial findings, along with tips on how to avoid getting into a hairy money situation.
Key findings
Nearly half (48%) of Americans think bearded men are better with money compared to those who are clean-shaven. As for men who currently have facial hair, 75% claim they're better with money.
This year, 46% of men will forego shaving and/or grow a mustache in honor of No Shave November and Movember. And the holiday isn't just for men as 24% of women will skip shaving, too.
About 1 in 6 men say they've argued with a significant other about their facial hair (or lack thereof). Beard bickering is more common among men who prefer facial hair versus those who are clean-shaven (19% versus 14%).
Men spend more money on grooming products than women, and it's more expensive to have a beard than to be clean-shaven. On average, men spend $42 per month on products like razors and shaving cream, while women spend $39. Men with facial hair spend even more: $49, versus $35 for clean-shaven guys.
Men are into self-care, too. Male respondents indicated they spend money on massages (12%), manicures or pedicures (9%), facials (9%) and waxing (7%). Gen Z and millennial men are especially into these services.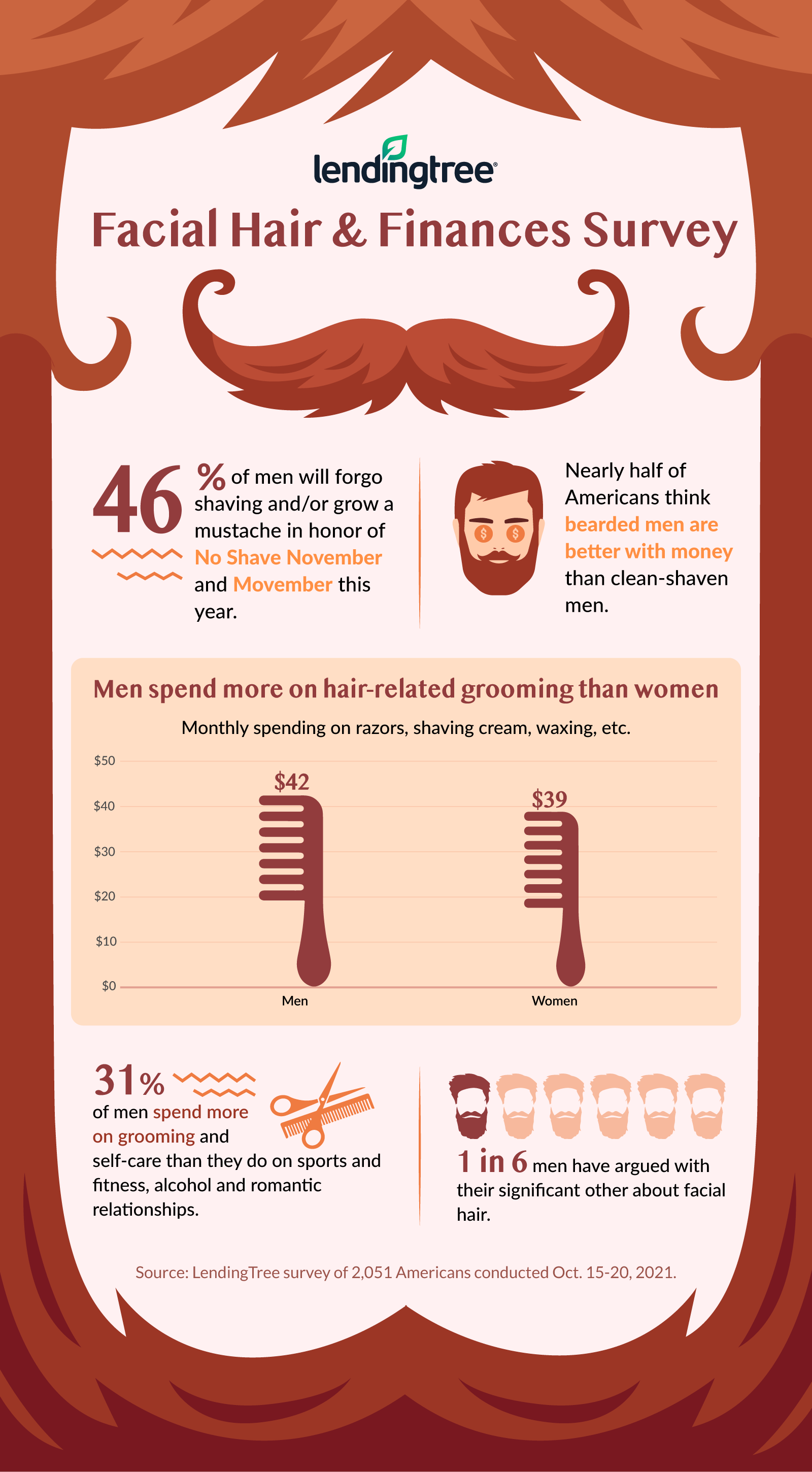 Are finances impacted by facial hair? Nearly half of Americans think so
Like many hot topics, the nation is polarized when it comes to the great beard and money debate, with an almost even split between which group of people are perceived to be better with money.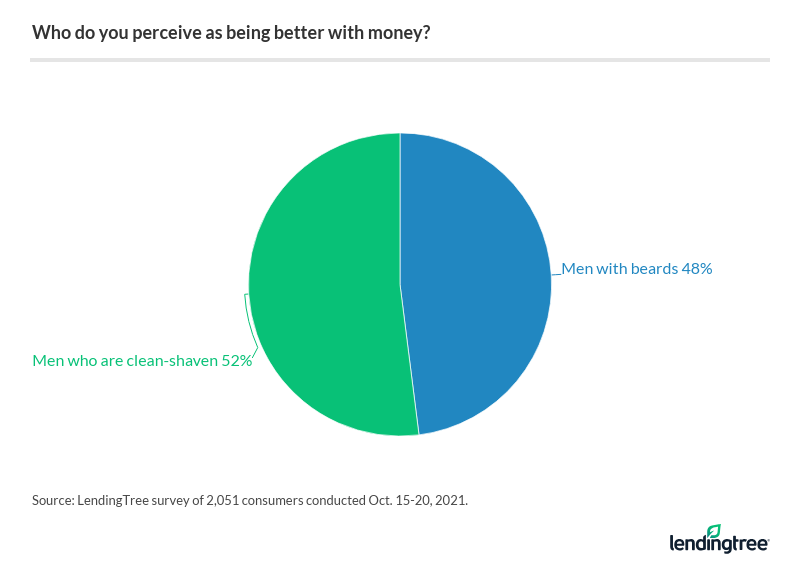 So is it a money myth to think facial hair has an impact on money savvy, or is there something to it?
"As a clean-shaven money expert, let me just say that we clean-shaven men know just as much about money as our bearded counterparts," quips Matt Schulz, chief credit analyst at LendingTree.
Seriously though, Schulz says he's not surprised to see many people equating facial hair with financial smarts. "For whatever reason, Americans have long seen beards as a sign of wisdom and gravitas. Even Uncle Sam has a beard." Not to mention some of the wisest men in literature and pop culture, like Merlin, Gandalf and Obi-Wan Kenobi, have beards, he adds.
While men (47%) and women (49%) had a similar percentage breakdown for this question, perceptions did vary by generation. For instance, Gen Z and millennials were far more likely to say bearded men are better with money (59% said so for each) versus Gen X (43%) and baby boomers (34%).
What's less surprising is that 75% of men who are actually on team facial hair think they are better with money, while only 17% of the clean-shaven crew agreed.
Consumers embrace No Shave November, Movember
Movember is an annual month-long charitable event that encourages participants to grow out their mustaches or commit to running or walking 60 miles, both in an effort to raise awareness and funds for men's health issues such as mental health and suicide prevention, prostate cancer and testicular cancer.
It started back in 2003, and has since exploded. Similarly, the No-Shave November movement launched in 2009, encourages people to ditch their razors altogether, and use the savings on grooming products to make a donation. The organization has raised over $10 million toward cancer prevention, education and research since its inception.
More than 4 in 10 men plan to participate in one of the movements this month, (25% for No Shave November, and 21% for Movember). The younger the respondent, the more likely they were to take part: 73% of Gen Z, 67% millennials, 48% of Gen X and 24% of baby boomers.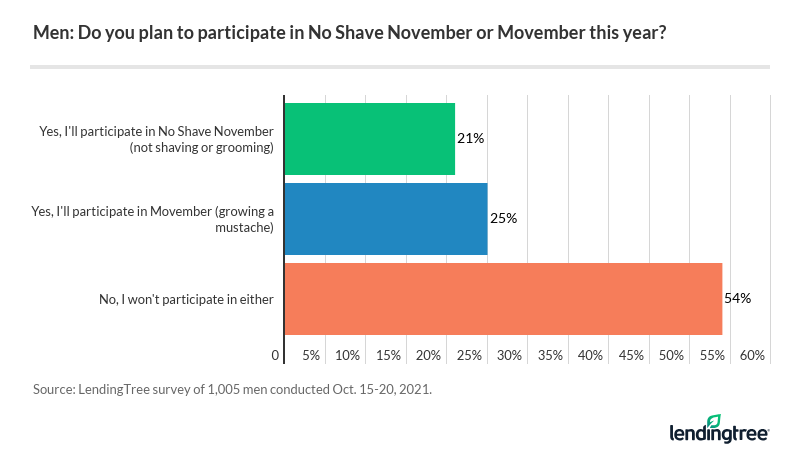 Even some women are joining the movement, with 24% saying they will be participating in No Shave November. Of course, not all spouses are on board with their partners' hair growth for 30 days. Among No Shave November and Movember participants who are married or in a relationship, 11% say their partner is not thrilled about it.
What's more, 16% of men (about 1 in 6) say they have argued with a significant other about their facial hair/lack of facial hair at some point in their relationship. Such grooming quarrels are more common among men who prefer facial hair than those who are clean-shaven (19% versus 14%, respectively).
Men spend big on shaving, grooming and self-care
Men actually spend more on shaving and grooming (i.e. razors, waxing, shaving cream and other grooming products) than women do: $42 per month for the guys compared to $39 for women. The higher spend is mostly driven by men who have beards to manage, however. That group said it spends $49 on average per month versus just $35 spent by clean-shaven guys.
"While you don't have to shave every day with a beard, they do require plenty of maintenance to look their best, and that's not cheap," says Schulz. "Depending on your own personal routine, it might even be something that you'd need to budget for."
The fact is facial grooming can get pricey when you consider the many types of products and services related to the task, but razors come in as the biggest expense.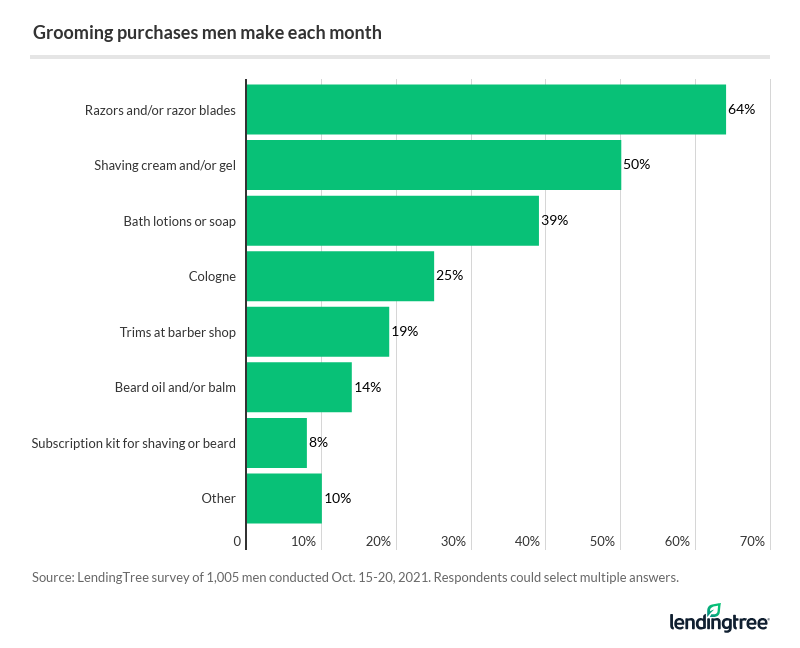 So just how big a financial priority is facial hair? Just over 3 in 10 (31%) of men said they spend more on grooming or self-care than they do on sports and fitness, alcohol and their romantic relationship. For Gen Z, that percentage climbs to 50%.
Spotlight on self-care
Not only are men into trimming and shaping their beards, goatees and mustaches, but they are enjoying a host of other self-care services, too.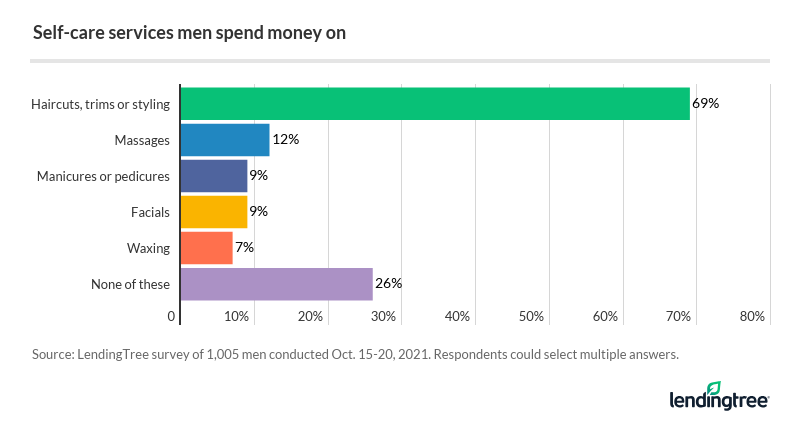 5 easy ways to get better with money — regardless of facial hair
Whether you're on team facial hair or team clean-shaven, the fact is facial hair (probably) does not make you better or worse with money than others. The good news is anyone can benefit from growing their financial knowledge with a few simple steps.
Do some budget grooming
You can't make a meaningful plan for managing your money if you don't know how much money is coming in and going out of your household each month, says Schulz. "Once you know that, you can make decisions about how to go forward, including shaving off some spending on things that are not a priority."
Avoid an unruly credit score
"Few things are more expensive than having crummy credit," says Schulz. He points out that it can cost you thousands of dollars when it comes to interest and fees over the years. What's more, if your credit score drops suddenly, it can be a sign that you are a victim of identity theft. Schulz's advice? "Checking your credit score at least once a month makes a lot of sense."
Trim down high-interest debt like credit cards
Managing a large credit card balance with double-digit interest is kind of like not shaving for a month – it can easily grow out of control. One way to make headway on your balances is to open a balance transfer credit card, which Schulz calls "a godsend" for folks who carry a lot of debt. "Being able to avoid accruing interest on a balance for more than a year can dramatically decrease the cost of paying that balance off as well as the time it takes to do so," he says. After being hard to find in the early days of the pandemic, balance transfer offers are back in a big way, so it's a great time to shop around, he adds.
Find credit cards that grow out your budget
"A simple cashback credit card puts extra money in your pocket each month just for using it, and a new card can do even more," says Schulz. That's because, he explained, many cashback cards come with sign-up bonus offers of $100 or more, money that can really be useful when it comes time to pay the bills (or cover the cost of that high-end shaving kit you've been wanting).
Move away from razor-thin bank balances
The pandemic has clearly shown us the importance of emergency funds and how vital it is to be prepared financially. Even if you're paying down debt, you should still be building your emergency fund simultaneously, says Schulz. Otherwise, you're likely to just fall back into the cycle of debt when an emergency arises. "It may not be easy, and it may keep you from paying that debt off as soon as you'd like, but in the long run, it's the right move," says Schulz.
Methodology
LendingTree commissioned Qualtrics to conduct an online survey of 2,051 U.S. consumers from Oct. 15-20, 2021. The survey was administered using a nonprobability-based sample, and quotas were used to ensure the sample base represented the overall population. All responses were reviewed by researchers for quality control.
We defined generations as the following ages in 2021:
Generation Z: 18 to 24
Millennial: 25 to 40
Generation X: 41 to 55
Baby boomer: 56 to 75
While the survey also included consumers from the silent generation (those 76 and older), the sample size was too small to include findings related to that group in the generational breakdowns.