How Does LendingTree Get Paid?
LendingTree is compensated by companies on this site and this compensation may impact how and where offers appear on this site (such as the order). LendingTree does not include all lenders, savings products, or loan options available in the marketplace.
What Is the Average Credit Score?
Published on: April 3rd, 2019
Editorial Note: The content of this article is based on the author's opinions and recommendations alone. It may not have been reviewed, commissioned or otherwise endorsed by any of our network partners.
Credit scores are on the rise. In April 2018, the national average FICO credit score reached an all-time high of 704, according to FICO, the company behind the credit score most commonly used by lenders. In 2017, the average VantageScore — a credit score developed by the three major credit reporting agencies — was 675, the highest average VantageScore since 2012.
Knowing the average credit score can give you a good sense of how your score stacks up to the rest of the country. The higher your credit score, the better your chances of staying in good financial standing and getting approved for credit cards, mortgages, loans and other credit accounts with lower interest rates and better terms.
What is a credit score?
A credit score is a number that lenders use to evaluate how likely you are to pay your bills on time. Lenders look at this number before deciding whether to approve you for a credit card, mortgage, loan or other type of credit. Your credit score is based on several aspects of your credit history. Many factors can go into determining your score, including your debt, types of accounts, number of late payments and the age of your accounts. There are several types of credit scores, including your FICO Score and your VantageScore.
FICO
FICO Scores range from 300 to 850. The average FICO Score of 704 is considered "good" by most lenders. Here's a breakdown of the FICO Score ranges and what they mean: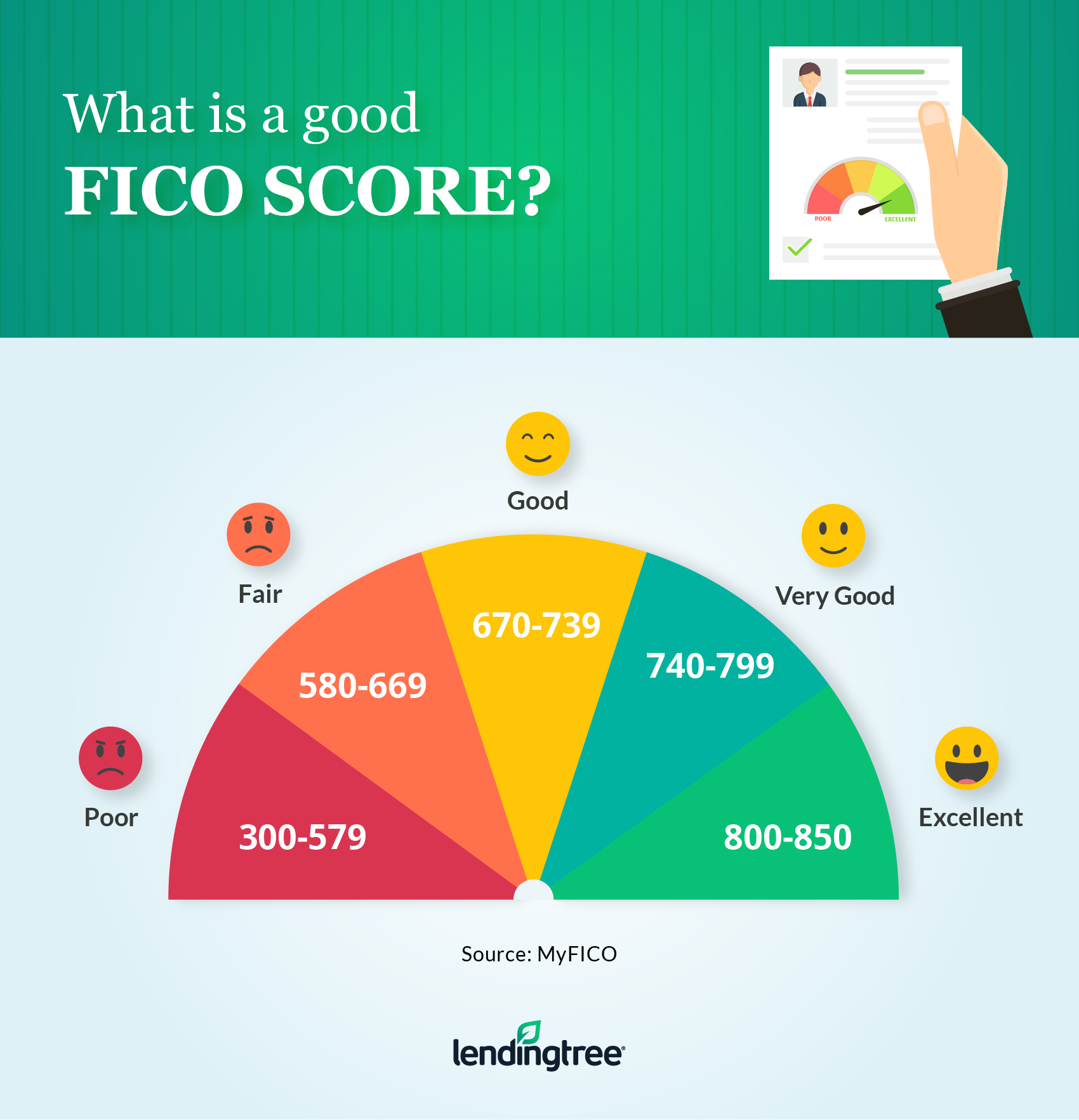 Someone with a FICO Score of 800 or above is considered to have "exceptional" credit.
Consumers with scores that fall between 740 and 799 have "very good" credit.
A score in the range of 670-739 is considered "good."
Consumers with scores between 580 and 669 have a "fair" score.
A score of 579 or lower is considered "poor."
Below is the average FICO Score for each age group, as of April 2018:
Ages 18-29: 659
Ages 30-39: 677
Ages 40-49: 690
Ages 50-59: 713
Ages 60 and over: 747
VantageScore
Like the FICO Score, the VantageScore ranges from 300 to 850. The average VantageScore of 675 can be considered "fair." Here's a breakdown of the VantageScore ranges and what they mean: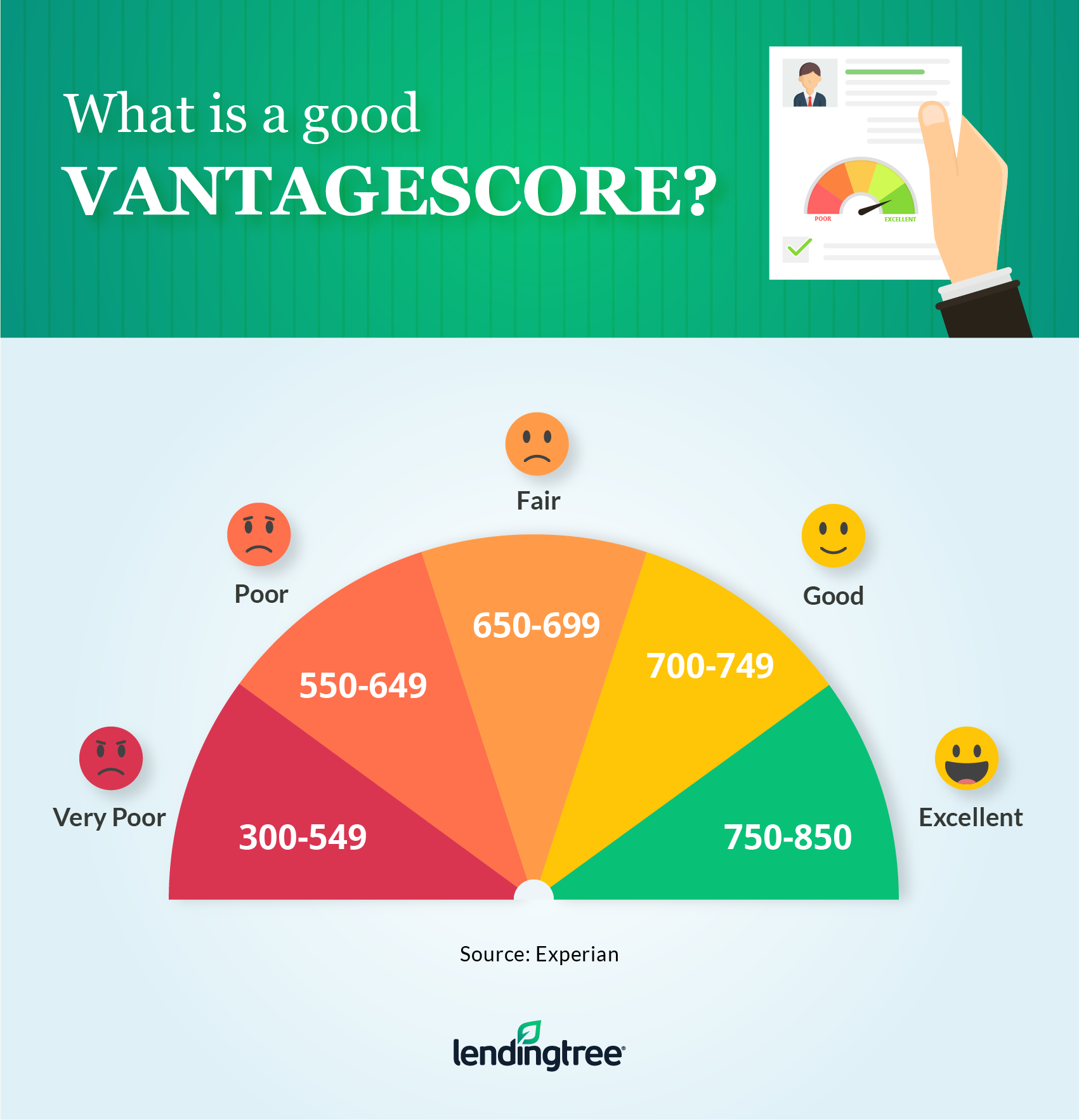 Consumers with VantageScores of 750 to 850 have "excellent" credit.
Consumers in the 700-749 range are considered to have a "good" score.
A score that falls from 650 to 699 is considered "fair."
The range of 550-649 is considered "poor."
A score from 300 to 549 is considered "very poor."
Why credit scores matter
Credit scores are used not only by lenders but also by some landlords when deciding whether to rent you an apartment. A bad credit score can affect your life in more ways than most people realize, just as a strong credit score can greatly increase your financial options.
For the general population, payment history accounts for about 35% of a FICO Score, amounts owed makes up 30%, length of credit history comprises 15%, new credit makes up 10% and credit mix makes up 10%.
Your credit score changes over time. That's why budgeting and setting financial goals like paying down debt can help improve your credit score over the long term. To improve your credit score, it helps to pay bills on time, keep revolving credit account balances low and not go overboard when opening new accounts.
How to check your credit score
You can check your credit score for free by signing up for LendingTree. There are also free credit score tools such as FreeCreditScore.com and CreditWise from Capital One. Many financial institutions, such as Citibank, Wells Fargo, Bank of America and Navy Federal Credit Union, offer free credit scores to customers. Walmart credit card holders can access their credit scores for free.
You can also pay to see your score with one of the three major reporting agencies, and sometimes you will receive extra features, such as credit monitoring.
The bottom line
Keeping an eye on your credit score can play a big part in improving your personal finances. Understanding your score and how it stacks up to other consumers' scores can help you see how you're doing when it comes to managing debt and paying bills on time. If you want to keep your financial options open, check you credit score regularly.
Learn more about your credit score!