How Does LendingTree Get Paid?
LendingTree is compensated by companies on this site and this compensation may impact how and where offers appear on this site (such as the order). LendingTree does not include all lenders, savings products, or loan options available in the marketplace.
57% of Workers Considering Looking for a New Job, With Only 51% Earning More Than a Year Ago
Updated on: September 18th, 2023
Editorial Note: The content of this article is based on the author's opinions and recommendations alone. It may not have been reviewed, commissioned or otherwise endorsed by any of our network partners.
Inflation has risen sharply over the last three years — however, many Americans' salaries haven't, and that's pushed workers to look for new jobs. Per a recent LendingTree survey of 2,050 Americans, 57% of workers are either actively hunting for their next roles or thinking about doing so in the near future. In spite of inflationary pressures, 49% of Americans haven't seen their salary rise over the past year.
Key findings
Prices may be on the rise, but many Americans' salaries aren't keeping up. Salary is the most important job factor for 78% of workers, but only half (51%) are earning more than a year ago. Another 15% saw their incomes decrease. Amid a changing and uncertain economy, just 43% of workers feel very secure in their jobs, and 26% have concerns about their employers' financial stability.
Amid feelings of job instability, many are looking to move to a new role. 57% of workers are on the job hunt or plan to start looking in the near future. Among those looking for a new job opportunity, 41% say they'd prefer to start fresh at a new company, while 33% would be happy with a new role at their employer. When asked why they're job hunting (or considering it), 47% cite salary, 32% want to find advancement opportunities and 28% seek remote-friendly work or a flexible schedule.
As office environments have changed drastically over the past three years, Americans are split on their ideal in-person schedule. About a third of workers (34%) prefer fully in person, while 36% want fully remote and 30% seek hybrid. Among those who want a hybrid schedule, the majority would prefer going in two or three days a week. In addition, 28% of workers say they'd turn down a job offer if they loved the role but it didn't have their ideal in-person/remote ratio.
Salary transparency has the potential to help workers increase their wages, but most don't feel comfortable sharing. 55% of workers feel employees should be more transparent about their salaries. However, just 13% would feel comfortable sharing their salary with co-workers — the ones who could most benefit from transparency. Most would rather share with their spouse (55%), family (49%) or friends (32%).
Just 51% of Americans earning more than a year ago
Unsurprisingly, salary is the most important factor in job satisfaction for most workers: 78% of respondents marked it as such, among other important options like benefits (43%), a flexible work schedule (33%) and remote-friendly work (28%).
In spite of this, only 51% of Americans are earning more money today than a year ago. Worse, 15% are making less.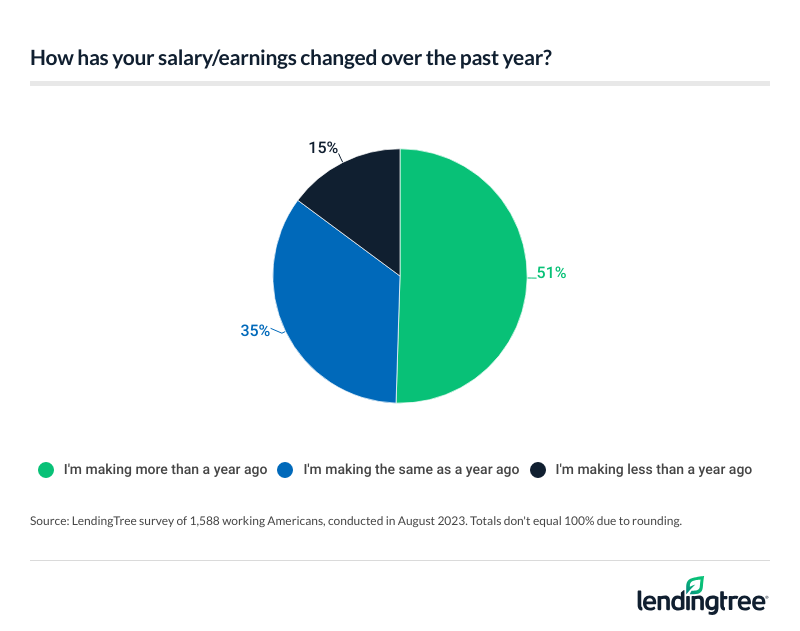 Unfortunately, according to LendingTree chief credit analyst Matt Schulz, such wage stagnancy is to be expected in this economy.
"The truth is that many, many Americans will need to leave their current company to get a raise beyond a simple cost-of-living increase," he says. The biggest salary increases can come when workers switch jobs or companies.
Still, most respondents reported feeling some level of security in their current role, with 43% feeling "very secure" and 28% feeling "somewhat secure." Only 8% reported feeling somewhat or very insecure in their job. Some of that security is owed to an overall faith in employers' financial stability: 74% of respondents say they're not worried about their companies remaining solvent.
29% of workers have changed employers in the past 2 years
Of our 2,050 respondents, about 42% are full-time employees, while 12% work part time and 10% are self-employed or contractors. About a quarter (23%) report being unemployed, which is far higher than the national unemployment rate of 3.8%.
Still, employed respondents haven't been clinging to their positions: Almost 3 in 10, or 29%, of those surveyed say they'd changed employers sometime in the last two years.
It makes sense, then, that only 57% of respondents report feeling "very satisfied" with their job, while 35% are somewhat satisfied and 8% admit they're not very satisfied at all.
"Job satisfaction is a really, really big deal," Schulz says. "If you hate your job, you're not going to stay, and you shouldn't." After all, you probably spend 40 hours a week — or more — in that environment. Spending all that time in a position that doesn't work for you can be harmful to your health.
57% of workers are on the job hunt or plan to start looking in the near future — here's why
Between general dissatisfaction and wages that don't cover the cost of living, a majority of workers are looking into new roles: Nearly a quarter (24%) of respondents say they're currently looking for a new job opportunity, while a third (33%) plan to soon. That means a whopping 57% of employed workers are scouting the job market.
Of these hopefuls, 41% hope to start with a clean slate at a new company, while 33% would choose a different role at their current organization. Another 27% don't have a preference.
It's no surprise that the No. 1 reason these workers are scouting new opportunities is for a higher salary: 47% of total respondents say so, and it was the No. 1 reason for considering a switch across every demographic surveyed. After all, an insufficient income often means a stressful
paycheck-to-paycheck lifestyle
, or trying to figure out ways to
deal with personal debt
.
Of course, salary isn't the only thing workers care about. "There are as many reasons for feeling dissatisfied at a job as there are sands on a beach," Schulz says. Other important factors included opportunities for advancement (32%), a flexible work schedule (28%) and the opportunity to work remotely (28%).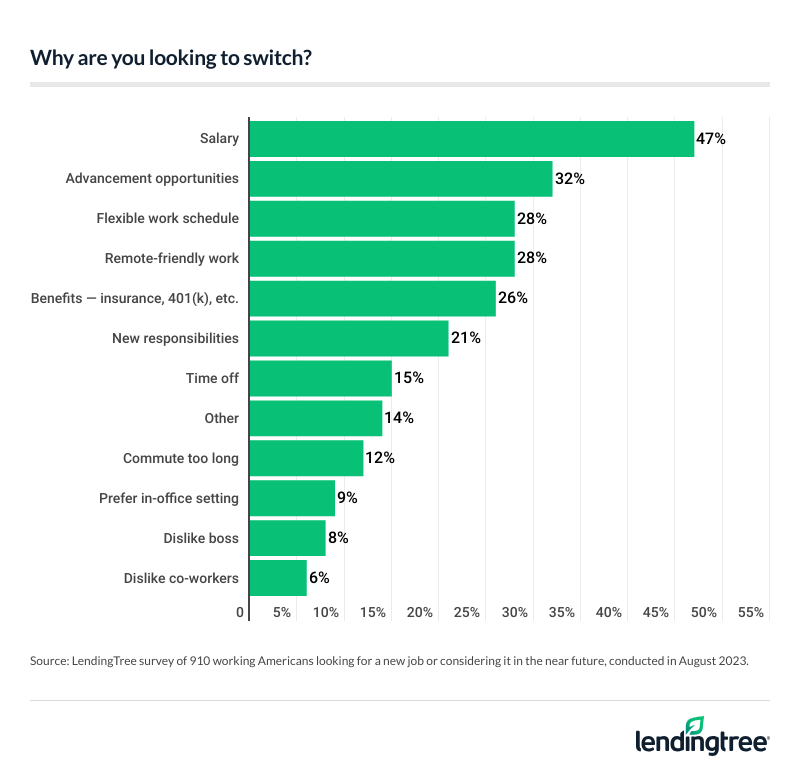 If your problem isn't salary-based, it can sometimes be worthwhile to work through whatever the issue is with coworkers or supervisors.
"Sometimes," Schulz says, "a conversation or two can transform a bad situation."
Workers split on in-person, remote or hybrid work
Not everyone dreams of working from the couch in their pajamas. In fact, according to our survey, workers are pretty evenly split on whether they'd like to work from home all the time (36%), go to the office every day (34%) or strike a balance between the two (30%).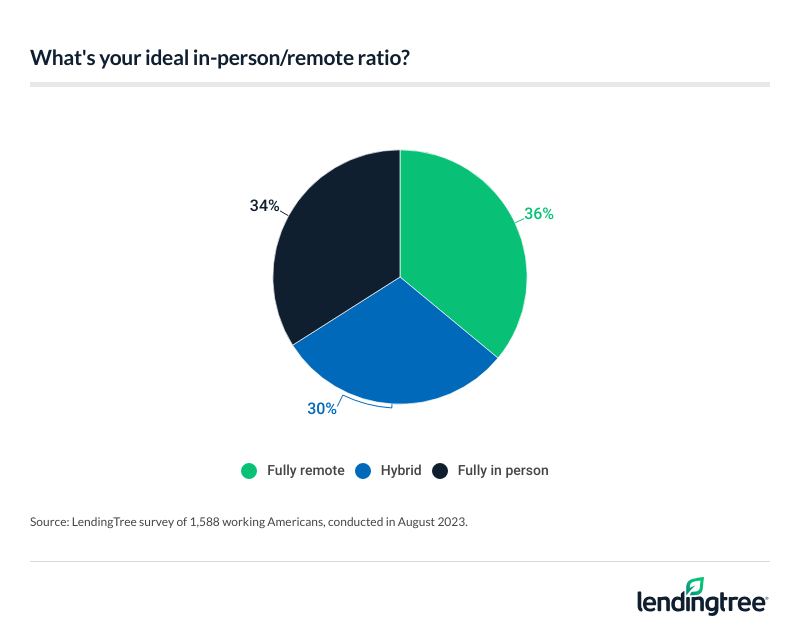 Of those hoping for a hybrid schedule, most (34%) say they'd ideally like to go to the office three days a week. Meanwhile, 31% of the group would like to come in two days a week, 27% would like to come in four days a week, and just 8% want to go to the office once a week to check in.
Still, remote work isn't the most important factor for workers looking for their next roles. Only 28% of respondents said they'd turn down a great job offer if it didn't have their ideal in-person/remote ratio, while 28% say they'd still say yes and 45% say the decision would depend on other factors.
Salary transparency: 3 things to think about
Perhaps surprisingly, respondents are fairly split when it comes to increasing salary transparency: While 55% think workers should be more upfront about what they make, 45% disagree. This split did differ by age, though — 71% of millennial (ages 27 to 42) and 66% of Gen Z (ages 18 to 26) respondents say they thought workers should be more open about their salaries, while less than half of Gen Xers (ages 43 to 58) and just under a third of baby boomers (ages 59 to 77) agree.
And only a fraction of workers (14%) say they'd be comfortable sharing their salaries with just anyone. Even fewer (13%) are comfortable talking turkey with co-workers — the most comfortable salary conversations, respondents say, would be with spouses (55%), family members (49%) and friends (32%).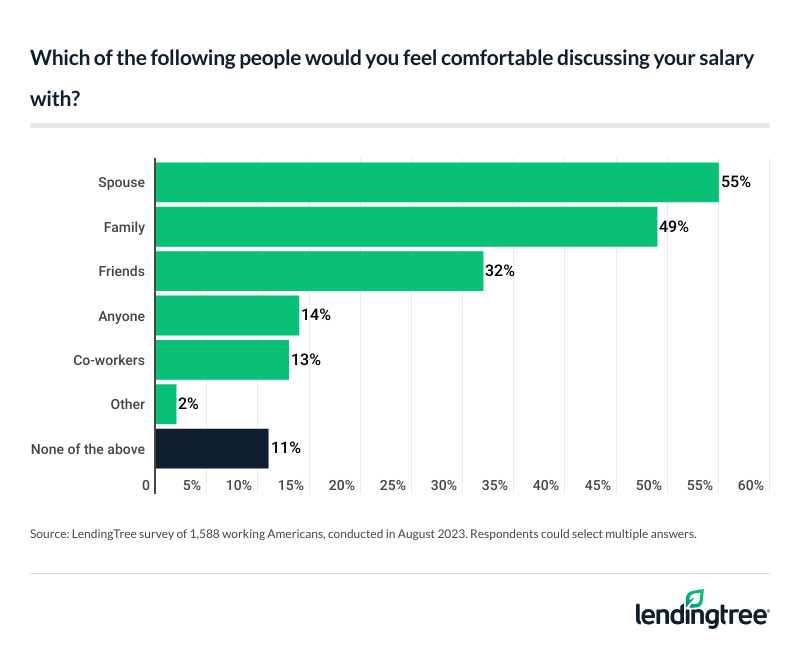 Still, research suggests that salary transparency can lead to positive outcomes for workers and businesses alike, empowering employees to make the best career decisions for themselves and their families while even potentially increasing productivity.
If you're interested in sharing your own salary with your coworkers or others in your industry, here are some things to keep in mind:
Respect others' boundaries. As mentioned above, almost half of workers don't want to be more transparent about their wages — and your own openness might not change that. When broaching these conversations with fellow employees, Schulz advises to "assure them that you'd completely understand if they didn't want to share."
Do your homework. You can find out if you're paid a fair wage for your position by checking the Bureau of Labor Statistics as well as private sites like Indeed and Salary.com. You can also speak with friends in similar roles.
Lean into the discomfort. Although these conversations can be scary and awkward, they can also really help improve peoples' lives and careers. "Salary transparency is generally a good and necessary thing," Schulz says. "Honest, transparent salary conversations help ensure that people aren't taken advantage of just because they aren't confident negotiators or because of how they look, sound or act."
Methodology
LendingTree commissioned QuestionPro to conduct an online survey of 2,050 U.S. consumers ages 18 to 77 from Aug. 1-4, 2023. The survey was administered using a nonprobability-based sample, and quotas were used to ensure the sample base represented the overall population. Researchers reviewed all responses for quality control.
We defined generations as the following ages in 2023:
Generation Z: 18 to 26
Millennial: 27 to 42
Generation X: 43 to 58
Baby boomer: 59 to 77