How Does LendingTree Get Paid?
LendingTree is compensated by companies on this site and this compensation may impact how and where offers appear on this site (such as the order). LendingTree does not include all lenders, savings products, or loan options available in the marketplace.
43% of Americans Have Gone Into Debt Trying to Buy Happiness, While 33% Say Money Makes Them Happier Than Love
Updated on:
Content was accurate at the time of publication.
If money is a means to an end, the desired end for most of us is happiness. However, a large minority of Americans have gone into debt for this pursuit.
In fact, more than 4 in 10 have borrowed their way toward attempts at happiness, according to a LendingTree survey of more than 2,100 consumers nationwide.
And yet, 1 in 3 Americans say money is the means and the ends, bringing them more happiness than even love. Opinions on all money-happiness matters hinged, however, on the income level of respondents.
Key findings
33% of Americans say money makes them happier than love. Men, millennials and six-figure earners are most likely to agree (all 38%).
Nearly 9 in 10 Americans (88%) have spent money on something to make them happier — and 43% have gone into debt to do so. Travel and food are the top items consumers purchase to find happiness (both 45%), followed by shopping sprees for clothes, shoes or accessories (42%).
The majority of those who spent money to make themselves happier say it worked only temporarily (54%). Higher earners are more likely to say it worked completely, while lower earners say it only provided temporary relief.
More than half of Americans (54%) say money has actually caused unhappiness. Unhappiness about money is most common among higher earners.
Consumers with high incomes are more than twice as likely to believe money buys happiness than those who earn less, and many cite the pandemic. Overall, 19% of Americans think money can buy happiness, while 70% agree it can reduce stress.
Love or money? Americans pursue happiness by spending, borrowing
Love or money? One-third (33%) of survey respondents say the latter is more likely to make them happier.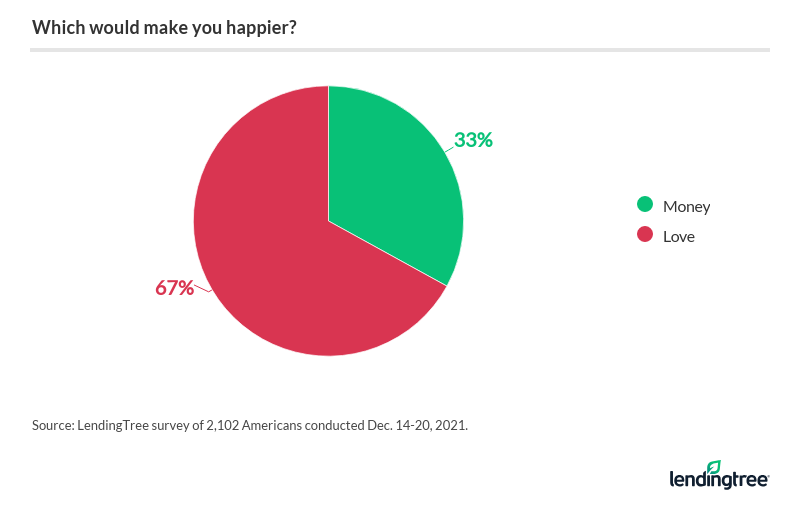 Even greater percentages of men, millennials and six-figure earners (38% each) share this opinion. (Interestingly, the percentage of people who say money would make them happier than love decreases as one's income increases, until you get to six-figure earners.)
Love aside, nearly 90% of Americans have spent money on something to make them happier — and 43% have gone into debt to do so. That tracks with our May 2021 survey, which showed that Americans were ready to borrow as pandemic restrictions were easing.
"I'm actually surprised that the percentage isn't a little higher," says Matt Schulz, LendingTree chief credit analyst, of the 43% figure. "I feel like most people have done that, whether they've overspent on travel, tickets to a ballgame or concert, a gadget or some fancy piece of clothing.
"And honestly, there's nothing wrong with it — as long as you don't go too overboard too often. The experiences, memories and joy that can come with some of these things can last a lifetime and be well worth a little bit of debt."
Each generation has a favorite line item that it believes buys the most happiness:
Gen Zers ages 18 to 24: clothes/shoes/accessories (55%)
Millennials ages 25 to 40: travel (54%)
Gen Xers ages 41 to 55: food/desserts (46%)
Baby boomers ages 56 to 75: travel (40%)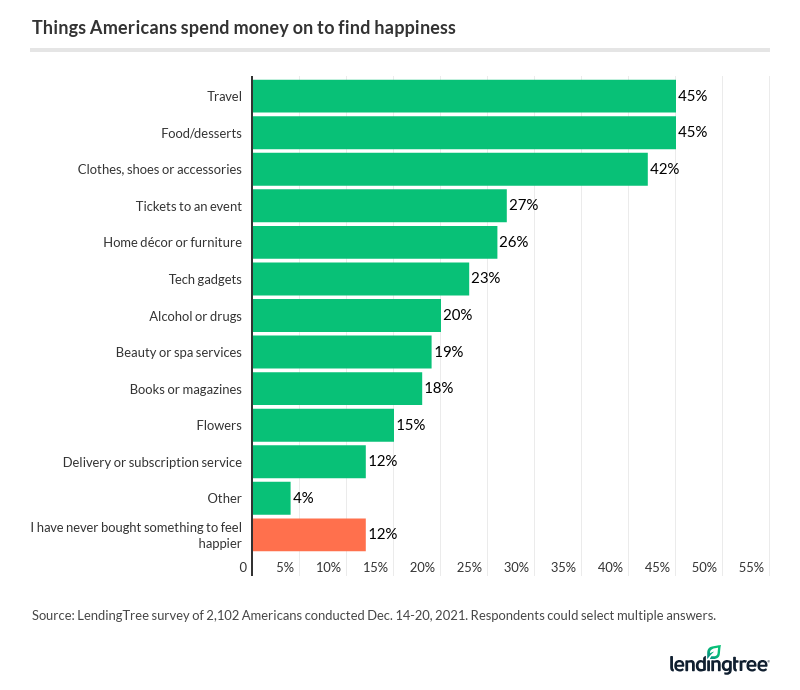 Across all ages, 35% of Americans report that spending money on experiences (such as travel or events) makes them happier than buying material goods (like clothing or tech gadgets). Just 15% say the opposite.
Spending money on happiness doesn't always last, or work at all
Then comes the question of whether spending or borrowing money to be happy works, even for a short period. The answer: More than half of consumers (54%) say their smile-inspired spending only yielded temporary happiness. But results varied widely by income:
65% of six-figure-income earners are more likely to say "happiness spending" worked for the long haul. (With beefier budgets, these consumers theoretically could spend on exceptional experiences or — perhaps — better-made material goods.)
63% of lower-income earners making less than $35,000 a year say their spending only made them happier for a limited time.
Having to borrow could be part of the problem for consumers with less discretionary income. Schulz points to a potential breaking point at which borrowing for a "happiness purchase" could prove wise or unwise.
"Debt that is taken on thoughtfully and planfully and leads to something positive in the future can be great," he says. "It's all about
deciding what your priorities are
and spending according to them. Just make sure that you don't go too wild or do it too often. That's a recipe for trouble."
While spending or borrowing doesn't always lead to long-term happiness, money in general often causes the opposite effect, according to the survey results. A slight majority of respondents (54%) report their money situation has actually caused unhappiness.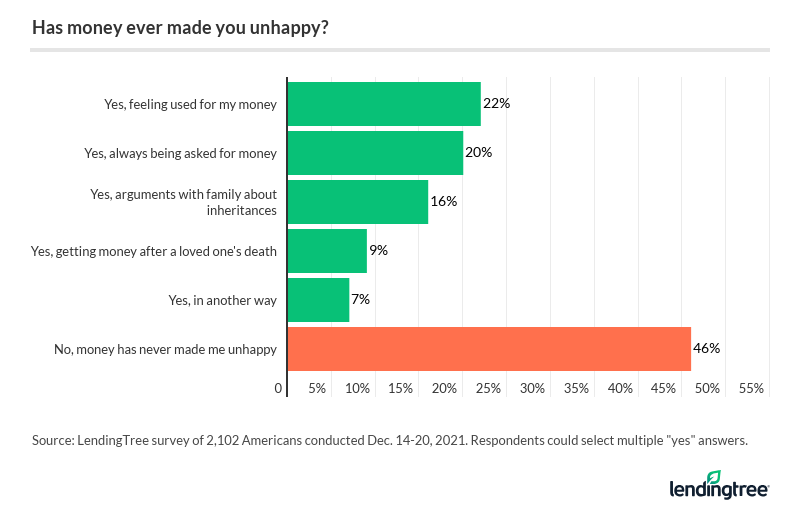 But even higher-income earners aren't immune. Among Americans with at least $100,000 in annual income, arguments over inheritances (27%), requests for money (24%) and feeling used (21%) are among the reasons for their displeasure.
Higher-income earners more likely to believe money buys happiness
Perhaps the survey's most clear-cut finding: The more money you earn, the more likely you are to believe that money buys you happiness. (Having that mindset, after all, might spur you to climb to the highest rung of the career ladder or have a kind of singular focus that prioritizes money over everything else — even love.)
In fact, consumers with six-figure incomes (36%) are more than twice as likely to believe money buys happiness than peers who earn less than $35,000 in annual wages (14%). Overall, about 1 in 5 Americans think money can buy happiness.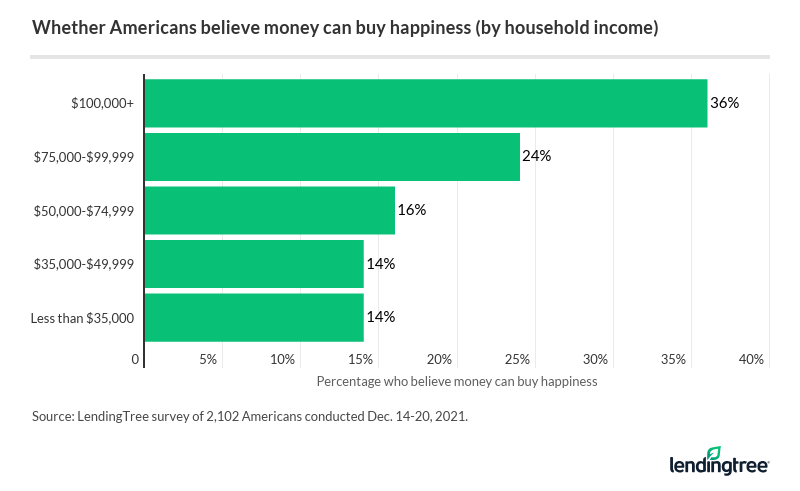 Perhaps pointing to the effects of the long-standing wealth gap in the U.S., consumers with higher incomes also rank themselves as happier across four key areas: location, job, love life and physical appearance. For all four areas, reported happiness increases at each level of income.
In other words, the more money you rake in, the more likely you are to report happiness in every corner of your life.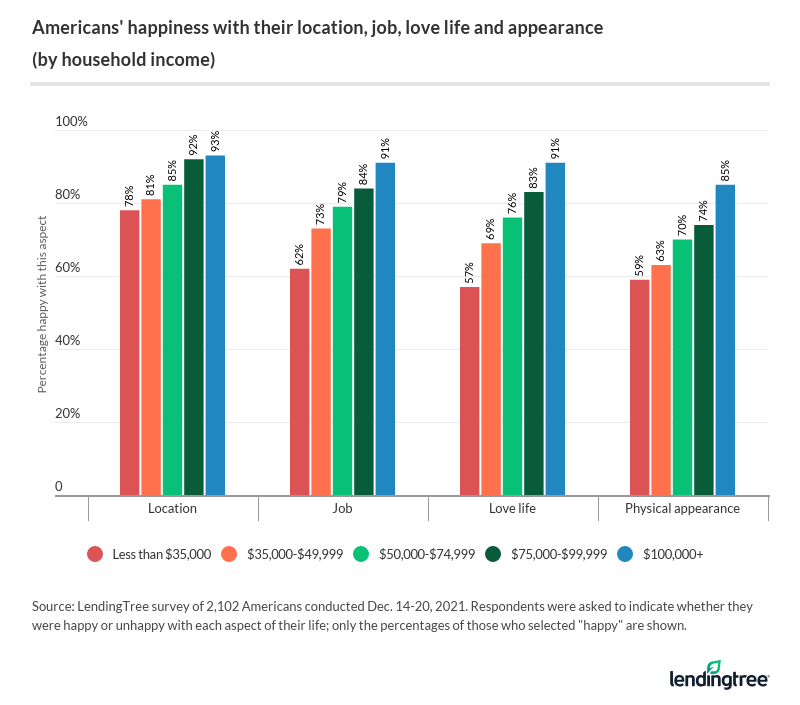 COVID-19 pandemic affects Americans' views on money, happiness
While there's disagreement about whether money can buy happiness — temporarily, long term or at all — 7 in 10 survey respondents agree that having it can at least reduce stress.
In the midst of the coronavirus pandemic and its effect on the U.S. economy, we've seen another example of how money can also buy comfort, as higher-income individuals and families have a far thicker cushion to deal with negative impacts, such as lost wages or burdensome debt. Unsurprisingly then, 18% of survey respondents say the pandemic made them more convinced money can buy happiness. On the other hand, another 12% say the pandemic made them less likely to agree with that statement.
Schulz says the pandemic has clearly caused consumers to consider "splurging on things … to make up for just how crummy the last two years have been."
"It's completely understandable, and it can even be good," he adds. "Small splurges on things that bring us joy can do wonders for our mental health and our outlook. The key is knowing how much is too much. Without that, the thing that you bought to make you happier can end up doing exactly the opposite."
Unfortunately, many survey respondents say they were four figures away from feeling better about their prospects. In fact, 42% say it would take $25,000 or more to reduce their stress. That figure could help to explain why many Americans are resorting to borrowing money in their pursuit of happiness.
"Despite what some experts say,
not all debt is bad
," Schulz says. "That can include things like education and homeownership, but it can also be about less serious things, too. For example, going into some minor short-term debt for a dream vacation can be a good idea; so can splurging on that high-tech exercise equipment that can improve your health."
Even better if you can make that impactful purchase without signing up for credit or loans.
"Budgeting for something is almost always a good idea," Schulz says. "As happy as you'll be with that new splurge, there's a good chance you'll probably be even happier if you can buy it without taking on any debt."
Methodology
LendingTree commissioned Qualtrics to conduct an online survey of 2,102 U.S. consumers from Dec. 14-20, 2021. The survey was administered using a nonprobability-based sample, and quotas were used to ensure the sample base represented the overall population. All responses were reviewed by researchers for quality control.
We defined generations as the following ages in 2021:
Generation Z: 18 to 24
Millennial: 25 to 40
Generation X: 41 to 55
Baby boomer: 56 to 75
While the survey also included consumers from the silent generation (those 76 and older), the sample size was too small to include findings related to that group in the generational breakdowns.