How Does LendingTree Get Paid?
LendingTree is compensated by companies on this site and this compensation may impact how and where offers appear on this site (such as the order). LendingTree does not include all lenders, savings products, or loan options available in the marketplace.
Moms Want Quality Time for Mother's Day, But That's Not What Americans Are Planning to Give Them
Updated on: May 2nd, 2022
Why use LendingTree?
We are committed to providing accurate content that helps you make informed money decisions. Our partners have not commissioned or endorsed this content. Read our .
With Mother's Day around the corner, many people are hunting for the perfect gift. If you haven't shopped yet, the newest LendingTree survey of more than 2,100 U.S. consumers could stop you from making the wrong purchase or give you time to rethink your decision.
We asked consumers what they're planning to give this year, and moms on what they hope to receive. One of the top gifts on mom's list is quality time — even if gift givers are planning other purchases. The free(ish) gift could come in handy, though, considering the pressure to spend on moms can lead to debt.
Keep reading for more findings and insight on how to overcome spending pressure. After all, Mom wouldn't want you to go over budget.
TABLE OF CONTENTS
Key findings
Quality time might be the best Mother's Day gift. Beyond cards, it's the next top item that moms want this year, at 32%. However, just 21% of consumers giving a Mother's Day gift this year will do this. On the other hand, 31% plan to give their mom a gift card, but only 19% of moms want one.
In the same regard, 20% of moms admit they've been disappointed by Mother's Day gifts in the past. In many cases, spending a lot of money doesn't always align with what moms want: 78% of moms don't expect their kids to spend $50 or more on a gift.
But spending (regardless of the shopper) is far higher than that, as Americans will spend an average of $225 on Mother's Day gifts this year, up from $219 last year. Dads will spend the most, at $361, likely because they're buying gifts for their spouses and mothers and because …
Dads say they feel pressured to give their loved ones the perfect Mother's Day. 29% of men with children feel pressured to overspend for the holiday, compared with 19% without children.
On the overspending front, 33% of Americans might take on debt buying Mother's Day gifts — but that's probably not what Mom has in mind. In fact, nearly 40% of consumers say their mom has scolded them for spending too much money on her.
What moms want vs. what they'll get
If you aren't sure where to start shopping for Mom, we did some digging. The good news is that Mom might be easier to please than you think.
The No. 1 gift on her list? A card (36%), followed closely by quality time (32%). If you want to pick up something bright for Mom, the most popular choice is flowers or plants (29%). The experience matters, too, as 25% of moms say they're hoping for a special meal for Mother's Day, which far outweighs the percentage of moms hoping for jewelry (15%).
With nearly 3 in 4 (73%) consumers giving Mother's Day presents this year, what exactly are they planning to gift? Don't look now, Mom. Despite their best intentions, adult children and spouses miss the mark with their gifting plans. Even though 32% of moms are hoping for the gift of quality time together, only 21% of consumers giving a Mother's Day gift this year intend to provide that.
Here's a look at what moms want, versus what consumers intend to give: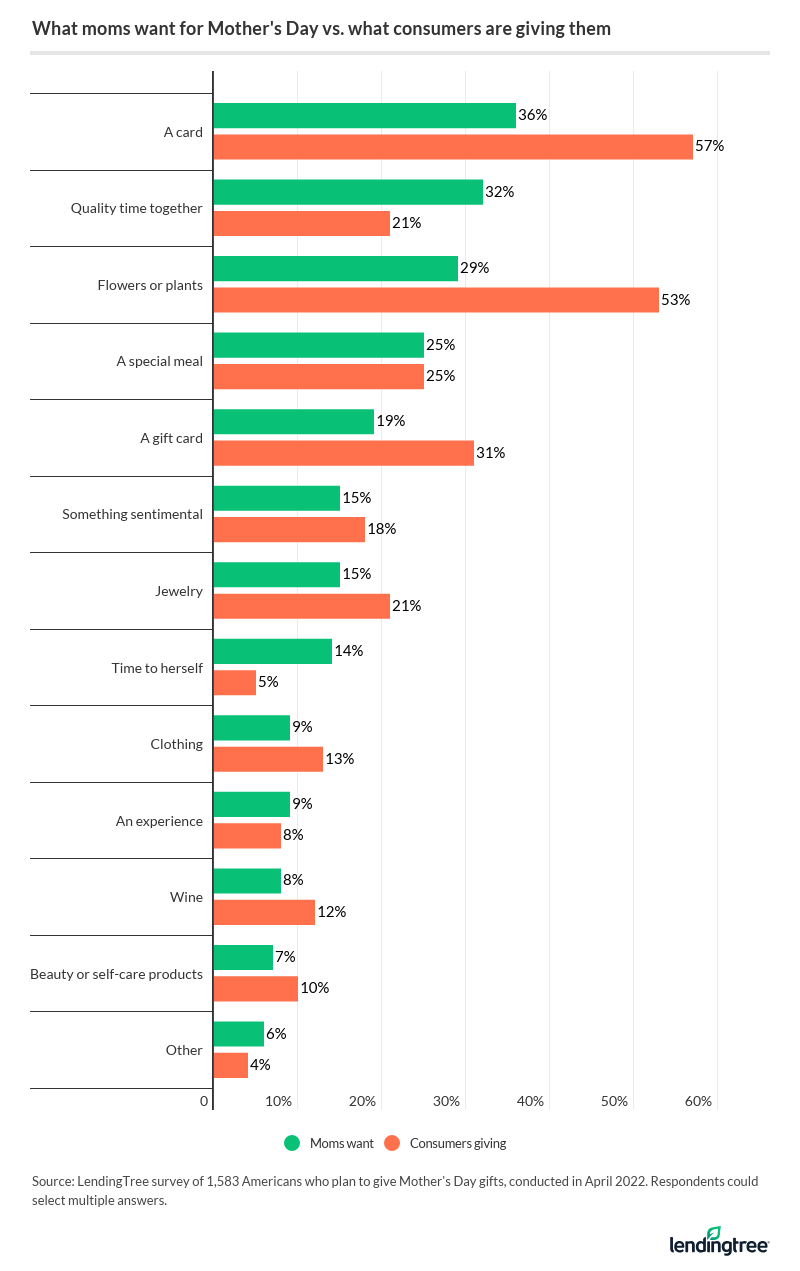 Understandably, Generation Z — who are most likely to be strapped for cash due to their ages (18 to 25) — are most likely to say they'll give their mom the gift of quality time this May, at 30%, followed by:
Millennials (ages 26 to 41): 21%
Generation X (ages 42 to 56): 19%
Baby boomers (ages 57 to 76): 16%
"Though it is a total cliché, it really is often the thought that counts on days like Mother's Day," LendingTree chief credit analyst Matt Schulz says. "Sure, it can be tempting to go flashy and spend too much money on a bunch of gifts, but you don't have to do it that way.
"Quality time can really be about the best gift there is. A thoughtfully planned day of some of Mom's favorite low-cost activities, followed by a special home-cooked meal, can be a wonderful gift. A sweet love note or some other gift that you made yourself can be amazing, too."
About 1 in 5 moms have been disappointed by a Mother's Day gift
It's hard to hit every gift out of the park, but don't worry that the price tag will disappoint Mom. About 1 in 5 moms admits they've been disappointed by Mother's Day gifts in the past, which increases with each household income level. But 78% of moms don't expect their kids to spend $50 or more.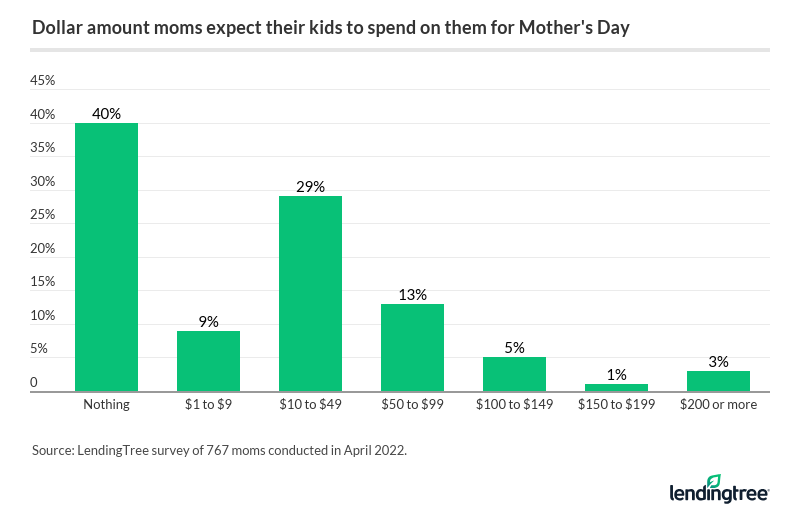 There's another reason to believe Mom would disapprove of budget-breaking gifts, as most Americans feel their mom is a good financial role model. Nearly half (49%) of all respondents "definitely" consider their mom a strong financial role model.
Americans will spend average of $225 on Mother's Day gifts
Men are the big spenders for Mother's Day. While Americans will spend an average of $225 on Mother's Day gifts this year, men ($276) intend to spend more than women ($168). Men who are fathers intend to spend the most ($361), most likely because they have two (or more) people in their life for which to buy gifts, whether that's spouses, mothers, grandmothers, etc.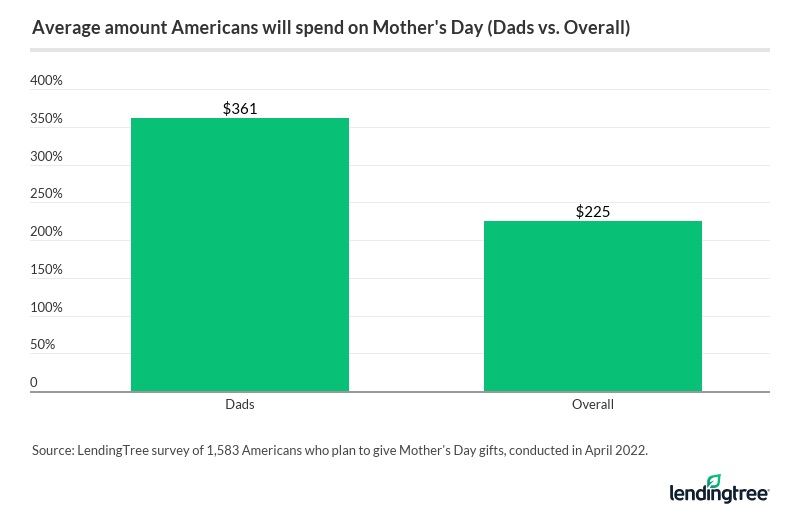 In general, men plan to give Mother's Day gifts more often than women. While only 20% of men say they won't buy a gift this year, 33% of women say the same.
Dads feel pressured to overspend
About 1 in 4 consumers have felt pressured to overspend for Mother's Day, but dads are really feeling it. Almost 3 in 10 (29%) men with children feel pressured to overspend for the holiday, compared with just 19% of men without children.
"People just want to make sure the moms in their life feel loved and appreciated on Mother's Day," Schulz says. "They want them to feel like queens. Moms work so hard, do so much and often get so little thanks that the least we can do is spoil and pamper them on Mother's Day."
Amid tough economic times, Schulz says the pressure can be even higher. As much as we may want to spend a bunch of money on Mom, it may not be possible — and that can bring very real feelings of pressure and guilt.
"I'd wager that quite a few families around the nation are going to wrestle with that this Mother's Day," Schulz says.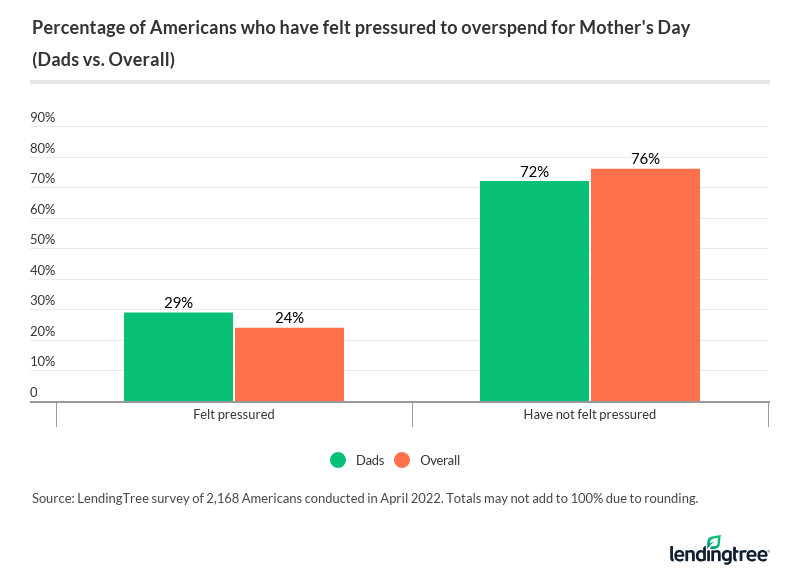 How can you help fight the pressure to overspend? Schulz says communication is key, as with most things in a relationship.
"If times are tough financially, talk about it and let her know that you're planning to do something special for her, though you're having to keep costs down," Schulz says. "Chances are she already knows that your financial situation is a little rockier than it has been and she'll understand. She probably doesn't want you to go into debt any more than you do, but it is still important to have the conversation."
33% of Americans giving Mother's Day gifts will take on debt
One-third (33%) of gift-givers believe they may take on Mother's Day debt this year, with those making $100,000 or more a year being the most likely to take on debt compared to other lower household income groups.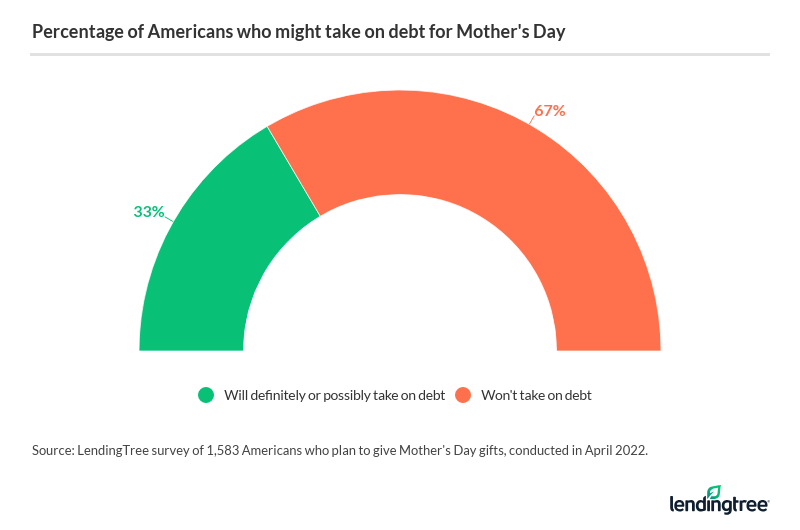 A higher percentage of dads (40%) believe they may take on Mother's Day debt, versus 28% of men without children.
It's safe to say that most moms don't want their kids or spouse to go into debt —
which can damage their credit score
— to buy a present. (In fact, 38% of respondents overall say their mom has scolded them for spending too much money on her).
Schulz agrees that taking on debt to pay for Mother's Day gifts can be bad.
"With inflation going through the roof, it may be harder to avoid taking on a little bit of debt now than in recent years, but you should certainly try," he says.
If you do have to take on some debt this Mother's Day, Schulz recommends at least doing so in moderation.
"As much as you might want to give her that beautiful piece of jewelry or that trip to Hawaii, digging yourself into debt to do so doesn't make a whole lot of sense," Schulz says. "Mother's Day is important, and of course you want the moms in your life to feel as special and loved as possible, but you shouldn't necessarily have to take on a bunch of debt to do so."
For those who plan to buy Mother's Day gifts this year, some are feeling the impact of inflation. In fact, 40% say inflation impacted the gifts they plan to purchase for Mother's Day. This was cited by a higher percentage of Gen Zers (47%) and millennials (44%).
And it's understandable why they may be scaling back. Among the many examples, one of the top gifts Mom wants — flowers and plants — costs 6% more than last year, according to the latest Consumer Price Index from the U.S. Bureau of Labor Statistics.
Methodology
LendingTree commissioned Qualtrics to conduct an online survey of 2,168 U.S. consumers, April 4-8, 2022. The survey was administered using a non-probability-based sample, and quotas were used to ensure the sample base represented the overall population. All responses were reviewed by researchers for quality control.
We defined generations as the following ages in 2022:
Generation Z: 18 to 25
Millennial: 26 to 41
Generation X: 42 to 56
Baby boomer: 57 to 76
While the survey also included consumers from the silent generation (those 77 and older), the sample size was too small to include findings related to that group in the generational breakdowns.