How Does LendingTree Get Paid?
LendingTree is compensated by companies on this site and this compensation may impact how and where offers appear on this site (such as the order). LendingTree does not include all lenders, savings products, or loan options available in the marketplace.
LendingTree Reveals the Cities With the Highest Rates of Denied Mortgage Applications
Published on: April 24th, 2018
Editorial Note: The content of this article is based on the author's opinions and recommendations alone. It may not have been reviewed, commissioned or otherwise endorsed by any of our network partners.
Having a mortgage application denied can be one of the most challenging — and let's face it, embarrassing — experiences that prospective homebuyers can encounter. At a time when home values are rising at a record clip, many Americans can only hope to own a home if they are able to qualify for a mortgage first. They may spend years squirreling away their savings for a down payment only to find out they can't qualify for a conventional mortgage loan.
Since the financial crisis, mortgage lending standards have tightened as underwriting has gotten more stringent. There are numerous reasons why a lender could deny a loan, from poor credit score to prior bankruptcies, but other reasons can include a lender's inability to verify a borrower's employer.
In this analysis, LendingTree delved into data from more than 10 million mortgage applications using the most recent available Home Mortgage Disclosure Act data set to find out the main reasons would-be borrowers were rejected.
"The current housing market is particularly competitive," says LendingTree Chief Mortgage Economist Tendayi Kapfidze, who led the study. "The key for homebuyers is being well-educated on the homebuying process, enabling them to be well-prepared when they enter the market. Understanding the key reasons mortgages are denied can help borrowers avoid missteps and compete effectively to secure their dream home."
Key findings:
Nearly one in 10 borrowers get denied for mortgages. On a national level, 8% of loan applications were denied.
Credit history and debt are the biggest barriers. The leading reasons for denial were credit history (which includes credit score) and debt-to-income ratio, which were each responsible for 26% of denied loans. These were followed by collateral at 17% and incomplete applications at 14%. All other reasons for denial were cited in less than 10% of denied mortgage applications.
Debt is a huge barrier to borrowers living in California. We found three California cities (Los Angeles, San Francisco, San Jose) had the highest share of borrowers who were denied because of their debt-to-income ratio.
Credit history is holding borrowers back in Louisville, Ky., Memphis, Tenn. and Philadelphia. Among failed applications in these three metros, we found the highest rates of denied borrowers due to their credit history.
When we parsed out the data on a more micro scale, looking at the top 50 metro areas, we found a wide range of results.
In some cities, denial rates were as low as 5%, while in others denial rates were as high as 13%.
The metros where borrowers are MOST likely to get denied for a mortgage
Birmingham, Ala.
Denial rate: 13%
Leading cause of denials: The leading cause of rejection in Birmingham is credit history, which was cited in 32% of failed loan applications.
New Orleans
Denial rate: 12%
Leading cause of denials: Credit history and debt-to-income are tied at 26% as the leading causes in New Orleans.
Memphis, Tenn.
Denial rate:12%
Leading cause of denials: Credit history also leads in Memphis at 34%.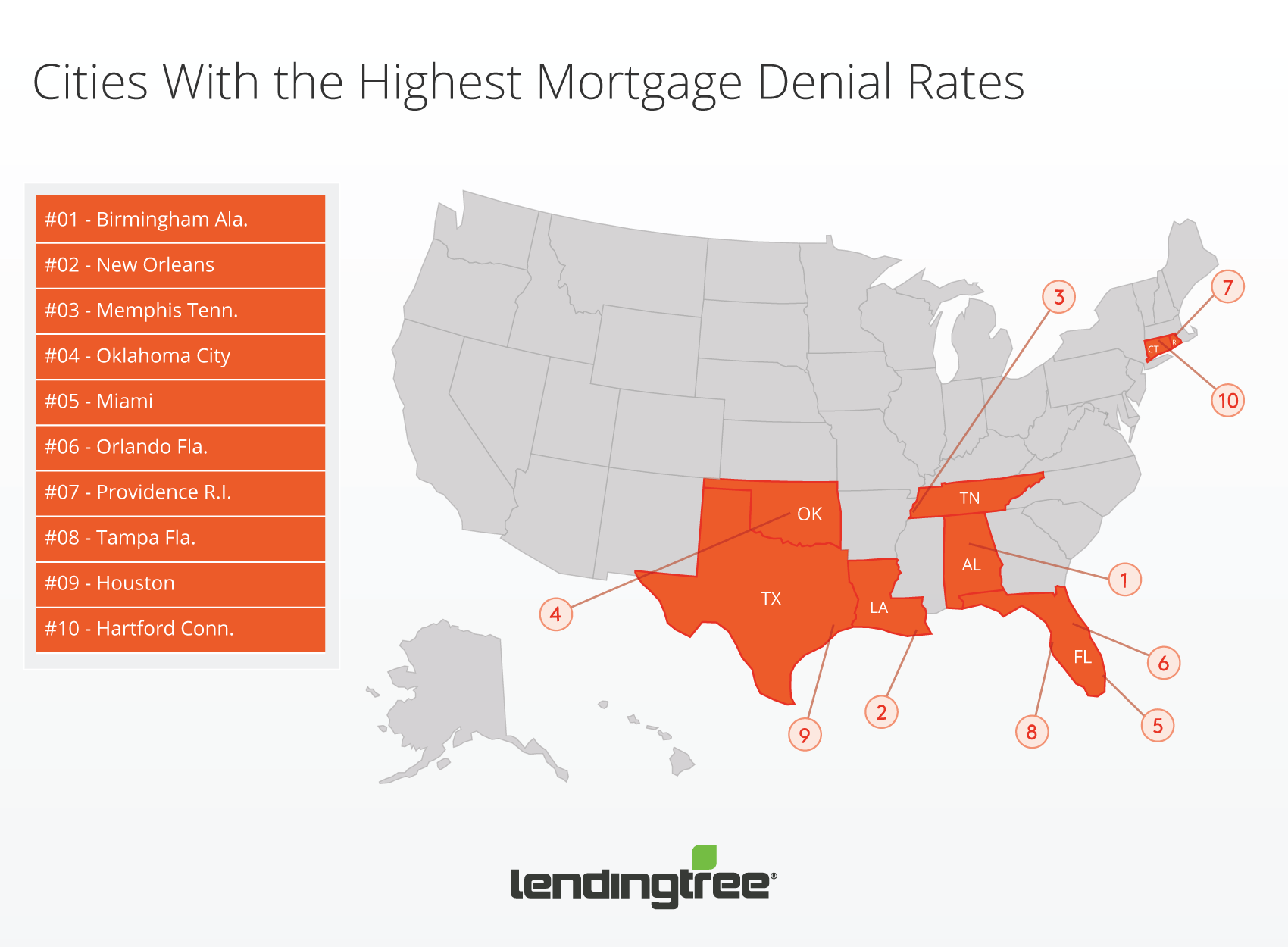 The metros where borrowers are LEAST likely to get denied for a mortgage
San Jose, Calif.
Denial rate: 5%
Leading cause of denials: Debt-to-income is the reason for denial in 34% of rejected applications in San Jose.
Salt Lake City
Denial rate: 5%
Leading cause of denials: Credit history and debt-to-income are tied at 25% as the leading causes in Salt Lake City.
Minneapolis – St. Paul, Minn., Wis.
Denial rate: 5%
Leading cause of denials: Credit history and debt-to-income are tied at 26% as the leading causes in the twin cities.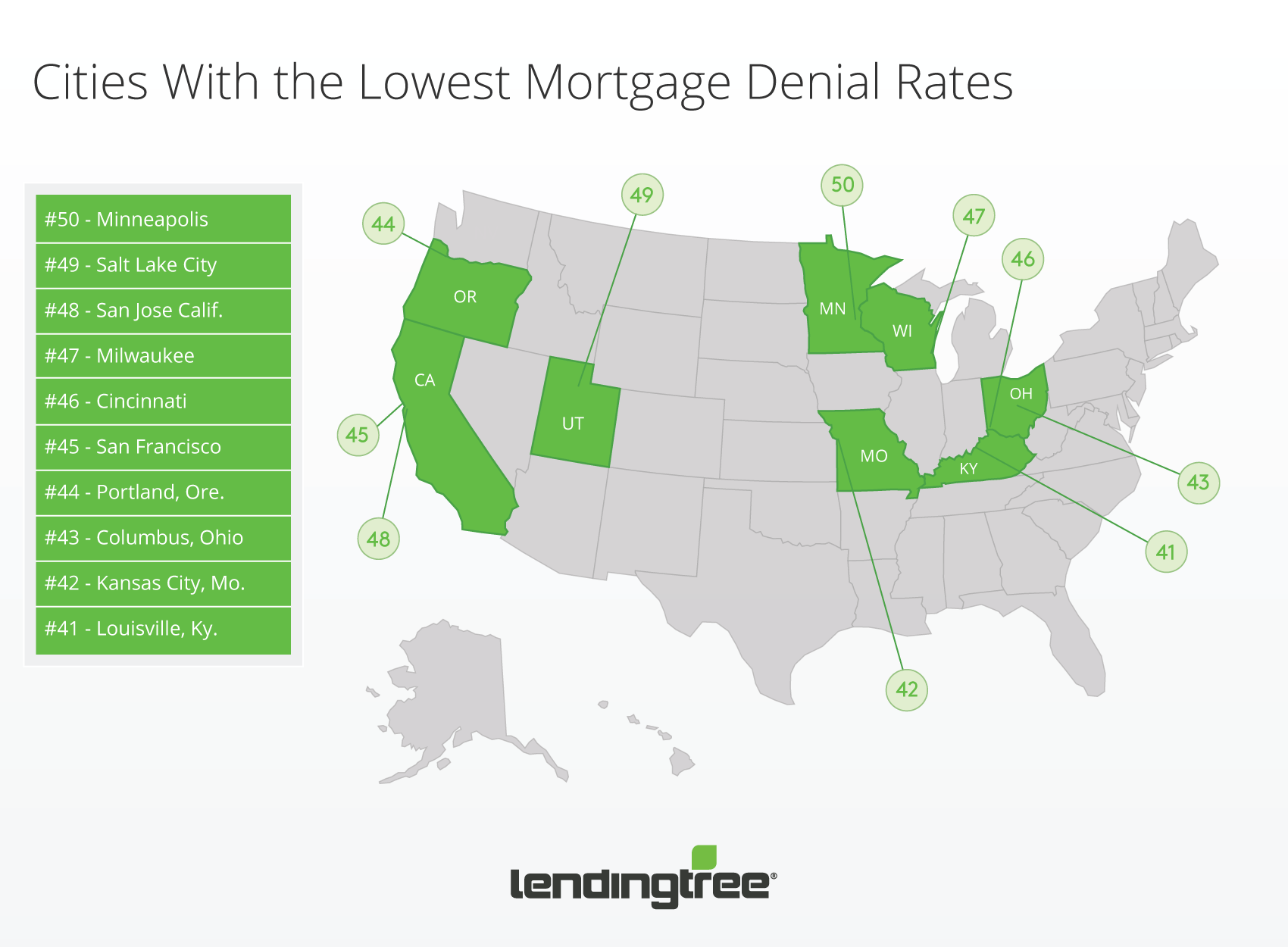 Next, we look at the cities where each denial reason is most prevalent: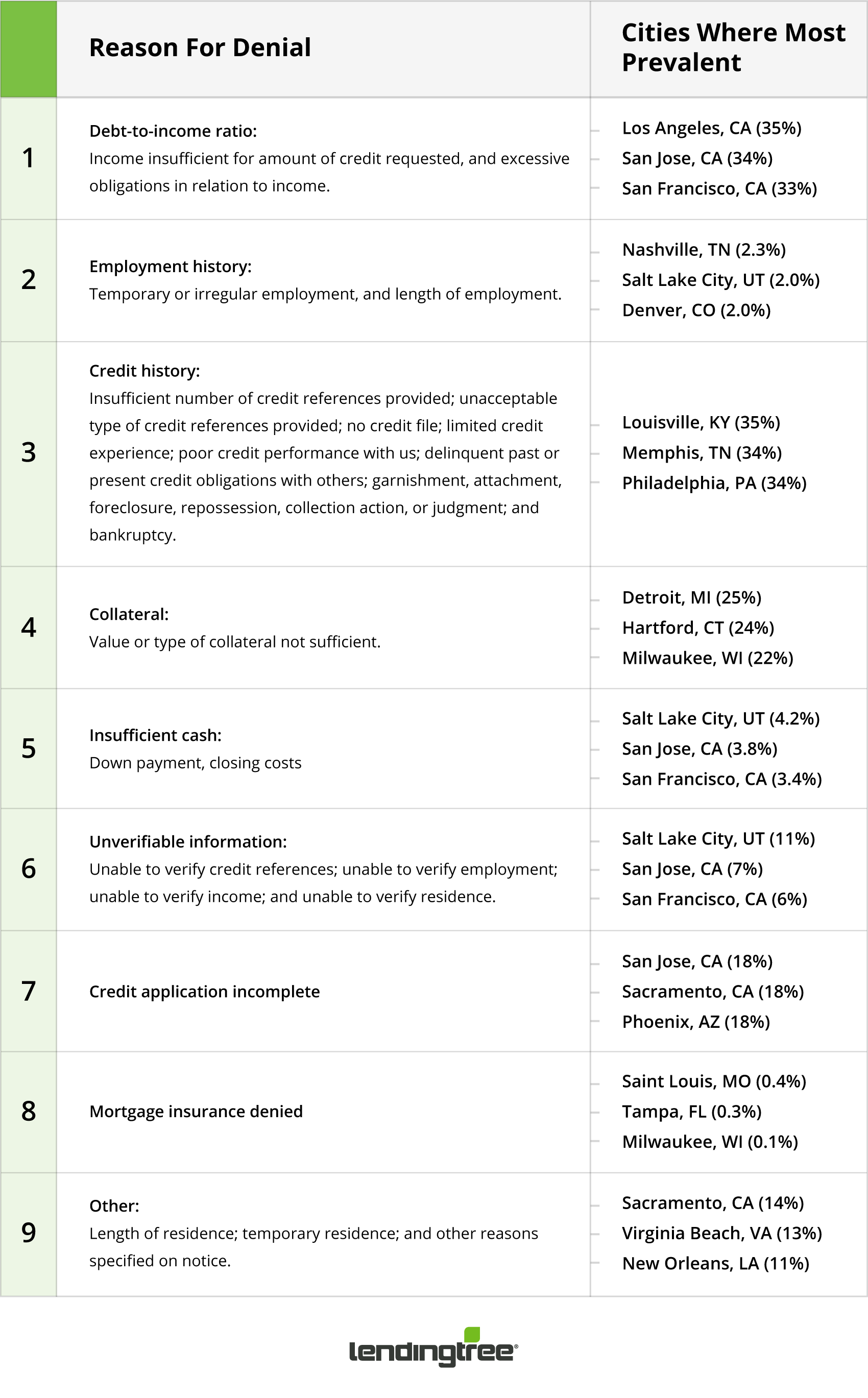 The 5 leading causes of mortgage denials
Here's the share of mortgage application denials that can be attributed to these reasons:
Credit history (which includes credit score): 26%
Debt-to-income ratio: 26%
Collateral: 17%
Incomplete applications: 14%
Other (length of residence, temporary residence): 10%
Collateral: Collateral captures the property appraisal. If the appraisal comes in low, or the house is in bad shape, or in a bad location like a flood plain, that can lead to loan rejection. Other things could be failing the title search where ownership is uncertain or there is a contested lien on the property from another loan or unpaid taxes. This requirement is a challenge in a high-cost city such as Hartford, Conn., and in a lower cost city such as Detroit — two cities that had high rates of borrowers denied based on collateral issues (24% and 25%, respectively). We suspect the collateral challenges in Hartford are likely related to appraisals coming in lower than required for the loan, while in Detroit the condition of the property is likely the challenge.
Debt-to-income ratio: DTI is the share of your monthly debt obligations in relation to your monthly gross income. For a conventional loan, lenders want to see a DTI under 43% in most cases. Expensive cities such as San Jose and San Francisco reflect this, with debt-to-income posing a challenge.
Given the dominance of credit history and debt-to-income as the leading reasons for denial across cities, we thought it would be interesting to look at which factors appeared as disproportionately significant in each city. We calculated the denial reason in each city that was furthest from the national average. These are listed for each city in the table of all 50 cities we looked at below.

Tips to get your mortgage application approved
Credit history: Review your credit report on a monitoring site like LendingTree and ensure it is accurate. Work to address any adverse records before applying for the loan.
Debt-to-income ratio: Don't reach for a loan that stretches your ability to pay. Shop for a lower-priced home if need be, perhaps in a different neighborhood or a smaller house. Work to pay off debt prior to applying for a loan and keep your monthly expenses low.
Collateral: Make sure you have a look at the property and have a trusted home inspector look it over. In a competitive market, some buyers are bidding on unseen homes. You can do this, but just know that if you're using a lender, they are going to eventually do their own appraisal and if it comes in lower than your purchase price, you're either going to get denied for the amount you want or you're going to have to make up the difference in cash. If the lender does not accept the collateral, they likely just saved you from making a bad or overpriced purchase.
Verifiable information: Make sure everything in your application, from your tax records to your employment history, is accurate and you have documentation. Be proactive and gather all the typical documentation you'll need before you apply, so you aren't delayed in closing.
Methodology: LendingTree analyzed over 10 million mortgage application records from the Federal Financial Institutions Examination Council's Home Mortgage Disclosure Act 2017 data set, the most recent available, which includes mortgage applications made during 2016. The data represents mortgage applications from over 6,000 financial institutions. https://www.ffiec.gov/hmda/history.htm