How Does LendingTree Get Paid?
LendingTree is compensated by companies on this site and this compensation may impact how and where offers appear on this site (such as the order). LendingTree does not include all lenders, savings products, or loan options available in the marketplace.
32% of Black Homeowners Believe Their Home's Value Was Unfairly Appraised
Updated on:
Content was accurate at the time of publication.
Black Americans frequently face challenges achieving homeownership, even in areas with large Black populations, according to a 2021 LendingTree study. Those fortunate enough to overcome financial hurdles to become homeowners may face a different obstacle: appraisal discrimination.
The newest LendingTree survey finds that more than 1 in 5 Americans who've had to get a home appraisal — typically to refinance or sell a home — believe the value was too low at least once in their lifetime. And 21% of these current or past homeowners suspect the subpar value was based in part on their race, gender, sexual orientation or religion.
LendingTree surveyed 2,100 consumers, including more than 900 who have commissioned a home appraisal. Researchers asked about their appraisal experiences to learn what steps they took — and what steps they think need to be taken — to overcome concerns about home appraisal discrimination.
Key findings
23% of homeowners think a home appraiser has lowballed them, and Black and LGBTQ+ homeowners are most likely to believe their home's value was unfairly appraised. Of those who've had a home appraisal (or multiple home appraisals), 32% of Black and 31% of LGBTQ+ homeowners believe they were lowballed, compared with 22% of white and heterosexual homeowners.
Nearly three-quarters of those who disagreed with their home's appraised value and got a second opinion and/or submitted a reconsideration of value say the new value was closer to their expectations. Still, more than 1 in 10 Americans don't know you can dispute a home appraiser's opinion if you disagree with the appraised value.
Despite anti-discrimination laws, 58% of Black homeowners who've had a home appraisal believe their race, sexual orientation or another protected demographic was factored into the appraisal. That's compared to just 14% of white consumers and 21% overall. Similar themes are echoed in the LGBTQ+ community at 36%, compared with 20% of straight Americans.
1 in 4 Black homeowners who've ordered a home appraisal worked to conceal their race, or other protected demographic, from the appraiser. Just 11% of white homeowners have done the same.
43% of Americans think home appraisal discrimination laws need to be strengthened. This jumps to 61% among Black consumers, compared with 39% of white respondents.
Nearly 1 in 4 believe they've had an appraised value that was too low
Nearly one-quarter of Americans (23%) who've had a home appraisal tell LendingTree they think the value during at least one appraisal was too low. Black (32%) and LGBTQ+ Americans (31%) are most likely to report this, compared with their white (22%) and straight (22%) counterparts.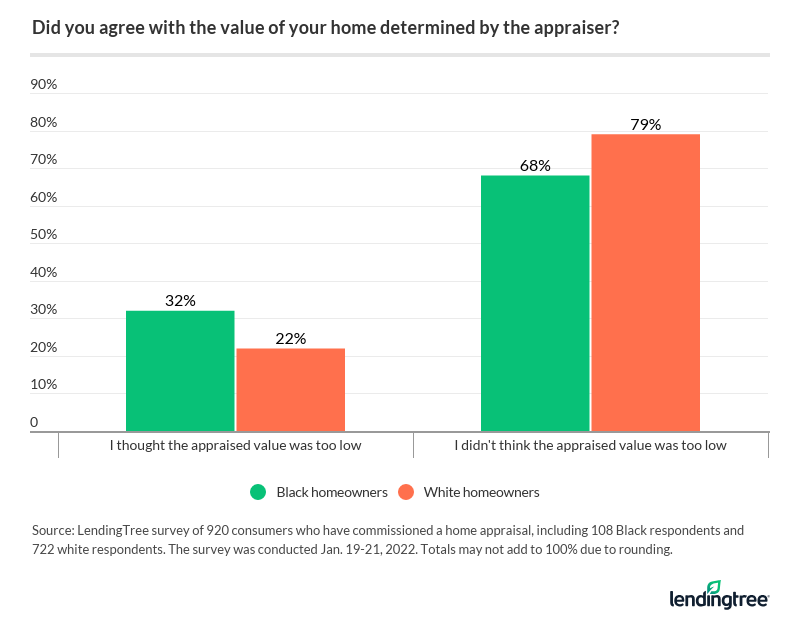 Other groups that report feeling the same — that the value was too low — at higher levels than the national percentage of 23% include:
Northeast residents (25%)
West residents (25%)
Those with a household income of less than $35,000 annually (24%)
Millennials or those ages 26 to 41 (24%)
Women (24%)
As for how much Americans say they were lowballed, the values vary across the board. That being said, the majority cites less than $40,000.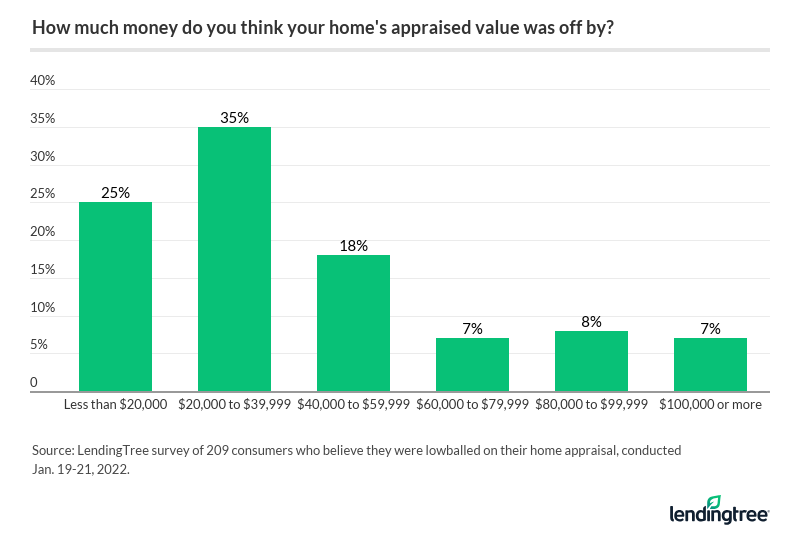 A homeowner's perception of their home's value may vary based on how much similar homes have sold for and how much they've spent on their home, according to Jacob Channel, LendingTree senior economic analyst.
"If you're a homeowner who has put a lot of money into improving your home and you get an appraisal back that isn't much higher than what you paid, or if the house down the street sold for tens of thousands more than what an appraiser thinks your home is worth, then it might seem reasonable to assume your home is being undervalued," Channel says.
Respondents who proactively fought a low value and got a second opinion say they were more likely to get a new value closer to what they expected than one that was lower — 39% versus 15%, respectively. Nearly half of Americans (46%) who thought their value was too low didn't seek a second opinion.
What Americans know about disputing appraisals
Consumers know their rights regarding disputing appraisals. In fact, 89% of those surveyed say they know they can challenge an appraised value — though that leaves 11% who don't.
Homeowners shouldn't hesitate to discuss an appraiser's decision, even if they think the home's worth more than they do, Channel says.
"Sometimes they might bring to your attention a negative aspect of your house that you didn't previously consider," Channel says.
Many Black homeowners feel race, gender, sexual orientation or religion have factored into appraisal process
Nearly 6 in 10 Black homeowners (58%) say they think their race, gender, sexual orientation or religion have factored into their home's appraised value, compared with 14% of white homeowners.
LGBTQ+ homeowners also feel strongly about this, with 36% believing it's been a factor, versus 20% of straight homeowners.
Overall, 21% of homeowners who've had an appraisal think it's been a factor.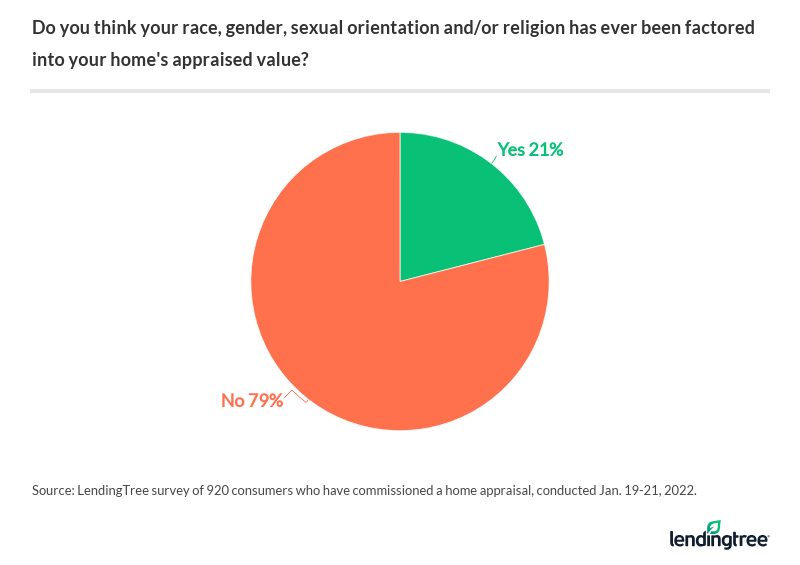 So have homeowners worked to hide their race or another protected demographic from the appraiser as a result? More than 1 in 10 homeowners (13%) who've had a home appraisal say yes. That percentage nearly doubled to 25% among Black Americans.
Interestingly, 34% of Gen Zers ages 18 to 25 say they've attempted to hide one of these demographics from their appraiser, versus:
22% of millennials
9% of Gen Xers ages 42 to 56
3% of baby boomers ages 57 to 76
There's virtually no difference in responses from people in different income brackets — ranging from 12% for those who make $100,000 or more a year to 14% for those who make $35,000 to $49,999 and those who make $75,000 to $99,999.
More than 60% of Black consumers believe more should be done about appraisal discrimination
Home appraisal discrimination laws need to be strengthened, according to 61% of Black homeowners. In addition, 53% of Hispanic, 46% of Asian and 39% of white consumers agree.
Of those who identify as LGTBQ+, more than half (55%) believe current laws aren't adequate, compared with 42% of heterosexual consumers. The overall percentage across all respondents is 43%.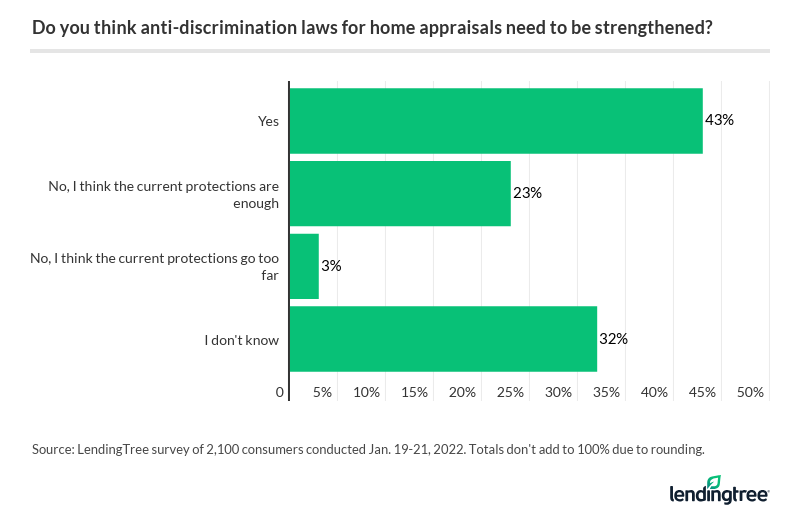 One way to improve appraisal integrity may be to collect more appraisal data.
"The more data collected on how people of different races, sexual orientation or genders have their home's appraised, the easier it would be to identify any problems," Channel says.
Most home appraisals part of refinance application
This survey addressed many specifics around home appraisals, but we wanted to wrap up by zooming out to show how many people are getting appraisals — and why.
Nearly two-thirds of homeowners or those who owned previously (65%) have had their home's value appraised at some point during ownership. The most common reason for a home appraisal was a mortgage refinance (33%), followed by selling the home (19%). Other consumers had their homes appraised to apply for a home equity loan product (12%) or appeal a tax assessment (9%).
In most cases, the appraiser came inside the home. Just 19% say their appraisal was done from the outside only. Refinance homeowners may have a slight advantage with the appraisal process.
"Since a homeowner is typically present during a refinance appraisal, they may be able to have more sway over an appraisal's valuation because they can point out renovations or features of their homes the appraiser may have missed," Channel says.
Methodology
LendingTree commissioned Qualtrics to conduct an online survey of 2,100 consumers from Jan. 19-21, 2022. The survey was administered using a nonprobability-based sample, and quotas were used to ensure the sample base represented the overall population. All responses were reviewed by researchers for quality control.
We defined generations as the following ages in 2022:
Generation Z: 18 to 25
Millennial: 26 to 41
Generation X: 42 to 56
Baby boomer: 57 to 76
While the survey also included consumers from the silent generation (those 77 and older), the sample size was too small to include findings related to that group in the generational breakdowns.