How Does LendingTree Get Paid?
LendingTree is compensated by companies on this site and this compensation may impact how and where offers appear on this site (such as the order). LendingTree does not include all lenders, savings products, or loan options available in the marketplace.
Nearly a Third of Home Sellers' Top Stressor is Buying, Selling at the Same Time
Published on:
Content was accurate at the time of publication.
For many home sellers, the most anxiety-inducing part of the home-selling process is trying to simultaneously sell their current place while buying their next dream home.
That's according to findings from a new survey commissioned by LendingTree, which also found that sellers are planning to spend an average of more than $10,000 on repairs and upgrades to sell their home.
Key findings
The No. 1 stressor for nearly one-third (29%) of home sellers is buying and selling a home at the same time.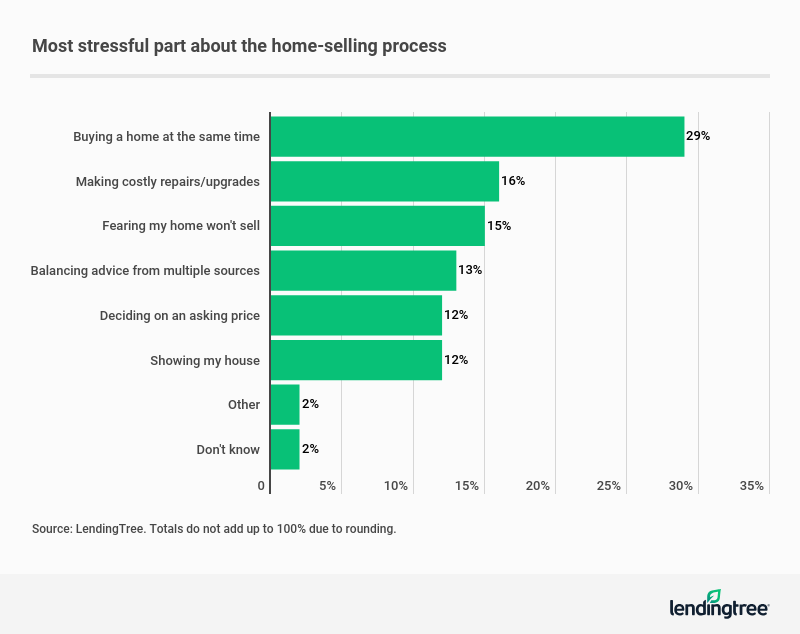 Another 16% of sellers report that costly repairs and upgrades are the most stressful part of selling a home, and 15% stress most about failing to sell their home.
More than 1 in 5 (22%) home sellers have felt pressure from their agent to accept a lower-priced offer.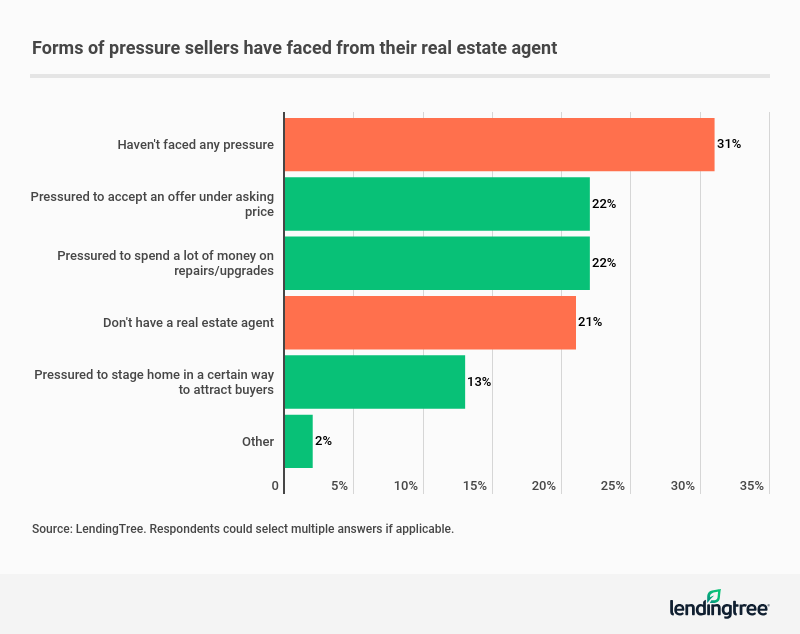 Another 22% felt their real estate agent pressured them to spend a significant amount of money on repairs and upgrades before selling their home. Still, 31% of sellers reported not feeling any pressure at all.
When broken down by age group, millennials (70%) were more likely to feel some sort of selling-related pressure than older generations such as Gen X (49%) or baby boomers (14%).
More than 4 in 10 (43%) strongly agree that the home-selling process is more expensive than they anticipated.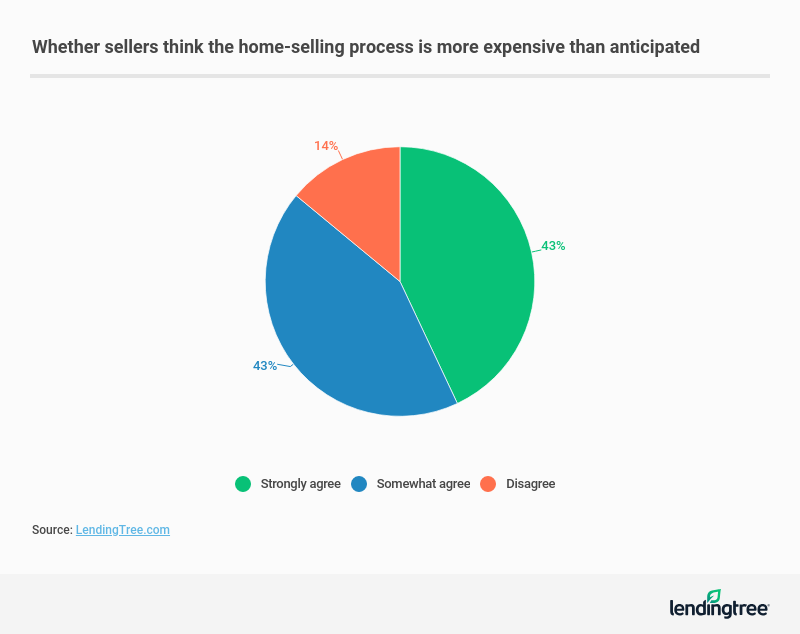 Another 43% of home sellers somewhat agree that they're spending more than expected on their home sale. Meanwhile, more than half (51%) of millennials strongly agree with that sentiment, compared with just 28% of baby boomers.
Other takeaways
Nearly 1 in 5 (18%) millennials said the top stressor of selling a home is deciding on an asking price, compared to just 10% of Gen Xers and 6% of baby boomers.
More than 1 in 5 (21%) baby boomers are most stressed about making costly home repairs and upgrades to sell their home. Another 22% of baby boomers fear that their home won't sell, compared with 15% of Gen Xers and 10% of millennials.
When asked how long they think their home will stay on the market before it's sold, more than 4 in 10 (44%) sellers said one to three months. More than 1 in 4 (27%) think it will take four to five months to sell their home.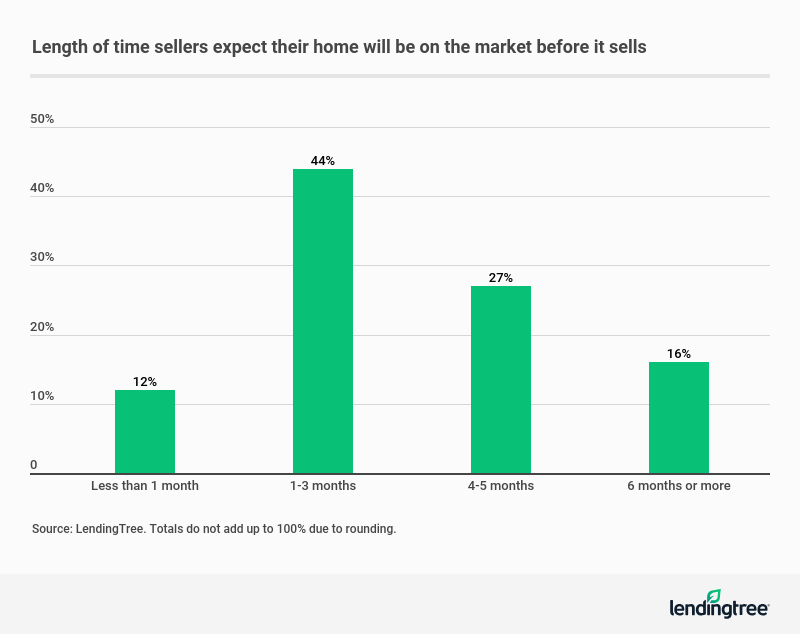 Home sellers expect to spend more than $10,000 on average for repairs and upgrades in order to sell their home. Millennial sellers anticipate spending $13,727 on average, which is the highest amount of all age groups.
After removing decorations and decluttering, the top three repairs and upgrades home sellers have made are:
Fresh interior paint (48%)
Bathroom upgrades (45%)
New kitchen appliances (45%)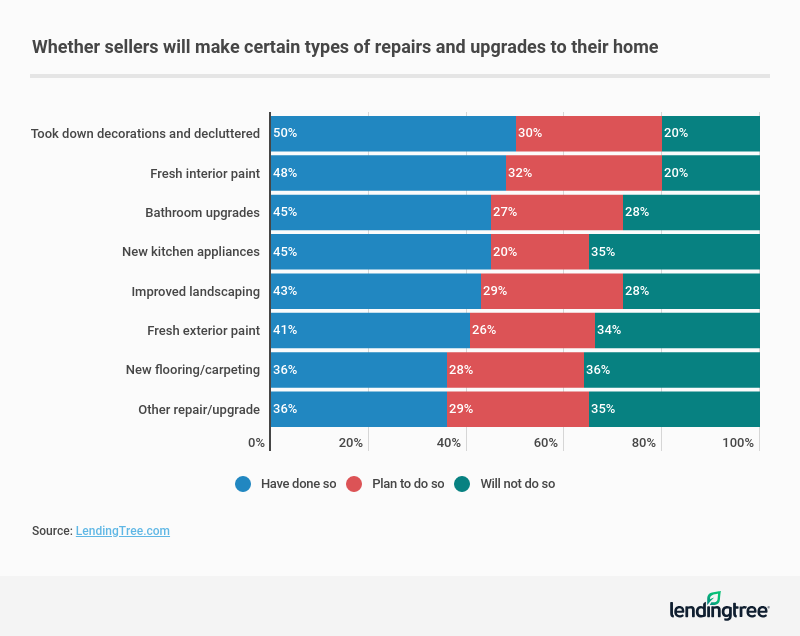 4 factors to consider when selling your home
The cost to sell a home can reach more than $20,000, depending on your home's sales price. Keep the following factors in mind as you prep for a home sale:
Be mindful of your timeline. If you're buying a home while selling your current one, it's important to bake in enough time to find your new home. The average time close on a home purchase is 47 days, according to Ellie Mae's June Origination Insight Report.
Get a home inspection. Before you list your home for sale, pay for a home inspection to identify issues with your home's condition that may need to be addressed right away. If the buyers discover the issue during their inspection, negotiating repairs could postpone or derail the sale.
Negotiate your selling costs. You'll have to pay several closing costs, including commissions for both your and the buyer's real estate agent. It's in your best interest to negotiate these fees, as they can cost several thousand dollars.
Reduce your mortgage debt. Your mortgage will need to be paid off first before you receive any sales proceeds. In the months before you begin the home-selling process, consider dedicating any bonuses, refunds or windfalls to paying down your outstanding loan balance.
Methodology
For this survey, LendingTree commissioned Qualtrics, an experience management firm, to gather responses from 964 home sellers, with the sample base proportioned to represent the overall population. The survey was conducted April 24-30, 2020.
Generations were defined by the following age ranges:
Millennials are ages 24-39
Generation X are ages 40-54
Baby boomers are ages 55-74
Our survey also included responses from members of Generation Z (ages 18-23) and the silent generation (ages 75 and older). Their responses were factored into the overall percentages but excluded from the generational breakdowns, due to the low sample size among both age groups.