How Does LendingTree Get Paid?
LendingTree is compensated by companies on this site and this compensation may impact how and where offers appear on this site (such as the order). LendingTree does not include all lenders, savings products, or loan options available in the marketplace.
Younger Generations Embracing Home Surveillance Technology the Most, With Some Using It to Monitor Loved Ones
Updated on:
Content was accurate at the time of publication.
Ever feel like someone's watching you? If you're in the home of a millennial, chances are pretty good that feeling is warranted. Nearly three-quarters of millennial homeowners — more than any other age group — are likely to have some type of electronic eye tracking what's going on inside and outside their home.
LendingTree surveyed more than 2,000 consumers to learn how and why they use surveillance technology. The reasons range from deterring crime to keeping an eye on family members and neighbors.
On this page
Key findings
With more easy-to-install products hitting the market, the majority of American homeowners (51%) are utilizing some form of surveillance technology in or around their homes. This figure jumps to 72% among millennial homeowners and homeowners with children younger than 18. Perhaps due to landlord limitations, only 32% of renters have some form of home security.
Once the papers are signed and the keys are in hand, installing surveillance tech is high on half of consumers' to-do lists. 50% of those with surveillance technology say they installed it when they moved in for general safety. A lucky few (14%) say their security system was move-in ready, while suspicious neighborhood activity spurred 11% to install equipment.
Surveillance technology isn't just preventing crime, with consumers saying it provides peace of mind. Among those with home surveillance, 63% believe their cameras prevented potential criminal activity on their property. Many consumers remain highly alert, as nearly half (48%) of those with surveillance tech review footage daily.
Deterring criminals might be a primary purpose for home cameras, but available technology has Americans monitoring their loved ones. Among respondents with surveillance technology, 46% of parents with young children have used it to monitor them. While 15% admit to using surveillance to monitor their spouse, this figure jumps to 25% among millennials.
Many embrace the versatility of home technology, but financial barriers limit some, while others embrace alternate protection methods. Among those without a watchful eye on their property, 38% say it's because it's too expensive to purchase or install. 21% cite having other means of personal protection. Among the 68% of renters without security cameras, 42% say their landlord doesn't allow it.
51% of homeowners utilize surveillance technology — here's why
More than half (51%) of American homeowners use home surveillance technology, including cameras.
Younger homeowners are more likely to add an electronic set of eyes to their home than older age groups. Millennial homeowners (ages 27 to 42) lead the home surveillance tech trend at 72%, followed by Gen Z homeowners (ages 18 to 26) (69%), Gen X homeowners (ages 43 to 58) (47%) and baby boomer homeowners (ages 59 to 77) (30%).
According to LendingTree senior economist Jacob Channel, younger generations may lean toward surveillance because they grew up in a more camera-centric world. They may see it as a logical extension of the phone they carry in their pocket or the smartwatch on their wrist, he says.
Kids younger than 18 better watch out because parents aren't just relying on Santa and his elves to keep an eye on them. Nearly three-quarters (72%) of homeowners with minor children use surveillance technology that may help build a case for a spot on the nice — or naughty — list. That compares with 46% of homeowners who don't have children and 36% of homeowners with adult children.
Meanwhile, just 32% of renters utilize some form of surveillance tech — this is most common among millennial (42%) and Gen Z renters (41%).
If you're considering installing security cameras to decrease your insurance premium, Channel advises that you talk to your insurer first. A discount isn't guaranteed — nor is it always worth it, he adds.
Regardless of whether they're homeowners or renters, half of consumers with surveillance technology primarily installed it for general safety when they moved into their home. Other reasons included: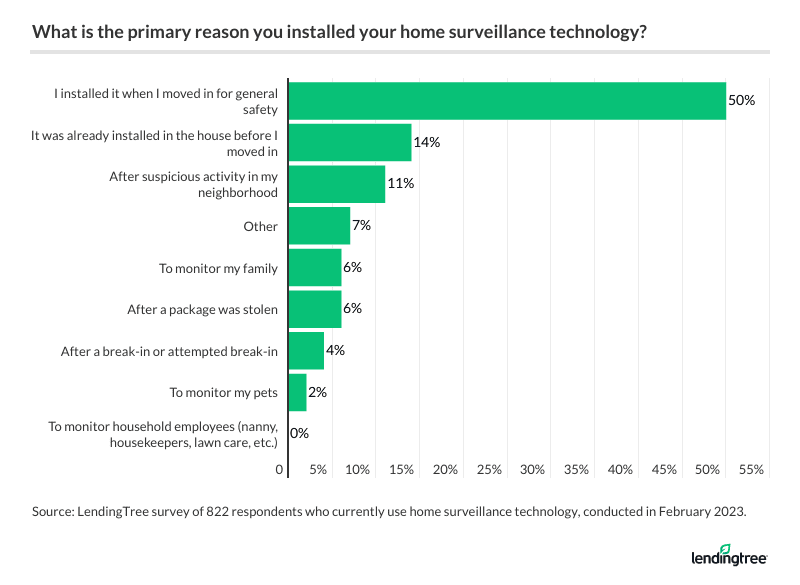 Baby boomers with surveillance technology are most likely to cite their primary reason as suspicious activity in the neighborhood (15%), while Gen Xers are most likely to say their top reason is to monitor their pets (4%).
Nearly 2 in 3 believe tech has prevented potential crimes on their property
Surveillance tech users believe their systems are crime stoppers, with nearly two-thirds (63%) convinced the technology helped deter a criminal perpetrator. This rises to 74% among Gen Zers and 73% among millennials. Nearly half of Gen Xers (49%) and 43% of baby boomers credit the tech with property crime prevention.
However, it seems more likely that this type of tech only reduces petty crimes (such as package thefts) at best, but it isn't going to do much to drastically reduce more violent types of crime, notes Channel. Still, he adds, the bottom line is that if installing a security camera on your home makes you feel safer, it's not a bad way to spend your money.
Social media appears to have some competition for the daily attention of surveillance tech users: Nearly half of them (48%) check their recorded footage daily.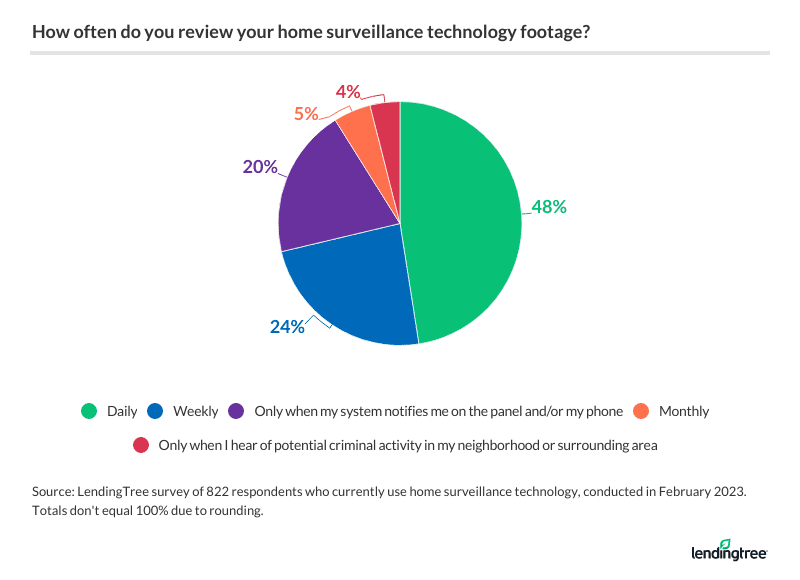 Surprisingly, people with no kids are more likely to have a daily surveillance footage review routine (50%) than parents with grown-up children (47%) or those with kids younger than 18 (46%).
For the most part, consumers don't have a problem with neighbors using home surveillance equipment to keep a watchful eye on the area. More than three-quarters (76%) of consumers are in the "comfortable with neighborhood surveillance tech" camp. Half of baby boomers and almost half of millennials (49%) are very comfortable, while Gen Zers (34%) and Gen Xers (31%) are somewhat comfortable.
Using home surveillance tech to monitor children, spouse
Parents don't need eyes in the backs of their heads to keep track of their kids anymore — nearly half (46%) of those surveyed with kids younger than 18 are using home surveillance technology to monitor them. Millennials (38%) and Gen Zers (30%) are the heaviest users of electronic child-watching tech, while Gen Xers (28%) and baby boomers (27%) are more likely to use it to keep an eye on dicey-looking characters in the neighborhood.
Overall, children (27%) and suspicious people (26%) are the primary people monitored by those with home surveillance tech: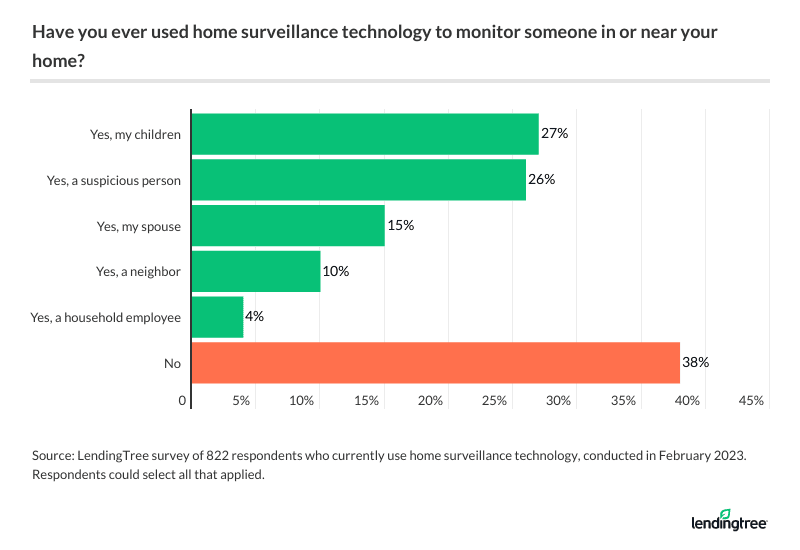 But it's not just kids being watched by that in-house or outdoor camera. Millennial spouses beware: One in 4 (25%) millennials have used surveillance tech to keep track of a husband or wife. That compares with 9% of Gen Zers, 7% of Gen Xers and 1% of baby boomers.
Why some Americans don't embrace home surveillance tech
More than 1 in 3 (38%) consumers without home surveillance tech cite that it's too expensive, while 21% say they have other means of protection.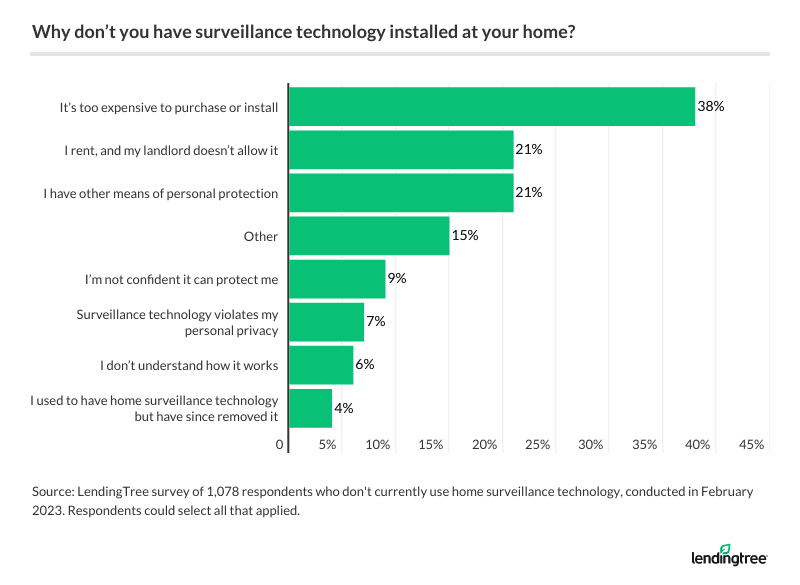 Expensive home tech is most commonly cited among Gen Xers without it (44%), followed by 39% of millennials, 36% of Gen Zers and 32% of baby boomers.
Interestingly, 14% of those without this tech who earn $100,000 or more annually aren't confident it can protect them — nearly half that of the 8% of those who earn less than $35,000 who say the same.
Meanwhile, strict landlords prevented 42% of renters from adding any surveillance tech to their home. The survey shows this was an issue for the following percentage of renters:
48% of baby boomer renters
43% of Gen Zers
40% of millennials
38% of Gen Xers
Landlords are probably reluctant to let tenants make what could be considered major changes to their rental units that they'll have to uninstall for future tenants, or that might cause privacy concerns, Channel says.
Pros, cons of home surveillance tech
| Pros | Cons |
| --- | --- |
| May give you a greater sense of safety and security | Landlords may not allow installation of surveillance equipment |
| Allows you to keep track of children or loved ones that need extra care | Potential invasion of privacy |
| May allow you to get a lower homeowners insurance or renter policy premium | May be too expensive for many households |
Methodology
LendingTree commissioned Qualtrics to conduct an online survey of 2,011 U.S. consumers ages 18 to 77 from Feb. 21 to 24, 2023. The survey was administered using a nonprobability-based sample, and quotas were used to ensure the sample base represented the overall population. Researchers reviewed all responses for quality control.
We defined generations as the following ages in 2023:
Generation Z: 18 to 26
Millennial: 27 to 42
Generation X: 43 to 58
Baby boomer: 59 to 77