How Does LendingTree Get Paid?
LendingTree is compensated by companies on this site and this compensation may impact how and where offers appear on this site (such as the order). LendingTree does not include all lenders, savings products, or loan options available in the marketplace.
48% of Renters Worry They'll Never Be Able to Buy; Down Payments Biggest Barrier
Updated on: August 31st, 2021
Why use LendingTree?
We are committed to providing accurate content that helps you make informed money decisions. Our partners have not commissioned or endorsed this content. Read our .
While owning a home has always been a major dream of American consumers, rising home prices have made homeownership even harder to attain — but perhaps more attractive.
Though most consumers (88%) would rather own their home than rent, nearly half of those who currently rent fear they'll never own a home.
LendingTree researchers surveyed 2,050 consumers to gauge their feelings on homeownership and find what's stopping them from buying.
Key findings
88% of Americans would rather own a home than rent. Specifically, 76% of renters would rather own a home, but only 2% of homeowners would rather rent.
Consumers want the ability to customize their homes. The most popular reason for people wanting to own is flexibility to do what they want with the space (63%), followed by stability (55%) and the pride of homeownership (50%).
Renting is not without its perks, and many people like someone else to be responsible for maintenance and repairs. Shirking responsibility for maintenance or repair costs attracts the most (48%) consumers to renting. Rent-preferring folks also appreciate easily moving to different places (38%) and affordability (37%).
Down payments are the biggest barriers holding back those who want to own a home but don't currently. 54% of that group say they can't afford a down payment. Other common barriers include home prices being too high in their area (36%) and difficulty qualifying for a mortgage due to a low credit score (32%).
48% of renters are worried they'll never be able to own a home. Among generations, 55% of Gen Xers who don't currently own are concerned — more than any other age group.
Homeownership remains the American dream
The insanely hot housing market — driven in part by the pandemic and historically low mortgage rates — may have made owning a home even more desirable. Still, homeownership has long been a hallmark of success and financial security in the U.S., so it should be no surprise that 88% of consumers would rather own a home than rent.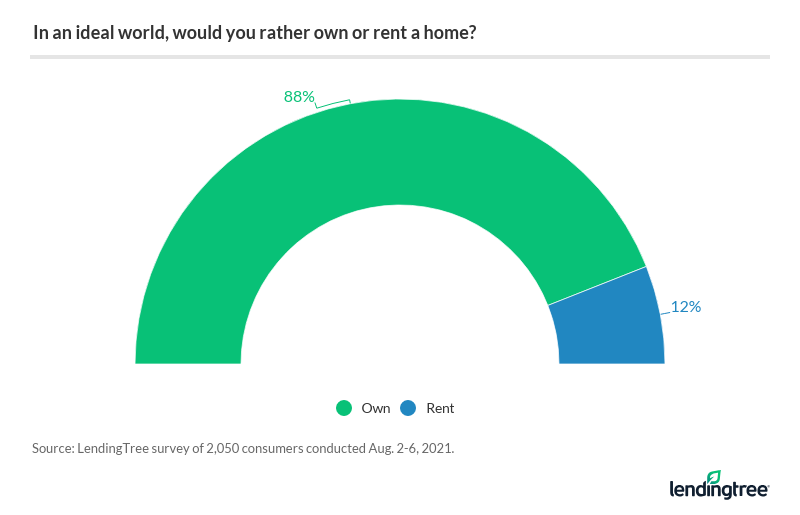 Homeownership does come with plenty of benefits, both personal and financial. Homeowners have the comfort of shelter and the ability to add home equity to their net worth. Renters are likely well-versed in these benefits, as 76% of those who currently rent would prefer to own.
Homeowners can also customize their home to their liking, instead of renters who have to abide by a landlord's rules. This is a major selling point, as flexibility to do what they want with the space is the most popular reason for wanting to own a home (at 63%).
People also appreciate stability, the second-most popular advantage of owning (at 55%), but those who make less money see this as a greater benefit. In fact, this was cited more by people who make less than $35,000 a year (59%) as a reason to own a home than those making $100,000 or more (49%).
Alternatively, those in the lowest income bracket are less enthralled by a home helping them build wealth than those in the highest income bracket. Wealth-building as a primary asset of homeownership was named significantly less by folks making less than $35,000 (30%) than those who make $100,000 and up (54%).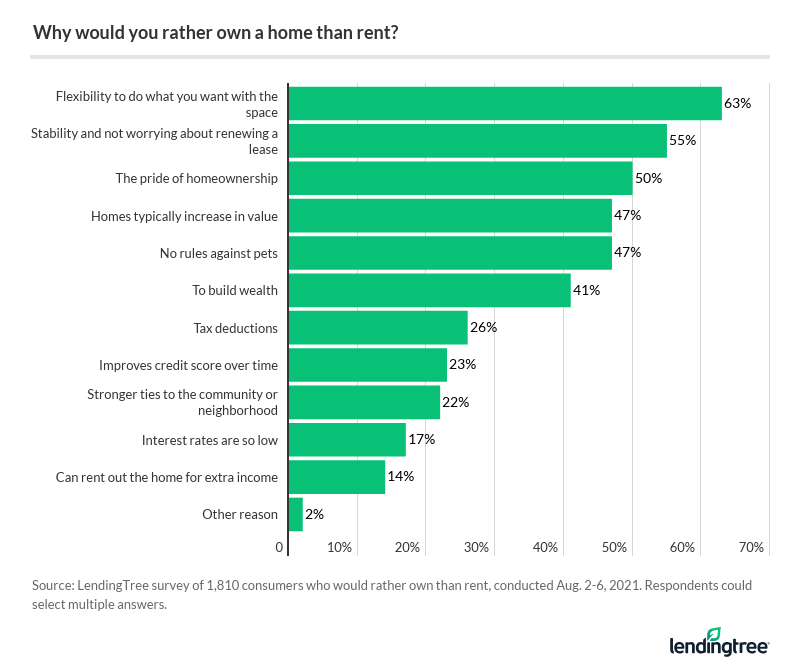 Still, a small 12% share of consumers would prefer to rent their homes — though only 2% of those who currently own. The ability to call a landlord when maintenance issues arise appears to be a driving factor, ranking highest with folks who have a renting preference (48%). This amenity is especially enticing to folks who currently own their homes — at 63%, having someone else to take care of repairs was the most popular reason to rent among current homeowners.
Contrary to consumers who want the stability of owning, many rent-preferring respondents (38%) enjoy the flexibility to move to different places. Those who currently own are less concerned with committing to a location, but the property taxes make 54% of homeowners wish they rented.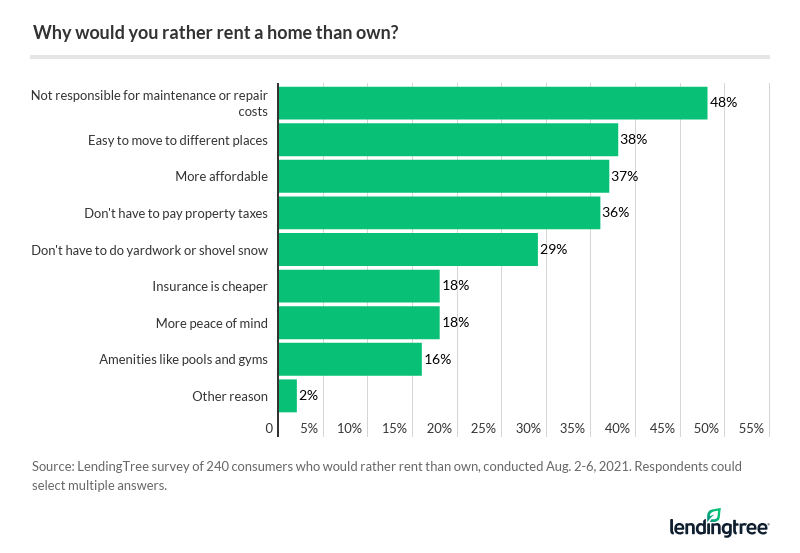 Homeownership hurdles: Costly down payments prevent some from buying
Though monthly rent payments tend to run cheaper than monthly mortgage payments, those mortgage payments go toward owning a piece of property. Monthly rent payments will never pay off in such a way — but buying a home isn't nearly as easy as renting one, however.
A renter might need three month's worth of rent to move into a space, on top of broker's fees, application fees and moving costs, which can add up to a large sum of money. Still, that amount will likely be far less than a typical 20% down payment on a home, which 54% of non-owning consumers say is the primary barrier to them buying a home. The figure jumps to 68% of folks who make less than $35,000 a year.
Home prices have also become prohibitively high in many areas, which can explain why at 36%, it was non-homeowners' most common impediment on their path to ownership — a similar share was reported by consumers in each income bracket.
Another 32% of folks might be able to afford a home, but their credit score may make qualifying for a mortgage more difficult.
Hope fading for would-be homeowners
As the country grapples with a shortage of homes available to meet demand, many who don't own homes fear they never will. In total, 48% of renters say they worry they'll never be able to own a home. The largest share of any generation is 55%, among Gen Xers (ages 41 to 55) who don't currently own. More than half (52%) of millennials ages 25 to 40 share the same fear.
The market will likely cool down after some time, making it a little easier for folks to buy homes. LendingTree senior economic analyst Jacob Channel encourages consumers to use renting to their advantage while saving for a home they can afford.
Though most people would rather own, renting isn't without its benefits, he says. "It's a good option for people who don't earn a lot of income or who are trying to save money," Channel says, since renting is typically cheaper — at least in the short term.
Saving up for a home may not be easy and will probably take a while. Still, consumers can consider these tips to accelerate their savings:
Limit your cost-of-living expenses. Naturally, one of the best ways to save is to cut out unnecessary spending. "It's hard to lower some expenses, like child care, but you'd be surprised at how much you can save by doing things like eating out less often, taking fewer vacations or buying a less expensive car," Channel says. Take stock of your monthly expenses and see where you might be able to save.
Explore smaller down payment options. Not all mortgages require a 20% down payment. Folks looking to own as soon as possible should explore options like Federal Housing Administration (FHA) loans that could make it easier to buy a house — especially for first-time buyers. Be wary, though, as smaller down payments usually result in higher monthly mortgage payments.
Understand what you can afford. The benefits of owning a home may outweigh renting in the long term, but owning a home you can't afford can become a major problem — though Channel advises would-be buyers not to get discouraged. "Keep in mind that renting a home that you can afford is usually better than owning a home that you can't."
There are many pathways to homeownership, but nearly all of them require patience.
Methodology
LendingTree commissioned Qualtrics to conduct an online survey of 2,050 U.S. consumers from Aug. 2 to 6, 2021. The survey was administered using a nonprobability-based sample, and quotas were used to ensure the sample base represented the overall population. All responses were reviewed by researchers for quality control.
LendingTree defined generations as the following ages in 2021:
Generation Z: 18 to 24
Millennial: 25 to 40
Generation X: 41 to 55
Baby boomer: 56 to 75
While the survey also included consumers from the silent generation (those 76 and older), the sample size was too small to include findings related to that group in the generational breakdowns.