How Does LendingTree Get Paid?
LendingTree is compensated by companies on this site and this compensation may impact how and where offers appear on this site (such as the order). LendingTree does not include all lenders, savings products, or loan options available in the marketplace.
LendingTree Study Reveals the Top States Where Residents are Staying Put, Moving From and Moving To
Published on: November 19th, 2019
Why use LendingTree?
We are committed to providing accurate content that helps you make informed money decisions. Our partners have not commissioned or endorsed this content. Read our .
People move for all sorts of reasons: a new job, marriage (or divorce) or downsizing. Many migration studies focus on outbound moves when people pick up and relocate to another state. However, that neglects a significant portion of people who decide to stay in the same state, which tells an interesting tale, too.

A solid local economy and job market or desirable quality of life are just a few drivers that might keep people in place. In a recent LendingTree study, we found that 88% of people searching for mortgages on the LendingTree platform were looking for mortgages in the same state. Here are some of the key takeaways from our study.
Key findings
Texas residents love the Lone Star state. Texas had the highest percentage of residents — 93.9% — looking to move within state lines. Texas is also a top destination for people moving from out of state, claiming the No. 1 spot from seven other states.
Michigan residents are staying in place despite mixed economic fortunes. Michigan had the second-highest percentage of residents (92.1%) looking to remain within its borders. What's more: Michiganders are staying put despite our finding that the state has the highest risk of recession. Affordable home prices compared to most of the country are likely keeping residents in place.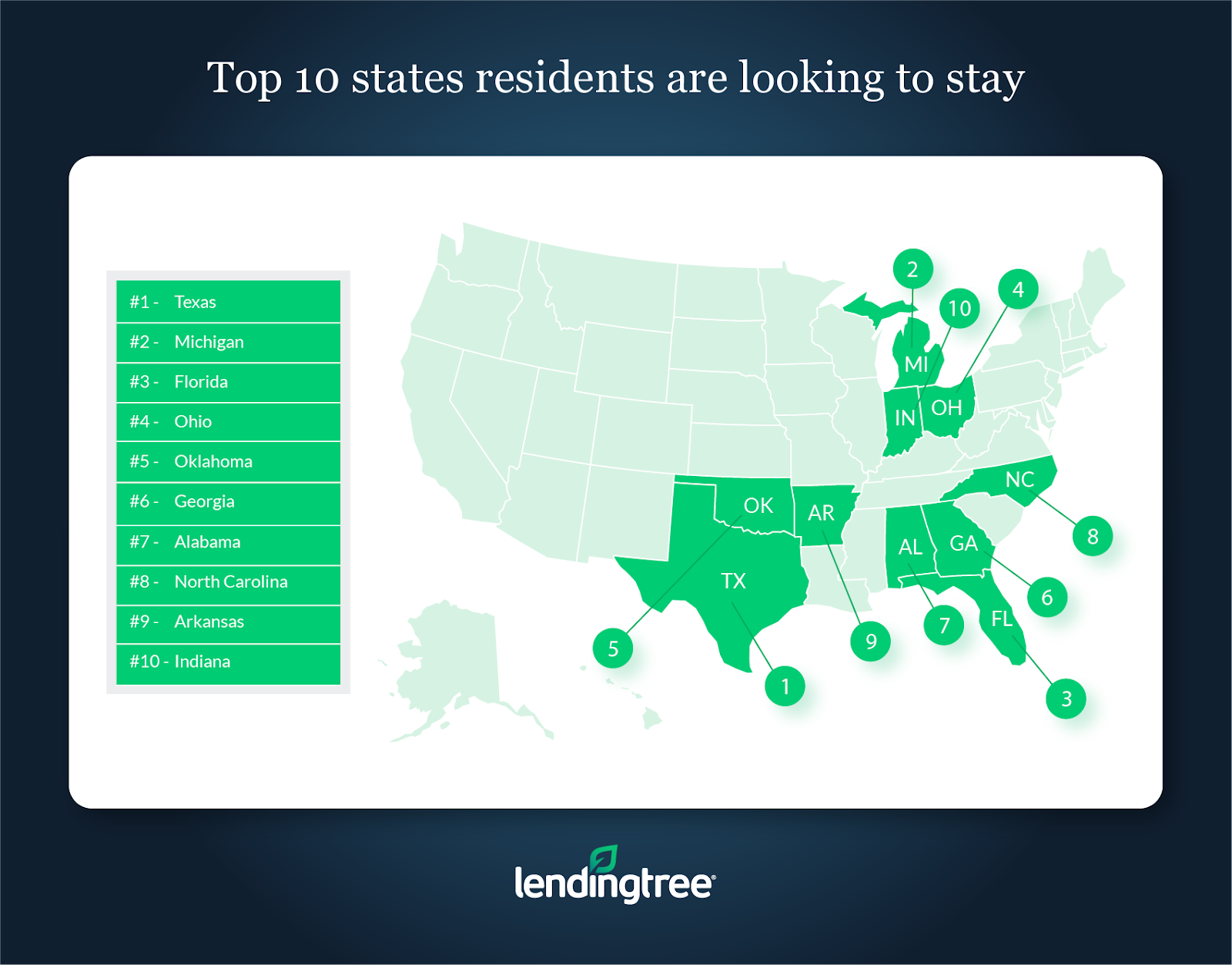 Alaska has the most residents looking to leave. Just 75.7% of Alaskans want to stay in the The Last Frontier state. Alaskans looking to move overwhelmingly chose Texas as their top destination. Although Texas and Alaska have very different climates and ways of life, both have large oil and gas industries that make it easier for workers to transfer their skills from one job market to the other.
Hawaiians are trading beaches for desert sand. While nearly a quarter of Hawaiian residents (22.3%) are looking to leave the Aloha state, it's surprising that Nevada is their go-to choice. Hawaii has high housing and living costs, which might be driving some residents to pack up and leave. Nevada's bustling hospitality industry might be a draw for Hawaiian residents who currently work in the same field.
High rent and housing drives New Yorkers over the Hudson to New Jersey. Sure, 79.4% of New Yorkers stay in state, but those who do move aren't going too far. They're looking in New Jersey — another expensive place to live, though one that may offer some relief from the sky-high housing and rent prices in and around New York City. While these buyers aren't migrating in the same way people from other states are, many of them are city residents who've decided it's time to buy.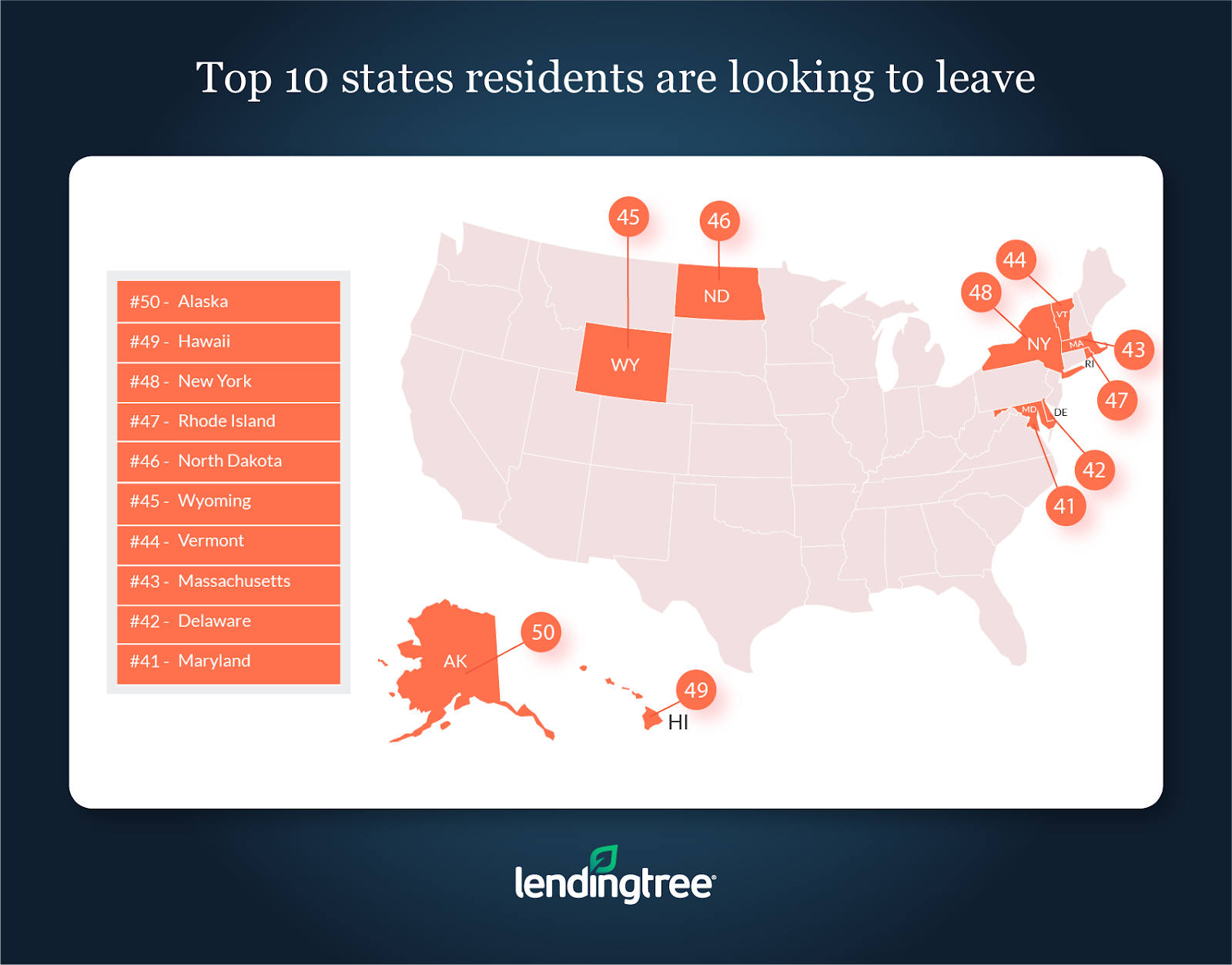 Most out-of-state movers don't venture far. More than half of the most popular destination states border the current state where a mortgage shopper resides. But if they're looking to move farther, chances are it's to Florida — the most popular destination for those looking to move to a non-bordering state. In fact, of the states where residents' preferred new location doesn't border their current state, consumers in 11 of those states were interested in moving to Florida.
For movers, Florida is the No. 1 destination. Florida was the clear favorite for mortgage shoppers in 13 of the 50 states. Of all purchase mortgage requests during the study's period, 9.1% were from consumers looking to move to Florida. For out-of-state movers, 12.4% of requests focused on Florida.
The Sunshine State has a long history of bringing in visitors and new residents, particularly retirees, thanks to a mix of affordable housing, no state income tax and, of course, its sunny weather. Florida also retains current residents with the third-highest share of mortgage shoppers who are looking to stay in state.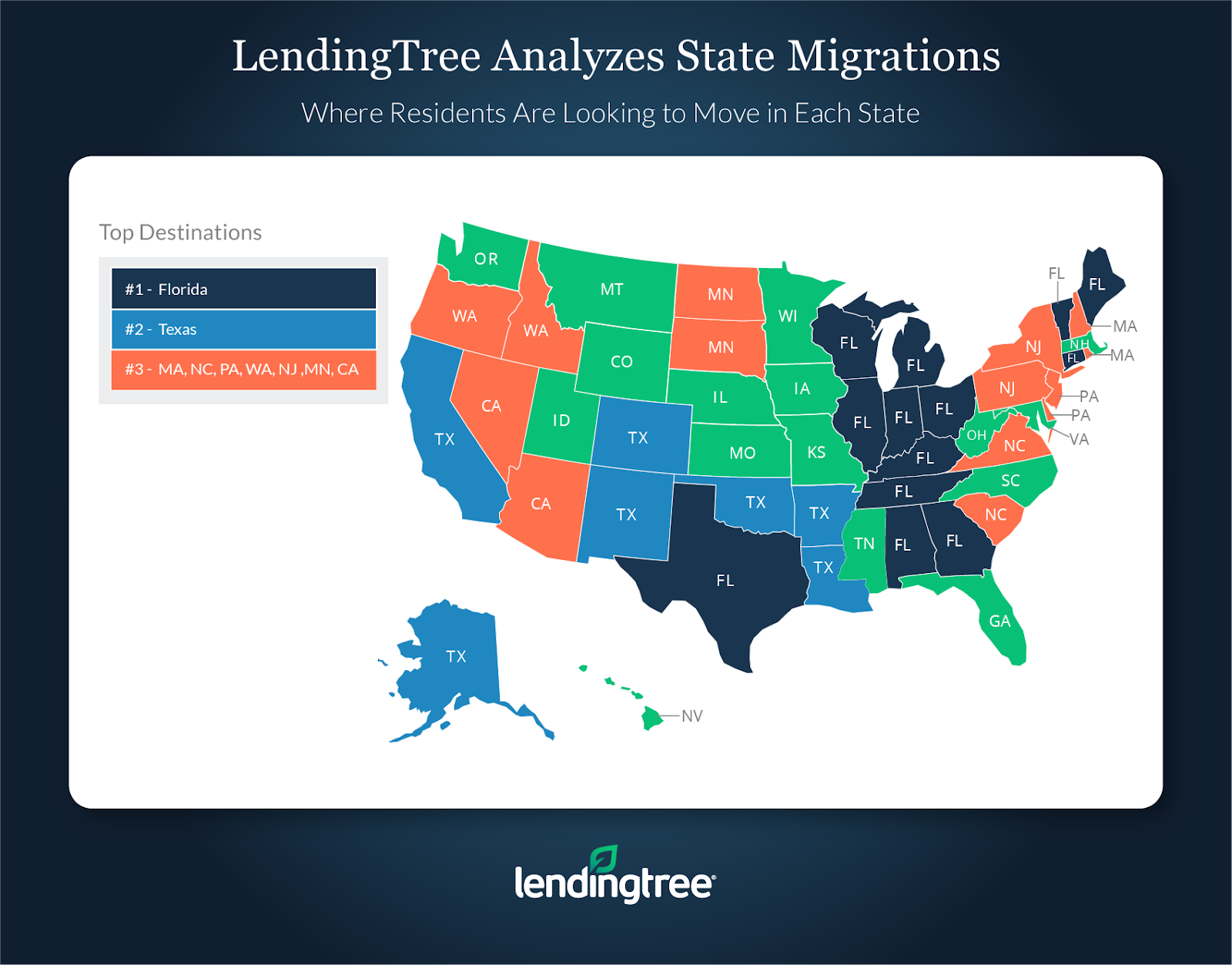 Methodology
LendingTree reviewed more than 1.5 million new purchase mortgage loan requests for primary residences in all 50 U.S. states in 2019 (through October) to find what percentage of all requests were from residents looking to remain in their current state. We also looked at where those who chose to move were headed.