5 Options for Financing a New AC Unit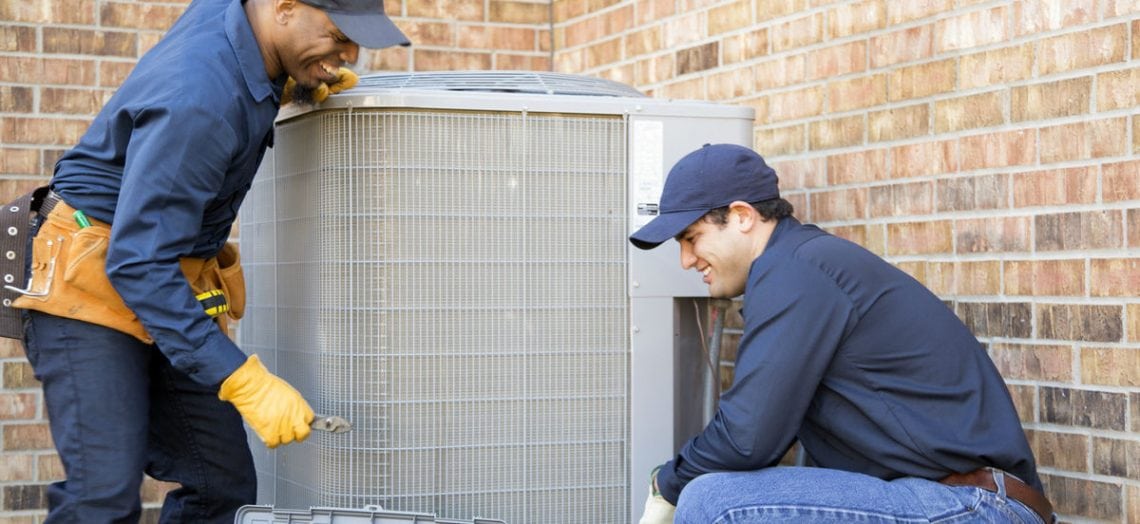 Installing a new air conditioning unit when yours stops working is a necessary but hefty expense. According to HomeAdvisor, homeowners spend anywhere from $3,739 to $7,201 to have an AC system installed — though costs can fall outside of that range depending on the size of your home, the type of unit and any additional work needed during the install process.
Of course, a repair or upgrade may be more urgent if your AC has died in the heat of the summer than if it has simply become less efficient as cooler weather approaches. Here are your options for financing the cost of a new AC unit.
Methods to Finance a New AC Unit
Type of financing
Fees to consider
Best for

Cash

Not applicable

Quick turnaround

Credit card

High APR after the promotional period; annual fees possible

Extra perks, if applicable

Contractor/retailer financing

Varies

Not recommended

Home equity loan or HELOC

Closing costs on home equity loan; processing or maintenance

Low rates, tax-deductible interest

Personal loan

Varies based on your credit and lender

Potentially low, fixed interest rates, and you may get funds within a few days
Cash
Cash is one option for covering your new AC unit. If you have the cash flow or savings account already set up for these types of purchases, you can take care of the installation quickly and avoid any interest or fees that come with other types of financing.
But cash may not be the wisest or safest option, especially if you don't already have the money on hand. You may be able to borrow against your retirement fund at relatively low rates, but there are stiff tax penalties if you leave your job before you pay it back. Plus, you'll miss out on those savings if your plan doesn't allow you or your employer to contribute while you pay back the loan.
Your emergency fund is another potential cash source. But if you have good or excellent credit and can qualify for a low-interest rate on a credit card or loan, it may be better to keep this account intact for future emergencies.
Finally, cash may seem like the easiest route, especially if your contractor offers you a discount, but the Federal Trade Commission (FTC) warns against paying contractors in cash. It notes that pressure to pay cash, especially up front, is a sign of a scam. In general, consumers have more protections against bad actors when using credit cards or financing for purchases.
0% APR credit card
Depending on your current credit score, a new credit card with a promotional 0% purchase APR may be an option. These cards generally require good or excellent credit — you'll likely need a score of 700 or above to qualify.
Low-interest cards may come with additional perks, such as travel rewards, sign-up bonuses or cash back, and if you have the funds to pay off your balance before the promotional period ends, you won't get hit with any interest charges on your purchase. Credit cards, unlike loans, don't generally have closing costs.
The downside of using a 0% APR card is that if you don't pay it off within the promotional period — which is usually 12 to 21 months — it will revert to the standard APR, which is likely to cost you significant interest for as long as you carry a balance. And depending on the credit limit and the cost of your installation, you may not be able to charge the entire purchase on your new card.
You can find low-interest and 0% APR cards using our credit card offer tool.
Contractor financing
Contractors may offer to arrange financing for your AC unit installation through a specific lender with whom they have a relationship. This may sound like an affordable or convenient option, especially if the contractor is familiar with the project quote and how much money you're likely to need. But proceed with caution.
Get all the information, read the fine print and don't sign any contracts related to financing until you've shopped around and weighed all your options. If you've never worked with a contractor before and they include financing as part of a sales pitch to make the project cheaper or more affordable, it may be a scam.
According to the FTC, contractors who work directly with lenders can have little interest in completing work once they've been paid, and homeowners sometimes find that the rates and fees are much higher than they were led to believe.
Home equity loan or HELOC
Home equity loans and home equity lines of credit (HELOCs) are secured by your property, which means they come with lower rates than other financing options.
A home equity loan is like a mortgage: You get a lump sum of cash, which you repay in equal installments over the life of the loan. But you also must pay closing costs that range from 2% to 5%.
A home equity line of credit, on the other hand, is like a credit card. You borrow only what you need and repay what you borrow. HELOCs generally have a draw period, after which you can no longer access your equity, but that's unlikely to be an issue if you're using it for a single upgrade such as an AC unit.
If you use your home equity loan or line of credit to improve your property, that interest is likely tax deductible. Another benefit of home equity loans and HELOCs is that they can be used on other projects and improvements besides a new AC unit.
The downside of borrowing against your home equity is that it puts your property at risk if you aren't able to repay what you owe. Another potential pitfall of taking out a home equity loan and increasing your balance is that you could end up underwater on your mortgage. But if you don't have much equity built up on your home, you may not be able to cover an AC unit installation.
Personal loan
Personal loans are unsecured loans that can be used for anything, from home improvement projects to medical expenses. If you have decent credit, you can get cash (from $1,000 to $35,000 or more depending on your situation and lender) in a few days. This is helpful if you need to fix or replace your AC unit quickly — and if you have other uses for those funds.
Personal loans also don't impact your home equity or put any of your property at risk if you can't pay them back. That said, they generally have higher interest rates because they're unsecured, and some lenders charge origination or other fees. Check for fees and prepayment penalties, and make sure you aren't required to take out more than you can pay back — or that you qualify for too little to cover your AC upgrade.
Is a loan worth it?
If you need your AC unit fixed, some type of financing is probably preferable to sweating it out. That said, it's important to consider all your options and calculate how much each will cost you on top of getting your new unit installed.
For example, if a credit card is your best option, look for a card with a long 0% APR promotional period, and plan to pay the balance before this period expires.
If you decide that a loan is right for you, make sure you shop around with at least three lenders before you make any decisions. Use our loan research tool to see what's available.