How Does LendingTree Get Paid?
LendingTree is compensated by companies on this site and this compensation may impact how and where offers appear on this site (such as the order). LendingTree does not include all lenders, savings products, or loan options available in the marketplace.
Home Improvement Spending Rises Amid Coronavirus Pandemic
Published on:
Content was accurate at the time of publication.
Equipped with nothing but time and stay-at-home orders, Americans have taken stock of the design flaws, necessary repairs and outdated fixtures inside their homes. Home improvement stores like Lowe's and Home Depot showed a surge in earnings as the coronavirus pandemic began, suggesting that people were taking advantage of stay-at-home orders to work on their to-do lists.
LendingTree data shows that consumers have been requesting personal loans for home improvement at a higher-than-average rate since the pandemic began. Our researchers surveyed consumers who used LendingTree's online marketplace to determine how they planned to upgrade their spaces amid the COVID-19 crisis.
Key findings
LendingTree personal loan data suggests that some consumers are using time spent at home to work on home improvements. Comparing the first week of June 2019 to the first week of June 2020, requests for home improvement personal loans increased by 7.8%.
About 1 in 3 loan applicants said the pandemic factored into their decision to seek out a personal loan. Of the consumers whose decision was affected by the pandemic, 18% said their income was impacted by the pandemic and they couldn't pay for the purchase themselves, while nearly 1 in 10 decided to tackle a home improvement project due to increased time spent at home.
Respondents plan to use their home improvement loans to repair and remodel their properties. About 27% of consumers who applied for a personal loan for home-related expenses during this time needed the money to remodel or upgrade their home, and 25% needed an emergency home repair or appliance.
Kitchen improvements (35%) and bathroom upgrades (26%) were the top two projects among consumers who took out a loan to fund home improvements.
More than 1 in 5 took on other debt in addition to the personal loan, including borrowing from friends and family (13%) and charging their credit card (9%).
Those working on home improvement projects or repairs won't go at it alone. About 41% hired outside help for the entirety of the project or repair, while just 27% will tackle the project themselves. The remaining 32% will use a combination of outside help and their own DIY skills.
Despite COVID-19 pandemic, consumers seek home improvement loans
The market for personal loans has been unpredictable in the past few months, and although things are looking to return to normal, personal loans are still harder to obtain and come with higher offered APRs for borrowers across all credit bands than from before the pandemic. One personal loan product that's been surging despite the COVID-19 crisis is home improvement loans.
Requests for home improvement loans through LendingTree's personal loan marketplace are 7.8% higher when comparing the first week of June 2020 and the same time last year. That number is impressive on its own, but it's even more striking given the state of the personal loan market amid the pandemic.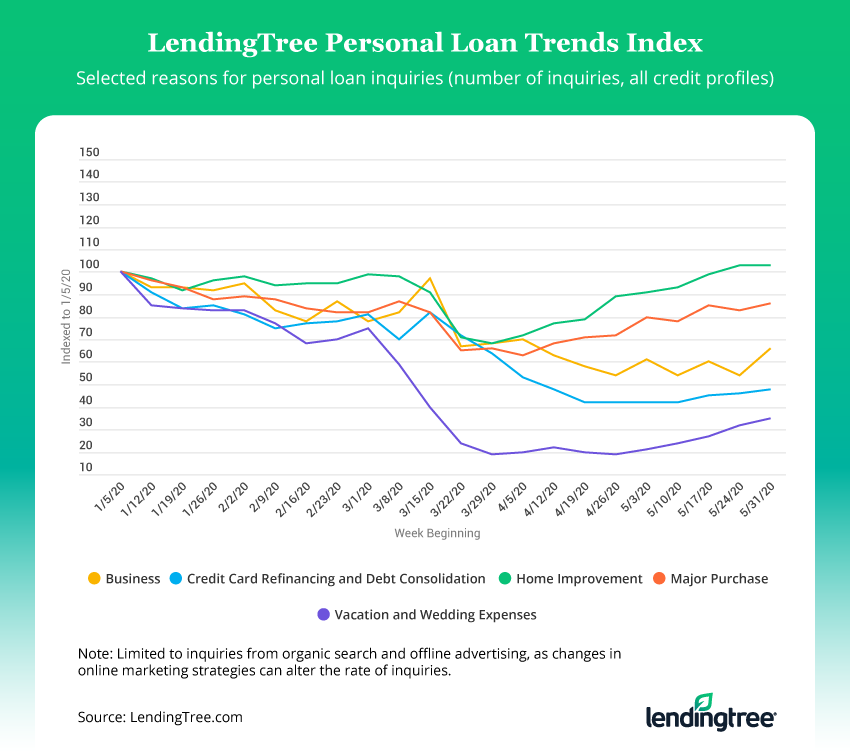 If your finances have been impacted by the COVID-19 pandemic, visit
www.lendingtree.com/coronavirus
for more information about how to manage your money during this time.
Consumers are taking out loans to repair, remodel their homes
Consumers who applied for home improvement loans through LendingTree are pretty split in their reasons: They want to make necessary repairs or remodel their home. A quarter of home improvement loan applicants said that they want to use the money for emergency repairs, while slightly more (27%) reported taking out the loan to make improvements to their home.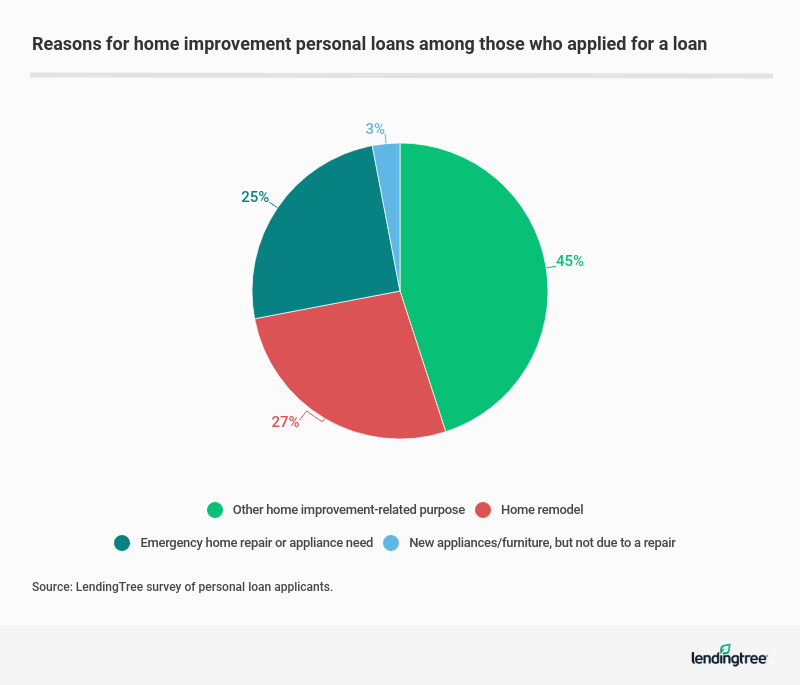 Among consumers who received a personal loan for home repairs, the most commonly repaired fixtures were porch, deck, walls, windows or flooring. Nearly one-third of approved applicants needed funds to repair pricey roof damage.
Of those who wanted to make improvements to their home, people focused on the kitchen (35%) and the bathroom (26%). That makes sense: For homeowners, improvements to the kitchen and bathroom can yield a positive return on income and make it easier to sell their home.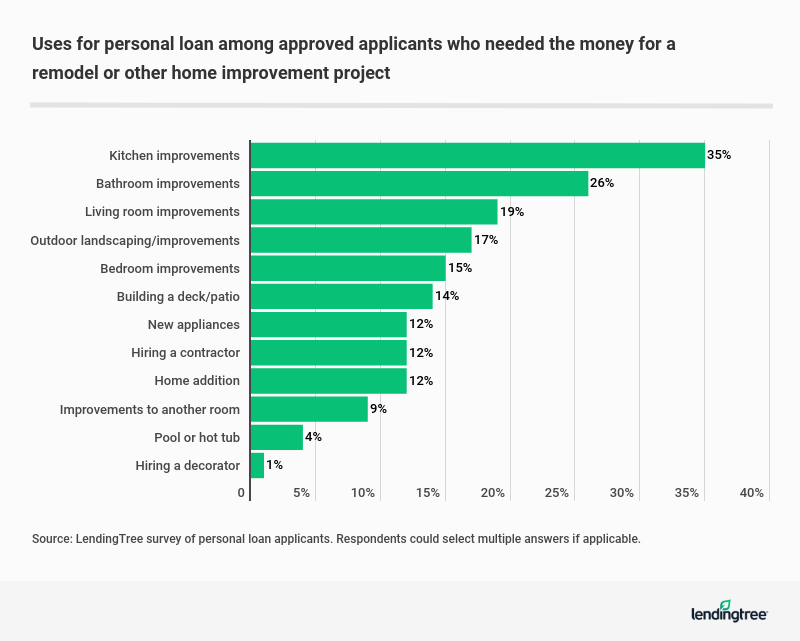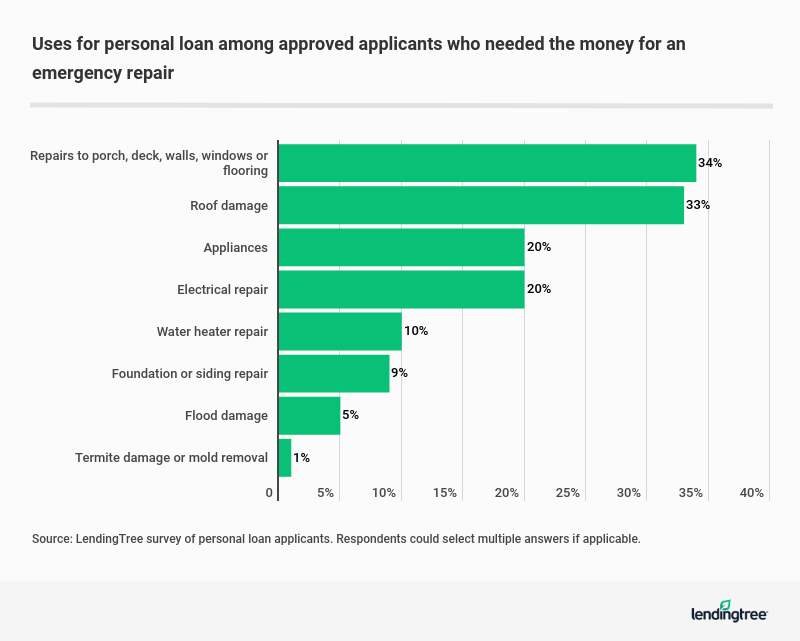 The majority of those making home improvements (39%) said it just needed to be done. Meanwhile, 32% wanted to improve how much they enjoy their home, and 28% hoped to add value to their home for future resale.
High earners want funding for remodels, while low-income borrowers need money for repairs
Reasons for home improvement personal loan application by household income
Less than $25,000
$25,000- $34,999
$35,000- $49,999
$50,000- $74,999
$75,000- $99,999
$100,000 or more
Other home improvement-related purpose
36%
36%
43%
46%
49%
54%
Home remodel
20%
26%
24%
26%
28%
35%
Emergency home repair or appliance need
41%
33%
28%
26%
20%
11%
New appliances/furniture, but not due to a repair
3%
6%
5%
2%
3%
1%
When it comes to loan purpose, there was a pretty clear split among high earners and low earners. Those with lower household incomes mainly needed the loan for an emergency repair, while consumers with more disposable income had a home remodel in mind.
Borrowers in the lowest-income tier (under $25,000 annually) were four times as likely to request a personal loan to make an emergency home repair than the top earners ($100,000+ per year): 41% versus 11%, respectively. Low earners are also far less likely than top earners to take out a personal loan for home remodel, at 20% and 35%, respectively.
Some consumers took out additional debt to fund their projects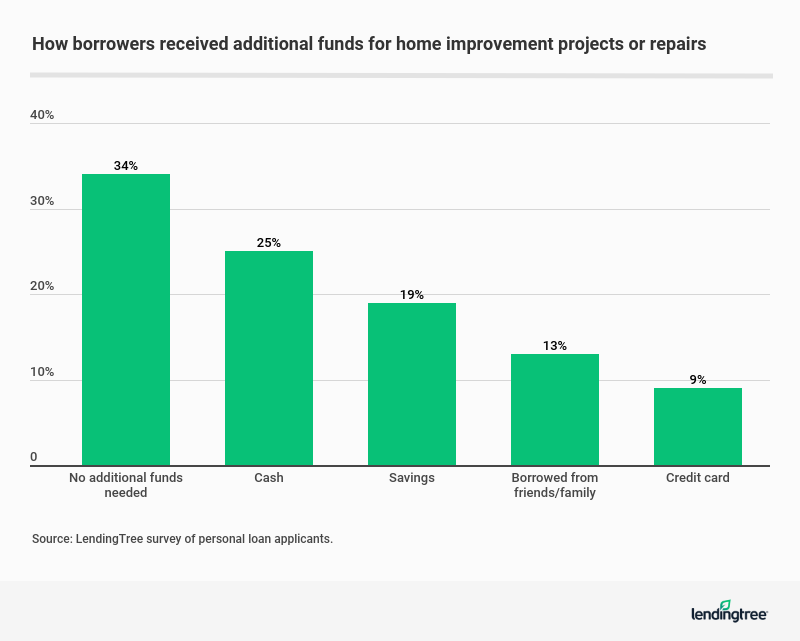 Two-thirds of personal loan seekers ended up using another form of financing in tandem with the loan; a quarter of approved applicants used cash to meet their needs, and about 1 in 5 tapped their savings. About 22% of people decided to borrow money in some form or another to garner the funding needed for their project, whether they wanted to borrow from someone they know or take out credit card debt.
Methodology
LendingTree conducted an online survey of 1,236 consumers who had previously applied for a personal loan using LendingTree's marketplace, of whom 671 were approved. Participants were emailed a link to participate in the survey, which was fielded using Qualtrics from May 26-June 1, 2020. To be eligible to take the survey, participants must have applied for a personal loan from Jan. 1 to May 25, 2020, and they must have selected home improvement, emergency or other as the loan purpose.