How Does LendingTree Get Paid?
LendingTree is compensated by companies on this site and this compensation may impact how and where offers appear on this site (such as the order). LendingTree does not include all lenders, savings products, or loan options available in the marketplace.
28% of Pet Owners Make Purchases for Social Media Posts
Updated on:
Content was accurate at the time of publication.
Whether you're the proud pet-parent of a dog, cat, parrot or other animal, chances are you have to set aside a portion of your budget to pay for pet costs.
Pet owners are spending an average of $1,163 per year on food, treats, props for social media content and other expenses, according to our new survey of 1,425 Americans with furry (or feathery) friends.
They probably don't take issue with the impact on their budget, as 84% of respondents said they treat their pet as if it were their own child. Still, our survey found that many pet owners decline pet insurance and would have to rely on debt for unforeseen expenses.
Key findings
Gen Zers spend more than any other generation on their pets
While pet owners spend an annual average of $1,163 on their pets, that total varies by generation. Gen Zers spend the most by far, with a reported annual expense of $1,885. Millennials, on the other hand, spend $1,195, Gen Xers spend $1,100 and baby boomers spend $926.
There are several reasons why Gen Zers have the highest pet expenditures: They're more likely to…
Have pet insurance (56%, compared to the overall average of 27%)
Pay for a monthly subscription box (14%, versus the overall average of 8%)
Buy specific items for their pet for social media posts (47%, versus overall average of 28%)
As it turns out, building your furry friend a big Instagram following doesn't come for free.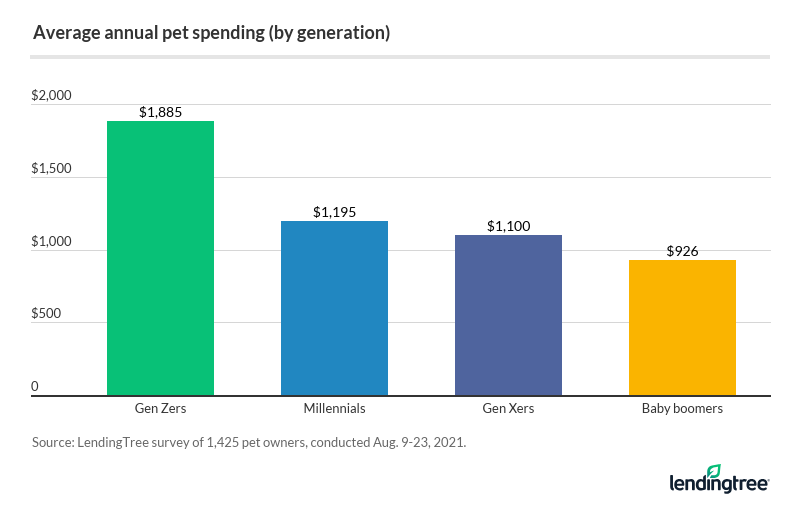 45% of pet owners would have to take on debt to cover $1,000 emergency expense
Having to take your pet to the emergency veterinary clinic is a scary situation. It doesn't help matters that it can be followed by a big bill.
Nearly half of pet owners (45%) say they don't have enough cash on hand to cover a $1,000 emergency expense. Many would have to take on debt to cover it, with 36% saying they'd use a credit card and 9% saying they'd borrow a personal loan.
According to our survey, nearly one in 10 pet owners (8%) are currently in debt for their pet and more than one in four (27%) have previously taken on debt for their pet. Among those who are currently in debt, 25% owe between $300 and $499, and 11% owe $2,000 or more.
The majority of pet owners (58%) have had an unexpected medical expense for their pet, and nearly one-third said they regretted not having an insurance policy for their pet.
While a pet insurance policy can subsidize emergency expenses, it will also add to your monthly bills: The average monthly premium is $49 for dogs and $29 for cats for plans that cover accidents and illnesses, according to ValuePenguin.
That extra monthly cost might be why 73% of pet owners said they don't have insurance for their pet.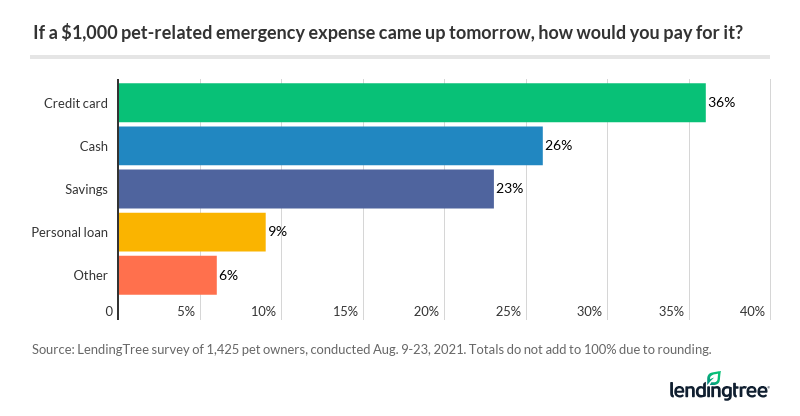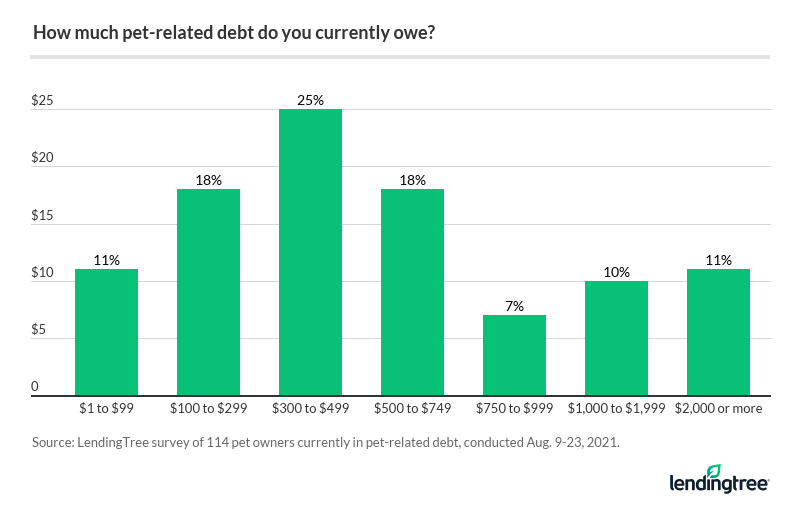 28% of pet owners spend money on their pets for social media content
Humans aren't the only influencers on social media; plenty of animals have become Internet-famous, too. These "petfluencers" are helped along by their owners, 16% of whom said they've spent money on their pets for social media posting on one occasion. About 11% said they've done so multiple times.
Spending for social media was especially common among Gen Z: 31% said they'd spent money on their pet for social media once, and 17% said they'd done so more than once.
When budgeting for your furry friend, don't forget to take into account those special outfits that pop online.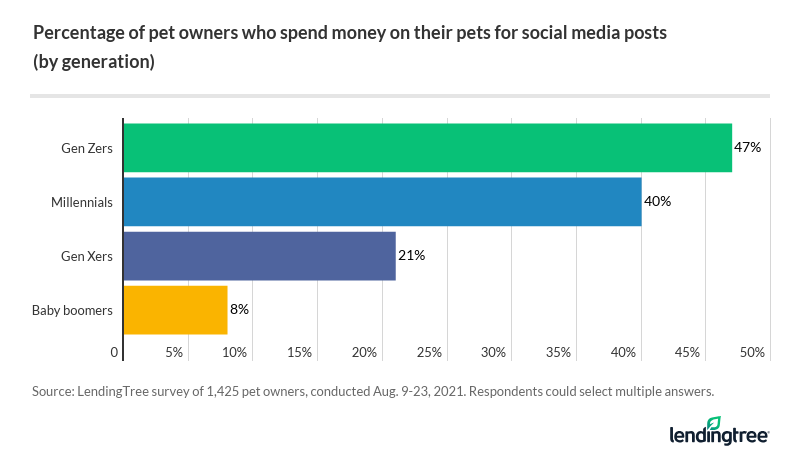 98% of pet owners spend money on their pet every month
Between food, treats and emergency needs, the costs that come with pet ownership can add up. These expenses occur on a monthly basis, too: 98% of pet owners spend money on their pet every single month, averaging $86.
Some pet owners also pay for monthly subscription boxes, especially Gen Zers (14% as compared to 10% of millennials, 7% of Gen Xers and 3% of baby boomers). With all these expenses, it's not surprising that nearly half of pet owners (49%) worry about pet-related expenses.
But even with the potential budgetary strain, it seems that pet owners are sparing no expense for their furry friends. When asked if they agreed with the statement, "I treat my pet as if they were my child," only 6% disagreed.
If you're worried about covering an expense for your pet, learn more about options for pet financing.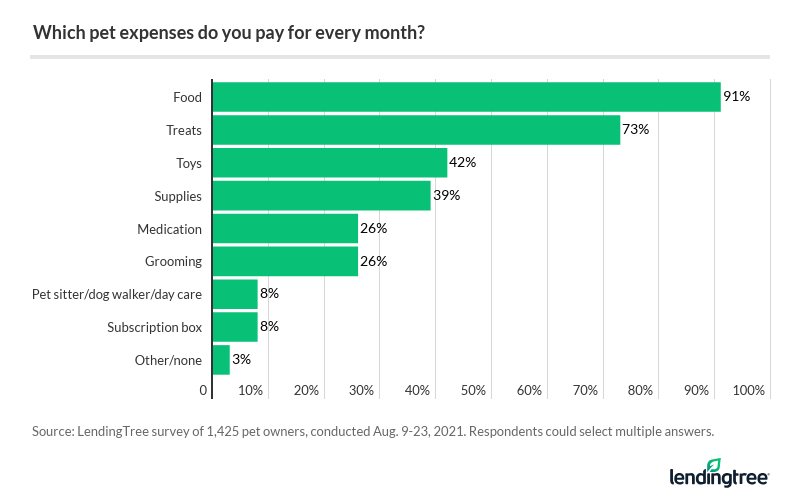 Methodology
LendingTree commissioned Qualtrics to conduct an online survey of 1,425 pet owners from Aug. 9-23, 2021. The survey was administered using a non-probability-based sample, and quotas were used to ensure the sample base represented the overall population. All responses were reviewed by researchers for quality control.
We defined generations as the following ages in 2021:
Generation Z: 18 to 24
Millennial: 25 to 40
Generation X: 41 to 55
Baby boomer: 56 to 75
While the survey also included consumers from the silent generation (defined as those 76 and older), the sample size was too small to include findings related to that group in the generational breakdowns.