How Does LendingTree Get Paid?
LendingTree is compensated by companies on this site and this compensation may impact how and where offers appear on this site (such as the order). LendingTree does not include all lenders, savings products, or loan options available in the marketplace.
72% of Federal Student Loan Borrowers Aren't Financially Ready to Resume Payments
Updated on:
Content was accurate at the time of publication.
Rumblings emerged from Washington, D.C., in early March that the White House was considering yet another extension of the pandemic-inspired moratorium on federal student loan repayment. That would be welcome news for a majority of borrowers nationwide.
Nearly 3 in 4 federal student loan holders report not being financially ready to resume monthly payments if the freeze on interest and dues expires as scheduled on May 1, according to the latest LendingTree survey of 1,050 borrowers. (UPDATE: Since this survey was fielded, the moratorium has been extended twice, now running through Dec. 31, 2022.)
The survey also indicates that the majority of moratorium-eligible borrowers have used their monthly savings to pay for basic necessities, while borrowers whose loans weren't eligible for the reprieve have had to struggle unaided throughout the pandemic.
On this page
Key findings
72% of federal loan borrowers say they're not financially ready to resume submitting monthly payments. That jumps to 86% among borrowers whose income was impacted by the coronavirus pandemic and hasn't returned to normal.
More than half of borrowers who haven't made federal loan payments put their monthly savings toward necessary expenses, such as housing costs or groceries (52%). Others used the money to pay off other debts (30%) and get back onto their feet financially (28%).
78% of borrowers with federal or private student loans that don't qualify for the moratorium have faced difficulty making their monthly payments throughout the pandemic. And crippling student debt isn't a new trend: 39% of all borrowers had significant trouble affording their student loan payments even before the pandemic.
One possible solution: 73% of those who have refinanced their student debt say doing so made their payments more manageable. However, just 12% of borrowers have refinanced.
Nearly 3 in 4 borrowers not ready to resume student loan payments
The moratorium on federal student loan interest and payments arrived in March 2020, as part of the Coronavirus Aid, Relief and Economic Security (CARES) Act. The administrative forbearance was only supposed to last through Sept. 30, 2020, but two American presidents have extended it five times.
Now, 72% of federal loan-holding respondents say they still aren't ready to see the student loan freeze expire. (That's compared to about 1 in 3 federal loan borrowers who reported the same feeling in advance of the previous Jan. 31 deadline, according to our July 2021 survey.)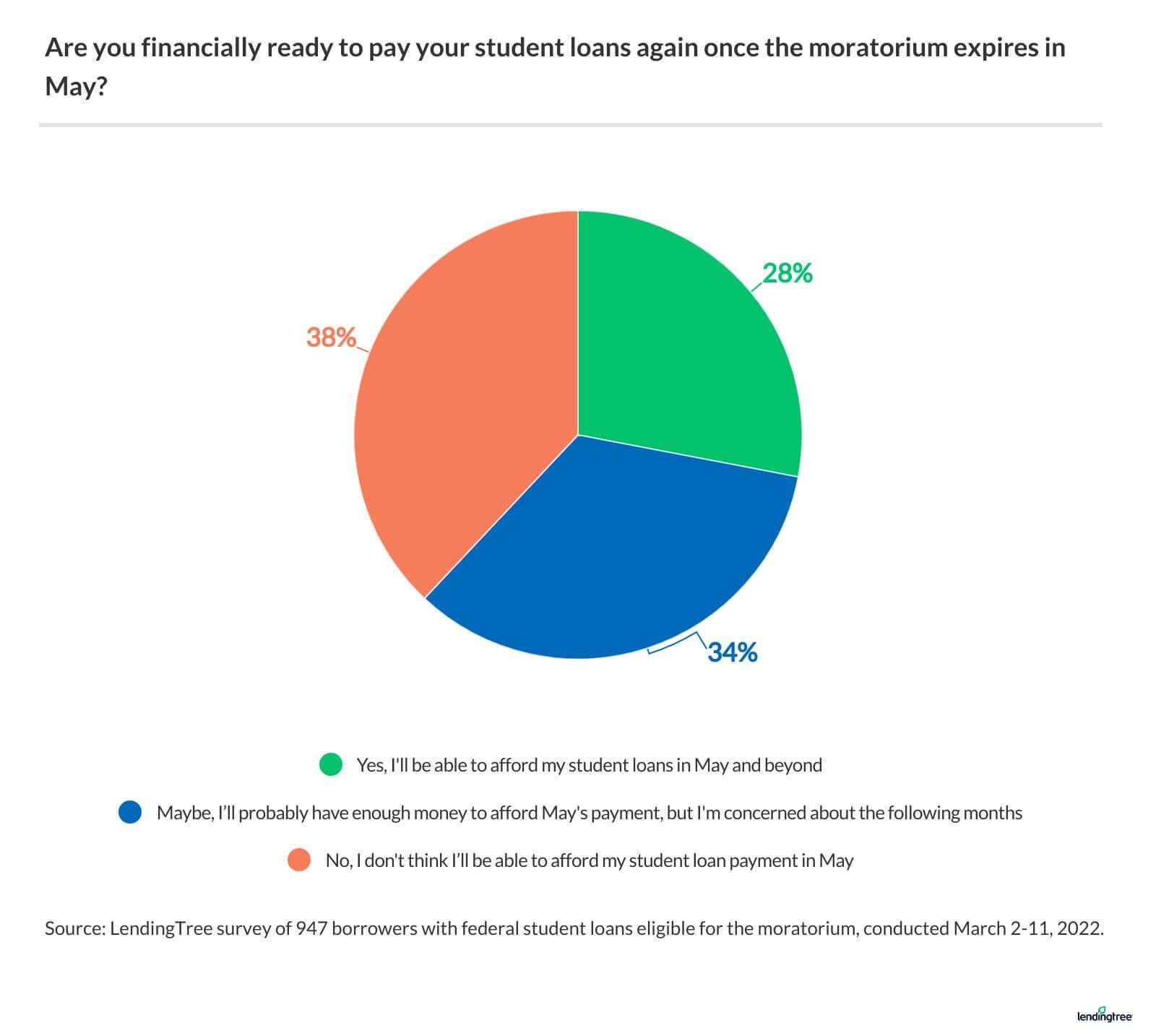 While about 9 in 10 borrowers who saw their income impacted by COVID-19 weren't feeling ready to pick up repayment, they weren't alone. Generation Xers (ages 42 to 55) are also especially reluctant to resume payments, with 78% not feeling ready.
When asked about the pause in our survey, one borrower wrote: "I did not have money to pay [the loans] at the time. I don't know what I would have done if they were not paused, and still don't know what I'm going to do when they continue."
Before the pandemic arrived on U.S. shores about two years ago, older borrowers were already reeling. More than half (54%) of Gen Xers — many of whom may be saddled with high-interest federal parent PLUS loans — say their debt caused them to struggle in advance of the moratorium.
Majority of borrowers skipped voluntary payments to cover necessities
Our survey included another strong sign that federal loan borrowers have benefited from the postponement of payments and interest — and could need it to stay in place past May 1.
More than half of borrowers pocketed their non-payments, and about 52% of those who did redirected their monthly savings to cover necessary costs for housing or food. Not having to make a monthly payment also helped borrowers pay off other debt (30%) and get back on their feet (28%).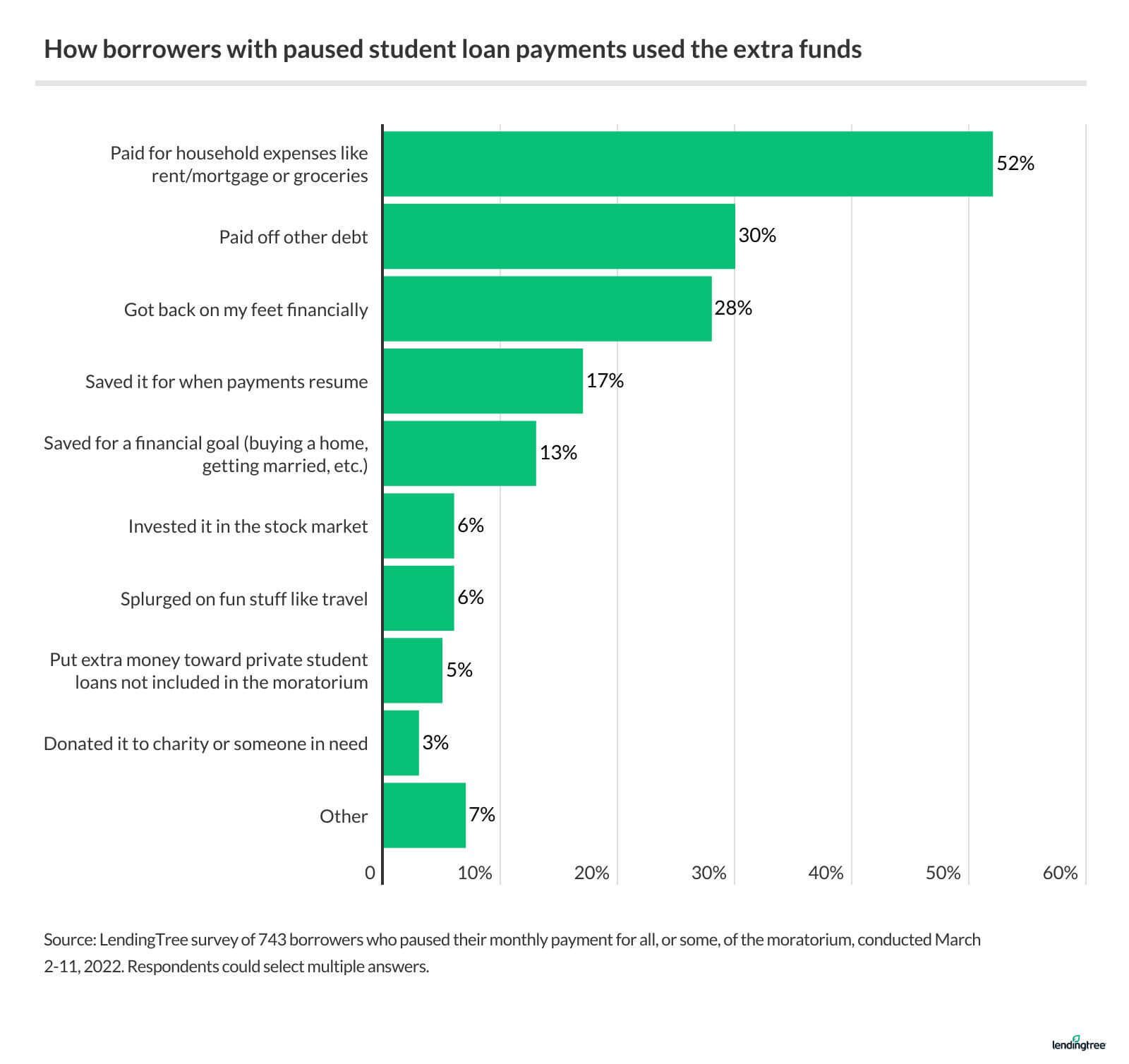 Along generational lines, Gen Zers (ages 18 to 25) are among the better planners: Nearly a third (31%) of borrowers who haven't made every payment during the pause saved the money for when payments resume — nearly double the overall average of 17%.
The savings from inactive repayment represents a significant chunk of change. If the moratorium does indeed span March 2020 to May 2022, federal loan borrowers will have saved an average of $6,949, or $278 a month, over 25 months, according to our January 2022 study.
That explains why 58% of moratorium-eligible borrowers we surveyed told us they hadn't made a single voluntary payment during the pandemic.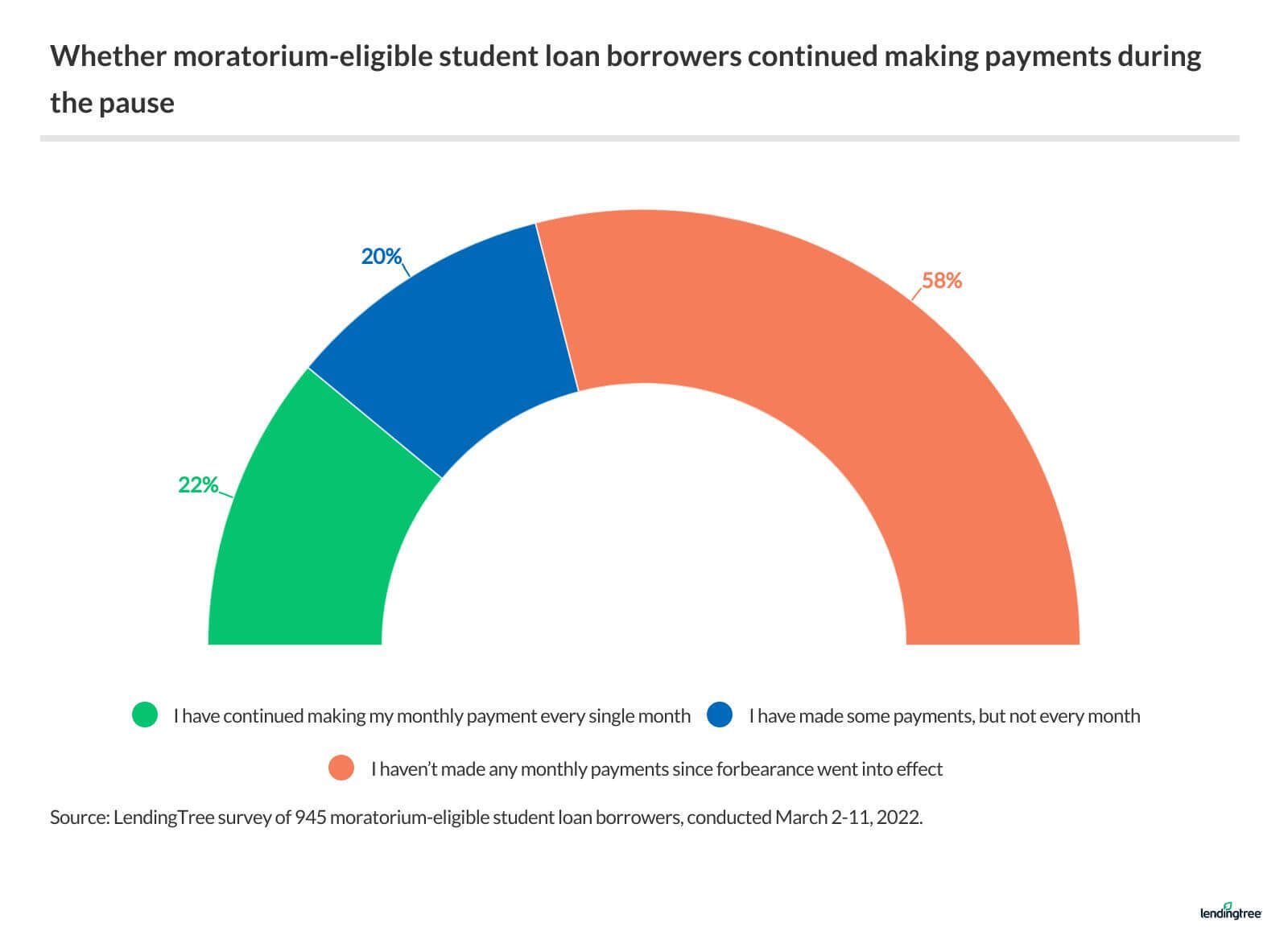 In full transparency, U.S. Department of Education data as of early 2021 showed that even fewer moratorium-eligible borrowers had elected to submit an optional payment.
"Only about 500,000 direct loan borrowers opted out of the payment pause and were in repayment status as of March 31, 2021, compared to 18.1 million borrowers a year ago, soon after the CARES Act was passed. More than 23 million direct loan borrowers with outstanding loans of about $938 billion are now in forbearance status, and more than 99% of these balances are in the special CARES Act forbearance."
Source: Department of Education, June 2021 announcement
Struggle never stopped for borrowers not eligible for moratorium
About two-thirds of borrowers (67%) whose loans have been eligible for the mass repayment pause say it was "extremely helpful" to their financial situation, according to our survey.
But remember that the federal loan repayment suspension wasn't universally awarded — all private student loans and many types of federal loans, including Federal Family Education Loans and Perkins loans, were excluded from this government relief.
According to our survey, close to 8 in 10 borrowers with ineligible loans have been challenged to meet their minimum monthly payments during the pandemic.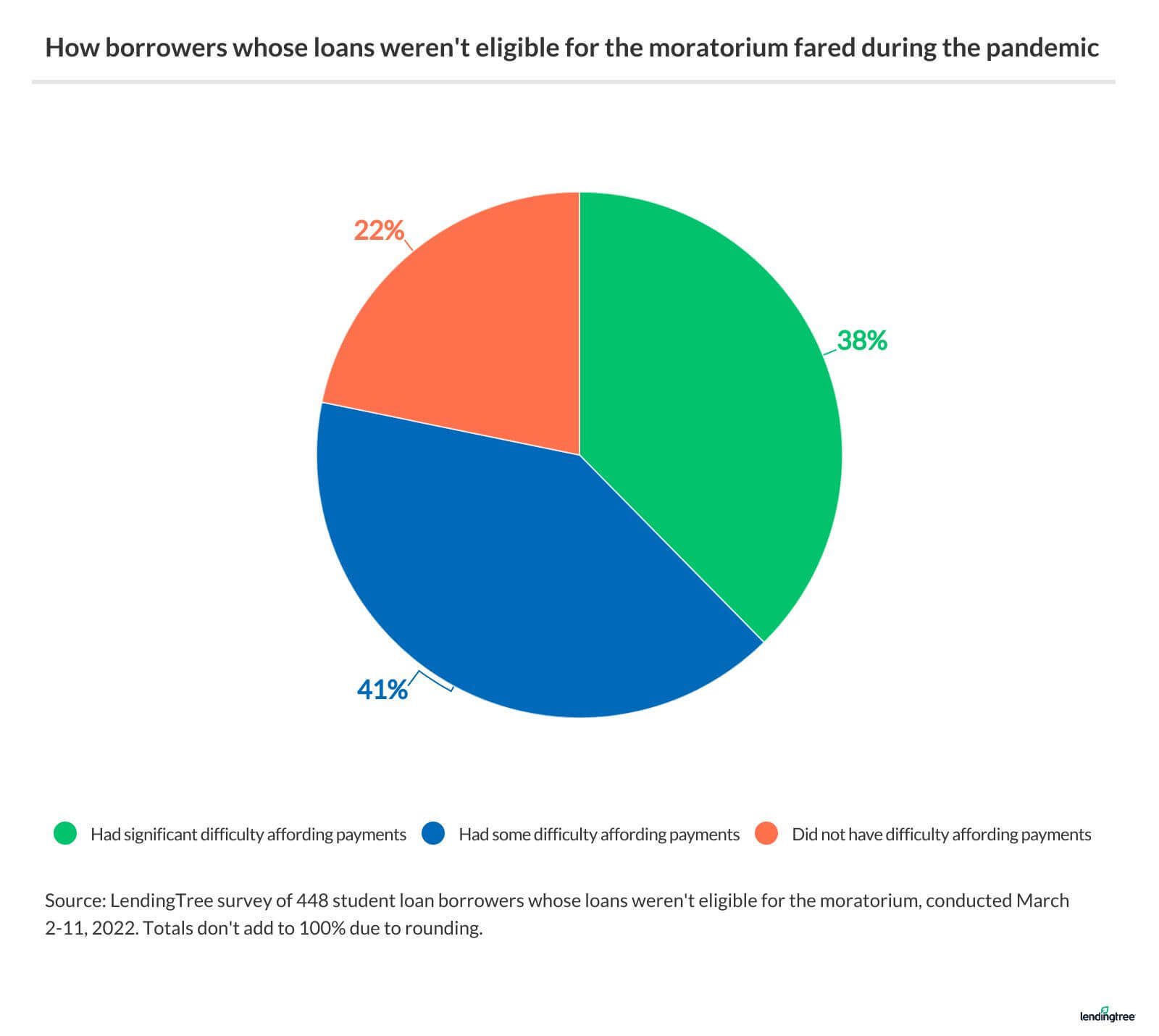 Given that the student loan crisis is nothing new, it's worth noting that more than 11% of student loans were 90 days or more delinquent before the pandemic struck, according to our student loan debt statistics.
The White House is undoubtedly weighing a potential uptick in defaults as part of its decision on whether to extend the moratorium yet again or offer mass student loan forgiveness. Many borrowers were confident that the President Biden-directed Department of Education would offer meaningful student loan support, according to our January 2021 survey.
Solutions abound for borrowers in lead-up to payment resumption
Given that many borrowers don't know the basics of their debt — more than half are unaware of their balance, according to our August 2021 survey — it's fair to assume that they might also be unsure about alternative options for relief if and when the moratorium expires.
Fortunately, there are many potential solutions for federal loans, including:
Enrolling in an income-driven repayment plan to cap monthly dues at a percentage of the borrower's income
Requesting a deferment or forbearance to pause repayment for months at a time in cases of unemployment, hardship and other scenarios
Seeking student loan forgiveness and repayment assistance from the federal government, states and employers
Another route to consider is exchanging federal loans for one new private loan of the same balance — but at ideally friendlier repayment terms. According to our survey, more than 7 in 10 borrowers who have refinanced their education debt report that their monthly payments are more affordable as a result. (Through refinancing, creditworthy borrowers can seek a lower interest rate or longer repayment term to decrease monthly dues.)
With that said, just 12% of borrowers we surveyed have completed student loan refinancing. Interestingly, men are more likely to go through with refinancing than women (18% versus 8%).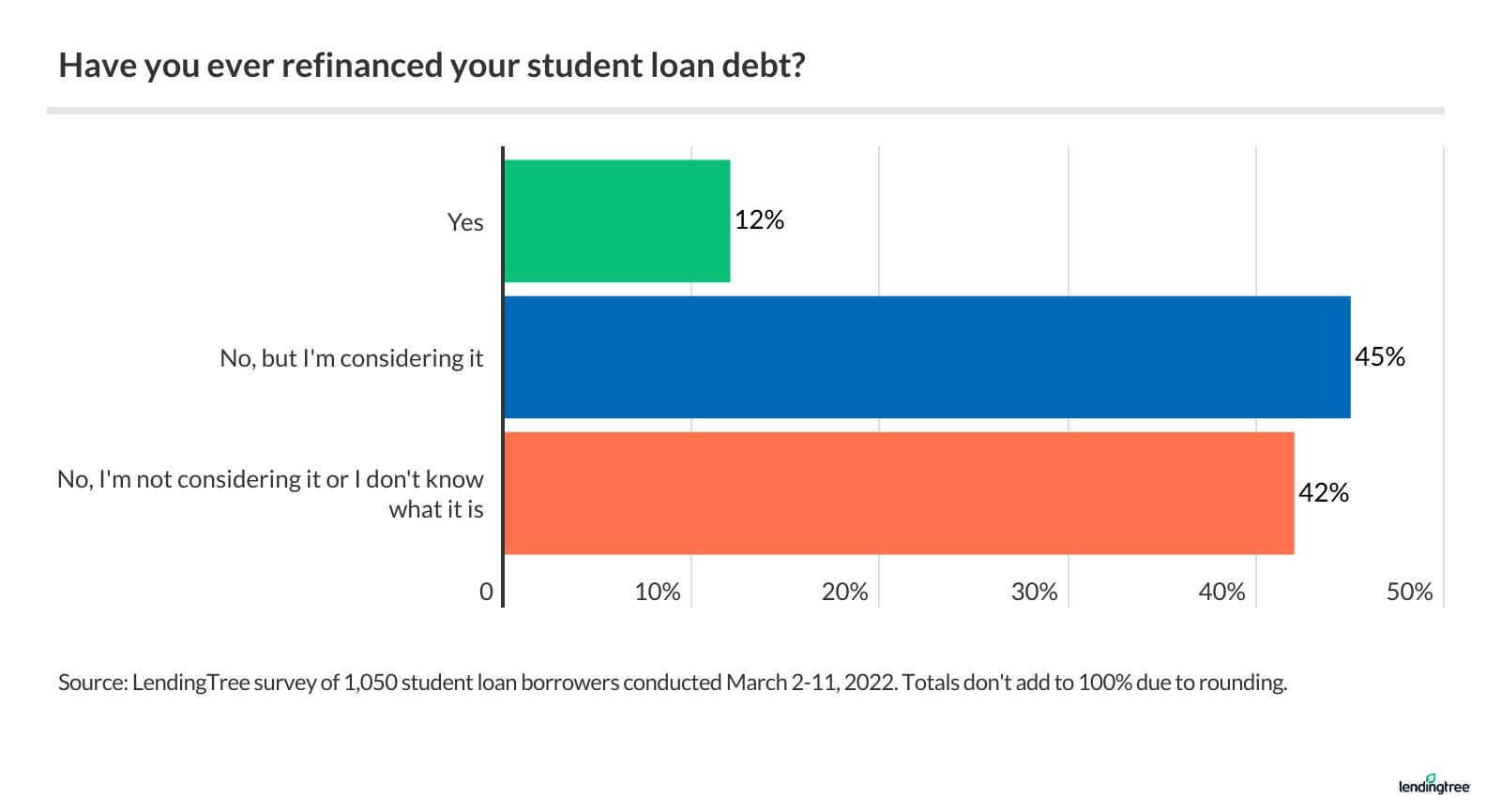 Before refinancing federal student loans, however, it's wise for borrowers to wait out the moratorium on payments. That's because irreversible refinancing strips federal loans of government-exclusive protections, including the moratorium and most pathways toward loan forgiveness, not to mention access to income-driven repayment plans. Borrowers should consider other pros and cons of refinancing before proceeding with an application.
Methodology
LendingTree commissioned Qualtrics to conduct an online survey of 1,050 student loan borrowers aged 18-55 from March 2-11, 2022. The survey was administered using a nonprobability-based sample, and quotas were used to ensure the sample base represented the overall population. All responses were reviewed by researchers for quality control.
We defined generations as the following ages in 2022:
Generation Z: 18 to 25
Younger millennial: 26 to 35
Older millennial: 36 to 41
Generation X: 42 to 55