How Does LendingTree Get Paid?
LendingTree is compensated by companies on this site and this compensation may impact how and where offers appear on this site (such as the order). LendingTree does not include all lenders, savings products, or loan options available in the marketplace.
Interest in Car Buying Spikes on LendingTree Marketplace Amid Coronavirus Crisis
Updated on:
Content was accurate at the time of publication.
The coronavirus pandemic has caused massive waves in the U.S. economy, but that doesn't mean Americans aren't still considering big-ticket vehicle purchases. In fact, data from LendingTree's marketplace shows that organic interest in car financing recovered in early April ahead of a dramatic rise.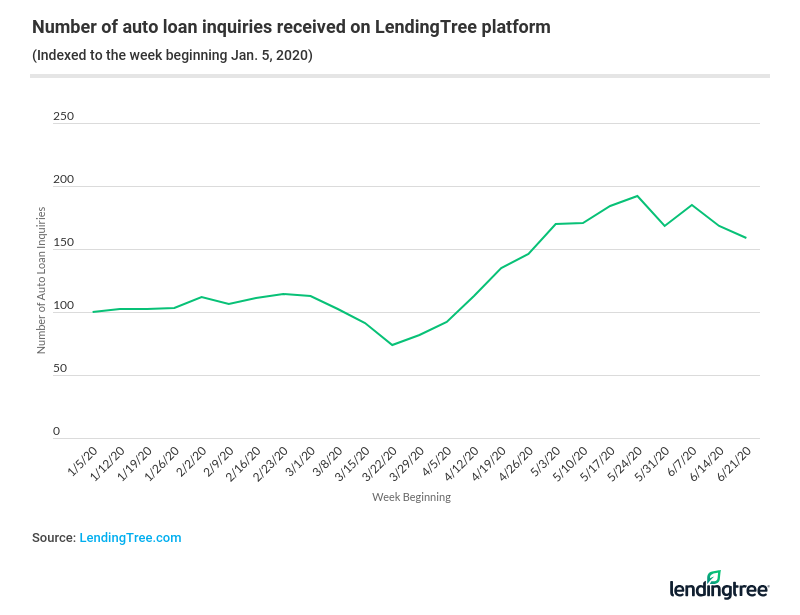 Key findings
The number of inquiries for auto financing on the LendingTree marketplace was 92% higher in the last full week of May than it was in the first full week of 2020.
While interest in auto loans dropped in mid-March, the number resurged by the second full week of April and continued an upward trajectory through late May.
Consumers sought larger auto loans — and were willing to provide bigger down payments — as the coronavirus crisis began to impact the economy. The average implied cost (requested amount plus proposed down payment) for a vehicle purchase jumped from $19,178 during the week of March 1 to $23,720 during the week beginning April 5.
APRs dropped substantially for potential buyers beginning in late March after peaking in late February and early March (mostly before the crisis was in effect).
A larger share of buyers planned to purchase from individual sellers compared with dealers beginning in late April. Nonetheless, queries from interested parties planning to buy from both seller types increased through the period.
Requested amounts, down payments rose as pandemic began
Average requested amounts steadily rose around the onset of the coronavirus pandemic until its peak of $21,388 the week of April 5.
Going back to the start of the crisis, the week of March 15 saw an almost $1,000 increase in the average requested amount from the week before. Down payments followed a similar trajectory outside of a slight drop in late March and early April, continuing its rise into April.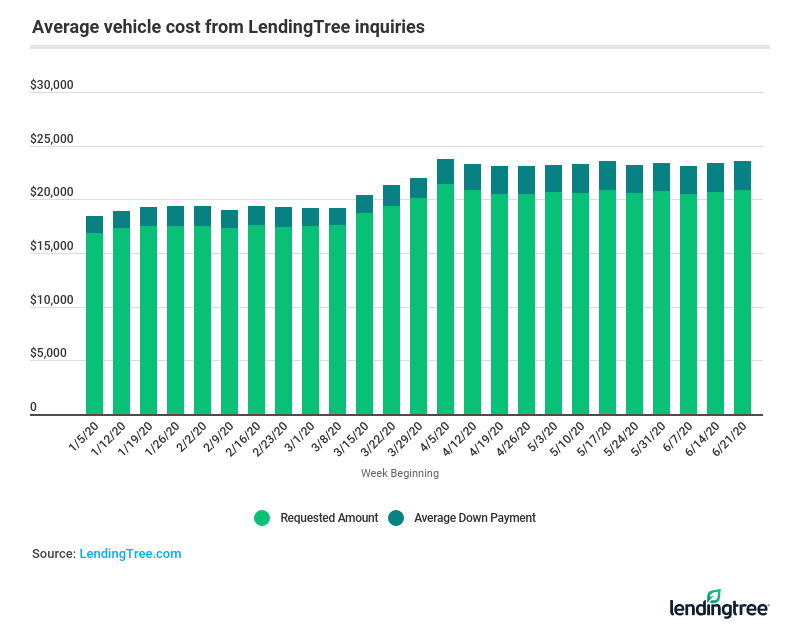 At least 46 states had shut down nonessential businesses by the beginning of April, when requested amounts hit their peak. The increase may have been due to a rise in demand as public transportation became less desirable and travel options were limited.
Another key factor could have been the government coronavirus relief checks, which were first issued in mid-April and could have served as down payments.
Role of 0% APR car deals
By the next month — May — consumers were able to take advantage of unprecedented 0% APR car deals offered by automakers who fiercely wanted cash flow, said Jenn Jones, LendingTree's auto expert. Several manufacturers offered 0% financing for 72 months and large rebates.
Consumers who can offer larger down payments can often find better deals. Car sales tend to be slow the first few months of the year after holiday-season spending, Jones said, but interest picks up in March, which coincides with tax refunds rolling in.
Loans more affordable for prospective borrowers across board
The drop in average offered APRs across credit categories — prime, midprime and subprime — began around the onset of the pandemic. But that downward trend didn't stick. At the beginning of April, offered APRs increased.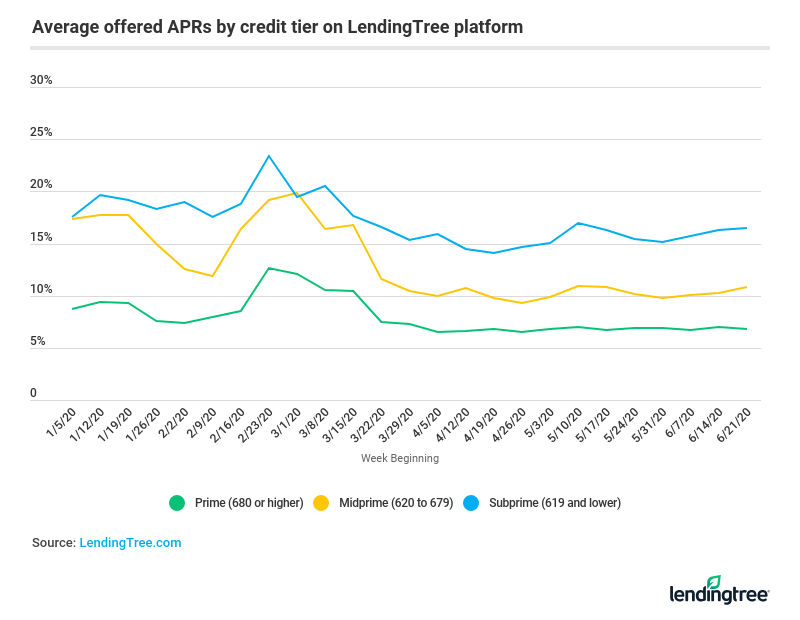 Prospective borrowers in the midprime — 620 to 679 credit score — range saw APRs drop from 16.73% the week of March 15 to 11.55% the week of March 22. This was a decrease of almost 31% immediately after the second emergency rate cut by the Federal Reserve, when the federal funds rate fell to near zero.
Of note, midprime and subprime — 619 credit score or lower — average offered APRs were almost identical at the start of 2020, while there was an almost 6 percentage-point difference by the end of June. The average offered APR for prospective prime borrowers — 680 credit score and higher — has come down by almost 2 percentage points compared with the beginning of the year.
More prospective buyers turn to individual sellers
The end of March saw a rise in interest for individual sellers and dealers. Since then, this gap has only widened.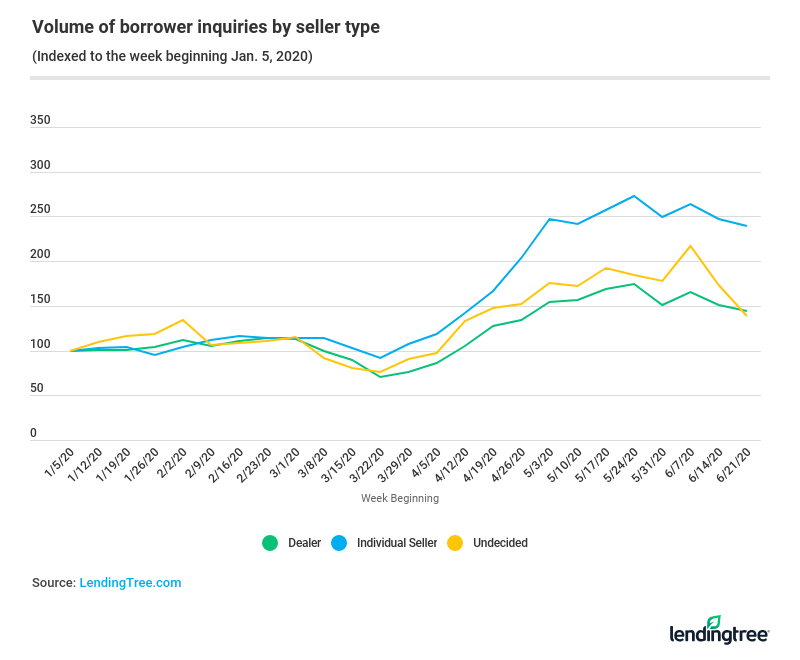 Individual dealers only saw about a two-week drop-off before big increases beginning in late March through early May. So although dealer incentives played a role in new-car purchases, so did the rising volume of individual sellers.
It's also worth noting that dealers accounted for the largest share — by far — of queries on the LendingTree platform.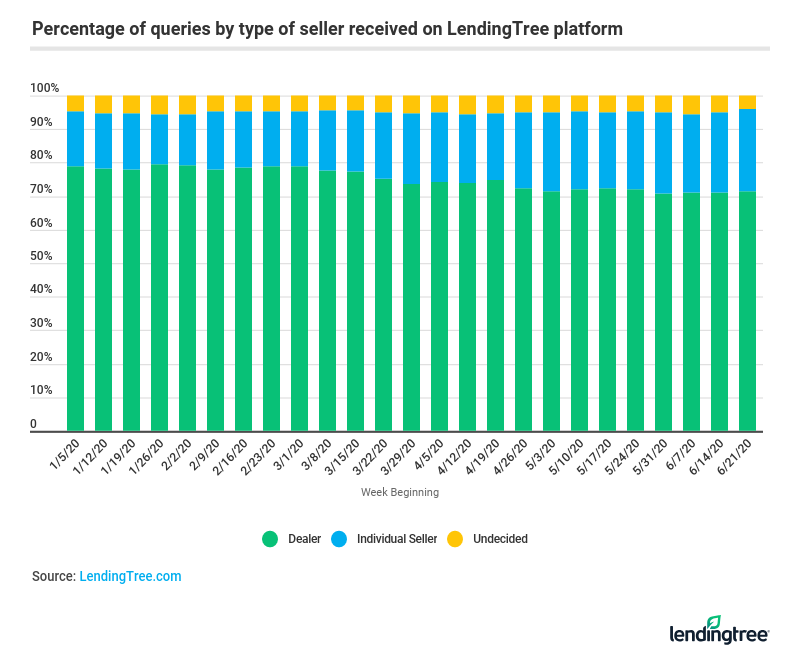 Historically, car-buying inquiries tend to pick up in March through the end of summer. But that may not hold true this year, Jones said.
"I don't see the volume of borrower inquiries shooting up again like it did in April and May," she said. "Not only were people who wanted to buy a vehicle suddenly able to — the great deals pulled demand forward — [but] people who might have completed a purchase later in the year had incentive to buy [earlier]."
Car-buying tips during the coronavirus crisis
Come prepared: Whether you're visiting a dealership or you're buying from an individual seller, be sure to wear a mask (and gloves if you choose) while adhering to your state's relevant coronavirus guidelines.
Call ahead: Potential buyers going to a dealer, for example, can call to ask about safety requirements. It can also be useful for peace of mind to know if the dealers are disinfecting doorknobs, or enforcing mask requirements within the showroom.
Seek preapproval: For prospective borrowers looking to finance their vehicle, auto loan preapproval can be a great way to ensure you don't get an inflated APR when the time comes. This can also help minimize the amount of time spent at the dealership.
Set the ground rules: Borrowers considering an individual seller should make sure that both parties are on the same page about coronavirus precautions. For example, the seller may offer to wipe down the interior with disinfecting wipes before your arrival. Or the buyer could ask for other precautions as necessary.
Consider buying a used rental car: It's no secret that the pandemic has had a negative impact on the rental car industry, but you can use that to your advantage. Consumers might be able to find a great deal on used rental cars from Hertz, Jones said. There are pros and cons to buying rental cars, so use due diligence.
Don't let the pandemic stop you from getting a good price: Going out in public — or being around someone you don't know — can be intimidating given the circumstances. But this doesn't mean that you should feel rushed to come to a car decision or to agree to a price if you aren't happy with it.
Methodology
Analysts aggregated weekly data from anonymous auto loan inquiries from Jan. 5 through June 27, 2020. The count of inquiries was limited to those received through organic search or offline advertising as changes to online marketing strategies can alter the number of inquiries received. These counts were indexed to the week beginning Jan. 5. All results were limited to queries on car and light truck purchases.