How Does LendingTree Get Paid?
LendingTree is compensated by companies on this site and this compensation may impact how and where offers appear on this site (such as the order). LendingTree does not include all lenders, savings products, or loan options available in the marketplace.
Nearly Half Who Bought a Car in the Past Year Have Regrets
Updated on: January 24th, 2022
Why use LendingTree?
We are committed to providing accurate content that helps you make informed money decisions. Our partners have not commissioned or endorsed this content. Read our .
Buyers' regret can strike anyone, and the pain can worsen when the price tag is high. Nearly 40% of consumers feel this sting due to car-buying regrets, according to the latest LendingTree survey of almost 2,000 car owners. The leading cause of regret is not the payment or the color of the vehicle, but its make and model.
Experience, however, yields wisdom. The groups with the lowest incidents of car regret are baby boomers and those who have owned their vehicles for six or more years.
Key findings
Nearly 40% of consumers who've purchased a vehicle have car-buying regrets. The most common regrets are choosing a different make or model, buying an unaffordably expensive car and not shopping for a better deal.
Baby boomers and long-term car owners have few regrets. Only 20% of baby boomers have car-buying regrets, compared with 60% of Gen Zers. Nearly a quarter (24%) of Americans who bought a car six or more years ago feel regret, while that percentage nearly doubles for people who purchased a vehicle in the past year.
75% of six-figure earners and 60% of men have acted to alleviate regrets.

Most men, as well as those making $100,000 or more annually, took action to counter their regrets

, mainly selling their vehicles or refinancing their auto loans.
34% of consumers regret choices made during ownership. Topping the list were not doing enough maintenance and ignoring an issue until it was too late.
More than a quarter of millennials, six-figure earners and recent buyers struggle with car payments. 28% of millennials and those earning $100,000 or more and 27% of those who bought a car in the past year report current hardship covering their monthly car bill.
Around 40% of Gen Zers and millennials have been underwater on a car loan, owing more than the vehicle is worth. Across all age groups, 33% have been underwater either now or in the past.
Most common car-buying regret is the vehicle itself
Nearly 4 in 10 (39%) Americans who have bought a car have regrets about their purchase. Consumers across generations, gender and income report in the double digits that they wished they had purchased a different make or model, putting the top car-buying regret at 14% overall. Buyer's regret can strike anyone because no one vehicle can do it all, no matter the price tag.
The second and third most common regrets overall are buying an unaffordable car (10%) and not shopping around for a better car deal (8%).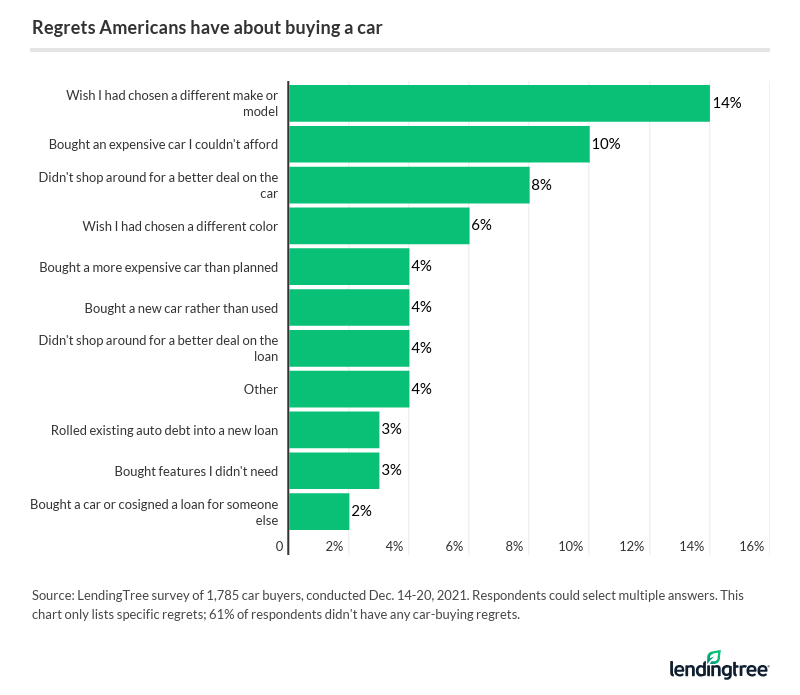 Diving deeper into the largest car-buying regret, these are the top groups that wish they'd gotten a different car:
20% of Gen Zers (ages 18 to 24) and 19% of millennials (ages 25 to 40)

17% of those making $75,000 to $99,999, as well as 15% of both those making $100,000 or more and $35,000 to $49,999
Regrets decrease with buyer age, length of car ownership
Nearly half (47%) of Americans who purchased a vehicle in the past year had regrets, but this decreased as ownership terms lengthened, reaching a low of 24% for Americans who bought a car six or more years ago. Notably, the average car loan term is close to six years.
The least regretful of any generation, 80% of baby boomers have had no car-buying regrets, compared with only 40% of Gen Zers. Car-owning regrets and the experience of not being underwater on a car loan followed a similar pattern.
Meanwhile, younger generations tend to drive up less common regrets. For example, 7% of millennials regret not shopping around for an auto loan, versus 3% of Gen Xers (ages 41 to 55) and 2% of baby boomers (ages 56 to 75).
High-earners, men act on their car-buying regrets
Three-fourths (75%) of high earners — people making $100,000 or more annually — and 60% of men have acted on their regrets.
For both, the most popular action is selling the car: 37% of high earners and 27% of men got rid of their disappointing vehicles. Refinancing trailed as the second most popular solution — 29% of high earners and 22% of men refinanced.
In comparison, only 35% of both people making $35,000 to $49,999 and women have taken action to alleviate their regrets.
Biggest ownership regret is not maintaining the vehicle
More than a third (34%) of consumers who have bought a vehicle say they have regrets related to their ownership.
At the top, 11% of respondents regret not doing enough vehicle maintenance. Preventive maintenance can be a financial burden and a chore, but not doing it can mean you'll need a new car much sooner than expected.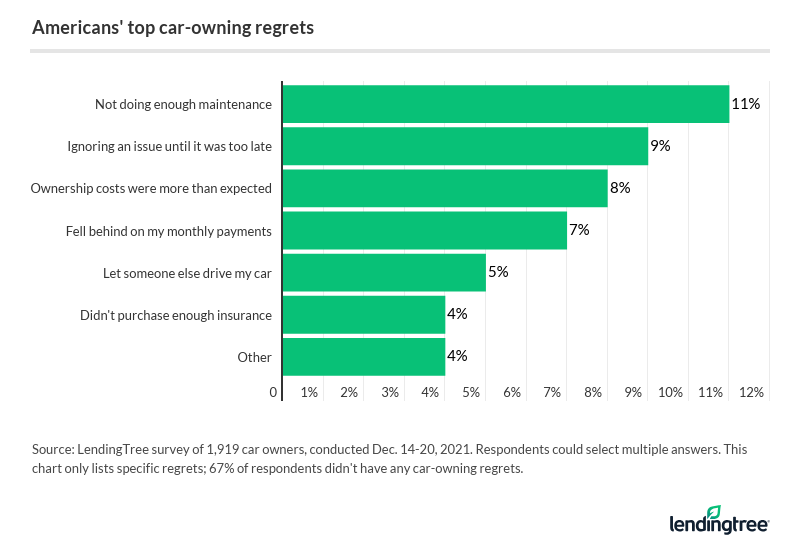 The second biggest regret is ignoring an issue until it was too late, at 9%. One-fifth (20%) of Gen Zers ignored something that became a major problem, but the youngest generation wasn't alone: This was the second biggest regret for both millennials (12%) and baby boomers (3%).
Millennials, high earners and recent buyers fight high car payments
Among all car owners, 17% report current struggles paying their bills. Nearly 3 in 10 (28%) millennials report this.
Counterintuitively, the higher the income, the more people struggle. In fact, 28% of people who make $100,000 or more report difficulty paying the monthly bill, which is more than double the 12% of people who earn less than $35,000 who are also currently struggling.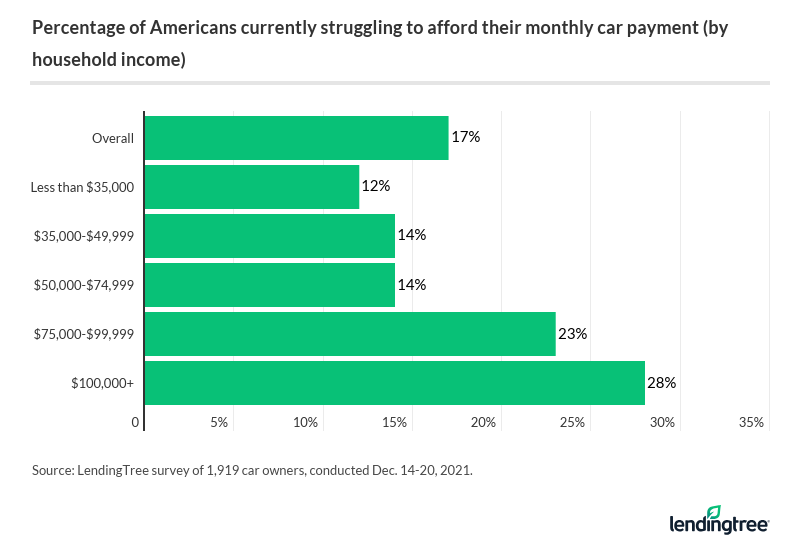 The next largest group facing this problem is people who've purchased a vehicle in the past year. More than a quarter (27%) of recent buyers are stressed trying to cover their car payments — notably, vehicle prices reached record highs in 2021 due to the effects of COVID-19, suppressing supply. When shopping for a vehicle, it's smart to keep a car loan calculator available on your phone.
A third of Americans have been underwater on their cars
Across all age groups, 33% of Americans have been or are currently underwater, owing more on their car loans than what their vehicles are worth.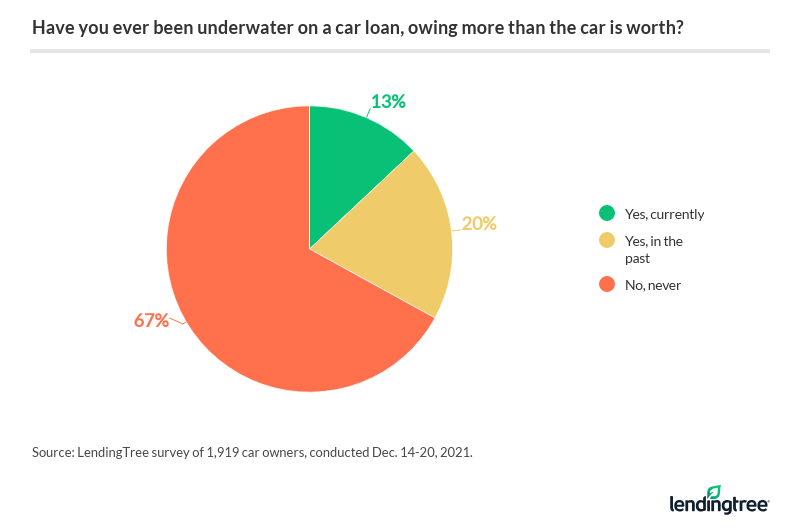 That percentage rises among Gen Zers (40%), millennials (39%) and Gen Xers (37%). This can put drivers in a pickle if their vehicles are totaled or they need to sell or refinance their cars.
When you narrow this topic, here are the largest groups of people who are currently underwater on their car loans:
26% of consumers who make $100,000 or more
22% of Americans who purchased a car in the past year
20% of millennials and Gen Zers
What to do when you regret a car purchase
Regretting an expensive purpose is never a good feeling. Car buyers can feel anxious about whether their new vehicle was truly the best choice — the right balance of price, capability and style. Here are some options if you're feeling regretful.
Talk to a peer. Lay out the facts for a friend or family member and get their opinion. They may agree with what you chose and help you to feel better, or they may point out a solution you hadn't considered.
Work with the dealership. If your purchase was a couple of days ago, you could ask the dealership to void your previous paperwork and switch you to another car. Dealerships are typically under no obligation to do this, but speaking nicely with the general manager may work in your favor.
Seek consumer protection. If something fishy happened during the transaction, you can contact your state's local consumer protection office or the office of the attorney general.
Find a debt counselor. If your fears are money-based and you're having trouble meeting your payments, get a professional opinion. The U.S. Department of Justice keeps a list of accredited counselors.
Sell or trade in the vehicle. Even though you'll likely have to pay sales tax again, getting rid of your current vehicle and into one that better suits your needs could be worth it.
Refinance the car. Auto refinance could lower your payments and/or lower your APR, especially if you didn't shop around for your car loan and get a preapproval.
Make a plan to get your dream vehicle in the future. If your heart hurts because you had to buy a minivan instead of a convertible, do some research and make a feasible financial plan to get what you want. For example, you could get a used Mazda Miata in a year and be able to zip around with the wind in your hair.
Methodology
LendingTree commissioned Qualtrics to conduct an online survey of 1,919 U.S. car owners from Dec. 14-20, 2021. The survey was administered using a nonprobability-based sample, and quotas were used to ensure the sample base represented the overall population. All responses were reviewed by researchers for quality control.
We defined generations as the following ages in 2021:
Generation Z: 18 to 24
Millennial: 25 to 40
Generation X: 41 to 55
Baby boomer: 56 to 75
While the survey also included consumers from the silent generation (those 76 and older), the sample size was too small to include findings related to that group in the generational breakdowns.