How Does LendingTree Get Paid?
LendingTree is compensated by companies on this site and this compensation may impact how and where offers appear on this site (such as the order). LendingTree does not include all lenders, savings products, or loan options available in the marketplace.
Gen Xers Carry the Biggest Auto Loan Burden
Published on: February 26th, 2019
Why use LendingTree?
We are committed to providing accurate content that helps you make informed money decisions. Our partners have not commissioned or endorsed this content. Read our .
In 2018, U.S. auto loan originations hit a 19-year high — $584 billion. Rising car prices, interest rates and loan term lengths translate to Americans tossing a large chunk of income toward more than $1.14 trillion in auto debt. A new LendingTree study shows that those between the ages of 39 and 54 shoulder the biggest load among its users — nearly 60% of Gen Xers have an auto loan. Here's what else we found:
Key findings
Not only do 59.7% of Gen Xers have an auto loan, they have the highest median loan balances — $18,741.
Baby boomers are in second place, with a median balance of $17,185.
However, millennials are more likely than boomers to have an auto loan at all — 55% of these young adults hold an auto note.
It's important to note that auto debt can be a particularly insidious type of debt as vehicles, unlike houses, typically lose, not hold or grow, their value. The average monthly payment on a new vehicle is $530 and used vehicle loan payments average $381. You can find more auto loan statistics at LendingTree.
Among those statistics, Gen Xers stand out because they're more likely to hold auto debt than other, larger generations. It should be noted while Gen X users on LendingTree hold more auto debt than other generations, those numbers may not translate to a higher number of loans held by each generation of the U.S. population as a whole. Nationwide, there are 55 million Gen Xers compared with 62 million millennials and 76 million boomers — though those numbers change with death rates and immigration trends.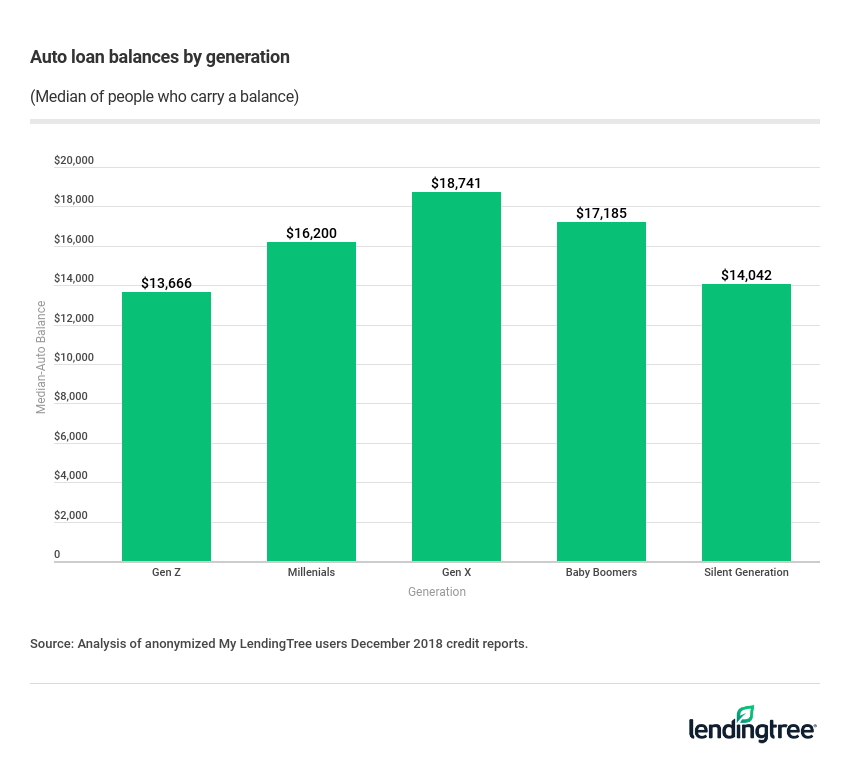 Gen X's auto loan debt is higher. At $18,741, the median balance of Gen Xers who have auto loans is 9% more than baby boomers' $17,185 median balance, nearly 16% more than millennials' $16,200 and 37% more than the lowest median balance of $13,666 held by Gen Z.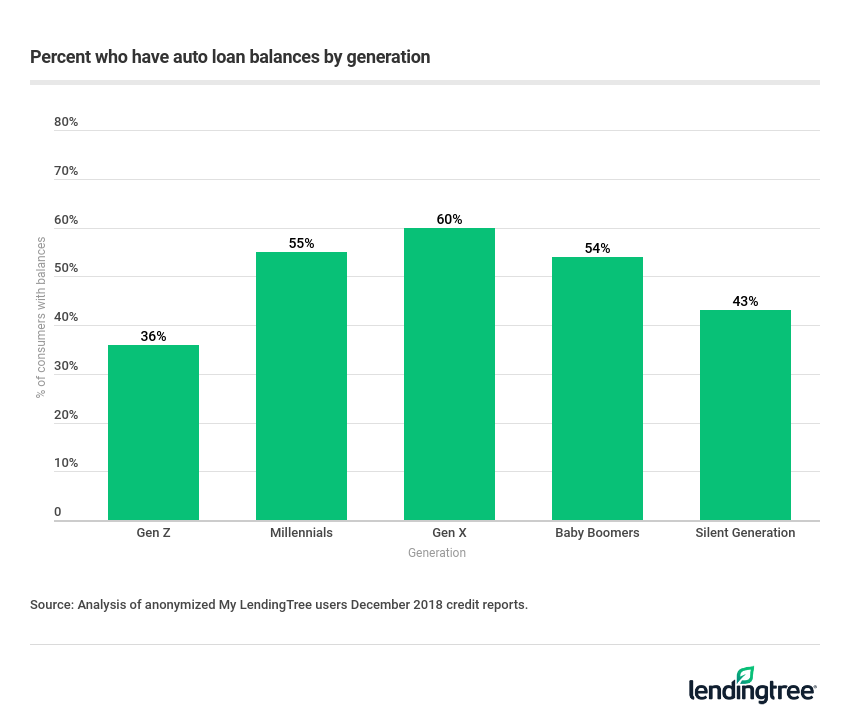 Gen X has more auto loan debt than any other generation. Nearly 60% of Gen X has an auto loan. This jives with the fact that they log the greatest number of miles, according to data from the Federal Highway Administration. Millennials are right behind Gen X; 54.5% of them have an auto loan. Baby boomers are not far behind at about 54%.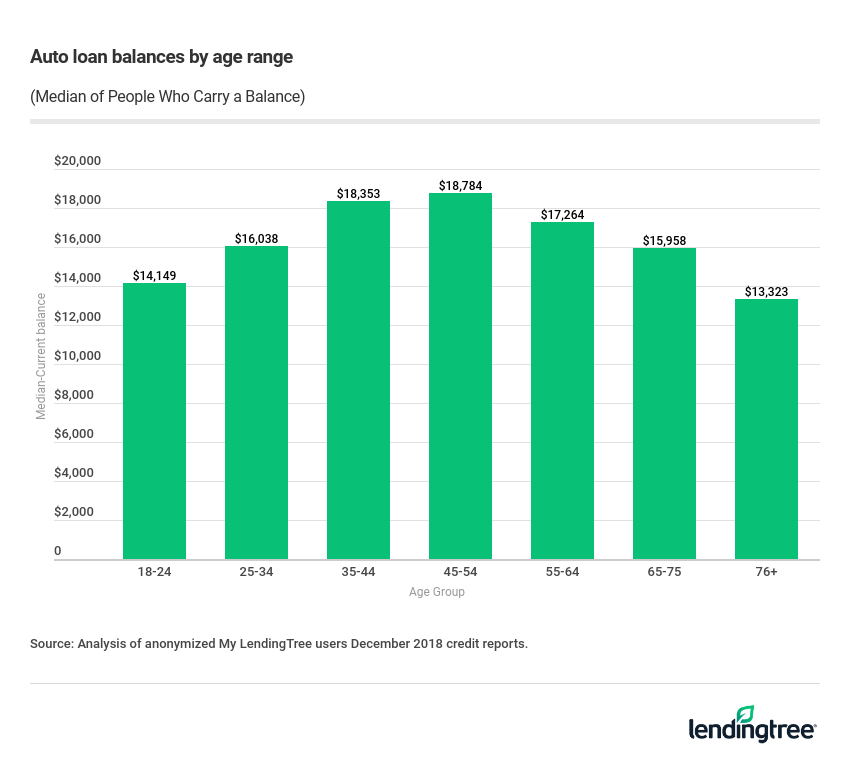 Older Gen Xers bear the highest auto debt burden among their generation. Americans 45 to 54 have the highest median auto debt balance, $18,784. It's $431 more than that of the younger half of that generation, which has a median balance of $18,353.
Auto Loan Debt by Generation
Generation
Median Balance
% of Consumers with Auto Loans
Gen Z
$13,666
36.2%
Millenials
$16,200
54.5%
Gen X
$18,741
59.7%
Baby Boomers
$17,185
53.9%
Silent Generation
$14,042
42.9%
Source: Analysis of anonymized My LendingTree Dec. 2018 credit reports.
The oldest and the youngest are the least likely to have auto debt. Only 36% of Gen Z has an auto loan, the median balance of which is $13,666. Whereas out of the oldest generation we looked at, 43% have an auto loan, the median balance of which is $14,042.
All of that auto debt takes a toll. Carrying a high auto loan for a long period racks up interest. Here are a few auto debt statistics for Americans of all ages:
The average new car loan is nearly $30,000
The average monthly new car payment is $530
The average auto loan term is nearly 69 months
When we looked at LendingTree users, we found that the average interest rate at the end of 2018 was 7.09%. If John Q takes out a $30,000 loan at that rate, he'll pay about $6,600 in interest, bringing the total cost of his new car to about $36,000, potentially excluding a down payment, taxes and fees — and this assumes he makes all loan payments on time and in full.
To pay less in interest on your auto loan, consider paying down your debt faster by putting more money toward the principal of the car loan when you can. Generally, the sooner you pay off more of the principal, the better off you'll be. Refinancing could also be an option.
To minimize future debt, know what you're getting into by using an auto loan calculator to clearly break down monthly payments and totals. And shop around for your auto loan, don't simply accept what the car dealer offers. You could fill out an online form at LendingTree and receive up to five potential auto loan offers from lenders at once, from which you could compare and choose.
Methodology
Using an anonymized sample of more than 1.5 million LendingTree users' credit reports from December 2018, researchers calculated the percentage of people in each generation who had auto loan debt, and the median debt balances of those who carried a balance.
Generations are defined as follows: Millennials were born between 1981 and 1996, Gen Xers were born between 1965 and 1980, baby boomers were born between 1946 and 1964, and members of the silent generation were born between 1928 and 1945.
LendingTree offers a free credit monitoring service available to the general public, regardless of their debt and credit histories, or whether they've pursued loans on a LendingTree platform. LendingTree has more than nine million users.