How Does LendingTree Get Paid?
LendingTree is compensated by companies on this site and this compensation may impact how and where offers appear on this site (such as the order). LendingTree does not include all lenders, savings products, or loan options available in the marketplace.
Should You Buy or Lease a Motorcycle?
Updated on: September 30th, 2020
Editorial Note: The content of this article is based on the author's opinions and recommendations alone. It may not have been reviewed, commissioned or otherwise endorsed by any of our network partners.
If you dream of roaring down the road on a motorcycle, you're not limited to buying a new or used bike — you could get a motorcycle lease. Motorcycle leasing is a less expensive way to get on a bike, but ownership could save in the long run if you plan to keep a motorcycle for many years. Buying a bike with a credit card or home equity are just two alternatives to a motorcycle lease or loan, so we'll break down all of the options to help you make your best choice.
Can you lease a motorcycle?
It is possible to lease a motorcycle, but it's not extremely common. Buyers sometimes opt for cash when buying a motorcycle, since bikes are relatively cheap compared to cars and credit requirements aren't a factor. Those who prefer to pay for a motorcycle over time can use a motorcycle loan they set up through their own bank or credit union or with the dealership.
Leasing allows you to get a bike without the commitment of a loan, either through a motorcycle leasing company or motorcycle dealers. Not all dealerships offer leases, so you may have to look around.
Bad credit motorcycle leasing
You may be able to get a motorcycle lease with bad credit, but your fees could be high. A bad-credit motorcycle loan might be a better option, so compare both kinds of offers. Whichever route you choose, avoid "buy here, pay here" lots — their car counterparts have been known to charge high interest rates and fees, up to state maximums.
Motorcycle loan vs. motorcycle lease
Financing a motorcycle will be your best bet if you want to personalize your bike with different paint jobs, equipment and accessories, all things that would most likely violate any lease. If you're planning to take that new bike on a cross-country road trip, watch out for maintenance costs — a motorcycle lease might not have an included warranty. Mileage restrictions and wear-and-tear fees may not apply to a motorcycle lease, unlike a car lease, but be sure to ask about any and all lease restrictions.
Perhaps the biggest reason to buy versus lease is when you know that the bike you've set your eyes on is definitely the one for you, for the long haul — you might as well buy it.
When a motorcycle lease makes sense
On the other hand, if you're a new motorcyclist, it would be easier to lease a motorcycle, return it and lease a new one, than it might be to change your mind a couple of years after buying. If that happened, you would either have to sell the bike or trade it in.
Or, if you like to "keep up with the Joneses," then leasing might be right for you. It can allow you to upgrade to the latest model once your lease is up, though some leases may allow you to trade in during your lease term. If a nicer bike was too expensive to buy, a lease might bring it within budget.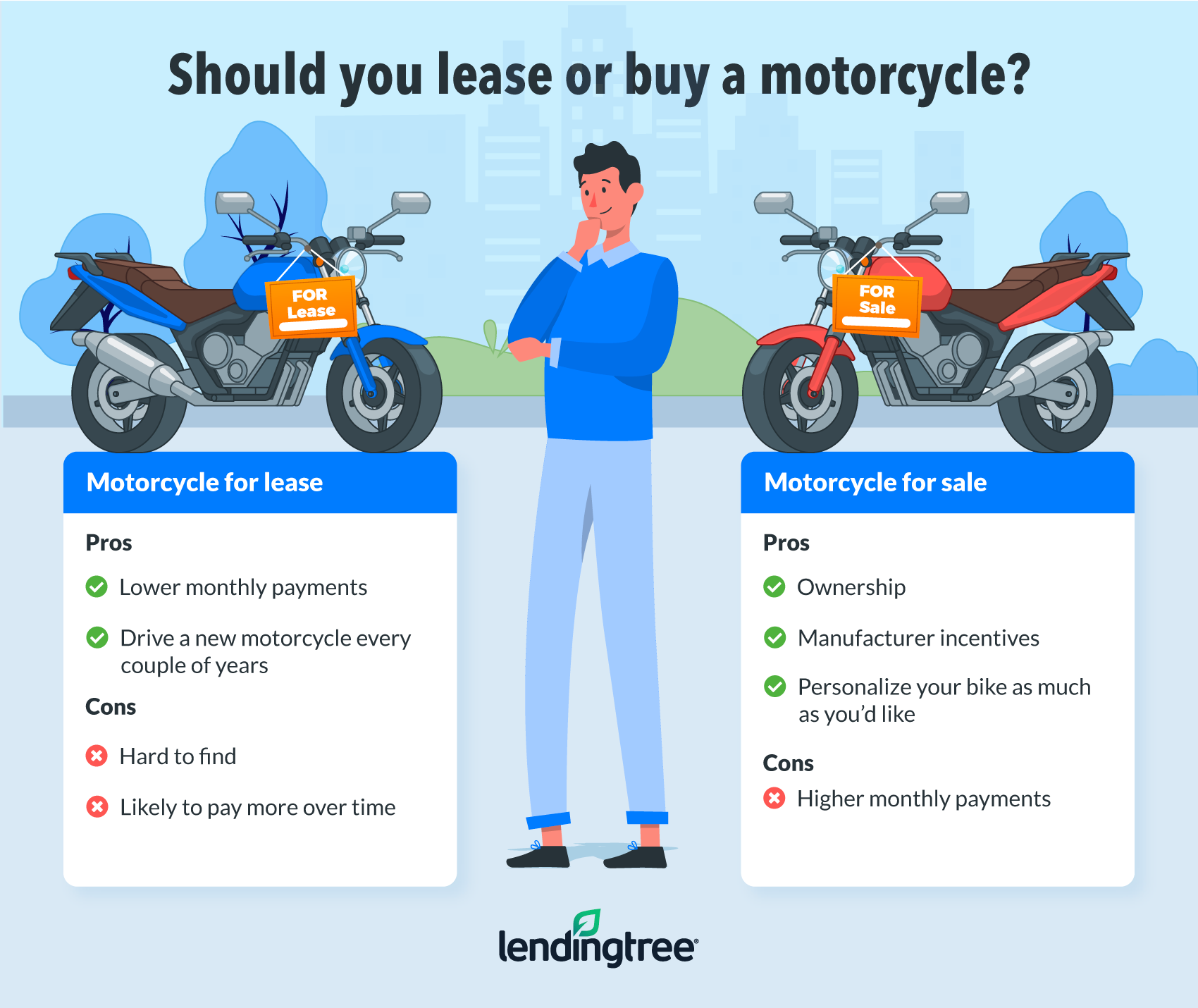 Which option is right for you?
Still can't decide? Answer the following questions.
How long do you intend to have the motorcycle?
If you know you only want to have the motorcycle for a few years, or you frequently get a new one, leasing is probably right for you. If you want to commit to having a motorcycle for a long time, then buying probably suits you better.
How much do you intend to ride it?
If you plan to drive a lot, leasing a motorcycle most likely isn't your best choice; buying might be better, as you would most likely receive a warranty. On the flip side, if you know you'll only drive it occasionally, then why pay more to buy?
How do you take care of your vehicles?
If you lease a motorcycle, you'll have to pay attention not only to its maintenance, but also to its upkeep — that is, how it looks. Excess dings or rusted chrome could eat away at your wallet in wear-and-tear charges when you turn the vehicle in. If you take care of your bike and have a spot in the garage for it, leasing shouldn't be a sweat. If not, and waxing and polishing (or paying for it) isn't your thing, then buying is probably better for you.
Do you want to modify your bike?
It's part of motorcycle culture to personalize your bike. You may want something as simple as a chrome gear cap with a skull design, or something more complicated like changing out the exhaust pipes. If you do want to go hog wild with accessories, then buying is a smart choice. When you lease a motorcycle, you'd be expected to return it with all original parts, no extras.
Where to find a motorcycle lease
You can find a motorcycle lease, usually between 18 and 60 months, through a dealer or leasing company. If you have a certain bike in mind, it would be smart to call the dealership ahead of your visit to check on any available leasing programs. Here are a few places to start:
MotoLease: You could apply for a lease prequalification online, or ask the company to connect you with one of its partner dealers nationwide. MotoLease says that it works with any credit situation and that it has a 90% financing approval rate; however, with a $25,000 lease maximum, some of the priciest motorcycle models may be off-limits. Notably, the Consumer Financial Protection Bureau (CFPB) received six complaints from MotoLease customers between the beginning of the year and Sept. 1, 2020.
Approval Powersports: This Michigan motorcycle dealer offers leases — including on used Harley Davidsons — as well as financing through its network of lenders. It works with all types of credit profiles.
Broward Motorsports: With several Florida locations, this dealership sells many types of powersport vehicles and could help you find motorcycle leasing or financing.
Before you commit to a lease, make sure to do your research on your potential lessor (the company you're leasing from). Check with your state attorney general's office (or other local authorities) and consult your state's consumer complaint database, if there's one available. Michigan and Florida, the home bases of Approval Powersports and Broward Motorsports, respectively, both have available resources.
6 alternatives to motorcycle leasing
1. Cash
If you know what you want and you have enough cash to get it without a worry, why lease or finance? Just keep in mind you'll have to pay taxes and fees out of pocket, in addition to the sticker price of the motorcycle.
2. Financing
For reasons we've already named, it might make good sense to take out a motorcycle loan instead of a motorcycle lease. But we'll add one more: Motorcycle manufacturers often have special financing offers available to buyers with good credit. For example, as of press time, Honda offered 0% APRs for 12 months with the Honda Powersports credit card.
Where to find motorcycle loans
Even if you think you might qualify for manufacturer financing, it's a good idea to get loan preapproval offers directly from your bank, credit union or online lender. Motorcycle loans are available up to 84 months, though 60- or 72-month terms may be more common. Rates are generally higher than those for auto loans, but it's still possible to find competitive APRs. You could fill out a single form at LendingTree and receive up to five loan offers from lenders, depending on your creditworthiness.
3. Renting
If a test drive feels inadequate before making a major purchase or lease decision, renting can be a great way to explore different types of motorcycles. Trying out a bike from Harley Davidson or elsewhere may help you find out if you prefer a sport roadster over a cruiser, or vice versa. Or, you may just like renting different models for different purposes, like a chrome-heavy cruiser to go to a high school reunion, or a more comfortable touring bike for a weekend trip.
4. Balloon loans
This type of loan combines aspects of leasing and buying: Try out a bike for relatively low payments for a set amount of time. At the end, if you want to keep it, you can either pay a lump sum or get a traditional loan on the balance. Motorcycle manufacturers are usually the ones to provide this type of financing, such as BMW's Easy Ride program. These programs usually require an excellent credit score, so not everyone will qualify.
5. Credit card
If the seller accepts this type of payment, you could use a credit card to buy a motorcycle and potentially reap the points or cashback rewards. Some cards offer 0% APR introductory financing periods for 12 months or longer, which you can use to your advantage. However, be aware that you may tie up a large portion of the credit that's available to you, and if you can't pay the balance before the end of the promotional period, watch out for deferred interest and be sure you understand your new APR.
6. Home equity
If you already have a home equity loan or line of credit, you could use the cash from that to buy a motorcycle outright.