How Does LendingTree Get Paid?
LendingTree is compensated by companies on this site and this compensation may impact how and where offers appear on this site (such as the order). LendingTree does not include all lenders, savings products, or loan options available in the marketplace.
Survey: One-third of Americans Thought about Starting a Business Last Year (but Don't Know Where to Get the Money)
Published on:
Content was accurate at the time of publication.
For many people, the embodiment of the American dream is running your own business and being your own boss. But even though one-third of Americans have thought about starting their own operation, lack of capital has stopped most from actually doing so, according to a new survey by LendingTree.
LendingTree commissioned Qualtrics to survey 1,067 Americans who said they thought about starting a new business in the past 12 months, about their attitudes toward small business and the challenges they perceive about small business financing. The survey was conducted June 14-21, 2018.
Although aspiring entrepreneurs see capital as an obstacle, they remain persistent in their ambitions and are exploring various financing options to fund their businesses, such as loans from the Small Business Administration and non-SBA business loans. In some case, a business owner may need to lean on multiple types of financing, depending on their needs.
"Growing and running your business profitably takes incredible patience and skill," said Hunter Stunzi, SVP small business, at LendingTree. "Of the many hats small business owners wear, CFO is perhaps the most critical. Managing capital requires you to build and maintain relationships with multiple lenders; don't put all your eggs in one basket. While one lender may take months to approve you for a large equipment loan, an online lender may approve and fund you same day. Both lenders have a place on your balance sheet."
Key findings
Nearly one-third (32%) of those surveyed have thought about starting a business in the past year.
Access to sufficient capital is by far the most common reason for not starting a business — 42% say access to enough capital is a primary impediment.
One-third of respondents said they are considering a Small Business Association (SBA) loan, making it the most popular source of small business financing. Conversely, one in four said they won't need to borrow to start their small business.
Inertia is an impediment for many. Just under half (44.6%) of respondents said that they haven't taken any steps to start a business, like registering a company, applying for a business loan or working on their business part time.
Some 25% of respondents said their primary motivation for starting a new business was wanting more purpose. Only 14% said they don't want a boss.
Twenty percent said they were willing to earn no income in order to get their business off the ground, while 16% would not tolerate any salary cut. About 23% were not willing to take on any personal debt to start a business. On the other hand, 19% were prepared to risk $25,000 or more.
The entrepreneurial spirit is strong
Among those who have contemplated starting a business, most people want to do so to add more purpose to their life. Purpose is a bigger motivator than wealth for the majority of people who want to open their own business.
Some would like to be their own boss, while others found inspiration in entrepreneurial friends, family and TV shows. Several people have thought about starting a business to advance their careers and get out of a dead-end job.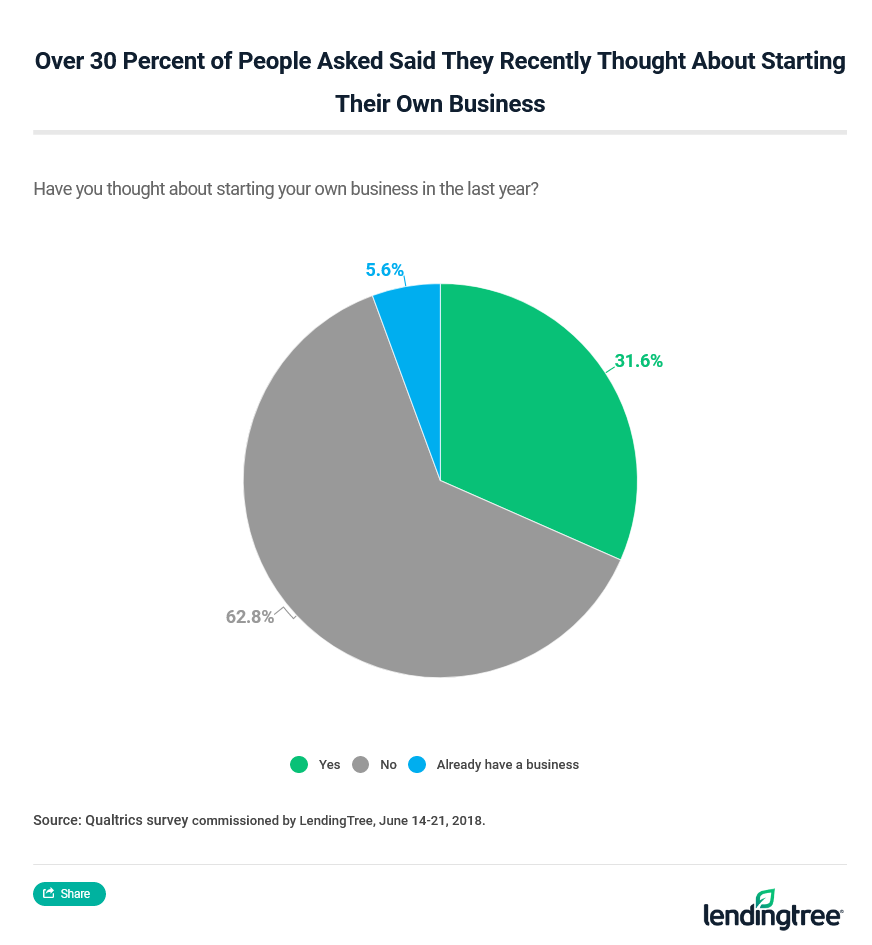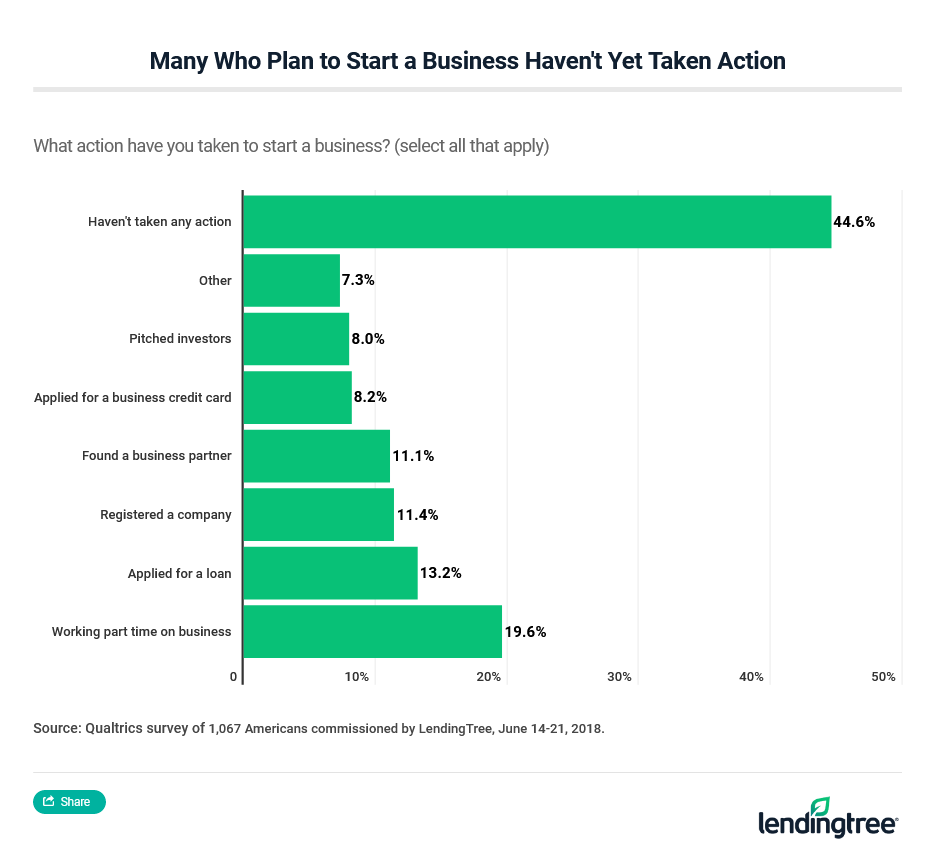 Financing challenges hold businesses back
Despite thinking about starting a business, many would-be entrepreneurs are holding back. Most people have not made any moves to actually launch a business, citing a lack of capital as the main reason for their inaction. Some people have not yet found a specific plan or opportunity to make the jump, while others are waiting for a better time to get started.
However, some people have taken small steps, such as working part time to develop their business and applying for loans. Others have gone as far as registering their company and bringing on a business partner.
Learn more: Which entity is right for your business?
Older entrepreneurs are less optimistic about their chances of getting a business loan.
% who said they think it's difficult to get a small business loan:
Millennials: 53%
Gen X: 67%
Baby Boomer: 68%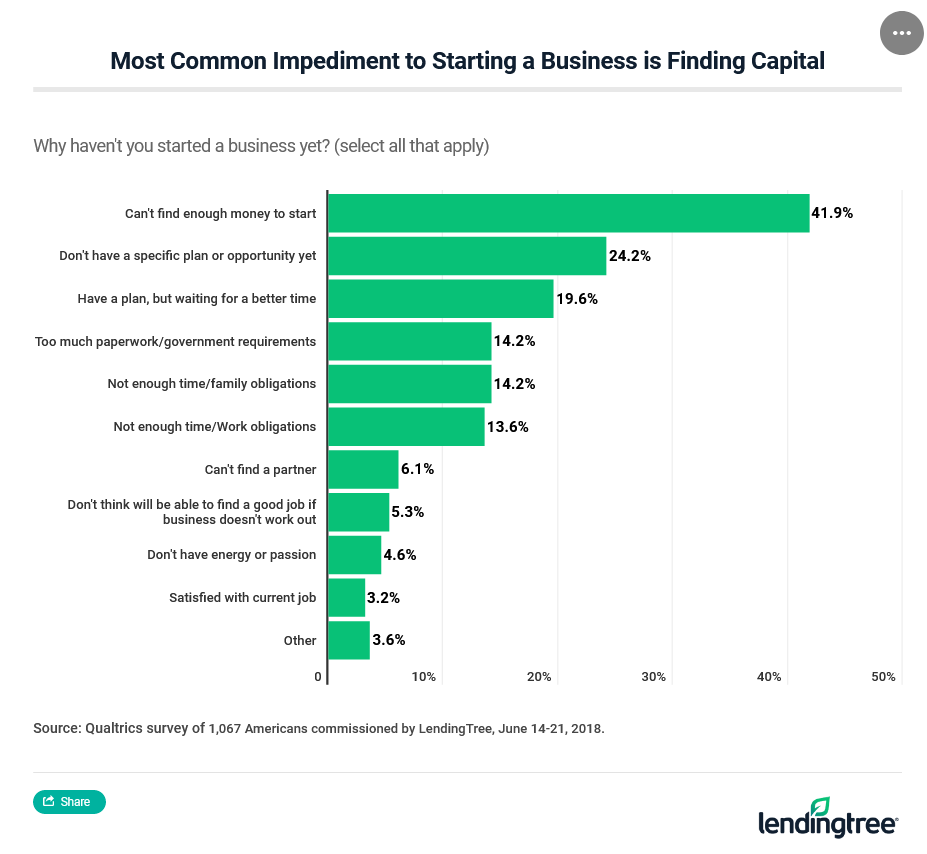 Millennials were most likely to have sought out a business loan (32%) versus 26% of Gen Xers and 15% of baby boomers.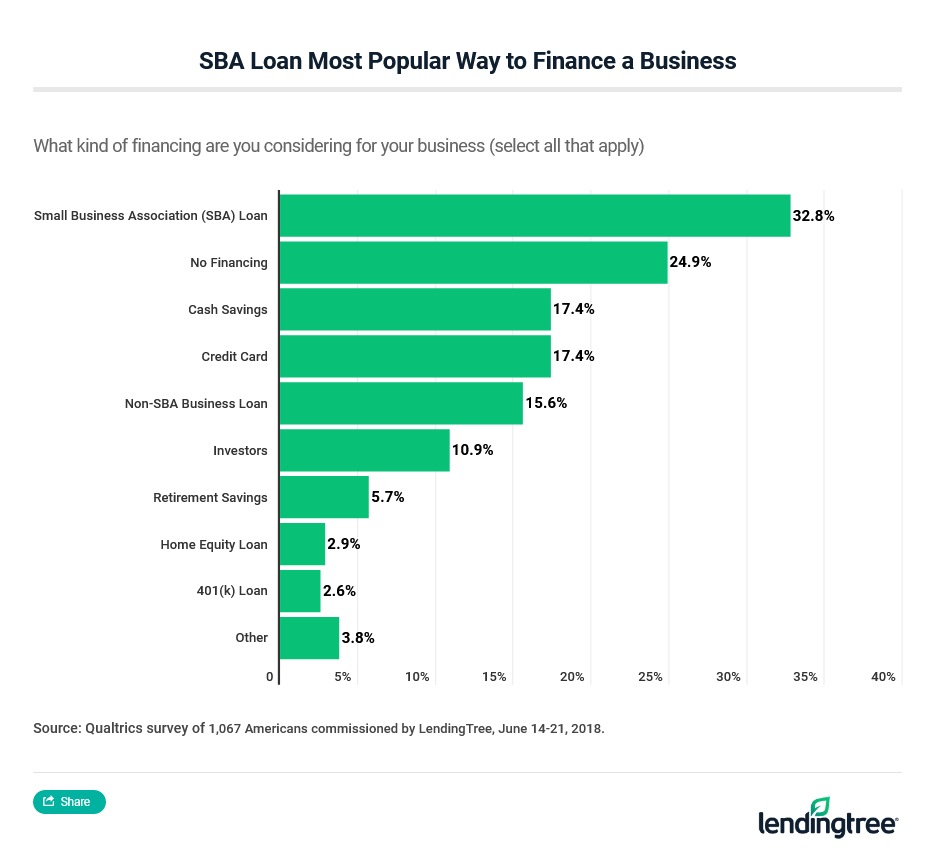 Financing sources
Many of those thinking about opening a business have at least considered how they would finance their venture, and SBA loans are the most popular choice.
Nearly one-third of potential entrepreneurs said they are considering an SBA loan for their business, while nearly a quarter said they are not considering using any financing to fund their operation.
About 15% of people are considering non-SBA business loans, slightly fewer than those who plan to use their cash savings or a credit card. A small portion of entrepreneurs are considering dipping into their retirement savings, home equity or 401(k), which could be a risky move if the business flops.
Most popular source of financing by generation
Millennials: SBA (24%)
Gen X: SBA (25%)
Baby Boomers: No financing (37%)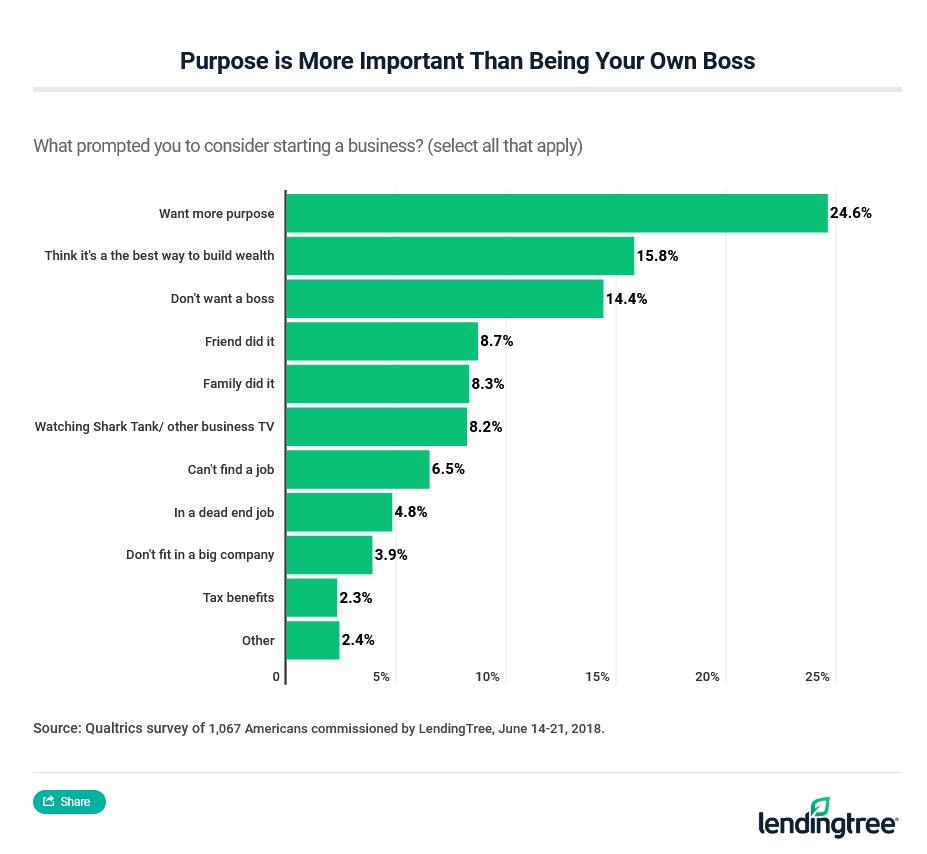 Educational differences
Educational background plays a role in how people conceptualize their small business and how they plan to pay for it. People who have an advanced degree expect to make use of SBA loans, and 40% have already been preapproved for some sort of business loan.
On the other hand, those without an advanced degree more likely believe that they won't need any financing to start their business, and many have not been approved for any type of business loan.
People with advanced degrees may have a better idea of what it takes to start a new business, as 50% have had a business in the past. Of those without a degree, just 17% previously ran their own business.
Those with no higher degree are more likely not to expect a need for any financing than those with advanced degrees, who expect to tap SBA loans.
Those with advanced degrees have often already been approved or prequalified for a small biz loan (40%). Conversely, for those with no degree that number is nearly nil.
Those with advanced degrees expect they'll need significantly more starting capital than those with no degree.
50% with advanced degrees have had a business before (presumably professional practice), versus only 17% with no degree once had a business.
Learn more: The 15 best apps for entrepreneurs
Generational differences
Age and family life also affect how people think about their business ventures. Parents are more likely than non-parents to have thought about starting a business or have already done so – 44% of people with kids compared with 32% of people without kids.
Millennials are the most likely age group to consider entrepreneurship, as 42% have thought about starting a business or have already started one. Among Gen Xers, 39% have thought about opening a business or have done so, compared with 22% of baby boomers.
Millennials are more likely than other generations to work on side projects, with 17% working part time on their own business, compared with 13% of baby boomers. Millennials also expect to need quite a bit capital to fund their business, with just 21% of millennials expecting to need less than $5,000. Among baby boomers, 34% anticipate needing less than $5,000.
Overall, 23% of aspiring business owners across all generations don't think they'll need more than $5,000 to start a business. Among those with advanced degrees, just 14% expect to keep costs below $5,000.
Surprisingly, those who have kids are more likely to have thought about or have already started a business. Forty-four percent of those with kids have an inclination to start a small business, versus 32% of those with no kids.
Millennials are most likely to have considered starting a business. Forty-two percent of millennials have thought about starting a business (or already started one), versus 39% of Gen X and 22% of baby boomers.
Millennials were also more likely to have already put some labor into their small business. Seventeen percent said they had already been working part time on the business, versus 13% of baby boomers.
Overall, 23% said they would need less than $5,000 to start a business. But millennials were less likely to start on a shoestring budget: 21% of them said they would need less than $5,000, versus 34% of baby boomers saying they would need less than $5,000. Among would-be entrepreneurs with advanced degrees, only 14% said that they could start with less than $5,000.