How Does LendingTree Get Paid?
LendingTree is compensated by companies on this site and this compensation may impact how and where offers appear on this site (such as the order). LendingTree does not include all lenders, savings products, or loan options available in the marketplace.
How to Start a Brewery
Updated on:
Content was accurate at the time of publication.
The explosion of craft breweries across the country might have you daydreaming of leaving the cubicle life to brew beer for a living. But there's more to opening a brewery than making great beer. In this guide, with the help of craft brewers who've been on this path, we'll break down the major steps to getting started and how to stand out from the crowd.
Craft brewing: The basics
To be considered a craft brewer in the U.S., a brewery must annually produce no more than six million barrels. A brewery must also be an independent business with less than 25% owned by a member of the beverage alcohol industry who is not a craft brewer. The majority of beverages must be beers with flavors derived from the fermentation of traditional or innovative brewing ingredients. For example, flavored malt beverages are not considered beers.
More than 8,000 breweries operate in the U.S. California has the most craft breweries of any state in the U.S. at 907 breweries. Colorado is in second place with 425 craft breweries and New York and Washington are tied for third with 423 craft breweries each.
The craft beer industry is broken down into market segments based on beer production: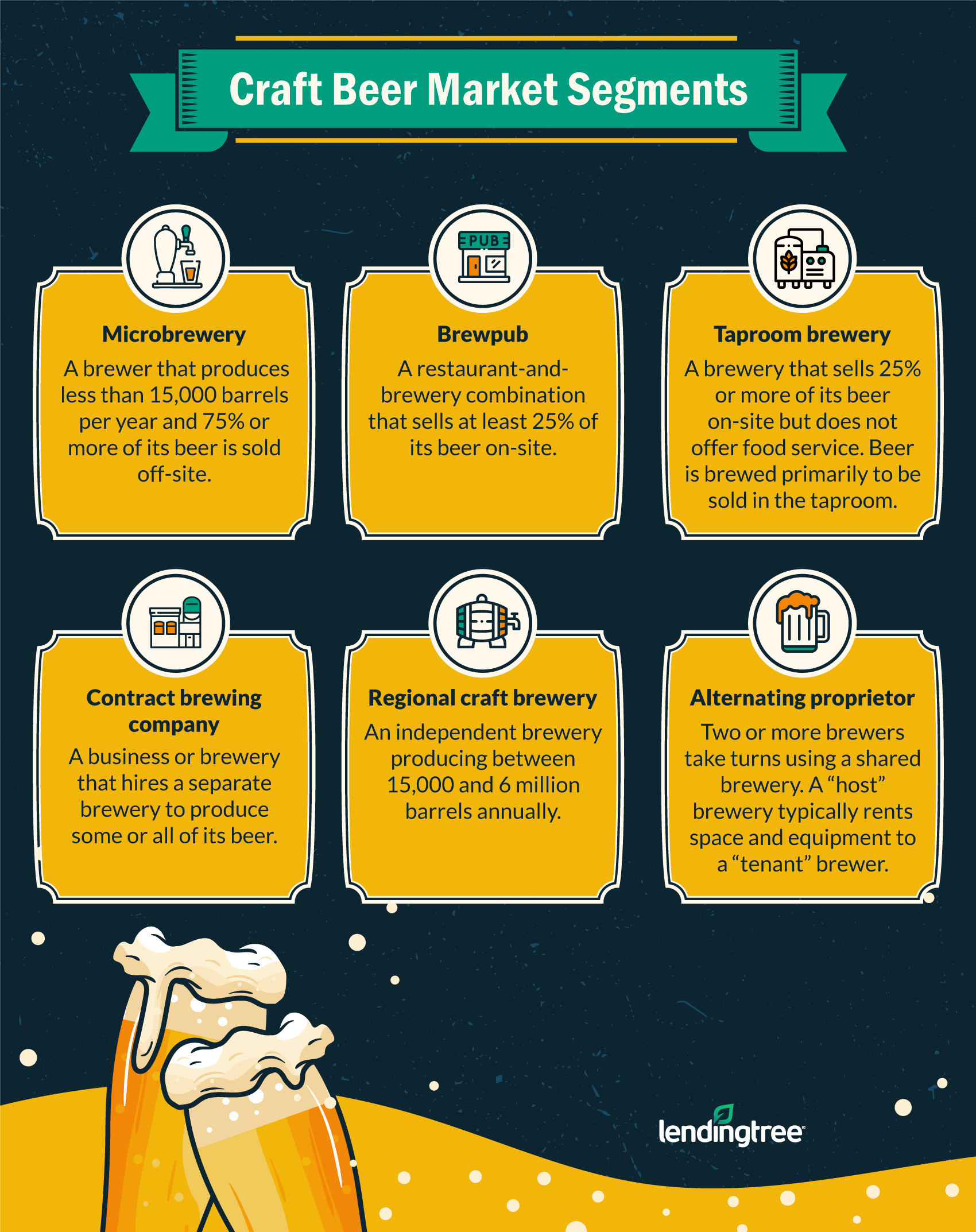 Craft beer production volume in the U.S. grew 3.6% in 2019 as overall beer production decreased. However, like many industries, craft beer took a hit in March 2020 as the coronavirus pandemic surged in the U.S. The majority of breweries slowed or stopped production and many faced layoffs. Breweries are likely to face ongoing turbulence as many social activities remain risky or prohibited.
Starting a brewery in 7 steps
If you want to start a brewery, knowing how to brew beer is not a prerequisite. Although the operation revolves around beer, there are plenty of other pieces of the business to focus on as well.
1. Research and write a brewery business plan.
A well-researched business plan is often the backbone of all types of small businesses, breweries included. Chris Goulet, co-founder of Birdsong Brewing Co. in Charlotte, N.C., worked as a mortgage banking executive at Bank of America before opening the brewery with his wife, Tara, in 2011. He first began thinking about opening a brewery in 2009 when there were few craft breweries within city limits.
He looked at cities that were comparable to Charlotte in terms of size and demographics to get a sense of how many craft breweries could be sustainable in the area. He then began working on a 12-page business plan forecasting what it would take to open a startup brewery.
Your brewery business plan would likely include these standard components:
Executive summary: Explain the business objectives of your brewery. Include a mission statement as well as a brief summary of your location, employees and leadership team.
Company description: Describe details related to your brewery's concept or brand. Include a description of your local market and target customers.
Market analysis: Share your market research and how you plan to stand out against nearby breweries. Conduct a separate competitive analysis to investigate your competitors and determine how to provide a different and better product and customer experience.
Organization and management: Identify your main team members and others you plan to hire. Include a list of suppliers and describe the products they provide to the brewery. You'll also identify your brewery's business entity, or legal structure, in this section. You may choose from entities such as a sole proprietorship, limited liability company or corporation, among others.
Services and products: In this section, describe your beer and any food items in detail. You may want to include a sample of your brewery menu here as well. Be sure to highlight other products you expect to sell, such as retail merchandise.
Marketing and sales: Discuss your strategy for building up a customer base. You could also lay out your pricing plan in this section and how your product costs influence your price structure. Prices should be competitive, but still allow for a profit.
Financials: Create a financial forecast for the brewery, including balance sheets, cash flow statements and income statements for your first five years in business. If you plan to seek financing, you would outline how much you need and how you'd use the money. To stay on the safe side, you may want to underestimate revenue and overestimate expenses.
Appendix: Include any relevant documents or forms you didn't include in previous sections.
2. Hire a consultant.
If it's in your budget, hiring a brewery consultant could help you iron out certain details when opening a brewery, such as finding a space and hiring a head brewer.
A consultant could supplement your in-house resources on a one-time or ongoing basis. They may be able to handle large projects or specialty training for your staff.
When choosing a brewery consultant, look for someone who has extensive experience in the industry, ideally as a brewmaster, as well as formal education, such as a degree in brewing science or fermentation science. Also, make sure the consultant has a successful track record with other breweries.
3. Figure out your financing.
You may draw from your personal funds, investor capital or commercial financing to cover the costs of starting a brewery. Loans from the U.S. Small Business Administration (SBA) may also be an option. The SBA guarantees loans made through banks and other financial institutions, and these SBA-backed loans typically have favorable rates and terms. We'll explore brewery financing options more in a later section.
Though you may not need outside financing right away, you should have a plan to address increasing or unexpected costs. Goulet opened Birdsong entirely with cash from a small group of investors. The team anticipated the initial startup cost would be between $50,000 and $60,000, but it ended up closer to $110,000 for the building renovation alone. They then relied on an American Express business credit card to cover other expenses, such as ingredients, glassware, bar and office supplies, kegs, tools and repair materials, during the first six months of operation.
4. Apply for permits.
The Alcohol and Tobacco Tax and Trade Bureau, or TTB, within the U.S. Department of the Treasury regulates the beer industry. All TTB-regulated businesses need a permit to legally operate. You can submit permit applications online — it's free to apply.
Brewery owners may also have to apply for a permit or license, including a liquor license, from their state and city. Cities often restrict where alcohol can be made and sold, so consider doing your homework before buying or signing a lease on any property.
Depending on how you plan to sell your beer, you may need additional local licenses. In Colorado, for example, you'd need a state liquor sales license, a manufacturer's license and a wholesale license to sell beer in the taproom and to retailers. It could take a brewery four to six months to be properly licensed with the state.
FDA registration
Prepare for a visit from the Food and Drug Administration. All breweries must register with the FDA – no fee required – and pass an impromptu inspection. The FDA requires breweries to have Good Manufacturing Practices for Craft Brewers (GMPCB) in place, which are federally mandated standards including sanitation and employee hygiene. The FDA could visit at any time, so it would be smart to have your GMPCBs in place from the start.
5. Buy commercial brewing equipment.
Although expensive, brewing equipment is a worthwhile investment. And you may be able to easily sell pieces if you outgrow them or if the business folds.
Here are a few of the basic pieces of equipment you'll need:
Mash/lauter tun: A tank that infuses grains and water, creating wort, which is a bittersweet liquid that becomes beer after fermentation.
Brew kettle: A pot that boils wort.
Heat exchangers: Quickly cools wort.
Fermentation tank: Holds wort as it ferments into beer.
Brite tank: Clarifies and carbonates beer.
Kegs, cans or bottles: Containers in which you store and distribute your beer.
Large brewing equipment can be made to order but it could take a few weeks or months before it's delivered. Used equipment would be available right away — and could save you money — but specific pieces may be hard to come by. Anticipate long lead times on equipment when setting up your brewery.
6. Set up an insurance policy.
You should have a business insurance policy in place before you start brewing. Brewery owners need liability insurance to cover any damage or injury related to workers or intoxicated customers, as well as business interruption coverage to supplement loss of business income and commercial property insurance to protect the physical space.
You may want to consider extending your coverage to protect you in the event of beer contamination, equipment breakdown or beer leakage. If you plan to transport your beer outside of the brewery, look into policies that would protect your beer in transit, as well as commercial auto policies.
7. Build a taproom.
New brewery owners should expect to make a big investment in their taprooms. Before you establish a distribution system, the taproom will be where most people find your beer.
The profit margins in the taproom are larger than those from distribution because you don't have to pay for packaging or delivery when serving beer on tap, said Karen Hertz, founder of Holidaily Brewing Co. in Golden, Colo. Although she didn't initially plan to build a taproom, Hertz quickly saw the value in having a gathering place to serve her beer.
"It really gives people a place to build a relationship with the brand," Hertz said. "It gives people an opportunity to build a deeper relationship with your beer and your brewery."
Costs to start a brewery
Starting a brewery could cost $250,000 to $2.5 million depending on detail such as your brewery's size and product offerings, among others. The equipment and building requirements are a couple of the many factors that contribute to the overall costs, which can add up before you brew your first batch of beer.
Equipment
If you plan to only sell beer in your own taproom, you could probably get away with spending $100,000 or less on equipment, Goulet said. But if you want to incorporate packaging and distribution, you should expect to spend about $500,000 on the equipment needed to produce a large amount of beer. When the Goulets started Birdsong, selling beer in the taproom and self-distributing to locations across Charlotte, basic equipment cost about $150,000.
Commercial space
Turning commercial real estate into a brewery – hooking up pipes, tanks and drains while keeping the building up to code – can be a costly endeavor. Chris Farmand, an accountant and founder of brewery consulting firm Small Batch Standard, said that in the weeks leading up to a brewery opening, cash begins to vanish and construction is often the biggest culprit. He's seen brewery projects that have gone $200,000 to $800,000 over budget, mostly because of construction-related costs.
Purchasing a location would come with additional real estate fees, loan fees, building permits and inspection fees. Leasing a space would include the cost of rent, utilities, maintenance, building insurance and any build-out costs. You may be responsible for a portion of property taxes as well.
Licenses
Brewery owners need several licenses in addition to the federal permit from the TTB that clears them to sell beer. Individual states also require brewery owners to obtain a license from the Alcohol Beverage Control (ABC) board, or another state entity, which would require a fee. In Florida, for example, brewery owners are required to obtain a state manufacturers' license which has a $3,000 annual fee.
Taxes
The taxes associated with running a brewery would depend on the state you're operating in and the business entity you've chosen, but all brewery owners could expect to pay federal excise tax on beer that has been sold.
The Craft Beverage Modernization and Tax Reform Act (CBMA), which went into effect in 2018, reduced the federal excise tax from $7 per barrel to $3.50 per barrel on the first 60,000 barrels for brewers producing less than two million barrels annually. All other brewers owe $16 per barrel on the first six million barrels, and $18 a barrel if they surpass six million.
Other taxes for brewery owners could include:
State excise tax
Sales tax
Property tax
Federal, state and local income taxes
Payroll taxes
Financing brewery startup costs
New brewery owners may start with personal savings and funds from private investors, such as friends or family, and then secure outside financing like a business line of credit if more capital is needed.
Depending on your circumstances, you may be able to avoid taking on debt until it's time to expand the operation. Whenever the time comes, there are several financing options available.
Short-term business loans: Short-term business loans offer quick access to small amounts of capital and come with repayment periods between three and 18 months. Compared with long-term loans, short-term loans have higher interest rates and may require collateral to secure the funds. These loans could be used to cover inventory costs or working capital expenses. Before applying for a short-term loan with a bank or online lender, you should be in a position to make daily or weekly payments to repay the loan.
Equipment loans: Purchasing assets out of pocket could quickly diminish your capital, but financing equipment purchases would help manage cash flow. You could secure equipment financing from a bank or an online lender and the equipment itself would act as collateral. You could then pay off the purchase in monthly installments while using the equipment to keep your brewery running.
Business lines of credit: A line of credit offers immediate access to capital and allows business owners to draw from a preset limit as they need money. You would only pay interest on the money you actually borrow. Like loans, business lines of credit may need to be secured with collateral.
Crowdfunding: Crowdfunding enables business owners to collect public donations, usually through an online platform such as GoFundMe, to fund a specific project or venture. Sites tailored to breweries have recently popped up, giving beer lovers a chance to fund a new brewery in their area. CrowdBrewed, for example, gives brewery owners a platform to launch a fundraising campaign and ask for investments in exchange for some type of reward, like a discount at the brewery.
Business credit cards: You could open a business credit card to cover your ongoing costs. With a business credit card, you would be able to keep your personal and brewery expenses separate. Business credit cards come with a higher limit than personal credit cards, but you may face higher rates and fees, especially with reward cards.
The ABCs of alcohol distribution
To get your beer into the hands of more people, you'll need to start distributing. Alcohol distribution is regulated at the state level within a three-tier system. All beer must pass through these three levels before reaching consumers:
The producer: Breweries that brew and package beer, from large national brands to neighborhood microbreweries.
The distributor: Distribution companies ranging from those with a small fleet of trucks or those running a multi-state operation.
The retailer: Off-premise alcohol retailers, such as liquor stores, supermarkets and convenience stores, and on-premise retailers, like bars and restaurants.
The producer makes beer then sells it to distributors, which deliver the beer to retailers where consumers purchase it.
Most states also allow self-distribution, permitting brewers to deliver to retailers on their own. Self-distribution is a good option for brewers first entering their local market, but it could be hard to scale the business and expand to new areas without outside help.
Look out for state franchise laws
Some states enforce beer franchise laws, which require brewers to strike an agreement with a distributor that would mandate a brewer to legally prove "good cause" before terminating the relationship. Though the laws aim to protect small distributors from large, powerful breweries, brewers risk getting trapped in a bad relationship. Proving "good cause" could require an extensive legal process to provide evidence.
In 17 states, the government maintains control over the sale of distilled spirits, sometimes including wine and beer. In these states, government-operated stores are the only entities allowed to sell liquor, and sometimes that rule extends to beer and wine. Find your state's regulations here.
Is owning a brewery right for you?
Even if you lack firsthand brewing experience, you could succeed if you plan ahead and aren't afraid of risks — take it from the experts:
Do you have a way to stand out?
In the ever-expanding Colorado craft beer market, Hertz leveraged her personal story to gain traction and grow Holidaily Brewing. Hertz battled melanoma and thyroid cancer about a decade ago, which resulted in her gluten-free diet. Dissatisfied with gluten-free beers on the market, she decided to make her own to share with others who have similar dietary restrictions. Hertz suggests new brewery owners find a way to stand out among competition.
"People like the story. I have to put myself out there," Hertz said. "Find those groups that you're tied to."
Are you ready to connect with your community?
As the craft beer market becomes congested across the country, it may seem like an intimidating space to enter as a new small business owner. Goulet said connecting with your community is key.
Although competition within the craft beer scene in Charlotte has increased since Birdsong opened, the team remains supportive of new breweries in town. Goulet is friendly with neighboring brewers, joining in on group orders of ingredients and teaming up for local charity events.
"We've seen how it's changed in Charlotte. It doesn't dampen our enthusiasm," Goulet said. "It's really cool to be part of that community"