How Does LendingTree Get Paid?
LendingTree is compensated by companies on this site and this compensation may impact how and where offers appear on this site (such as the order). LendingTree does not include all lenders, savings products, or loan options available in the marketplace.
Average Credit Card Interest Rate in America Today
Updated on: January 20th, 2023
Editorial Note: The content of this article is based on the author's opinions and recommendations alone. It may not have been reviewed, commissioned or otherwise endorsed by any of our network partners. This site may be compensated through a credit card partnership.
The average credit card interest rate in America today is 23.39% — the highest since LendingTree began tracking rates monthly in 2019.
Every month, LendingTree reviews about 200 of the most popular credit cards in the U.S. — from more than 50 issuers — to comprehensively look at the state of credit card interest rates. We publish our findings here.
What's the average interest rate on new credit card offers?
The average APR offered with a new credit card today is 23.39%, up from 22.91% last month.
Average interest rates on new credit card offers in the U.S. in January 2023
| Category | Minimum APR | Maximum APR | Average | Previous month |
| --- | --- | --- | --- | --- |
| Average APR for all new card offers | 19.88% | 26.89% | 23.39% | 22.91% |
| 0% balance transfer cards | 17.80% | 26.86% | 22.33% | 21.84% |
| No-annual-fee cards | 19.37% | 26.73% | 23.05% | 22.56% |
| Rewards cards | 19.63% | 26.82% | 23.22% | 22.74% |
| Cash back cards | 19.68% | 26.47% | 23.07% | 22.64% |
| Travel rewards cards | 19.79% | 27.50% | 23.64% | 23.14% |
| Airline credit cards | 20.20% | 28.44% | 24.32% | 23.91% |
| Hotel credit cards | 20.04% | 28.06% | 24.05% | 23.48% |
| Low-interest credit cards | 13.43% | 23.19% | 18.31% | 17.77% |
| Grocery rewards cards | 19.66% | 27.31% | 23.48% | 23.04% |
| Gas rewards cards | 19.84% | 27.19% | 23.51% | 23.07% |
| Dining rewards cards | 19.73% | 27.54% | 23.63% | 23.17% |
| Student credit cards | 20.35% | 25.78% | 23.06% | 22.42% |
| Secured credit cards | 25.34% | 25.34% | 25.34% | 24.84% |
This month's increase comes on the heels of the Federal Reserve's seventh and final interest rate hike of 2022, a jump of 0.50 percentage points in December. While most experts don't expect as many rate increases in 2023, there are likely at least a few more still to come, including one at the Fed's next meeting on Jan. 31 and Feb. 1.
Important: Most credit card issuers don't offer one rate to everyone. Issuers offer a range of possible rates based on whether you have good or bad credit. The better your credit, the lower the rate you can typically expect. But that's not guaranteed as issuers consider various factors when approving you for a new card account.
If you have really good credit now, the average APR you can expect to be offered is 19.88%. If you have really crummy credit, the average APR offered is 26.89%. That's a big difference.
The good news is that the average FICO Score of Americans in 2021 was 714, according to Experian — a record-high. That means most Americans may be more likely to qualify for that lower interest rate. For those who don't, however, things get expensive in a hurry.
For example:
Say you owe $5,000 on a card and pay $250 a month.
With a rate of 26.89%, you'll pay $1,532 in interest and take 27 months to pay it off.
Lower the rate to 19.88% and you'll pay just $1,012 in interest and take 25 months to pay it off.
That's a savings of $520 in interest and two months in payoff time. In normal times, given that most Americans' financial margin for error is tiny, that's a big deal. However, these aren't normal times, so those savings are even more important.
The type of card you shop for also makes a difference in what APR to expect. For example, we found that cash back cards and 0% balance transfer cards tend to have lower APRs than travel rewards cards. (That's true even when you exclude the 0% offer.) Meanwhile, secured credit cards — which require a deposit to open and are typically held by folks new to credit or rebuilding it — have the highest APRs overall.
What's the average interest rate on current credit card accounts?
Average interest rate on current credit card accounts
| Category | Average APR |
| --- | --- |
| All credit card accounts | 19.07% |
| Accounts assessed interest | 20.40% |
Each quarter, the Federal Reserve releases data on cards currently in Americans' wallets. It looks at the average interest rate for accounts that have been assessed interest — meaning those accounts that weren't paid in full at the end of the month — and across all credit card accounts.
It's important to distinguish between them because more than half of active credit cardholders carry a balance. The average APR for all accounts in the fourth quarter of 2022 was 19.07%. That's an enormous increase from the previous quarter, when the average stood at just 16.27%. (In the quarter before that, it was just 15.13%.) Meanwhile, the average for accounts accruing interest is far higher at 20.40%. Both of those numbers are the highest they've been since the Fed began tracking in 1994.
The latter number is the one that matters, though. After all, a credit card interest rate is a moot point if you pay your bill every month since interest never has the chance to accrue. Unfortunately, that's not the reality for most Americans. The truth is that 2022 was a brutal year for credit cardholders, and the bad news on interest rates isn't likely to stop coming anytime soon.
How have credit card interest rates changed over the years?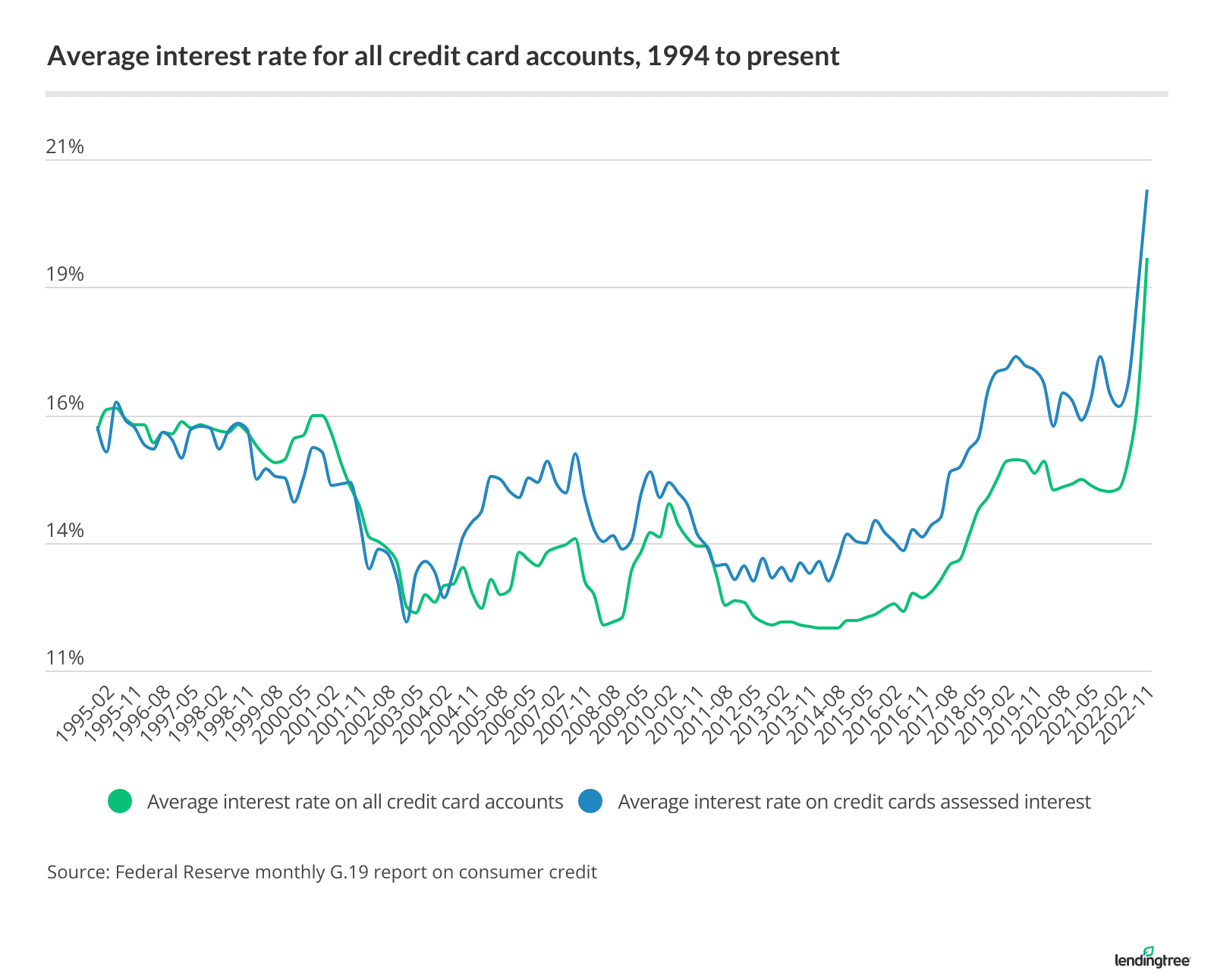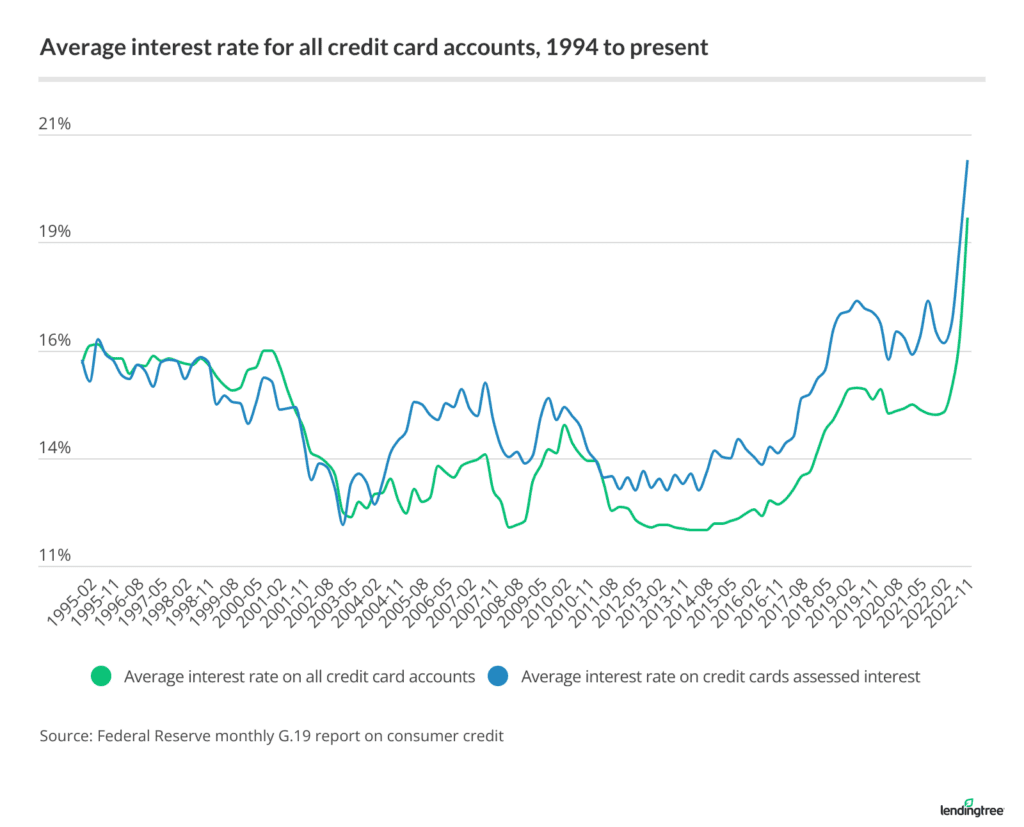 In recent years, we've seen significant movement in interest rates, largely driven by the Federal Reserve. Rates rose significantly beginning in 2015 and continued to do so until 2019. The following year, the Fed dramatically lowered interest rates in response to the economic turmoil seen at the beginning of the pandemic. This year, however, the Fed has reversed course, raising rates multiple times, with another likely coming this month (and more expected in 2023).
Before 2015, credit card rates were largely stable for several years, following the introduction of the Credit Card Accountability, Responsibility and Disclosure Act of 2009, better known as the Credit CARD Act. The pro-consumer law, signed by former President Barack Obama, brought enormous change to the credit card space. It set limits on when issuers could raise cardholders' rates, changed how payments must be applied to balances, restricted certain fees and much more. Those changes forced issuers to scramble to figure out how to recoup the revenues lost under the CARD Act. As a result, credit card rates became volatile for several years — one card even famously featured a 79.90% APR for a short time — as banks determined what the market could bear.
Ultimately, all the changes led to overall higher credit card interest rates but relative stability, even as the nation emerged from the Great Recession. That stability lasted until the Fed began raising rates in 2015. Those hikes helped push rates to the high levels we see today.
What can I do if my interest rate is too high?
These are certainly unusual times. Credit card interest rates are climbing, thanks to recent rate increases from the Federal Reserve, and are likely to continue to do so for several more months. That means it's perhaps more important than ever that you start knocking down your credit card debt in a big way. Obviously, if the pandemic has upended your financial life, that may not be possible. However, if you still consider yourself healthy financially, one of the best things you can do is pay down your debt to free up more cash for a rainy day fund.
You also have more power over your credit card's APR than you realize. Here are two concrete steps you can take that can significantly impact your credit card's interest rates.
Get a 0% balance transfer credit card: It may seem counterintuitive to fight credit card debt by getting another credit card, but 0% offers can be a godsend, and banks are eager to lend. Many cards offer 0% introductory periods of 12 to 15 months on purchases and balance transfers, with some even offering 18 to 21 months. If you're knee-deep in card debt, a yearlong reprieve from interest on a transferred balance can make a huge difference. Make sure that you understand all the fees, deadlines and rules associated with the card before applying. These cards were hard to come by in the early days of the pandemic. Banks weren't eager to take on transferred balances when so many people were out of work or struggling financially. They saw it as too risky. However, banks' appetite for these cards has returned in a big way, so there are plenty of offers to choose from when shopping around.
Ask your issuer for a lower rate:  An April 2022 LendingTree survey found that 70% of cardholders who asked to lower their credit card's APR were successful. The average reduction was nearly 7 percentage points. That's a big deal! The problem is that just 15% of cardholders asked. The best way to go about it is to find credit card offers that you would qualify for at sites like LendingTree or in your snail mail, and use those to frame your negotiations. Say something like, "I love my card, but it has a 24.00% APR and I've just been offered a card with an 18.00% APR. Will you match it?" There's a good chance that they'll work with you. Just know that you'll have to make that call and ask for it. They likely won't come to you.
Methodology
For new credit card offer APRs, LendingTree examined the online terms and conditions for about 200 credit cards from more than 50 issuers, including banks and credit unions. To gather the data, we noted the standard purchase APRs listed for each card on each issuer's or retailer's website. (Introductory or promotional rates aren't included in our averages.)
For current credit card account APRs, we used data from the latest G.19 consumer credit report from the Federal Reserve.