How Does LendingTree Get Paid?
LendingTree is compensated by companies on this site and this compensation may impact how and where offers appear on this site (such as the order). LendingTree does not include all lenders, savings products, or loan options available in the marketplace.
Freedom Debt Relief: Is Debt Settlement Right for You?
Updated on: December 26th, 2019
Editorial Note: The content of this article is based on the author's opinions and recommendations alone. It may not have been reviewed, commissioned or otherwise endorsed by any of our network partners.
Freedom Debt Relief, a debt settlement firm based in California, has been creating custom programs for consumers for nearly two decades.
Debt settlement companies offer to help consumers reduce — and even remove — debt at a fraction of the cost. But using debt settlement services can torpedo your credit score and may result in lawsuits from creditors or endless calls from collectors.
You should consider your options carefully before using a debt relief program such as the one offered by Freedom Debt Relief.
Freedom Debt Relief: What you need to know
Freedom Debt Relief at a Glance
Eligibility requirements
$7,500 minimum in unsecured debt
Fees
Typically 15.00% - 25.00%, depending on the state in which you live
How long it takes
Generally 24 to 60 months
Potential savings
Settlements could be for 50% or more depending on how much you owe and where you live, but you'll pay more depending on what fees you owe
How debt settlement works
Under a debt settlement program, you pay back a debt in multiple payments that are significantly lower than the total amount you owe.
Typically, the company will ask you to stop paying creditors and save your money until you have a predetermined amount. Then, the debt settlement company contacts the creditors on your behalf to negotiate terms. (This can be risky, but we'll touch on that later.)
Freedom Debt Relief's program works in four phases: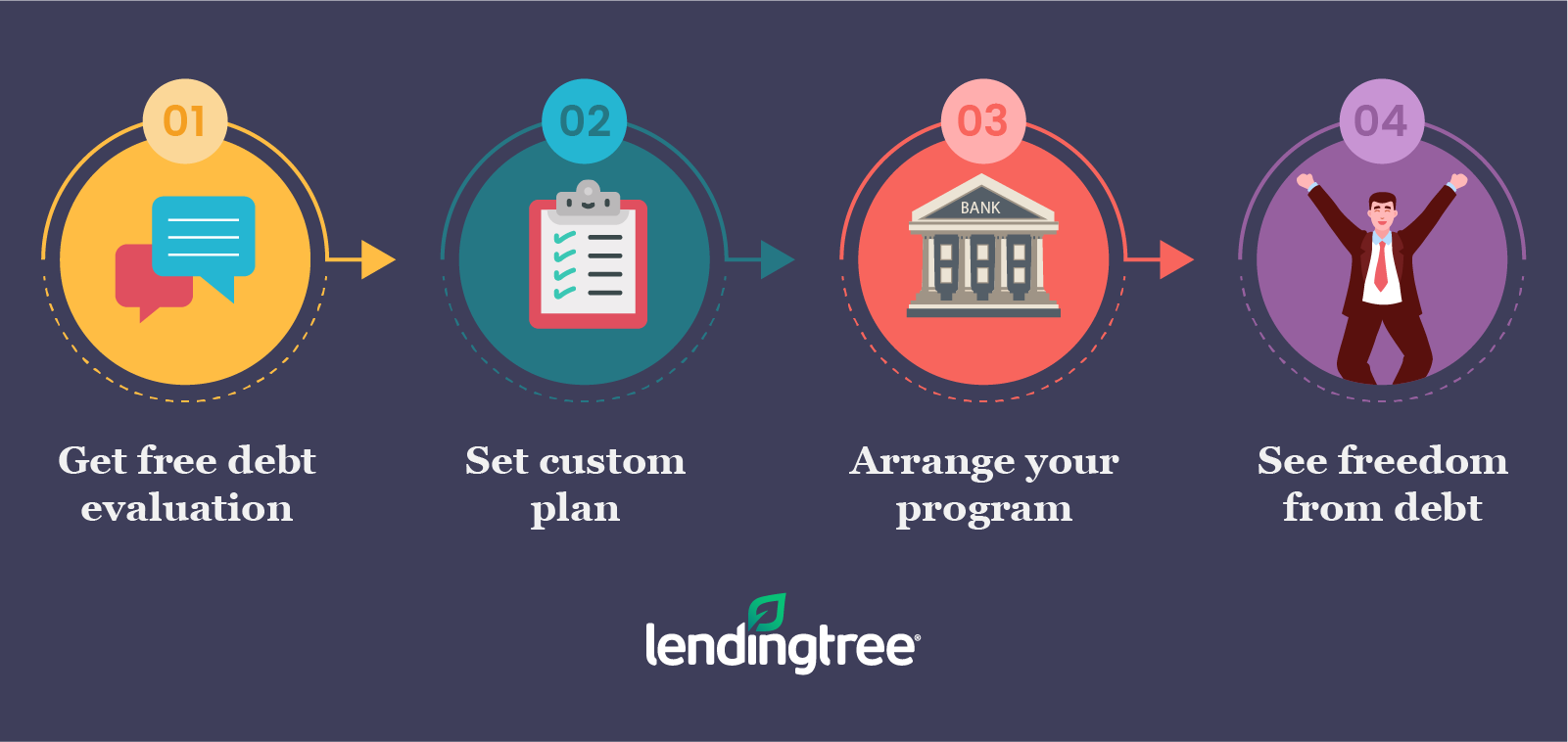 Get free debt evaluation: A certified debt consultant goes over various strategies with you to help determine whether you're a good fit for the program.
Set custom plan: The company develops a program that may be cheaper than just making minimum payments. It could also knock out your debt faster.
Arrange your program: Freedom Debt Relief sets up a Federal Deposit Insurance Corp.-insured bank account in your name where you'll deposit money to pay off your debts; you're in complete control of the bank account. When you have enough funds to start paying off the debt, the company will start contacting creditors to negotiate a reduction in your debt. If Freedom Debt Relief reaches an agreement, it'll immediately contact you to get authorization for the settlement.
See freedom from debt: Once you've paid off your debts, your creditors should report the payments to the credit bureaus when either the account is settled in full, settled, paid, paid by settlement or settled for less than the full amount.
Eligibility requirements
Freedom Debt Relief requires you to have a minimum amount of $7,500 in debt to qualify for its services. Debt relief programs only cover larger amounts of debt, as creditors usually won't settle smaller debts you could easily pay off in a short period.
It also recommends you enroll any credit card you have with a balance of more than $500.
The company can only help with unsecured debts that don't require collateral. Federal student loans, auto loans and mortgages do not qualify. However, Freedom Debt Relief can help with medical bills, credit card debt and personal loans. It will accept some private student loans on a case-by-case basis.
Freedom Debt Relief: Debt settlement eligibility
Eligible for debt settlement
Ineligible for debt settlement
Credit card debt
Federal student loans
Department store charge card debt
Auto loans
Medical bills
Mortgages
Personal loans
Utility bills
Source: LendingTree.com
Freedom Debt Relief does not operate in the following states:
Colorado
Connecticut
Georgia
Hawaii
Illinois
Kansas
Maine
New Hampshire
New Jersey
North Dakota
Ohio
Oregon
Rhode Island
South Carolina
Vermont
Washington
West Virginia
Wyoming
Fees and savings
Freedom Debt Relief is a bit vague regarding fees and how much you can save. It cites a typical fees range of 15.00% - 25.00%, though that depends on the state in which you live. However, the company does not charge any fees until after it negotiates down your debt and you agree to the settlement. So, for example, if the company settles a $15,000 debt, you should expect to pay $2,250 to $3,750 in fees.
As for how much you can save, that depends. As we noted above, Freedom Debt Relief states that you can settle for as little as 50% of what you owe — or even less. But the company notes recent top settlements on its site, and your debt reduction percentage can drop below 50% after you've paid your fees.
Freedom Debt Relief — along with all other debt relief companies — must provide information about its program before you sign up, including:
Price and terms
How long it should take to see results
The amount you need to save before the company can start negotiations with creditors
The possible negative consequences of not making payments to creditors
If the company does not provide these details, you can contact the Federal Trade Commission.
Lawsuit settlement over fees, debts
In July 2019, the Consumer Financial Protection Bureau (CFPB) settled with Freedom Debt Relief over a lawsuit that alleged the company failed to settle debts as promised and misled consumers about fees. Freedom Debt Relief agreed to pay $20 million in restitution and $5 million in civil penalties.
How does Freedom Debt Relief affect your credit?
Working with Freedom Debt Relief may drop your credit score due to nonpayments. You are typically asked to stop making payments on your debt, which would make your account delinquent. Delinquent accounts continue to accrue interest, and creditors may also tack on late fees.
Negative information could remain on your credit report for up to seven years. It's important to note the IRS may consider forgiven debt taxable income, too.
Is debt settlement with Freedom Debt Relief right for you?
Ultimately, you'll need to decide what's more important for you — getting out of debt or keeping your credit score low. If clearing debt is your priority, Freedom Debt Relief might be an option to help reduce what you owe in a fast and efficient manner.
Though it is possible to settle credit card debt if you're current on your payments, most creditors will only negotiate if you're able to demonstrate a financial hardship preventing you from making payments. Allowing your payments to go into default lets your creditors know you're unable to pay, which can help put them into a position to accept a lower amount as a settlement. This can be a risky decision, so make sure you've thought everything through.
Freedom Debt Relief FAQs
Is Freedom Debt Relief a scam? No. Freedom Debt Relief is a founding member of the American Fair Credit Council (AFCC), as well as a platinum member of the International Association of Professional Debt Arbitrators. It states that it's helped more than 600,000 clients resolve more than $10 billion total in debt.
Can I settle my debt on my own? Yes, you can directly negotiate with your credit card company, work with a credit counselor or declare bankruptcy, among other options.
Will debt collectors call me? The short answer is yes, but Freedom Debt Relief's goal is to have creditors direct their calls to it instead of you.
Will I pay taxes on my settled debt? Most likely yes, as the IRS considers forgiven debt as taxable income. However, it's best to contact a tax adviser to discuss your situation.
How long does Freedom Debt Relief affect your credit? Entering the program could affect your credit for up to seven years.
Alternative options to debt settlement
Freedom Debt Relief has a history of helping clients get out from under debt, but it's vital for you to understand the consequences when it comes to your credit score and your ability to receive credit in the future.